Leeds United disclosed their annual accounts for the 2020/21 season this month. The club boasted a record turnover thanks to their Premier League status. As a result, they made a profit in a turbulent year for most clubs. We took an in-depth look at the Whites' financial accounts to see how promotion helped them cope with the challenge of Covid-19.
Premier League status brings club record turnover
Leeds United's return to the Premier League in 2020/21 also saw their accounts return to the black thanks to a club-record revenue. The Whites' annual turnover more than tripled, from £54.2 million during the 2019/20 season to more than £171 million last year.
According to the Deloitte Money League, Leeds ranked 23rd in European football for total turnover. This was largely thanks to the huge jump in television and broadcasting income that came as a result of the club's promotion to the top-flight. Leeds received £8.7 million from broadcasting companies during their final season in the Championship. However, this rose by over £124 million to £132.8 million during the club's first Premier League season in 16 years.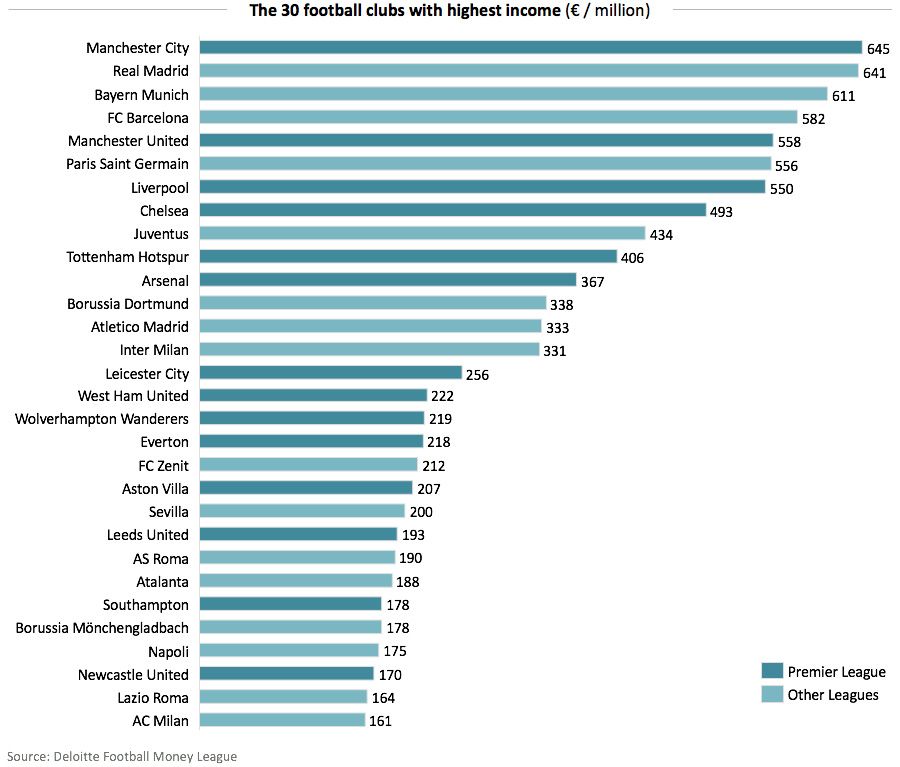 The huge growth in income, as a result of the team's promotion under Marcelo Bielsa, highlights how important Premier League survival is to the club's long-term financial health. The club also saw an increase in their merchandising income, as a result of their newfound Premier League status. The club's history and stature meant they were already recording impressive merchandising revenue figures in the Championship. During the 2019/20 season the club raked in over £15 million in merchandising income.
When these figures were announced, football finance lecturer Kieran Maguire explained that they were a hugely positive sign. Speaking to the Yorkshire Evening Post, he said: "The fact that they made £15 million from merchandise sales is astounding. That's more than other clubs in the Championship were making from all income streams. That's indicative of where Leeds are in the pecking order and indicative of being able to grow the club further."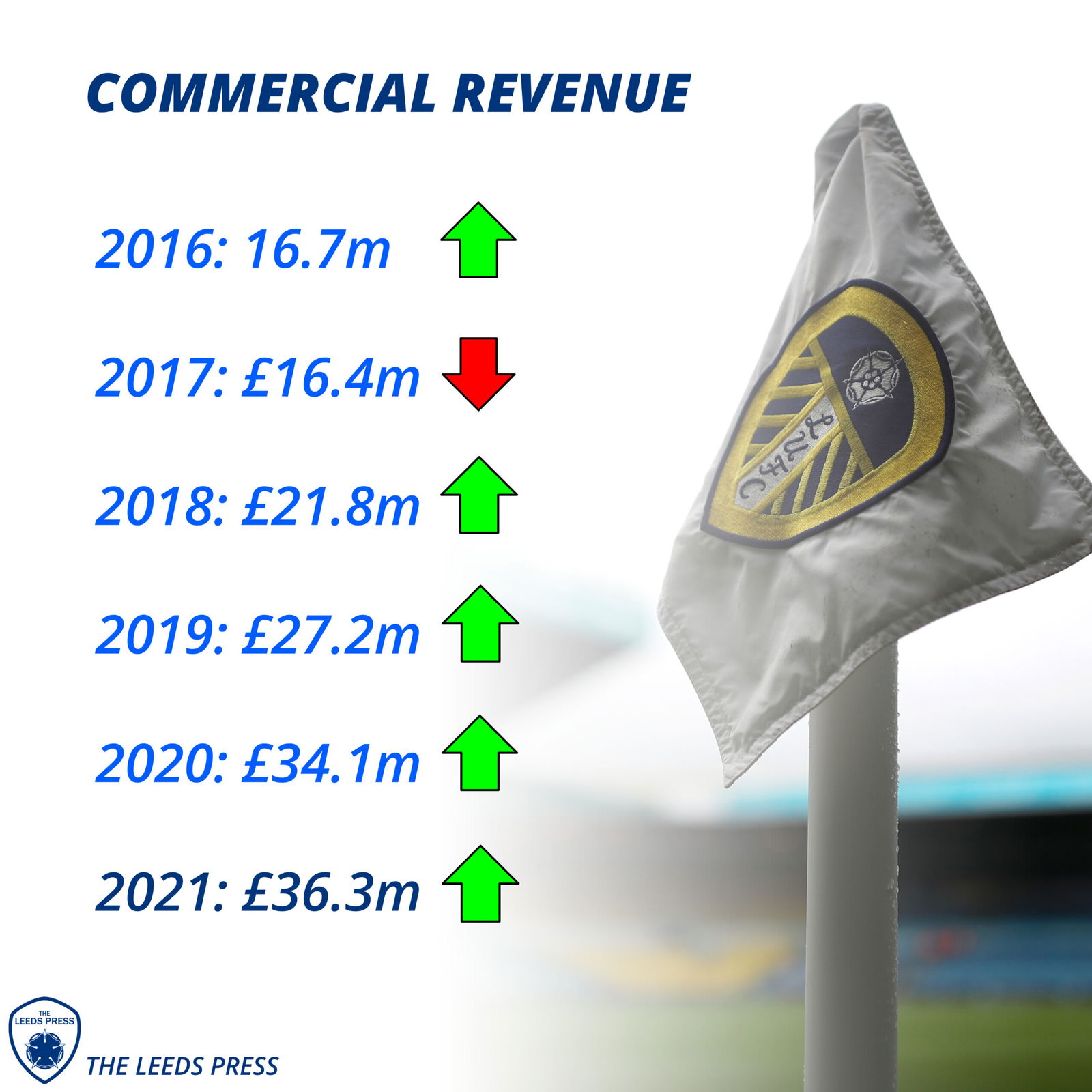 However, merchandise sales have since increased further due to the greater exposure offered by England's premier competition. Turnover from merchandising grew by 32.5% to just over £20 million for the 2020/21 season. This was accompanied by an increase of just under £1 million to other commercial revenue streams. This growth was accomplished primarily through the increased sponsorship and advertising opportunities available to a Premier League club. In total, commercial revenue grew to just under £36.3 million.
In the club's annual accounts, they claimed: "The strong commercial results in the club's first season in the Premier League illustrates the potential of Leeds United being the only club in the UK's third biggest city. This should prove a structural competitive advantage that can be leveraged to secure Premier League status over the long term."
The impact of Covid-19
Despite posting a club-record turnover, Leeds' finances were hampered by the ongoing impact of Covid-19. The pandemic meant that all but one of their Premier League home games were played behind closed doors. While Bielsa's men were able to overcome the lack of fans on the pitch by finishing ninth in the league, empty stadiums hit the club's pockets off the pitch.
Staging behind closed doors games meant that gate receipts fell 83%, from £11.5 million during the promotion season to just £1.9 million last term. This loss of almost £10 million is put into perspective by the fact that the last season not to be impacted by Covid-19 (2018/19), saw gate receipts as high as £12.6 million. The Covid-19 pandemic also contributed to the club's catering income falling by just under £5.5 million compared to the 2018/19 season. As a result, the club recouped just £380,638 from catering in 2020/21.
The fact that Leeds were able to record such a high turnover, despite the significant loss of income due to Covid-19, is a positive sign for the club's finances moving forwards. It demonstrates the financial rewards of the team's success on the pitch and the importance of ending the club's Premier League exile. However, the turnover is also a credit to the club's efforts off the pitch and shows the success of their commercial strategy. There is no doubt that the club's size and reach places them in a strong position moving forwards commercially.
New division brings new challenges
While promotion to the Premier League has brought new revenue streams to Elland Road, it has also caused operating costs to rise. Much of these operating costs can be attributed to a growth in the amount of money spent on wages and salaries. Significant promotion bonuses for players and staff contributed to a much larger wage bill for the newly promoted side, compared to previous years. In total, money spent on wages and salaries went from £70.2 million in 2019/20 to just under £96 million in 2020/21. An increase of over £25 million across the financial year exemplifies the fact that Leeds have had to spend big to win promotion and secure survival. When combined with social security and other pension costs, this figure rose to £108.3 million across the season. This was an increase of around £30 million on the previous year.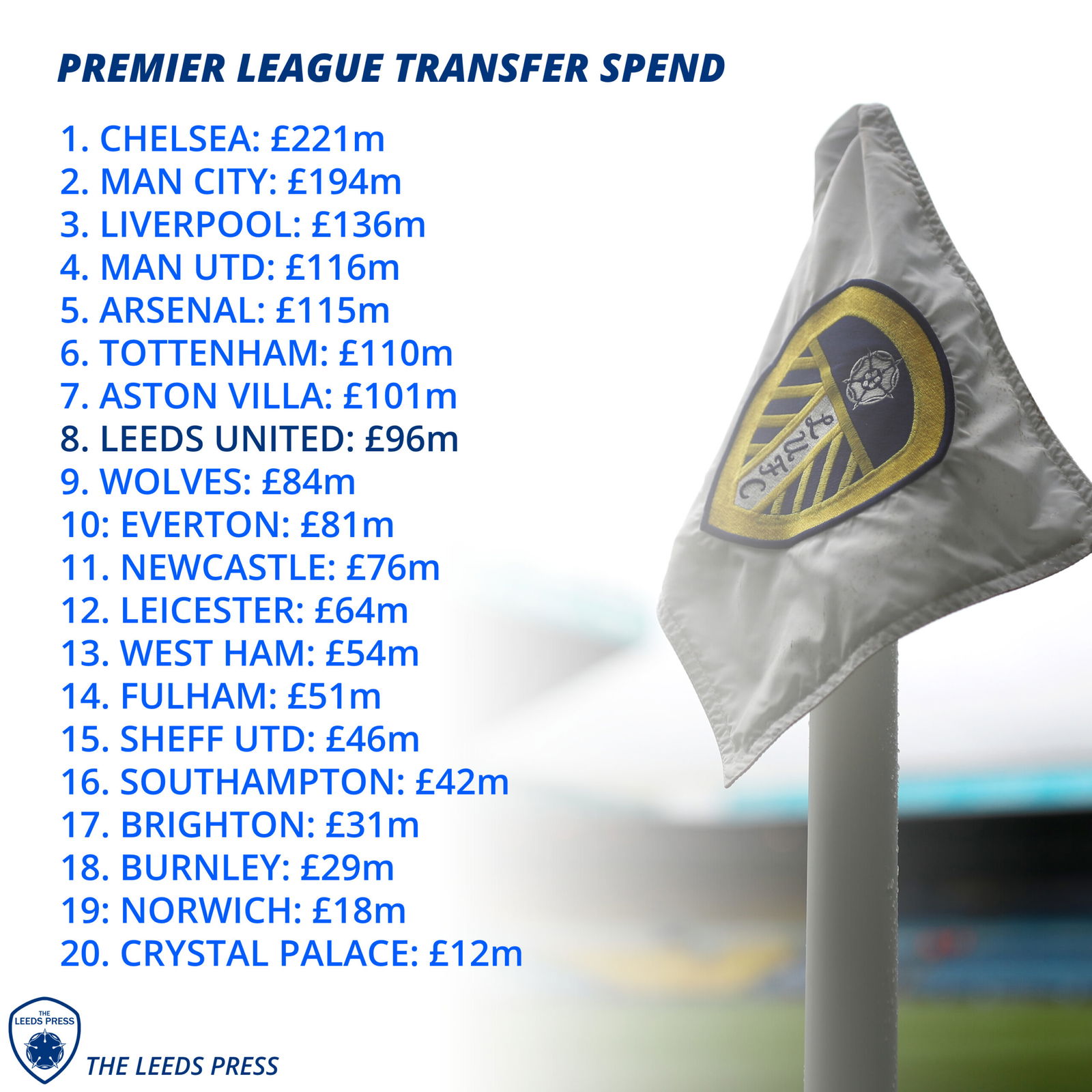 Not only did existing players receive bonuses for their success, Leeds also gambled in the transfer market in an attempt to compete at the top level. The summer of 2020 saw them spend over £96 million on new players, despite not receiving a fee for any departing players. Only seven Premier League clubs spent more on transfer fees. Spanish striker Rodrigo headlined the Whites' transfer business costing £27 million. He was joined at Elland Road by Diego Llorente, Raphinha, Helder Costa, Robin Koch and Illan Meslier. Meanwhile, youngster Joe Gelhardt also joined from Wigan and has gone on to feature for the first team.
All in all, operating costs at Leeds increased by almost a third during their first season back in the Premier League. The club's administrative expenses went from just over £108 million to almost £152 million, an increase of almost £44 million.
Back in the black
Despite the challenges of the pandemic and the increased costs of maintaining a Premier League quality squad, Leeds adapted well to their first season back in the big time. The spoils of their on-pitch success combined with their commercial savvy helped them record a net profit, during a year of loss for most clubs. This was an impressive feat, considering Radrizzani and co. had posted a £62.4 million loss the previous year.
The huge increase in revenue brought about by promotion saw an £87 million swing, resulting in a solid £25.9 million profit. Leeds were nudged out of the deficit by a £21 million loan write off, believed to be from Radrizzani, and a £7 million Premier League broadcasters' rebate. According to football business expert Swiss Ramble, Wolves were the only Premier League side to file a bigger profit than Leeds last year.
#LUFC £26m profit is 2nd highest in the Premier League, only below #WWFC £145m (£127m loan write-off). Even if Leeds' £21m waived loan were excluded, net profit would still be £5m. A full year of the pandemic meant some very high losses, e.g. #CFC £156m, #AFC £127m & #EFC £121m. pic.twitter.com/1ljKbB4jNn

— Swiss Ramble (@SwissRamble) April 11, 2022
This statistic is made more impressive by the fact that the Whites had not recorded an annual profit since 2017. Radrizzani had gambled by spending big to chase promotion, recording an £84 million deficit over the previous two years. However, his gamble paid off with a Premier League return yielding financial security off the pitch. Leeds fans will hope that Jesse Marsch can secure another year of Premier League football and financial stability.