In Leeds United's strategic report at the end of Andrea Radrizzani's first financial year as owner, managing director Angus Kinnear claimed the club's focus was on "rebuilding the foundations for Leeds United to be able to deliver long-term sustainable success both on and off the pitch." While this season has not gone to plan so far, there can be no doubt that on the pitch Leeds have succeeded in bringing success back to Elland Road.
The Whites ended their 16-year exile from the Premier League under Marcelo Bielsa before securing a ninth placed finish upon their return to the top-flight. Their Premier League status now hangs in the balance, but there is hope that Jesse Marsch is the man to deliver survival.  But have Radrizzani and co. succeeded in delivering sustainable success off the pitch?
We looked back over Leeds' accounts since the Italian took control to find out.
Revenues go from strength to strength
Since Andrea Radrizzani bought Leeds, the club has witnessed a year-on-year increase in turnover in all four of his full financial years as owner. The season before the Italian assumed full control of the club (2016-17), Leeds recorded a turnover of just £34.1 million. This grew to £40.7 million in Radrizzani's first full season as sole owner of the Yorkshire side. The 2018-19 financial year saw further growth for Leeds, with total revenues climbing to £48.9 million. The following season Leeds would end their 16-year wait for promotion back to the Premier League. The club also flourished off the pitch, bringing in £54.2 million despite the outbreak of Covid-19 hitting gate receipts and catering income.
Last year turnover understandably boomed thanks to the financial spoils brought by promotion. The Whites posted a club-record turnover of over £171 million, more than triple what they banked in their promotion season. Last season's explosion in turnover is of course down to the eyewatering broadcasting deals in place for Premier League sides. Leeds received £132.8 million from television deals last term, 78% of their total income. This was up from just £8.7 million in the Championship. However, the club also deserves credit for ensuring that turnovers were steadily rising even before promotion.
This is largely down to the commercial success of Radrizzani's marketing team, who have attempted to tap into the "potential of Leeds being the only club in the UK's third biggest city." Merchandising income grew from £5.8 million in 2017 to £15.4 million in Leeds' last season in the Championship. It then increased a further £5 million to £20.4 million during the club's first season back in the top tier.
Meanwhile, other sources of commercial income produced just £6.7 million in 2017. However, this has also grown year on year since Radrizzani bought the club. By the 2019-20 season this figure was as high as £14.4 million, meaning that total commercial revenue in 2020 was £29.8 million. This means that by the time Leeds were promoted total commercial revenue had more than doubled from £12.5 million when Radrizzani took over. A return to the Premier League in 2020-21 saw a further hike in commercial revenue with the club raking in £34.4 million. Therefore, it is clear that under Radrizzani Leeds have undoubtedly succeeded in growing the club commercially.
Combined with the spike in revenue, as a result of on pitch success, the club's commercial strategy has produced improved turnovers each year, culminating in a club-record income last season. While Premier League survival will remain crucial to maintaining this level of revenue, the club's commercial success offers hope of sustainable financial health regardless.
Growing investment, but is it enough?
Leeds have received criticism from some quarters this season for a perceived lack of investment in the squad. However, while fans may argue that recruitment has been poor, there is no doubt Leeds have spent heavily in the transfer market. Radrizzani became the full owner of Leeds at the end of the 2016-17 season. Leeds had a wage bill of just £20.7 million that season. Since then, the club has invested significant money in new players, staff, contracts and bonuses for on pitch success. In Radrizzani's first full season of sole ownership, Leeds spent an additional £10.7 million on wages. By the 2019-20 season the club were spending a total of £78.3 million a year on wages, social security and pensions in an attempt to win promotion to the Premier League.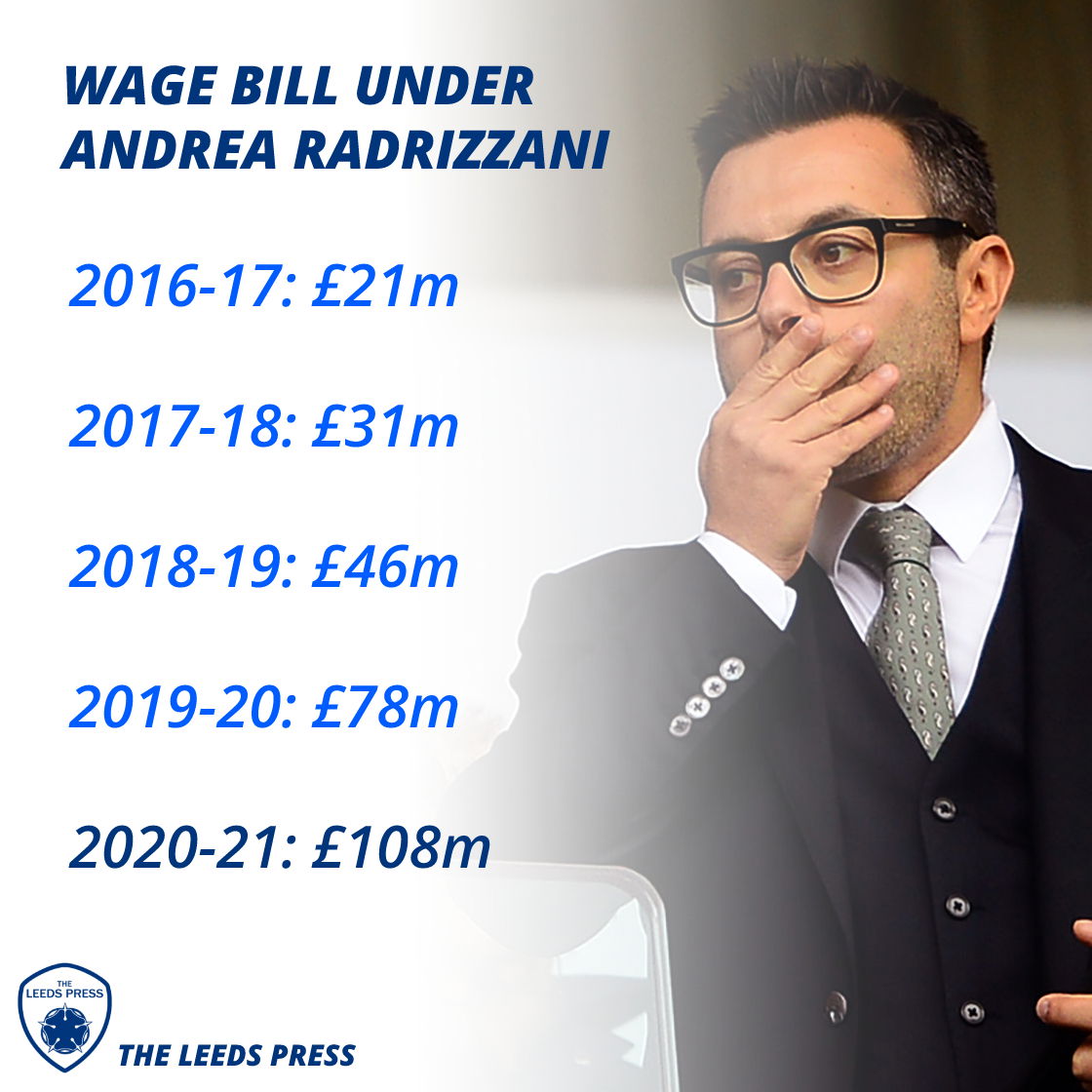 These numbers rocketed again after Leeds won the Championship title thanks to promotion bonuses and a number of big signings ahead of the club's return to the Premier League. The wage bill for the 2020-21 season was £108.3 million. While this figure remains the second lowest in the Premier League, it is also over five times what the club were spending annually when Radrizzani arrived. However, if Leeds are to cement themselves as a Premier League mainstay in the long run, there is no doubt this figure will need to continue to grow in order to compete with those around them. Only Sheffield United spent less than Leeds on wages last year.
Radrizzani has also spent aggressively on transfer fees. Since promotion, the club have recorded a net spend of £149.1 million across two seasons. This is partly due to the fact that the club has failed to receive a fee for a departing player since 2019. Spending in the transfer market was far more reserved under Radrizzani in the Championship. Despite a £25 million splurge in his first season at the club, Leeds had made a profit of around £13 million in the market prior to promotion, relying heavily on loan signings. This partly explains why the squad has not grown significantly despite substantial investment. After promotion, big fees were spent on securing the permanent signing of players like Helder Costa who had already shone on loan in the Championship. Equally, money had to be spent on replacing those such as Ben White, who did not make the move to Elland Road permanent.
From loss to profit
A return to the Premier League, and the riches it holds, moved Leeds from the red to the black for the first time under Radrizzani. The club had made growing losses in each of the Italian's first three seasons as sole owner, as they gambled on a return to the big time under Marcelo Bielsa. As football finance lecturer Kieran Maguire told the Yorkshire Evening Post last year: "Leeds effectively went all in (for promotion)… they backed the manager and they did spend significant amounts on players."
As a result, Leeds made significant losses in their final three seasons in the Championship, knowing that if Bielsa could secure promotion it would redress the financial imbalance. In 2017-18, a loss of £4.3 million was recorded, however the following year the deficit was more than five times the size at £21.4 million. This tripled again in 2019-20 when Leeds posted a loss of £62.4 million. However, the club's gamble paid off and Bielsa delivered promotion that year. The financial rewards took Leeds back into the black. In fact, their £25.9 million profit in 2020-21 was the second largest profit made by all Premier League clubs that year.
Whether or not Leeds are able to continue turning a profit will depend almost entirely on whether they can survive the drop and continue to benefit from the Premier League's broadcasting deals.
Long-term sustainable success?
Radrizzani's ownership to date has certainly moved Leeds closer to the goal of long-term sustainable success, both on and off the pitch. The club's improved commercial success has significantly increased revenues while promotion to the Premier League has taken their turnover to new heights. The club is now far more capable of sustaining itself financially, however Premier League survival will be crucial if they are to remain in the black.
#LUFC 2021 £26m profit is the first they have reported since 2017 – and that was only £1m. Losses had been increasing following the arrival of owner Andrea Radrizzani, as Leeds invested big sums to help secure promotion, leading to £84m deficit in the previous two years. pic.twitter.com/54xcNbKkrT

— Swiss Ramble (@SwissRamble) April 11, 2022
Meanwhile, investment in the squad has grown year on year, although the club still operates on a relatively small budget that will need to increase if they are to remain competitive in the top-flight. There is also a naivety that must be addressed in the club's transfer dealings, with little being recouped on departing players while large fees are spent on new ones. After gambling on promotion, the club now sit comfortably in profit and are arguably in their healthiest financial position in decades. The only foreseeable challenge to their long-term financial stability under Radrizzani will be the looming threat of relegation and what happens if the worst comes to pass.