Sunday's Premier League action plunged Leeds United further into relegation danger. The Whites' 2-1 defeat at Arsenal was their 17th of a miserable second season in the Premier League. The result was compounded by Everton pulling off a 2-1 win away at 14th placed Leicester.
As a result, Leeds now find themselves in the relegation zone, behind Burnley on goal difference, with just three games of the season remaining. With Chelsea up next for Jesse Marsch's side there is certainly no guarantee that the American can find the points necessary for a great escape.
After spending 16 years in the wilderness after their last relegation, Leeds fans will no doubt be fearing the worst if the team fails to escape the relegation trapdoor. But what exactly would Leeds' finances look like if they were to return to the Championship? We cast our eye over the club's accounts to investigate how hard relegation would impact the Whites financially and whether or not they would be in a position to bounce back.
Less TV, less money
If Leeds were to lose their Premier League status it would undoubtedly slash their revenue dramatically. This is because, of Leeds' record £171 million turnover in the 2020/21 season, 78% came from the broadcasting deals which benefit Premier League clubs. All in all, broadcasting revenue accounted for £132.8 million of Leeds' total revenue. If the Premier League television bubble were to be burst, Leeds would be looking at a significant dent in their annual income.
During their promotion season in the Championship, they received just £8.7 million from television and broadcasting sources. This is a fairly typical television revenue for clubs in England's second tier.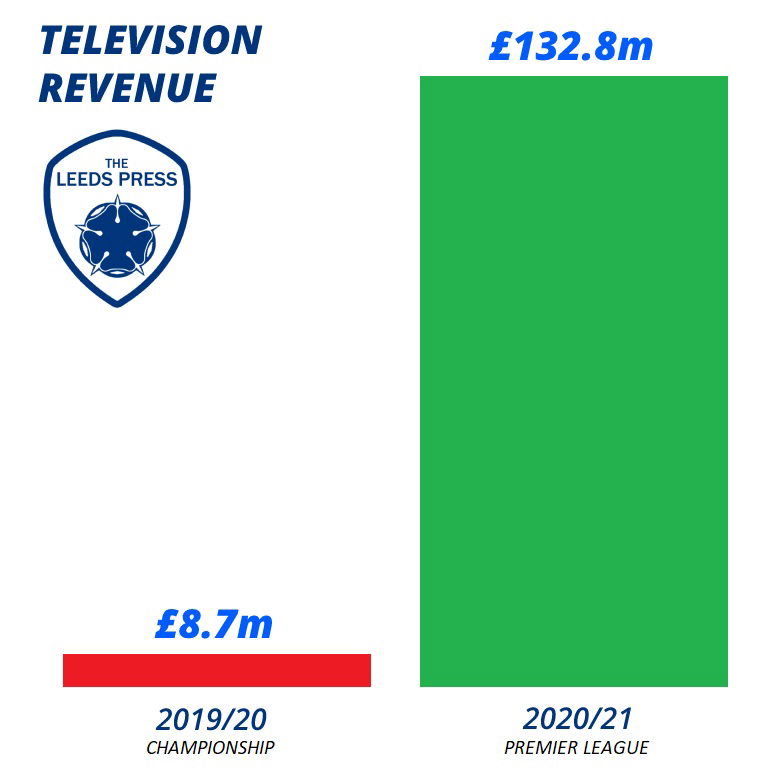 Football finance expert Kieran Maguire explained to Yorkshire Live: "The clubs that are not in receipt of parachute payments get about… £4.5 million from the Premier League in what is referred to as solidarity payments. All clubs then get around £2.5 million from the EFL's own TV deal and then there are slight top ups based on the number of times you are shown live. If chosen live, depending on whether you are the home team or the away team, it works out between £10,000-£100,000."
While Leeds will not be eligible for solidarity payments should they step down to the Championship, they will hope that the size of the club and the team's potential to challenge for automatic promotion nets significant income from television appearance fees. Despite this, the rewards will be a drop in the ocean compared to what the club are currently raking in. In 2021 the EFL criticised the financial disparity between the Premier League and Championship, primarily caused by these broadcasting figures.
In a statement the EFL said: "It is important to acknowledge that the current media rights deal will preserve the status quo of an unbalanced, unsustainable, and unfair financial distribution model across English football which continues to cause serious financial issues throughout the football pyramid. Championship clubs in particular face impossible economic pressures, seeking to gain promotion to the Premier League, which has in turn led to untenable financial speculation and irrational behaviour."
While Leeds have recently benefitted from this imbalanced model, posting a club-record turnover last season, if they are to find themselves in the Championship for a significant amount of time they will once again suffer as a result of it.
Parachuting back to the top?
Fortunately for Leeds, the Premier League's system of parachute payments for relegated clubs will reduce the damage done by a sudden loss of 78% of their revenue. According to the Premier League website, "parachute payments are made to clubs after they are relegated from the Premier League. They allow clubs to invest in their teams, and wider operations, in the knowledge that should they be relegated they have provisions in place to re-adjust their finances."
These payments have been made to relegated sides over three years since the 2016-17 season, with the sum paid decreasing each season. As Leeds were not relegated in their first season back in the top-flight, they are entitled to three seasons of parachute payments if they go down. In their first season after relegation they would receive 55% of what they would have earned from their equal share of the Premier League broadcasting deal. This will drop to 45% in the second year and 20% in the final year.
According to Goal, in 2019 this worked out to roughly £40 million in the first season, £35 million in the second and a final £15 million in the third. These figures remain accurate, with financial expert Swiss Ramble reporting that Sheffield United received a £42 million parachute payment after their relegation in 2021.
If #SUFC are relegated from the Premier League, TV income would fall significantly, albeit cushioned by £42m parachute payment, which would give them much higher revenue than most other Championship clubs. Parachutes fall to £35m in year 2 and £16m in year 3. pic.twitter.com/rV98mhHOvQ

— Swiss Ramble (@SwissRamble) April 5, 2021
While the parachute payments will not come close to covering a decrease of around £124 million in broadcasting revenue, they will give Leeds a significant financial advantage in the Championship.
Leeds will have an additional £90 million over three seasons than Championship clubs not in receipt of parachute payments. As a result of this excess income, clubs relegated from the Premier League have recently been highly successful in bouncing back quickly. From 2018 to 2021 six of the nine promoted clubs were eligible for parachute payments. This season both teams who claimed automatic promotion (Fulham and Bournemouth) were in either their first or second year of receiving these payments. Leeds will hope that if relegation does come, the parachute payments will sufficiently cushion the financial impact so that they can enjoy a similarly quick return.
Commercial advantage
On top of parachute payments, Leeds have enjoyed commercial success in recent years that should give them an edge in the Championship. As the only club in the UK's third biggest city, the Whites have reach and size that most second division clubs cannot compete with. This is demonstrated by the fact that Leeds brought in £15.4 million from merchandising revenue and £29.8 million total commercial revenue the last time they were in the Championship. As a result, Leeds comfortably recorded the highest revenue in the Championship the season they were promoted with £54.2 million, excluding parachute payments.
In fact, excluding parachute payments, Leeds recorded the four highest ever turnovers in the Championship between 2016 and 2020. This stat alone shows that Leeds are unrivalled commercially in the second tier. The size and popularity of the club should allow them to retain sustainable revenue streams outside the top-flight and will give them a competitive edge when trying to fund a promotion push.
Cutbacks on the pitch
One area of concern for Leeds fans and staff will be the rise in operating costs since the club achieved promotion. Leeds have spent heavily on transfer fees and contracts for both new and existing players to reach and stay in the Premier League. As a consequence of promotion, Leeds' wage bill grew from £78.3 million to £108.3 million due to the addition of new players and promotion bonuses for the existing squad.
While Leeds made a £25.9 million profit last season, the switch from Premier League broadcasting revenue to Championship broadcasting revenue and parachute payments could mean a potential loss of around £75 million in revenue. Therefore, with their current playing squad Leeds would be on course to record dangerously large losses next term. It is highly likely then, that relegation would mean serious cutbacks to the squad in order to trim the wage bill.
High earners like Rodrigo (£100,000 per week), Patrick Bamford (£74,000 per week), Raphinha (£63,000 per week) and Jack Harrison (£60,000 per week) would be the most likely to move on. These players would likely bring in big transfer fees that could be put towards rebuilding the squad with players on lower wages.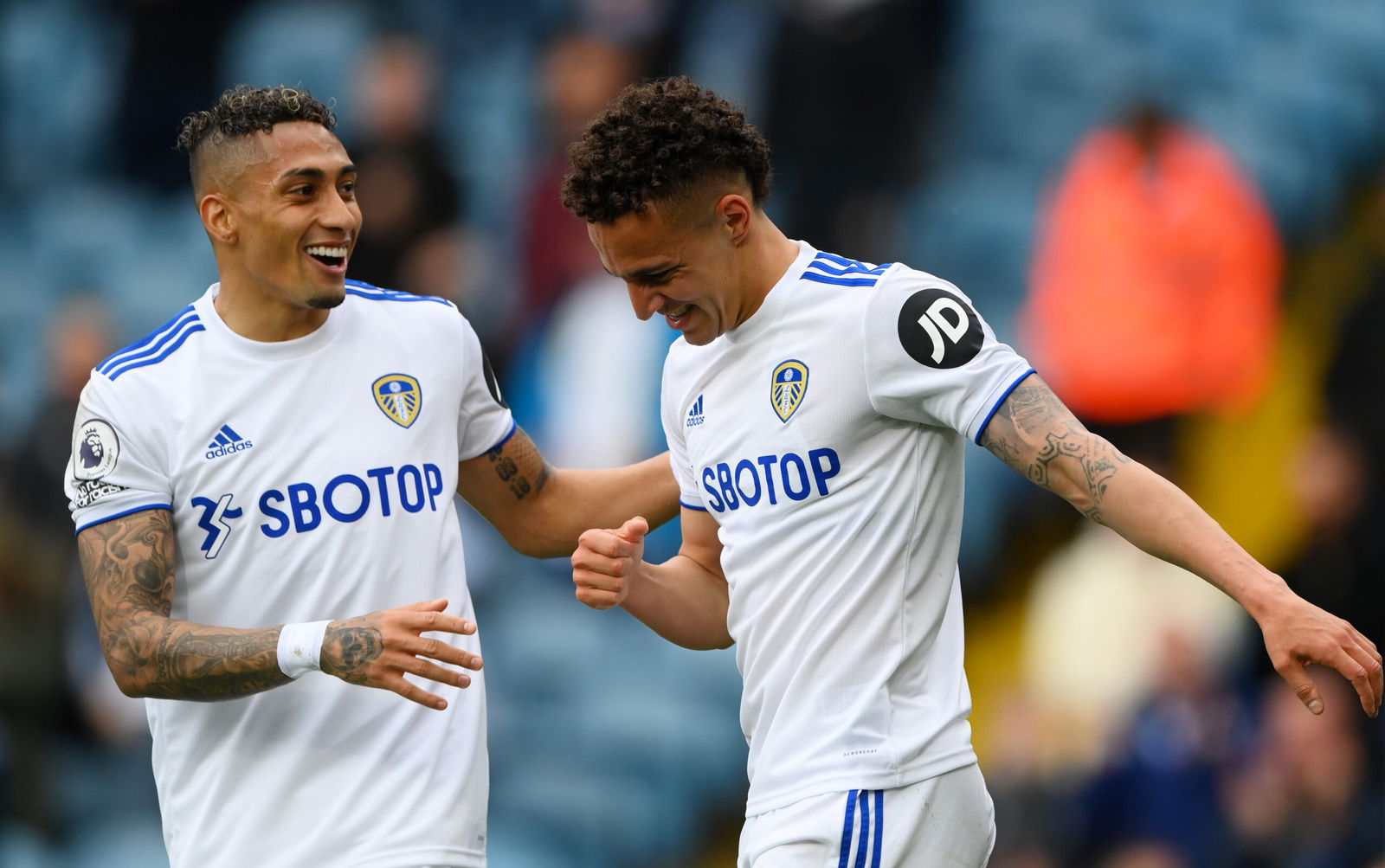 Optimism or uncertainty?
Ultimately, relegation would be a huge blow to Leeds' finances and would likely see them return to the red due to the loss of revenue. It would also see a necessary restructuring of the playing squad in order to reduce a wage bill that will see them make huge losses in the Championship. With the Whites far from perfect when it comes to recruitment, fans will be wary of where a total rebuild of the squad will see them finish in the table.
However, there is also cause for optimism should the worst occur. Parachute payments mean Leeds will have a huge financial edge that could see them follow Norwich and Fulham in winning immediate promotion back to the top-flight. Equally, the size and history of the club mean they have a commercial advantage over the rest of the division, one that should allow them to compete at the top of the table if recruitment is successful.