Jermaine Beckford is a Leeds United legend. Remembered for his heroic part in the Whites promotion from League One and his FA Cup winner against Manchester United in 2010, Beckford needs no introduction to the faithful at Elland Road. In 126 games for the club, he netted 71 times as he became arguably their most famous player since the Leeds team of the early noughties that challenged at the top of the Premier League and in Europe. What is striking about Beckford's stint in West Yorkshire is that he wasn't actually at the club for that long, four years in fact, but such was his impact he is know in high-regard among every modern-day Leeds fan.
His journey to stardom wasn't a straightforward one. Rejected by Chelsea in his youth, the Ealing-born centre-forward had to go the long way round. He spent his late teens and early twenties playing semi-professional football for non-league Wealdstone. After breaking into their first team after a season at the club, Beckford became prolific and attracted interest from numerous clubs in the Football League. Speaking exclusively to The Leeds Press, he revealed that although he never gave up, the chances of him becoming a professional footballer looked slim for a long time.
"A lot of people don't know just how close I came to not playing football," said Beckford. "I don't think I would have ever chosen myself to give it up, but there was a time when life was getting in the way and the decision was on the verge of being taken out of my hands. Getting towards my twenties I did probably think the chance was gone. I was rejected by Chelsea and ended up playing for Wealdstone. That was only semi-pro though and their was very little money in it. I was working as a windscreen fitter for the RAC – that was my main source of income and football was pretty much a hobby at that stage even though I was obviously happy to be getting paid something for playing.
"When I hear my story told, it's almost always said that I was rejected by Chelsea and then I went to Wealdstone and smashed it. That is not really how it went. I was actually loaned out to Uxbridge during my first season there, it wasn't how I planned it, I actually found it difficult at first. Slowly though I found my feet and in that last season before I signed for Leeds I think I broke the record for goals in the Isthmian Premier League. I scored 35 or 36 that season and I knew I could play at a higher level. Obviously more recently we have seen Jamie Vardy go the long way round to the top, but I think I was the only one around that time that managed it. I was quite luck really, especially being into my twenties."
Lucky or not Beckford had earned his move to Elland Road and when he signed in 2006, Leeds were only two years out of the Premier League. It was a huge jump for the then 22-year-old who was an unknown quantity in professional football. He was subsequently loaned out in 2006 and 2007 to Carlisle and Scunthorpe respectively, before Leeds relegation to League One saw him drafted into the first-team squad at the Whites ahead of the 2007-2008 season. It was a turbulent time at the club who were playing in the third tier for the first time in their history, while off-field financial problems continued to dominate and resulted in a 15-point deduction ahead of the season after entering for failure to comply with rules on insolvency.
"It was pretty crazy at that time," Beckford recalled. "There was a lot of unrest at the club. To be in League One was unthinkable for a lot of Leeds United fans. They were unhappy with Ken Bates running the club, they were unhappy that Dennis Wise was the manager and they were not happy being in League One. Then there was the points deduction and the aim was survival. Dennis was doing great as boss but then he walks out halfway through and Gary Mac (McAllister) came in. Leeds fans were going through lot but it gave me my chance at a level I knew I could perform at. I always backed myself to score goals and as soon as I got that first goal in that first game at Scunthorpe, my confidence grew.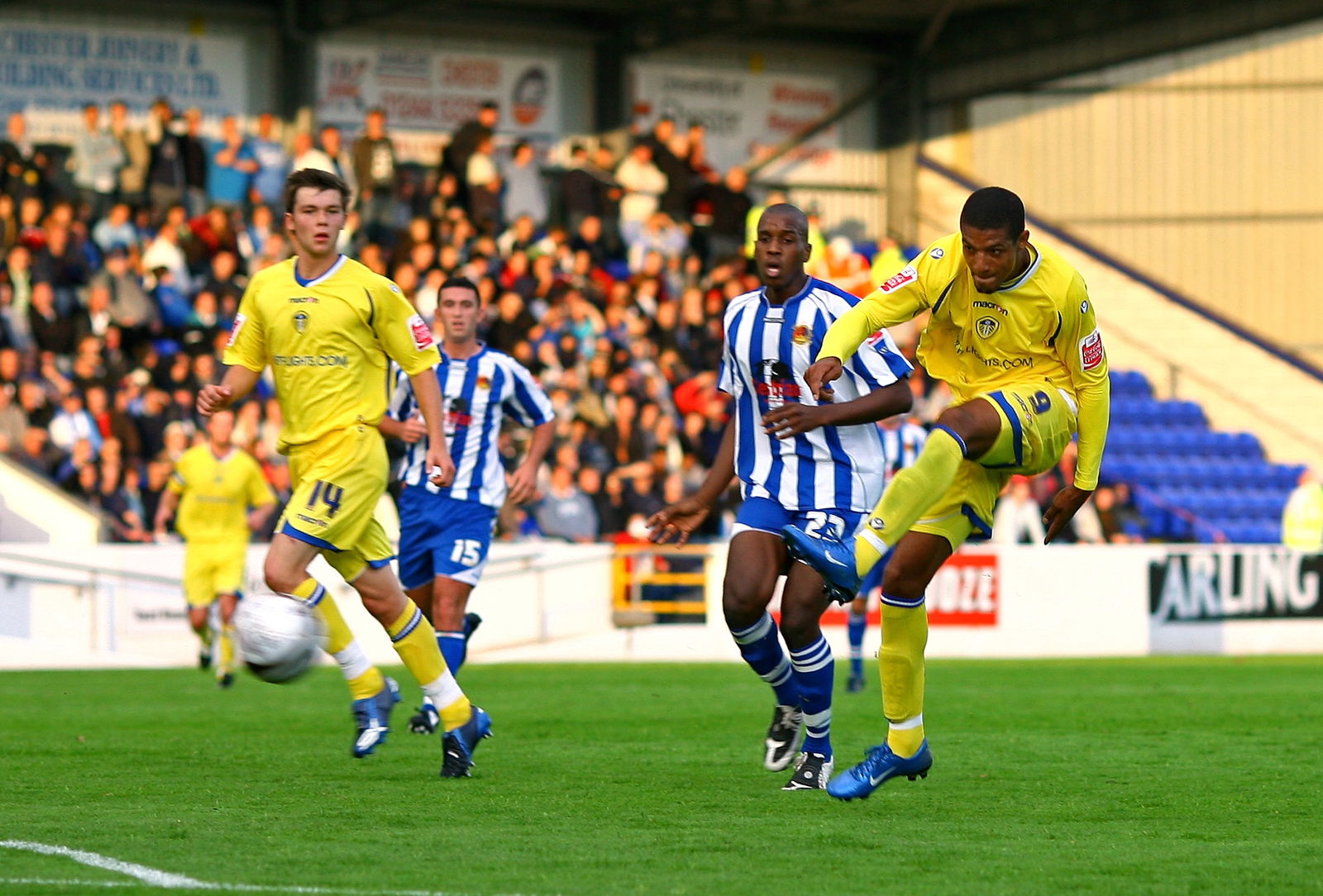 "We just kept winning at the start of that season, we were soon out of the relegation zone and then everyone is thinking promotion. We got to the playoffs but without the deduction we would have gone up automatically. Then it was a lottery, as the playoffs always are. We played poorly in the final against Doncaster, the occasion got to us. It was a stadium full of Leeds fans and the expectation was too much. It was obviously a great season for me. I reached the 20-goal mark which was my aim and I knew I could kick on. It was probably the lowest position the club has ever been in that season but I think the die-hard Leeds fans really remember that time, it brought us closer and the way we recovered from the points deduction to nearly go up had people believing again. I'm obviously going to say this, I'm a Leeds fan now, but we did deserve to be promoted that year, it was tough to take at the end, losing at Wembley."
The hangover from that season caught up with Leeds the following campaign and under club legend McAllister, they were off the pace with the automatic promotion aim faltering fast. Simon Grayson was brought in to replace him at Christmas and despite an improvement in form to secure a playoff place, the Whites fell short again as Millwall dumped them out in the semi-finals. For Beckford it was another impressive goal-scoring season, this time netting 26 league goals, but unfortunately it was again in vain. A third consecutive season in League One beckoned, and with Grayson now at the helm there was huge positivity. That soon became justified as the club made it a season to remember, not only in the league, but also the FA Cup, as Beckford wrote his name in Leeds United folklore forever.
"Yeah that was an amazing season. Everyone was a bit sick of playing in League One and we knew it was time we got out of that division. We were the best team in the division for most of it. The FA Cup run was incredible but it threw off our league form. I wouldn't change any of it for the world though. That last game against Bristol (Rovers) on the last day to go up, Elland Road that day was ridiculous. When we were 1-0 down and Maxi (Max Gradel) was sent off I think we all had doubts. But the goal from Jonny (Howson) and then the ball fell to me a few moments later, I just focused on a clean connection, to see it go in and for it to be the goal that sent us up, nothing will ever beat that feeling.
"People talk more about the FA Cup goal at Old Trafford, and that is another day I will forgot. Nobody gave us a chance that day. It was the champions of England against League One Leeds. I don't think the Manchester United players knew how up for that game we were. We knew how much it meant to the fans and we gave it everything. The goal, well I actually took a bad touch but it worked out. In the next round we went to Tottenham, I scored twice there, one was a last minute penalty. We got knocked out in the replay but they were some great memories. I got 30 goals that season, but it was the significance of them that made it great. If someone would have told me at the start of that season you would score that many goals and it would include a winner at Old Trafford and the winner on the final day to get promoted, well, it would have been a dream, and it came true. Leeds fans come up to me everyday now and talk about these moments, those days and the club mean everything to me."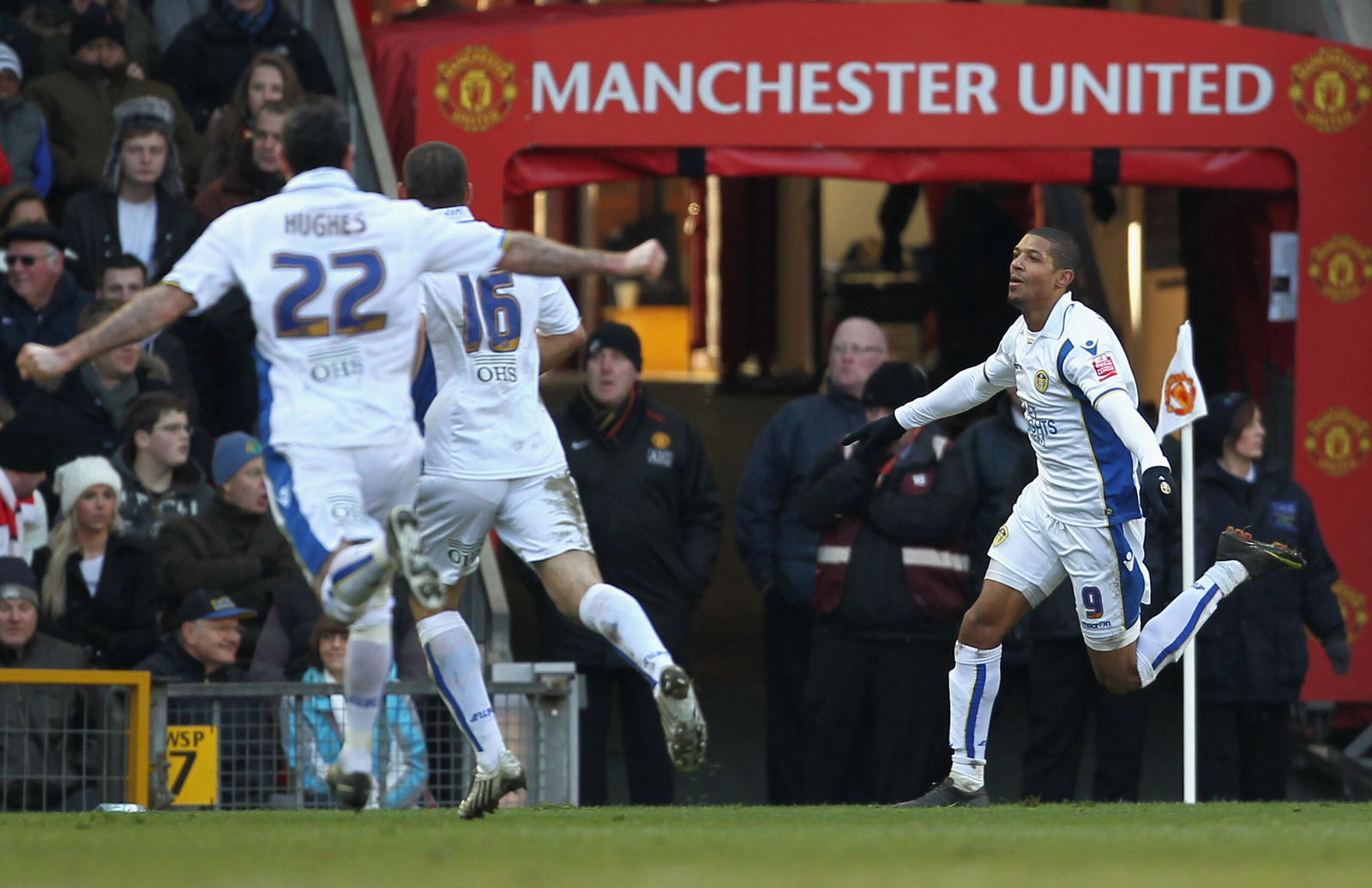 As Beckford was a late-bloomer in terms of professional football, after three seasons with Leeds in League One, he was now at the age of 26. His consistency for the Whites in registering 71 goals in that time, combined with his FA Cup heroics against top-flight opposition, saw Beckford attract interest from Premier League clubs. Now at his prime and with Leeds not expected to challenge for promotion to the Premier League for a few seasons having just been promoted, he agreed with the board at Elland Road that it was time to leave as he reached the final few months of his contract. Everton were the club to give Beckford a shot at the Premier League, and while he struggled for game-time at Goodison Park, Leeds surprised everyone as they went within a whisker of a playoff spot, something the Whites former striker admits he would liked to have been a part of. As it was, he would move around numerous clubs for the rest of his career, retiring with his best days and undoubtedly most memorable moments coming in a Leeds United shirt.
"I watched Leeds that first season I was at Everton a few times and it was a bit strange," Beckford admitted. "They did really well that first season back in the Championship. It was pretty much the same team and manager that had earned promotion, barring myself. It would have bee nice to have stayed, I've not felt the love I got from Leeds United fans at any other club and that's why I now class it as my club. The perfect scenario would have been to have stayed at Leeds and got promoted that first season back, but at that time we had different ambitions. I didn't want to leave but I did want to play in the Premier League. I did that and I'm proud I did but it would have been better to do it with Leeds.
"It's nice to be in the media now because I take every opportunity to talk Leeds up. It's hard to explain to people what this club means. It's hard for people who have not played or are not associated to Leeds United in any way just how much the fans and the people in the city love the club. People just don't get it, but I try to explain that there is no other club like it. I have played for a number of professional teams and none come close to Leeds United. Being back in the Premier League now has allowed people to see the size of the club, and I hope we can stay there for many years because the city and the fans deserve it."