Goalkeeper Rob Green had a long and successful career that spanned two decades and six different clubs. He made over 600 appearances between the sticks in that time, including 12 games for England and one infamous World Cup in South Africa. But it would be fair to say that the final few years of Green's career weren't exactly ordinary. The Surrey-born shot-stopper retired in 2019, but his final first-team appearance came two years and two clubs prior to that during his spell at Leeds United.
Green arrived at Elland Road in the summer of 2016 and was one of the first signings under new boss Garry Monk. He was part of a mini overhaul on LS11 as Monk got to work at trying to reshape a dysfunctional squad that was the result of a revolving door of managers under chairman Massimo Cellino. Speaking to The Leeds Press, Green recalls the day he signed for the Whites and met the maverick Italian owner.
"I don't know what was really happening at that stage of my career," admitted Green. "Things had started to go a bit crazy from the point I was frozen out of the starting line-up at QPR. They wanted to reduce the wage bill and knew if I played one more game they would have to trigger an extension. I went from playing every game to just sitting out the last 15 games of the season knowing I would be moving on. I had actually nearly joined Crystal Palace in the January, if that would have happened I would never had joined Leeds.
"When it came to the summer I had a few offers but Leeds was the one that stood out. It was the chance to go play for another massive club and when I spoke to Garry, he said there was a strong chance I would become the number one keeper. Marco Silvestri was first choice when I came in but he had lost his confidence, I could tell as soon as I went in to training. That's the thing with playing in net for a club like Leeds, you have to be mentally strong because when things start to go pear-shaped the fans will let you know. I think Marco had a shaky end to the previous season and it had knocked him. So I knew I was going to be first choice.
"People often ask me about Massimo Cellino. He was a character, almost something like out of a film. He had a fiery and passionate personality, which probably explains why he got rid of so many managers, but it was chalk and cheese between him and Garry Monk. While he was like he was, Garry was calm and composed most of the time and I think Massimo liked that. He calmed him down a bit which is probably why it was the most stable few months of Massimo's time at Leeds when Garry was there, albeit it was the final few months of his time at Leeds."
After five seasons of finishing between 13th and 15th in the Championship, Green was part of a revitalised Leeds side that were finally in the hunt for promotion under Monk. The new manager had built a solid team spearheaded by the likes of Liam Cooper, Luke Ayling, Stuart Dallas, Kemar Roofe and Chris Wood. They spent the majority of the season in the top six, but a run of just one win in their last eight matches saw Monk's side finish seventh, denying them a shot at Premier League football via the playoffs.
"We made a poor start to that season," Green recalled. "I think we lost four of the first five or six games if I remember rightly. Garry was still adjusting but I could see a bit of worry from the players that Massimo was going to pull the trigger. Thankfully though he stuck with Garry and we started to become more consistent. The Championship is a tough league and though we had a few runs of winning two or three matches in a row, we just couldn't get on a long enough unbeaten run that would have seen us really challenge.
"That was a real tough season to get promoted because Newcastle and Brighton were really strong, then you add in Fulham, Huddersfield and Reading who all had good teams. We finished above some good teams though; Aston Villa, Wolves and Norwich couldn't get near the playoffs that season so considering the start we had, I think we surprised quite a few people. There was just too little room for error though and the start and finish to the season cost us. We had a bit of a standing start to that season and it caught up with us, but there is no doubting Garry's quality as a manager because the team had improved about six or seven places from the previous season.
"On a personal note I enjoyed every minute of my season at Leeds. I had a lot of experience under my belt and it prepared me well for that season, because I did have the odd setback. I remember Newcastle at home I gifted them a goal, and it was packed in Elland Road that day so that took a lot to come back from. But I think I saved a few penalties that season, one at home to Sheffield Wednesday and I had never heard a raw like that from a crowd to saving a penalty. After a few months I felt comfortable and was in good form, that led to me signing a new one-year deal a couple of months before the end of the season. I thought I would finish my career at Leeds at that point, and I would have been happy to do so."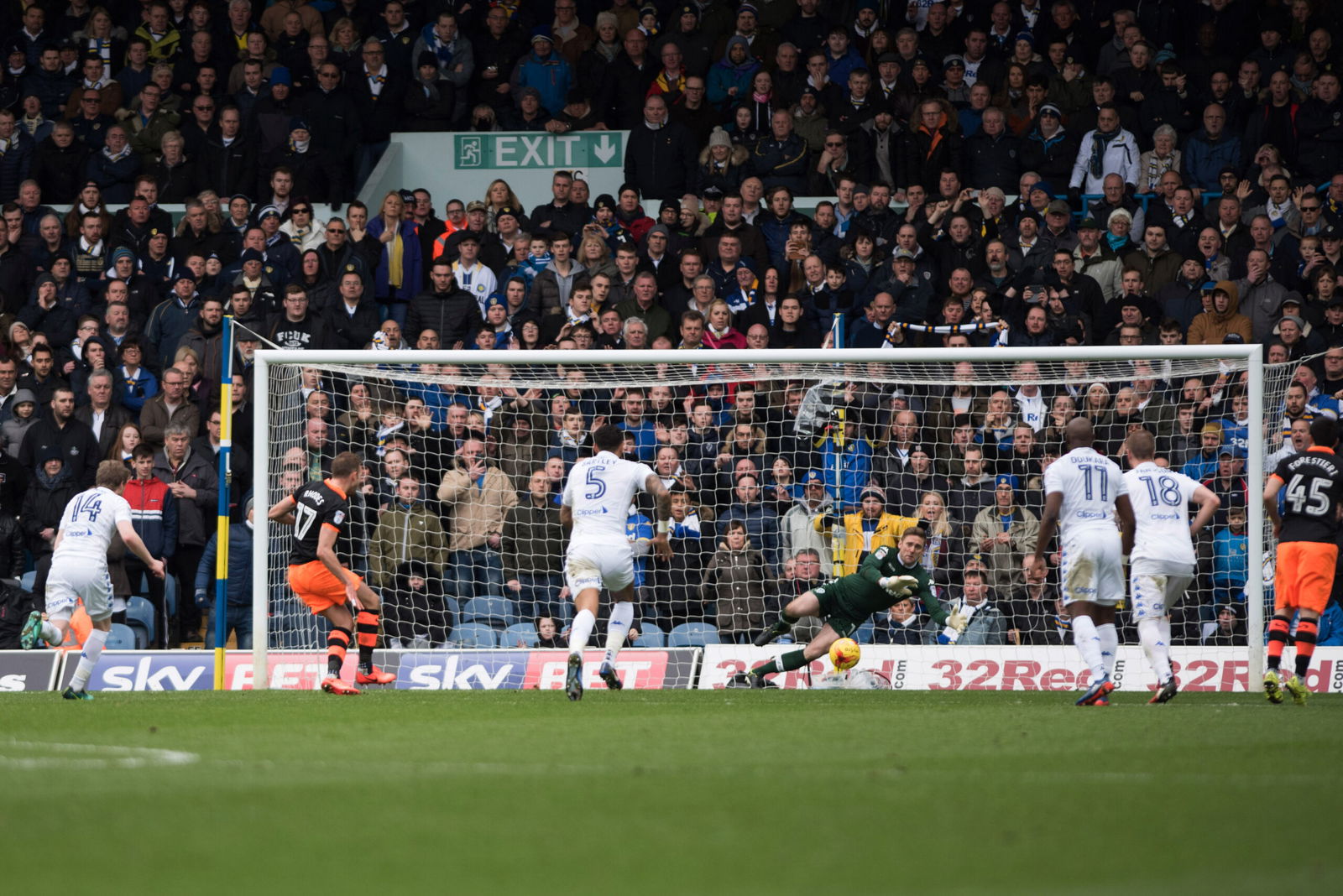 As is football though things changed quickly. Green saw out the season with Leeds and was expected to come back as number one for the following campaign. However, Monk resigned as manager weeks after season to become Middlesbrough boss and that started a series of events that saw Green pushed out at Elland Road. Now under the ownership of Andrea Radrizzani, Leeds appointed Dane Thomas Christiansen as their new manager and he brought in goalkeeper's Felix Wiedwald and Andy Lonergan, resulting in Green's exit to Huddersfield in the final few days of the transfer window.
"I had that season of stability at Leeds but then the craziness started again," said Green. "There was a lot going on behind the scenes in that season I was there. Massimo got banned by the FA and he sold half the club to Andrea Radrizzani in January. Everyone was a bit uncertain but I actually felt I was one of the few players that had a bit of certainty around them, because I had signed that new deal. But then Andrea takes full control of the club, Middlesbrough come in for Garry Monk and everything was up in the air again.
"If I'm honest I had never even heard of  Thomas Christiansen when he was appointed. I don't mean that disrespectfully but none of the lads really knew him or what his style would be. For whatever reason he had his own ideas about a goalkeeper and he just didn't take to me. It was a bit like when Pep Guardiola came in and he didn't fancy Joe Hart. Once that happens you know you'll be moving on and I got the vibes straight away. I didn't immediately give up by the way because it makes you want to prove a point, but they started that season on fire and the new keeper was keeping clean sheets for fun so I knew that was that.
"Huddersfield came in for me just before the window closed and I went there knowing I might have a chance to play Premier League football again. As my luck was their keeper was having a great season and I never played a game, I then went to Chelsea in a backup keeper slash coaching position. That became a bit of a joke because I obviously lifted the Europa League without playing a game, but I would rather have seen out my career playing to be honest.
"I think in another universe I would have stayed at Leeds another one maybe two seasons and helped them back into the Premier League. I was only a season out from the start of the Bielsa era which would have been interesting to be part of, even if it was just for a few weeks. I obviously didn't want to leave Leeds when I did because I loved my season there. Playing at Elland Road and having the Leeds fans at my back in home and away games was special. It is a huge football club and I only have good things to say about my time there, even if it did end a little abruptly. It's good to see them back in the Premier League now and I'm proud to have played for the club."