Daniel James' tryst with Leeds United began far before the summer of 2021. On the last day of the January 2019 window, a £10m package was agreed between Swansea and Leeds for the then 21-year-old James. He had even completed his medical at Leeds, and was at Elland Road conducting interviews and announcement photoshoots. The deal fell through in the last hour after a disagreement between Swansea owners and Leeds' chairman regarding the structure of the deal. Leeds then-manager Marcelo Bielsa said that he refused to blame the club for missing out on James, but added, "I'm not underestimating the importance of the absence of James."
Two-and-a-half years later, at a substantially increased price of £30m, Leeds United fans welcomed the signing of Daniel James from rivals Manchester United, in the summer of 2022. This is Leeds' record signing along with Rodrigo (roughly the same price). The long-term chase and fee paid indicated how highly Bielsa rated the Welsh winger and on paper it seemed like a perfect fit too, with the youngster's workrate, pressing and directness looking like it would fit well with Bielsa's philosophy.
But such is the nature of transfers and football in general, that a season later, James has been among the underwhelming players in the fight to stay in the Premier League and hasn't looked like the record signing the club chased for a large part of 3 years. The sacking of manager Bielsa has further complicated matters.
It's not all doom and gloom though. James is still a new signing for all practical purposes and has enough time to turn his Leeds career around. In this article, I analyse James' 21/22 season to explain the things he has done well and the things he has to improve on to turnaround his Whites career and prove he was worth the chase.
Movement – A winger playing striker
A large part of James' struggles this season can be summed up by the position he is being asked to play. The injury issues at striker (Bamford has played less than 10 games) coupled with the form of Raphinha and Harisson has meant that James has often lined up as the designated striker. He has started 18 times at CF, 12 times on the left and 3 times on the right this season, with many positional switches also occurring mid-game.
For a player who was known for his blistering pace, dribbling, workrate on the wing and directness, a central role has been really unsuitable. A new signing trying to settle into the team being thrown around the place is probably not the best settling in phase, but that's how life at the bottom half of the Premier League is. Let's take a look at his heat map and take-on map.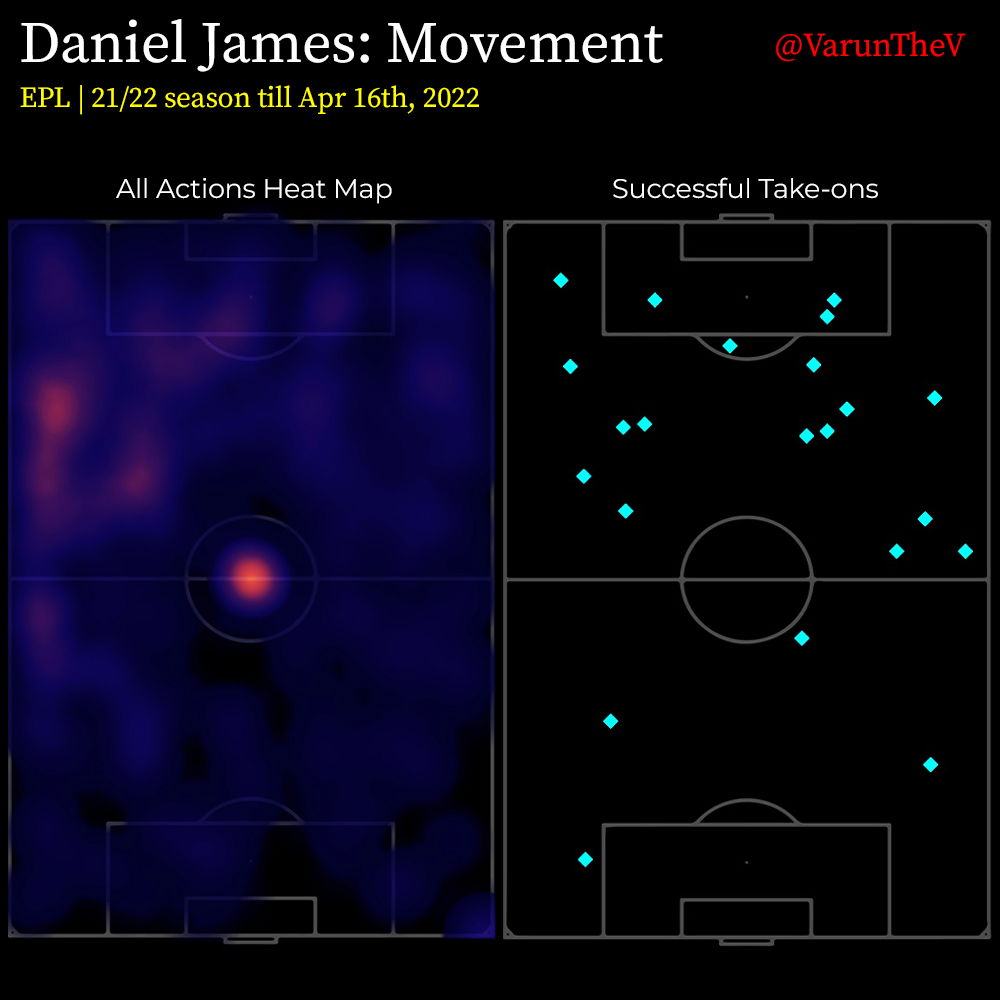 Firstly, to clarify, as hilarious as it seems, that red hot zone in the centre of the pitch isn't a mistake. As the designated striker, James has kicked-off Leeds each time from the centre after conceding a goal and Leeds have conceded 68 goals this season. That mark is a consolidation of Daniel's passes from a kick-off. It says a lot about how isolated and uninvolved he has been in terms of passing and touches, that his centre kick-offs have been more noticeable.
The rest of the heat map is indicative of what we spoke about earlier. There is some left-leaning indication given he has turned up at LW many times this season and often drifts there from CF too, thanks to his right-foot angle. Other than that, he's been all over the pitch often winning back balls in his own half or down either wing. His blue heat map extends all the way down to the wings in his half, showing how willing a runner he has been. He has applied the 4th most pressures in the squad. Nothing about this heat map screams 'centre-forward' and if James is to be a success at Leeds, his traits are probably better used on the wings.
His take-on map confirms more of the same. He is a good dribbler and has successfully dribbled past players on occasion when he has the ball. His dribbles are slightly right-leaning, indicating an eagerness to use his strong right foot to get on the outside of players and try to cross in. He has the 5th most take ons in the squad even after ranking 16th for touches per 90. That latter stat is the real issue. James has just not got on the ball enough, been isolated ahead and limited to running without the ball to try and contribute defensively. It's not the ideal way to use your star winger, is it?
Passing – A shot-creating winger
Let's dive straight into a pass map covering his assists, progressive passes and key passes.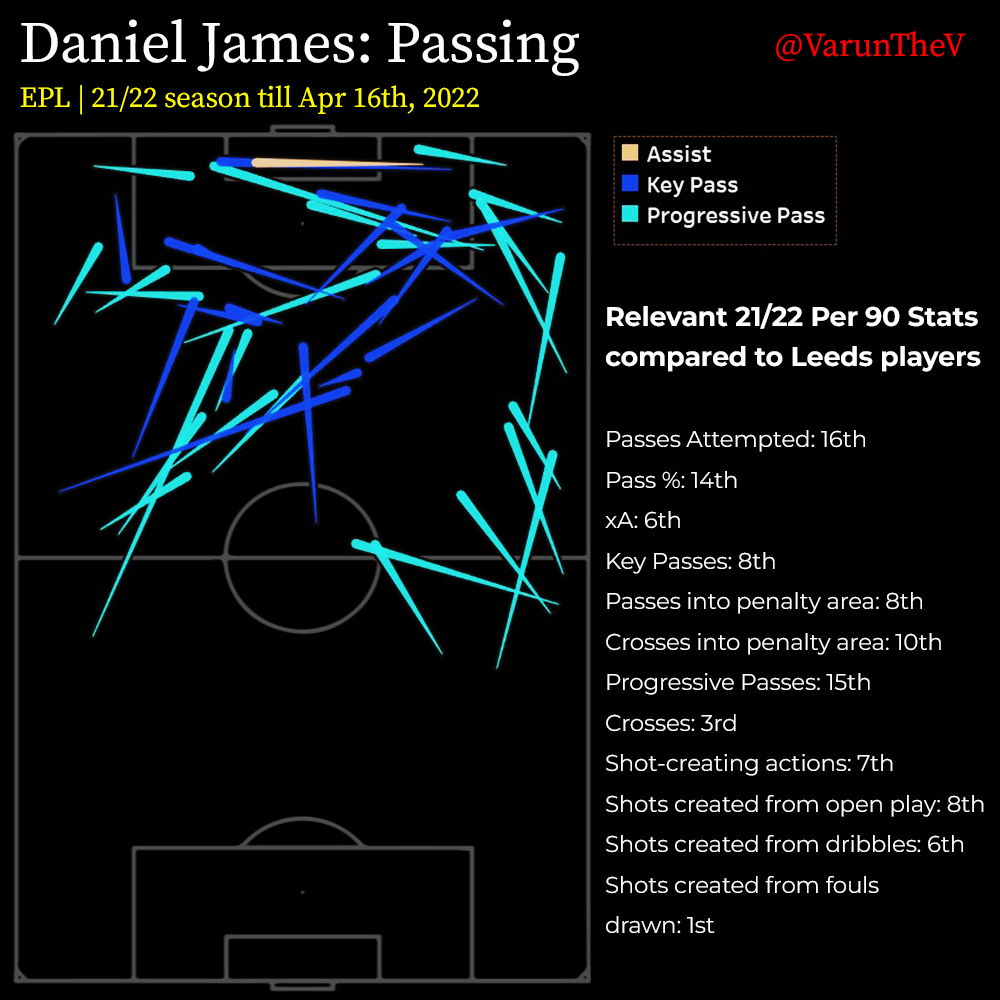 Upon first viewing, one would assume this pass map belongs to a winger who has played less this year. There aren't many passes in either of the 3 categories and most of them look like wide attacker's. But the reality is that James has played regularly as a striker. The disconnect is obvious. Most of his chances created have either come from a diagonal ball from the left wing or a cutback from the right wing. His progression has also largely followed these 2 patterns with some extra progressive passes from a deep right wing area.
Looking at the stats, we once again see how less he has got on the ball from his passes attempted. James is simply not involved in possession and that is clear from all the stats that follow. He has still managed a threatening xA which seems to be a product of his crosses. The positive news is that he has some good shot-creating stats, topping the squad for shots created from fouls drawn. His dribbling wins Leeds free kicks and makes him a menace in transition, something that goes in line with this skillset as well.
From these stats, it can be concluded that his ideal role should be a winger who tries to beat his man and put in a cross and gets at the end of transition moves to utilise his pace to create shots and draw fouls.
Shooting – A poor finisher hogging shots
Let's take a look at James' shooting stats ranked within the squad.
Shots: 3rd
Shots on target: 4th
xG: 4th
NPxG: 2nd
NP Goals: 4th
NP G-xG: 7th
James has taken 51 shots for his 4 goals and underperformed on his expected goals (xG) of 5.1. All the stats point to one thing – James should probably not be taking these many shots because he's not a great finisher. He's hogging the team's shots that are probably better left for someone else more capable of finishing. 2 examples would be Jack Harisson and Rodrigo, who have both taken lesser shots than James and from distance as well, but delivered 7 and 6 goals in return with much better conversion.
This adds to another dimension of James being a winger. Not only should he stick to wide areas to defend, dribble and assist, those positions should also take him away from the centre, where better shot takers can shoot more than him. James just isn't made for a central role from all angles.
Final thoughts
A combination of all of our 3 sections simply says – James should play winger. And that's probably the perfect culmination of his first season at Leeds and the reason why it's underwhelming. He's just playing a role he isn't good in and where his traits are not being utilised. 
Pundit Kevin Phillips told Football Insider in December 2021: "I don't think that was an area which needed strengthening. You've got Jack Harrison and Raphinha, two quality players – as well as others who can fill in. I thought it would backfire if they didn't bring in that other recognised goalscorer – and it has. He's played Dan James down the middle, but he's never a striker in a million years. They should have used that money to go and get a quality striker who could have challenged Bamford or come in when he's out the team."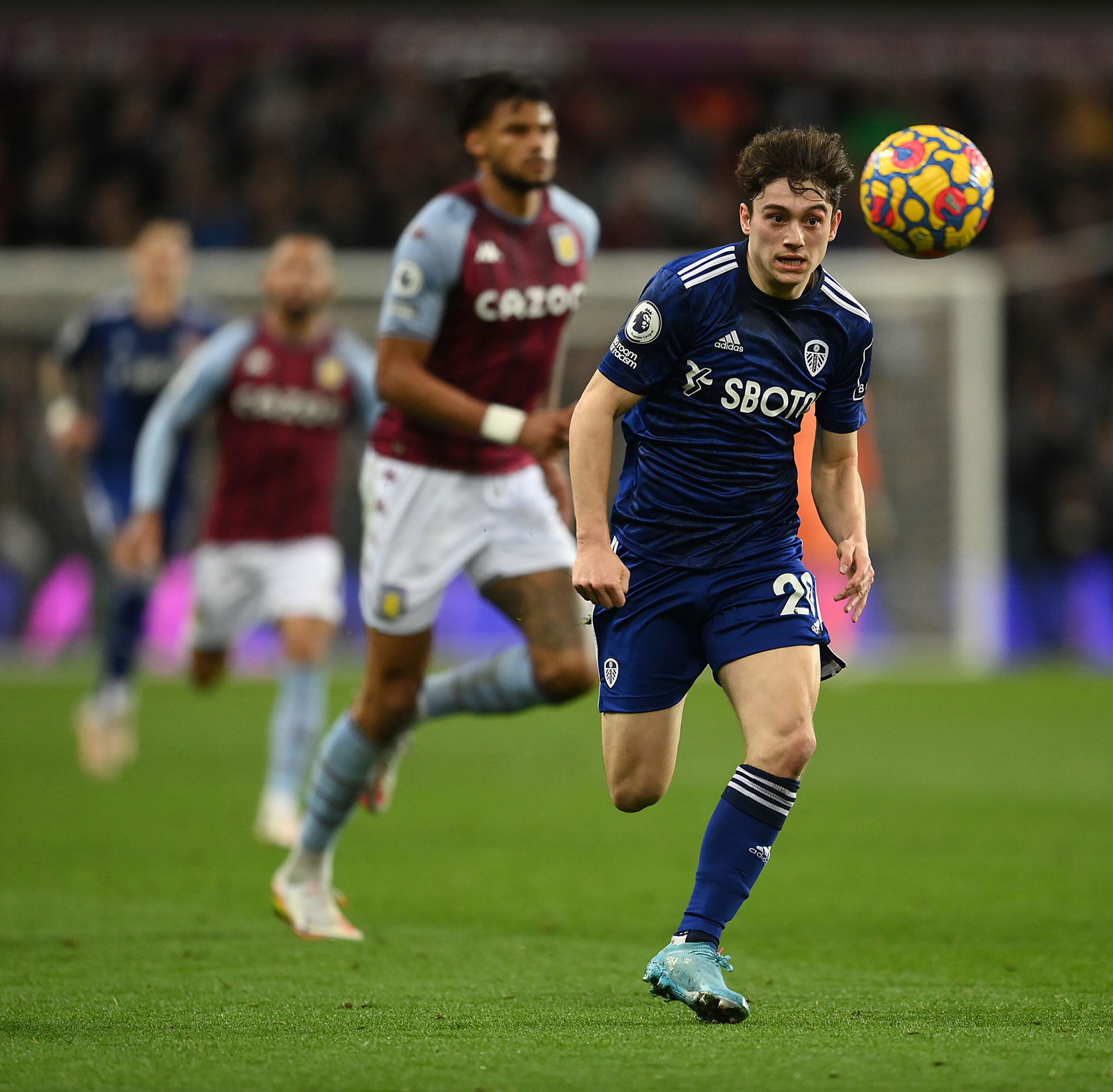 While this could be a case of hindsight being 20/20, it has proven right. It wouldn't be right to say that James' move has been a roaring success as of now, but from all that we know so far, the solution is pretty simple – get a striker and let James compete for the wide roles. There's a good chance that a consistent run on the wings could revive James' career for the Whites since all the underlying numbers and patterns still point to a hard-working, pacey, dribbling winger who can create shots and chances for his team from wide areas. 
For example, if Leeds get a big money offer for Raphinha and use that money to invest in a striker, suddenly the balance in the attack starts looking much better with James being relieved of striker duties and gaining more winger opportunities. There's still a very good player in Daniel James that suits the Leeds United philosophy – it's just not a striker.