Officially, Jack Harrison became a permanent team member of Leeds United only at the start of this season in July 2021 for a fee of £11m, but it hasn't felt like that considering how the Englishman has already spent close to 4 years at the club, appeared 148 times and gone through the highs and lows of Championship struggle, promotion to the Premier League and battling to stay in it. He already feels like an integral part of the Leeds family with 25 goals, 20 assists and consistent performances to show for, during his time here.
But it was hard to find a home for Harrison. Few may know that he played for the youth teams of Manchester United and Liverpool before moving to the United States to win the Gatorade National Player of the Year for high-school soccer. That put him in the limelight to be picked up by the ambitious New York City FC, where he tasted his first stint of consistent senior team football racking up 14 goals and 9 assists in 50 starts. He impressed so much in that spell as a youngster that he evoked the following responses at different times from his peers:
Andrea Pirlo (Teammate): 'He is very young, he's fast and he is capable of playing in Europe. He's a good player.'
Frank Lampard (Teammate): 'I think there are a lot of big things to come from Jack. I like him, he's a great lad, great ability.'
Patrick Vieira (Manager): 'He's a good player, technically he's really good, he understands the game, he can come and link with our No. 9, he can run behind the back four, his football brain is fantastic.'
Two of those players became managers soon after while his former manager is now doing well with Crystal Palace. When 3 manager-level brains compliment you like this, you know you are destined for something great.
And that's what Harrison thought when the mother club Manchester City picked him up from New York City FC. But breaking into a crowded City team seemed harder than expected and loan spells were the need of the hour, plunging Jack's future into doubt again. But 3 loan spells and a permanent move later, Harrison has found a home at Leeds United and is repaying the faith the Whites have shown in him with many consistent and effective performances. Former New York teammate, David Villa ecstatically called Jack 'Golden Boy' on an Instagram post after a man-of-the-match display by Harrison to help Leeds secure promotion last year and it is a fitting nickname for the now-25-year-old.
Today, we'll analyse his 21/22 season.
Movement – Tenacious left-sided dribbler
As per fbref.com, Harrison ranks at 99 percentile for dribblers tackled, 94 for clearances, 92 for blocks, 91 for defensive third touches, 90 for defensive pressures, 90 for passes blocked and 88 for passes blocked when compared to all attacking midfielders and wingers in Europe. This is probably a good place to start to explain what Harrison is all about. He's probably one of the best defensive wingers in the league, constantly providing immense workrate, ball-winning and pressure from a left-wing position. This isn't your typical flair-filled winger who stays in the attacking third for goals and chance creation. While Harrison can play an inverted winger from the right, he prefers playing a same side winger from the left, giving the feeling that he's closer to a classical hard-working winger than a modern one.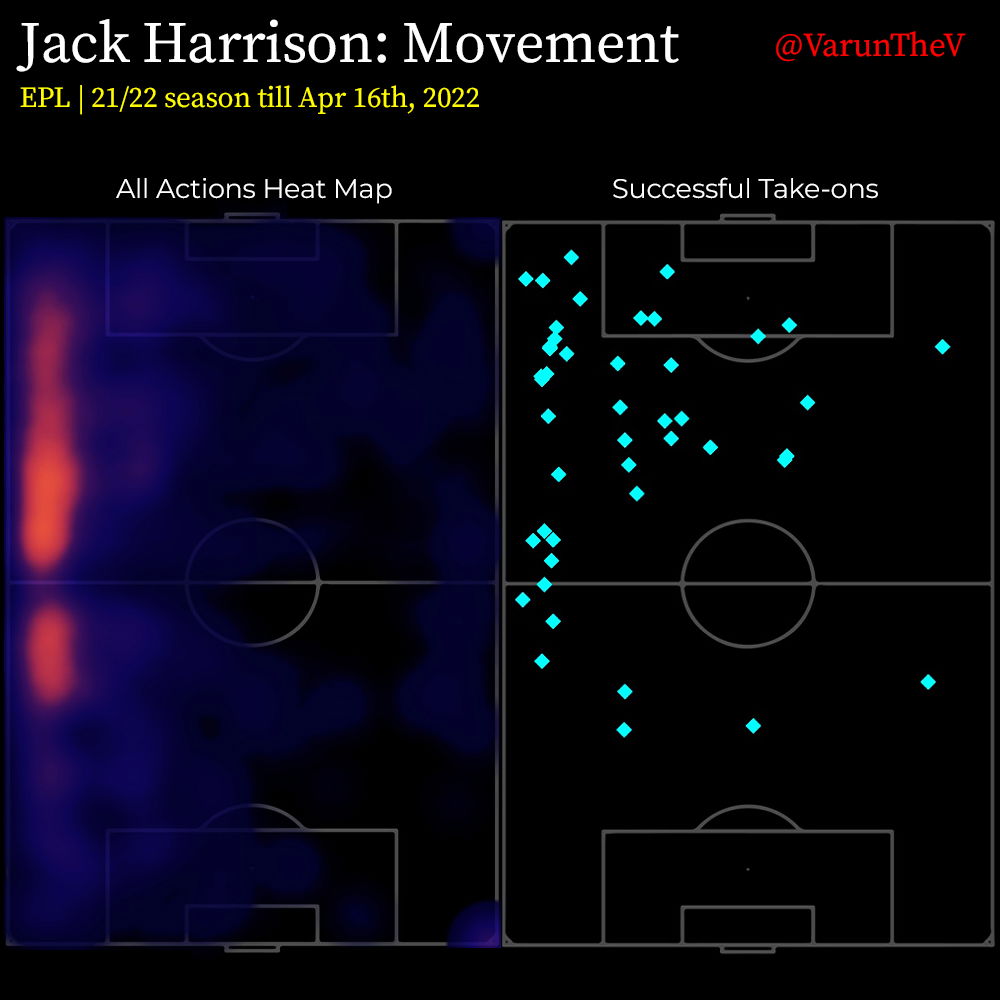 His left wing effort and coverage is very clear from his all actions heat map. He really feels like a touchline wide outlet who is more than willing to defend in his own half as well. We went through his defensive actions above, which prove how well he fits into the pressing ethos of Leeds United of the past few years.
Another good trait of Harrison is his dribbling. He is a very adept carrier of the ball and as can be seen by his take-on map, he likes to beat his man with a burst of pace and skill especially in the attacking third. His per 90 carrying stats ranked among Leeds players are:
Dribbles attempted: 2nd
Players dribbled past: 2nd
Total carry distance: 4th
Progressive carry distance: 3rd
Progressive carries: 1st
Carries into final third:1st
Carries into penalty area: 2nd
These are good numbers for a winger. Only Raphinha is a better dribbler than him in the squad and when it comes to progression via carrying, probably no one is.
So in summary of his movement, he's a player who dominates the left flank, pressing and defending with a high work rate when out of possession and carrying and taking on opponents when in possession.
Passing – Final ball expert
Let's dive straight into a pass map covering his progressive and key passes.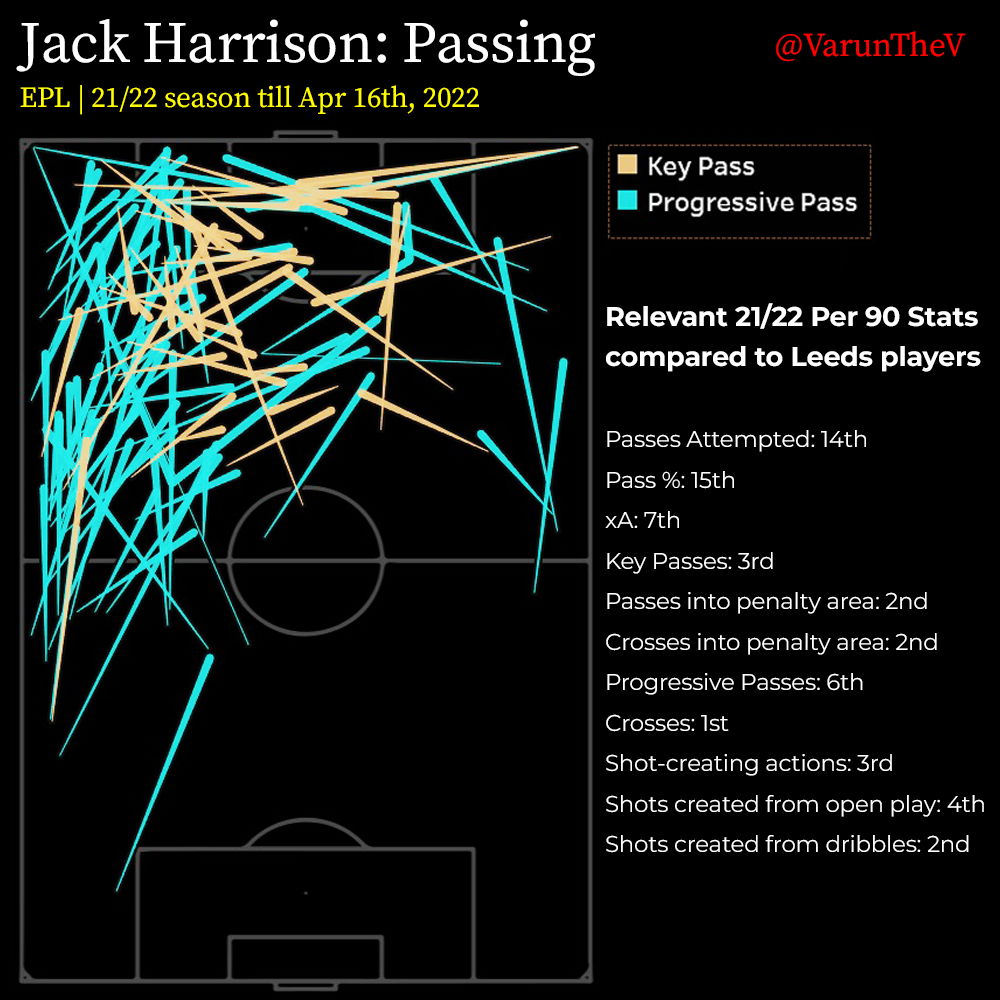 The left wing domination can be clearly seen once again. Usually, the pass map of a midfielder will have a lot more progressive passes than key passes, but Harrison's are almost equal. This and the stat rankings given in the viz, give us clarity on the type of passer he is.
Harrison doesn't get on the ball much as seen by his passes attempted. His touches per 90 also ranks 11th in the squad, showcasing that he is a very low ball-affinity player, which implies that he is someone who doesn't demand the ball much or require to drop and receive the ball. He is very willing to keep working out of possession and wait to get the ball in good areas in the final third of the pitch. When he does get the ball from deeper areas, he does have decent ability to progress as evidenced by his 6th rank on progressive passes. But what really stand out are his crosses, crosses into penalty area, passes into penalty area, key passes and shot-creating actions which all rank in the top 3 in the squad.
All of these collectively scream one thing – final ball expert. Harrison is the guy who looks for that penetrative pass that unlocks defences, whether it be the smart cutback to a deeper attacker or a dangerous cross into the box for the striker, evidence of both visible from his key pass map. He's not a big through ball expert and his key passes are rarely vertical in nature, which show that he isn't adept at playmaker-style straight passes, but is rather more inclined to getting into good wide areas and drilling it laterally into the box. Raphinha and Rodrigo are the other 2 players who constantly rank with him in the top 3 for most creation metrics for Leeds this season and they operate from the right side and centre leaving all creation from the left wing in Harrison's capable hands.
In summary of the two sections so far, Harrison is a low-touch classical left-footed winger who is willing to work hard out of possession and defend for the team, waits to receive the ball in a patient manner and is adept at beating his man and putting a final ball in from the left wing when he does receive the ball in the opponent third. 
Shooting – Efficient distance shooter
Harrison does have 41 goals in his career so far with 27 of them coming at Leeds in the last 4 years. For a touchline winger who stays wide and puts crosses in, that's actually a good rate. Harrison's shooting quality and efficiency is deceptively good. From the 46 shots he has taken this season, 20 have been on target and 9 have resulted in goals. He has scored the 2nd most in the team after Raphinha in a campaign where every goal has been important for survival. His Shot on target % of 43% is the highest in the squad and at a strong 86 percentile in Europe, showcasing his efficiency and technique.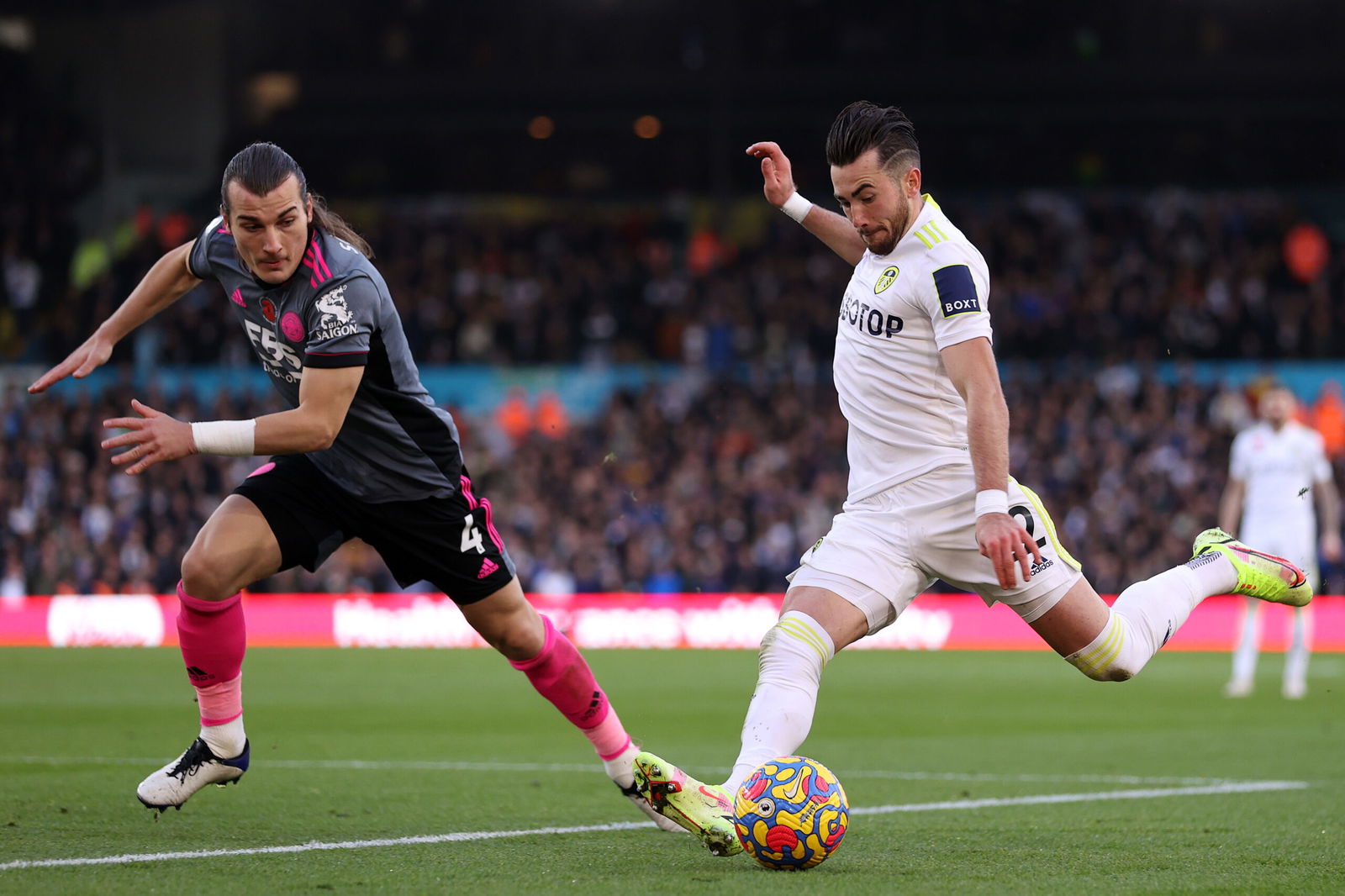 He also has the highest goals per shot among all attackers in the squad and the best G-xG (Goals minus expected goals) value showcasing his great conversion. He is not wasteful at all. When he shoots he makes it count, often hitting the target to trouble the keeper. And all this comes after being 9th in the squad for average distance of shots, which means he doesn't get the luxury to shoot from up close either. He's doing this all with low xG distance shots. It really is a remarkable attribute and one Leeds should probably look to utilise more of by getting Harrison into better positions. New manager Jesse Marsch's insistence on having his wingers narrower and the gameplay more vertical might help Harrison in this regard.
Final thoughts
Harrison's current contract started this season, after the club signed him permanently, and runs until 2024. He seems settled at the club and has been a key contributor in 21/22 helping the team with important goals and assists in attack and immense ball-winning and workrate in defence. The introduction of new manager Jesse Marsch in February hasn't changed much for Jack, allowing him to continue doing what he does best from the left wing in a 4-2-3-1 formation, albeit with the tactical intention to become narrow and more vertical.
There don't seem to be any signs to suggest Harrison's future or starting spot is in doubt, but there always remains the possibility that Marsch might want to go for a more narrow vertical winger or inverted winger in place of Harrison next season. So far, there don't seem to be any better options at the club with Harrison's form and consistency keeping new signing Daniel James and wonderkids, Summerville and Greenwood, away from his left wing berth, but only time will tell if any of those 3 or a new signing displace Harrison next season.
From all we know of Jack though, don't be surprised if his hard work, courage and ability to dazzle, keep them all at bay and him contributing as a regular starter for some more time. He has fought hard for it.