Luis Sinisterra arrived at Elland road in early July, even before Raphinha's departure could be confirmed. This indicates how much Leeds wanted the Colombian winger and how they've been tracking him for a while. The 23-year-old penned a 5-year deal until 2027, which sounds like a good time to tie down a young player for his peak years. Sinisterra comes with some hype having bagged 23 goals and 14 assists in 49 appearances last season, en route to a successful campaign that ended with a Europa Conference League final appearance and third place finish in the league, for Feyenoord. Coming back from injury currently, Luis is one of those exciting flair players from first look, and the Leeds faithful are sure to be entertained when he finally starts for the Whites.
Today, we take a deeper dive into his profile and what he brings to the table for Leeds United.
Movement – A left-sided wide dribbler
First, let's talk about Sinisterra's best position. In 21/22, Sinisterra played all 49 games of the season as a left-winger. Surprisingly, he didn't play a single minute at any other position. Even going back, if we look at his whole career, Luis has played 101 times at LW, 36 times as RW and 12 times in a central role. It's pretty clear that he is a right-footed inverted winger who loves to play on the left wing.
Let's dive into his heat map for 21/22. All the viz shown below are only for the Eredivisie.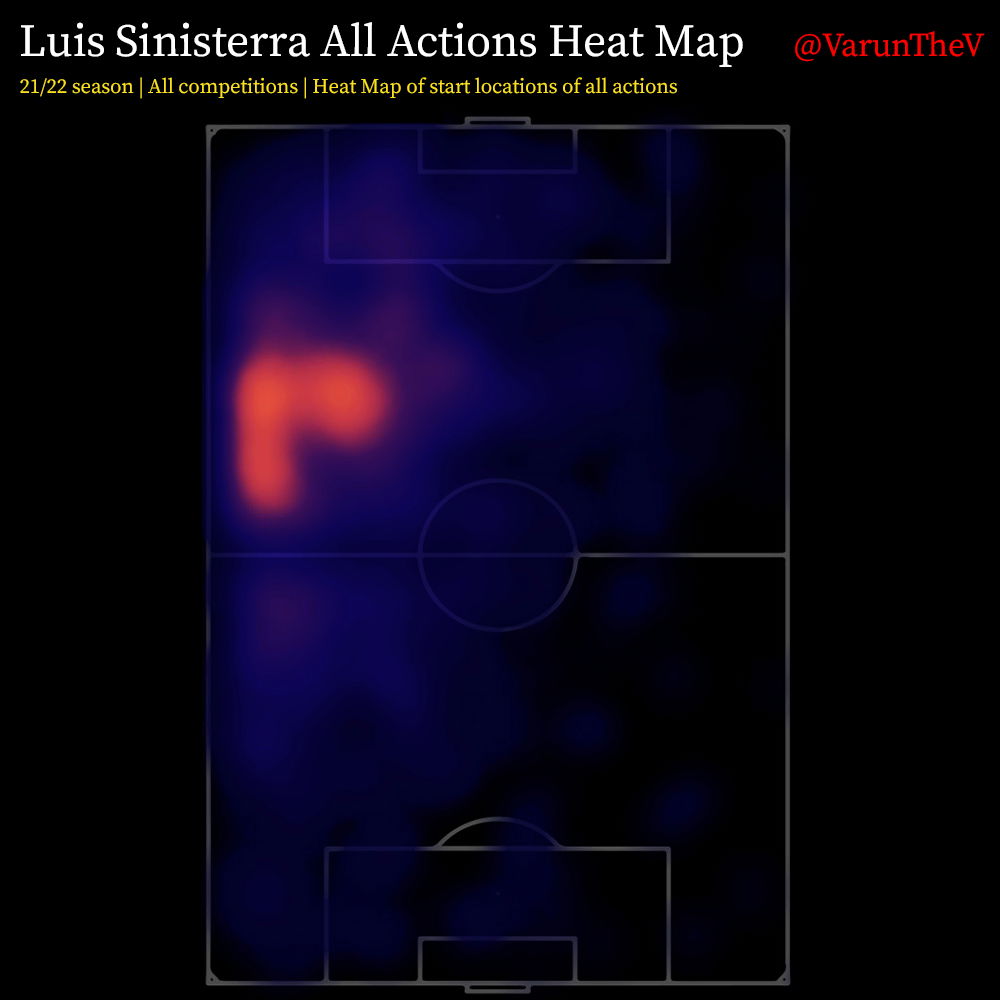 It isn't a surprise, considering Luis has spent the entire season in one position, to see his heat map indicate that with clarity. Most of the left wing indicates his presence, with a stronger heat zone in the wider areas in the opponents half. The smaller heat zone in the left half-space indicates Sinisterra's movement closer to the box, when the team is attacking. This brings us to 2 kinds of movements that you would often see with Sinisterra.
One, where he stays wide on the left wing to stretch the pitch and receives in wide areas, after which he can take on an isolated fullback or dribble into the centre of the pitch. This usually happens during the build up and progression phase. The second movement is when the team is already in the final third and Sinisterra pushes up, a little higher and narrower, to get into good positions to assist and score from. This is one good reason why he has regular goals and assists. In the defensive phase, Luis is a willing defender, tracking back down his wing to mark opponent fullbacks when needed.
How this connects to Marsch's counter-pressing narrow 4-2-2-2 tactic is yet to be seen, but if one had to guess, it can be assumed that Sinisterra brings something none of Leeds' other attackers – width, dribbling flair and the ability to stretch and disrupt defences. It's a great tool to have in your armoury, especially against stubborn narrow low blocks that the Premier League often sees teams deploy. A narrow 2 AM formation might be tough to penetrate such defences, which then enhances the need for a wide outlet like Sinisterra to create gaps in the defence that the team can take advantage of.
Passing – Final third progressor
Next, we look at Sinisterra's passing. His progressive passes from the last league season have been plotted, many of the final third ones including assists as well.
Sinisterra is a good progressor. There are many inverted wingers who are all about flair and goal threat, but aren't technical or visionary enough to pass and create well. Sinisterra isn't one of them. He backs up his other skills with some good progression. Most of Luis' progressive passes begin in the opponent's half as shown. He doesn't really drop into his own half or midfield to progress the ball. From the preferred slot on the left wing in the opponent's half, Luis has the angle and technical expertise to play a wide variety of passes into the final third. Whether it's a vertical through ball into the channel, an angled cross into the box or a wide switch to the opposite wing, he has it all in his locker.
Shooting – A finisher with good movement
Sinisterra scored 23 goals last season in all competitions. 12 of them came in the league which can be seen below: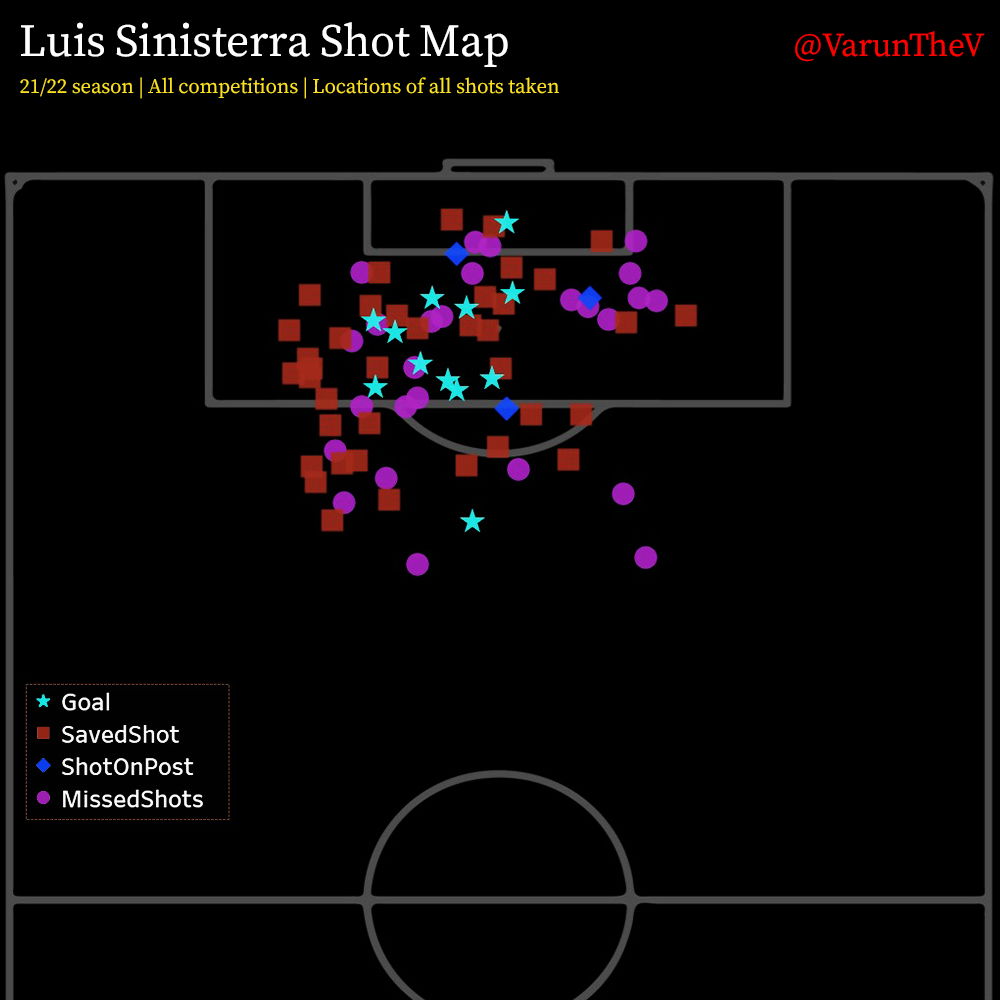 From his shot map, the first visible aspect is that, even though there is a slight left-bias to his shots, considering Sinisterra played as a wide left-winger in every minute of the season, he has a very healthy amount of shots from central areas, especially close to the goal. This highlights his excellent movement towards goal. Though he starts wide and does his best work there, Luis has the off-the-ball movement and awareness to get into the box to fashion himself good shots. The number of shots from which he generates saves by the opponent goalkeeper is more than the shots off target. This indicates what an efficient finisher he is and how his shooting technique is mature enough to trouble the keeper more often than not.
Final thoughts
Sinisterra was the Conference League's Young Player of the Season and also appeared in the Team of the Season. He made the official Eredivisie team of the month twice in 21/22 and was in the team of the season of many publications after the year ended. He's coming from a high-performing season as one of the best young winger talents in Europe. While the official figure is undisclosed, the rumoured transfer fee that cost Leeds this summer is £25m, which is a good deal considering the form and profile of the player.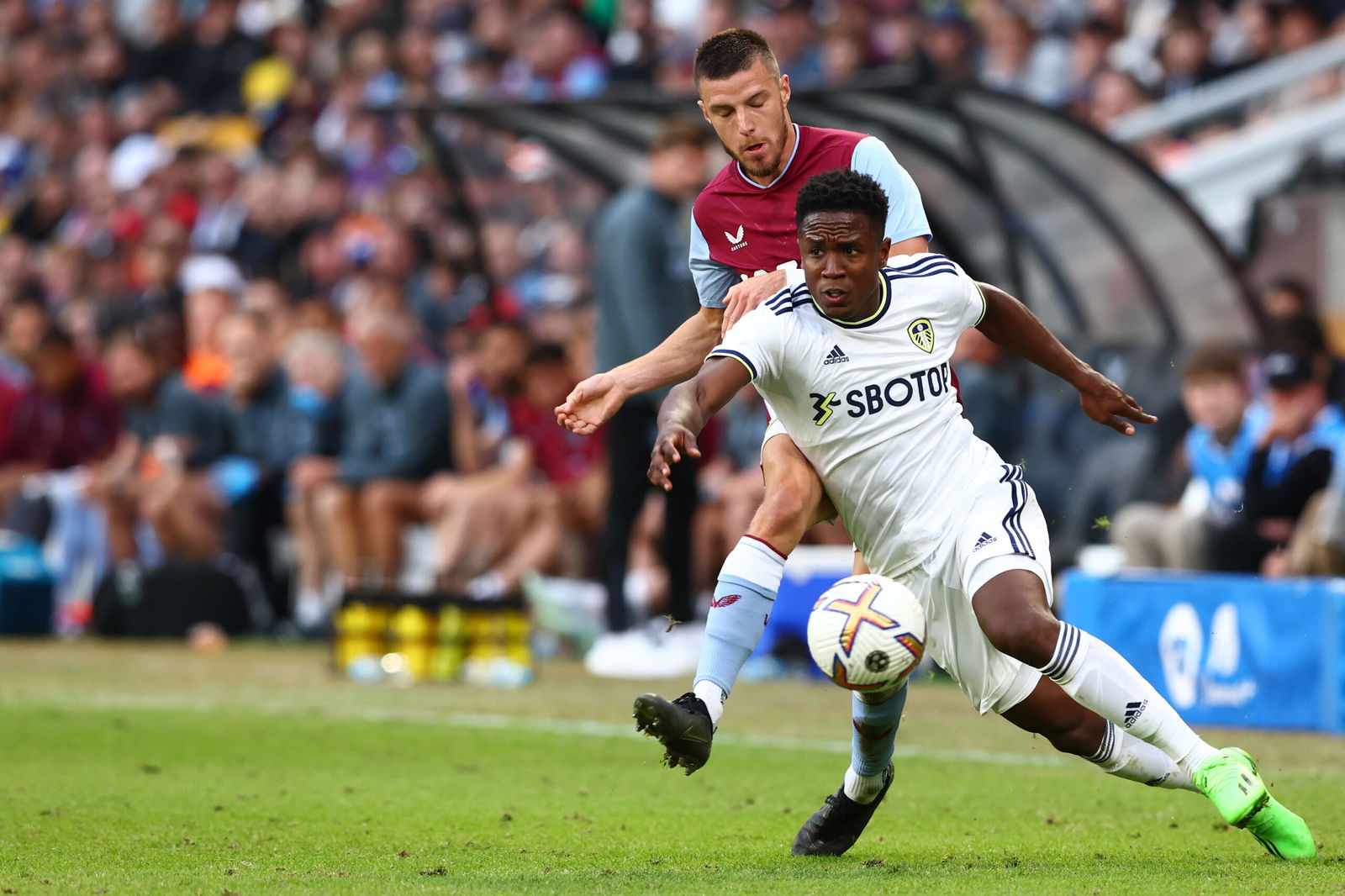 Having just seen 6 minutes of him as a substitute so far, Sinisterra is coming back from an injury. The day he starts for Leeds shouldn't be too far. On that day, fans can expect a wide winger with very good dribbling ability, technique to progress and create and the movement to get in the box and be a goal threat as well. He might not start every game considering the narrow 4-2-2-2 Jesse Marsch enjoys, but a change in tactics could be on the cards, while even as a rotation player, he offers a lot of value and adds to a strong roster of options for Marsch to pick from depending on opposition and game state. Considering his age, the transfer fee and contract duration, it's clear Leeds see a long-term player performing at his peak, and given Sinisterra's well-rounded profile and high-impact ability, Leeds fans should be positive that he can come good at Elland Road.