"I asked myself: why am I scared to do an interview when somebody wants to hear what I have to say?" quipped Luke Ayling while explaining how he got over his stammer to enjoy doing interviews. "That's probably why I'm loud in the dressing room and just say what I feel".
Ayling's recent BBC interview with these quotes probably summarised something we all relate to – the importance of finding your own voice, being proud of it and saying what you feel like. This is not always easy to achieve and most of us go through life trying to find that elusive space. If Ayling's career has shown us anything, it's that he has finally found that voice at Leeds United, to express himself, not just in interviews but on the pitch as well.
In these last 2 years, he has been the heartbeat of the team, working the hardest, being ever-present and often caught with a smile on his face – the mark of a player who is enjoying his game. He confirmed this love for the game and the club recently.
"I'd love to spend the rest of my life in Leeds. I love it here," Ayling told the Daily Star.
Today, we take a tactical dive into the different aspects of Ayling's game, what he brings to the starting XI and why he is so important to Leeds doing well.
All-action Warrior
We start with a basic analysis that provides insight into a key feature of his game.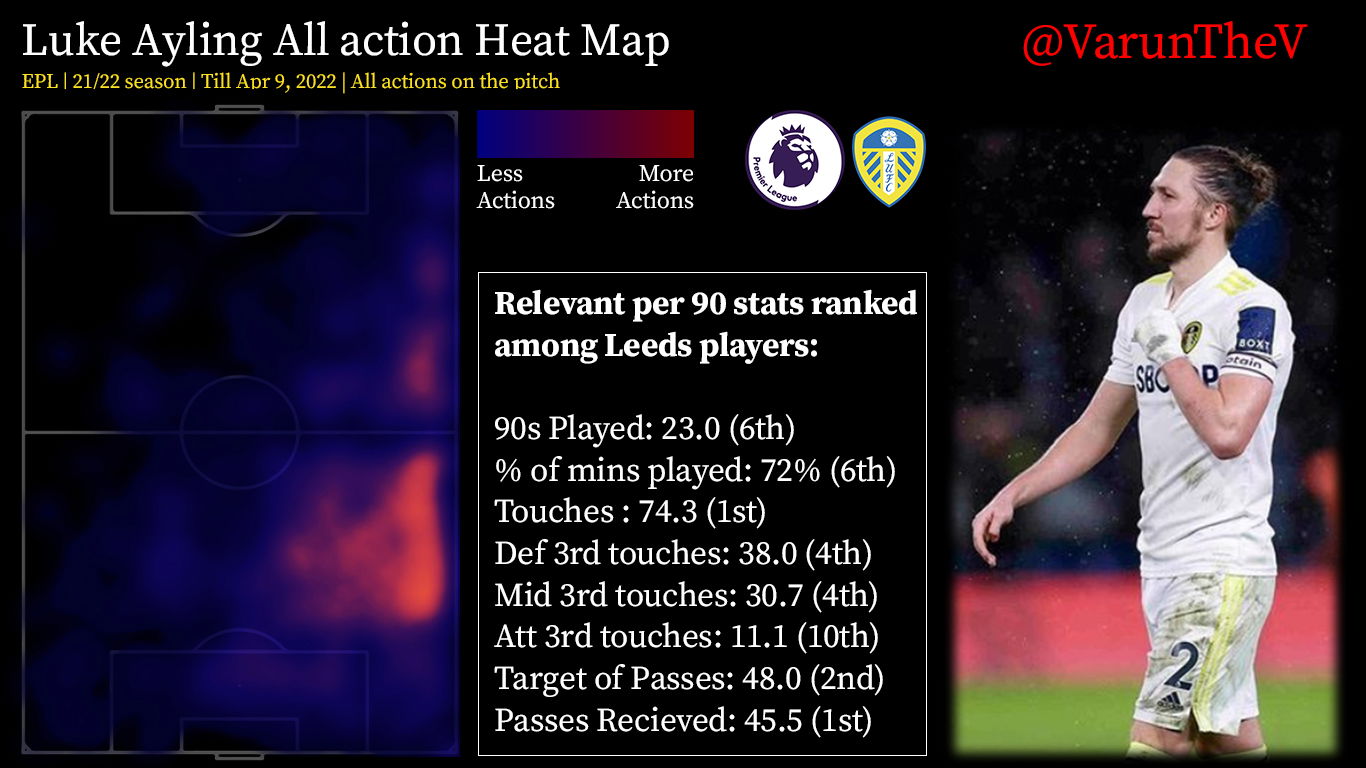 If you ever got the feeling that Ayling is everywhere, that's because he probably is. Ayling has the highest touches and passes received per 90 for Leeds this season. This speaks volumes of his presence in a game. He missed 11 games this season from September to November due to a knee injury, barring which he has featured in every possible minute available, showcasing his key starter status and importance. 
Whether it's at centre-back or right-back, Ayling is heavily involved and is found often by his teammates when Leeds have the ball. Interestingly, he ranks 4th for defensive and middle third touches and 10th for attacking third touches, but 1st for overall touches. This just shows how he isn't limited to any particular zone and racks up touches all over the pitch. He is targeted second most by his teammates after Raphinha, whom the team often attempts long balls to. Ayling has ended up receiving the most, thanks to the lower percentage of Raphinha-searching passes.
His heatmap is skewed towards the right side owing to his appearances at right back. Even as a right-sided centre back, it is clear that he likes to go wide and help the build up. It is also visible that the majority of his touches are in his own half. This is confirmed from his low attacking third touches stat as well. Ayling isn't really a marauding attacking right-back, often preferring to stay in his own half to help the build up phase or support the defence.
A demon on the ground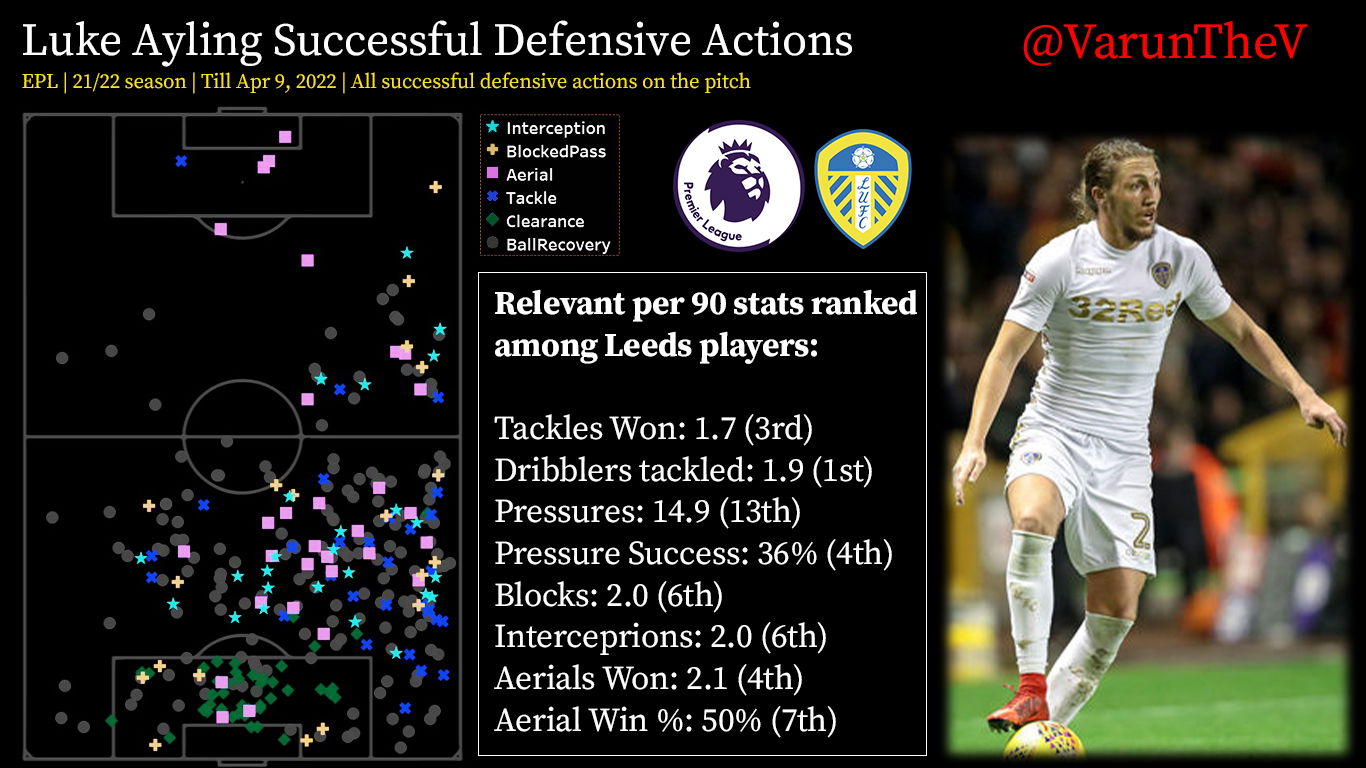 We look at Ayling's defensive actions next and what's immediately noticeable is his high rank for tackles won and dribblers tackled. This ties in with what we saw earlier about Ayling staying back to help with defensive duties. He is really important in defending transitions and tackles opponent dribblers who are released on the counter when Leeds are high up the pitch. 
Ayling's pressures are really low, suggesting that even though he is aggressive in the tackle it's not of the front-foot type. He doesn't go ahead on his flank or into midfield searching to win the ball high with an early press. He rather holds his press and waits for the moment to catch dribblers on the ground. His high pressure success confirms this intention of being more measured with the press and prioritising winning the ball instead. The map also confirms how many of these tackles and recoveries are on the right flank presumably when engaging left wingers or sweeping up balls meant for them, but there is also a decent collection of central recoveries and interceptions highlighting his time at centre-back and his ability to position himself well defensively and recover balls from the dangerous central area. In that sense, he is vital to the defence in winning back the ball and being a safety net on counters.
His aerial presence is not the best and at 1.85m, he's not the tallest player in the league by any means. Understandably, the centre-backs Cooper, Llorente and Struijk have won more aerials than him, but Ayling coming right after them is testament to his athleticism, energy and willingness to compete for aerial balls regardless of his ability in the air. At the very least, he tries hard and does enough for it not to be called a weak link in his game.
A progressive gem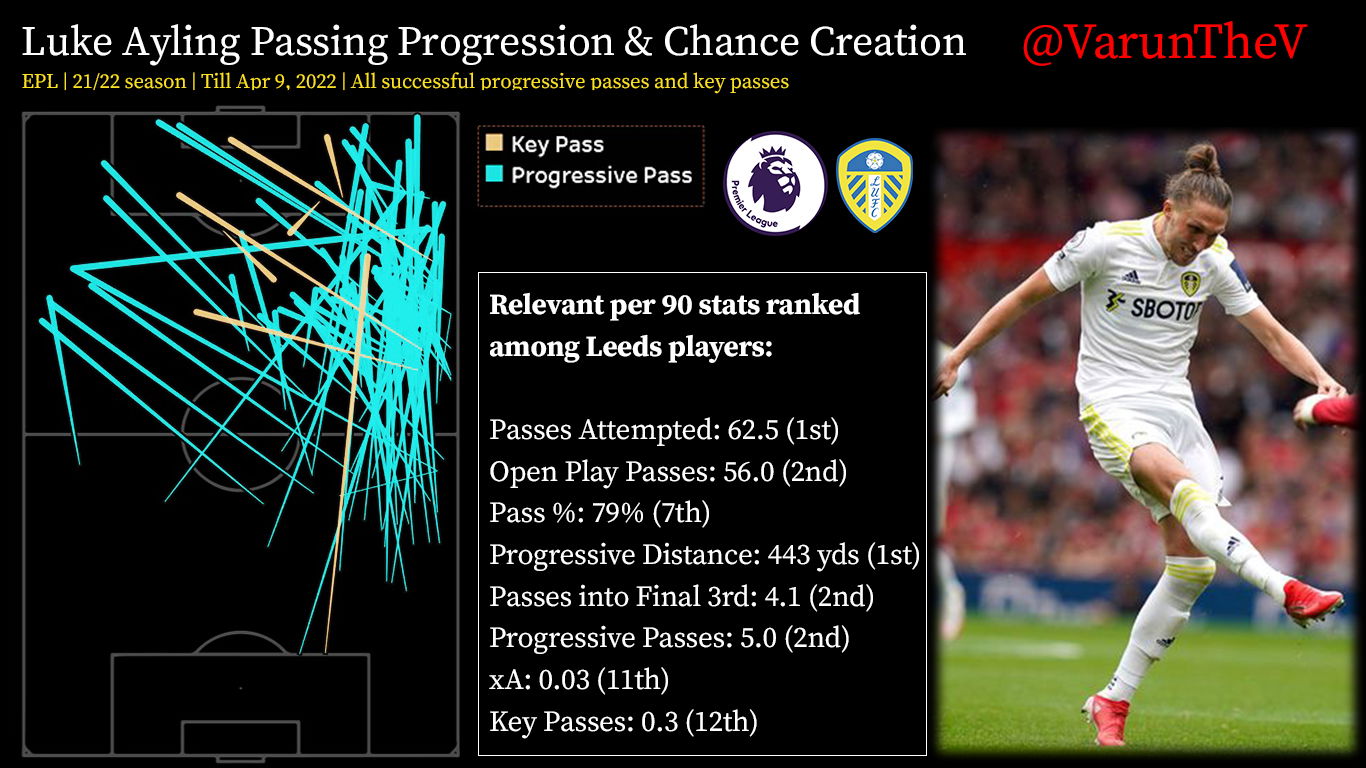 Next, we take a look at his pass map that highlights successful progressive passes and key passes. A very underrated aspect of his game, while Ayling's energy, tackling and involvement in the game is immediately noticeable, his importance in progression from the back is not often highlighted. Ayling boasts the most passes attempted and highest passing progressive distance covered in the Leeds squad. The only player who tops him on progressive passes per 90 is Raphinha. That right side is where a majority of Leeds' progression happens and Ayling is one of the reasons.
His passes into the final third are also second only to Kalvin Phillips (who has played less, so ends up looking better on a per 90 basis). From the map we can see how the majority of his progressive passes are down the wing to the right winger (often Raphinha). Most of the progression is a simple direct ball down the flanks, the technique for which Ayling has mastered, executing those passes quickly and precisely. He also possesses a nice cross ball to the left wing as seen in the map. 
His progression has only gone up since the arrival of new manager Jesse Marsch in March, who places greater emphasis on progression from the fullbacks in order to keep his wingers narrow. Ayling has crossed his season average of 5 progressive passes 4 times in the last 6 games, once even touching 10 progressive passes versus Leicester City. There's probably even more one can expect from Ayling in this department.
The limitations of his passing are clear. With such high progression, especially in terms of distance, his pass completion % isn't really high but that's probably expected for his role and manager Marsch might not really have any issue with that. Ayling's final ball is a little weak. As seen in the map, he has very few key passes and rarely gets to the byline to cross inside to look for the striker. This is confirmed with his low per 90 xA (expected assists) and key pass stats as well. Aying's probably not the most creative fullback in the league even though he might be among the most progressive.
Summary 
Having spent the majority of his career in League One and the Championship, at the age of 30, Ayling is finally starting to find his voice and enjoy himself at the highest level. His growth in terms of personality and as a player has been clear for all to see and within less than 2 years at the club, he already seems like a fan favourite. The tactical reasons for this are his heavy involvement in the game in terms of touches and passes, his strength in tackling and stopping transitions and his consistent progression from the back via his passing. While he might not be touching the creative heights of top team fullbacks like Trent Alexander-Arnold and Joao Cancelo, calling Ayling one of the best right-backs in the Premier League won't be a wrong statement. At the very least, Leeds fans will be hoping the newfound voice of Leeds keeps echoing through the stadium for a long time.