The expectation was that – Jesse Marsch will be backed so that he can create a team in his image, after a disappointing 21/22 season where Leeds barely managed to survive relegation. Well, the expectation is being met, if summer 2022 is anything to go by. So far, Leeds have brought in 7 players for the senior team with an outlay of almost £100m. At least 5 of them also seem like they could become regular starters at the club. It has been an emphatic push to become a Premier League regular, in terms of transfer business.
Today, we analyse one of those 5 – US international Tyler Adams. Adams is no stranger to Marsch, having played under the manager for New York Bulls and RB Leipzig in the past. The versatile 23 year old can play anywhere in midfield but has also turned up as a right-back, centre-back and winger on many occasions. Described as everything from a ball-winning deep player to a support striker, Adams' traits and best role would be of high interest and today we will focus on trying to get some clarity on what he does best and where he could fit in manager Marsch's plans for 22/23 and beyond.
Movement – A versatile all-action midfielder
Firstly we need to get a bearing of where Adams has played in the past. In 21/22, for RB Leipzig, he played 30 times as a central midfielder in their 5-2-3, rotating often with Laimer and Kampl. Only on 3 other occasions did he turn up at right-back, centre-back and right wing-back once each. Even in his career, he's played in midfield 128 times with right wing-back (26 times) and right-back (17 times) being his next most played positions. Seems like we're looking largely at a midfielder here.
He missed only 4 games due to injury last season, which means the rotation he was subjected to was largely tactics or form based. Laimer would often play on the right side of the pivot with Kampl taking the left side. Adams was a lot more flexible turning up on both sides. Haidara was the 4th most played midfielder, who played a little more on the right than left. 
Eventually this is how Adams' heat map for 21/22 in all competitions looks like: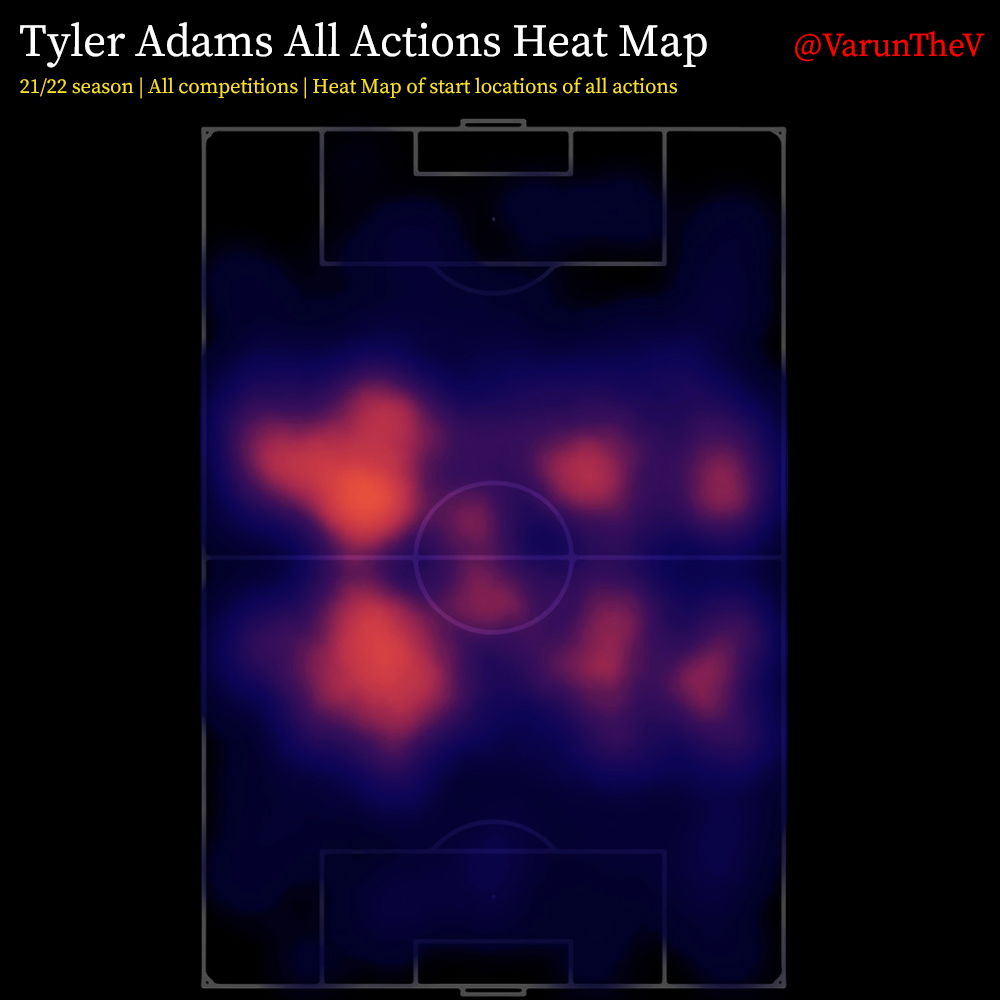 There is a clear left bent, thanks to adjusting more often for Haidara and Laimer. It also looks like the heat map of a pivot midfielder. Adams has presence in both halves, acting like a defensive midfielder in build up and defensive phase, but also very willing to go high and wide in the offensive phase to support the attack. There's a very all-action vibe to this heat map, especially considering how Adams seems comfortable in wide areas of the pitch. This could be one good reason why he is played as a wingback or rightback on occasions. It seems like Adams could be well suited to a box-to-box role.
Passing – A reliable game-advancer
Next, we look at Adams' passing. We dive into his progressive passing split between the defensive third, middle third and attacking third.
Adams has just 5 successful progressive passes from the defensive third. He manages just a few more when it comes to ones from the attacking third as well. It's the middle third where he does most of his progression. This ties in with what we were thinking. Adams isn't a deep playmaker. His progression indicates a midfielder who loves advancing the game from the middle of the pitch into dangerous areas in the opponent's half.
If we dive deeper into the percentile versions of his passing stats when compared to Bundesliga midfielders in 21/22, we get:
Progressive passes – 59 percentile
Passes into final third – 92 percentile
Passes into penalty area – 48 percentile
Pass completion % – 93 percentile
This makes it even clearer. Adams isn't really progressive and is neither a great penalty box threat with his passing, but the 2 things he does really well are playing into the final third and maintaining good passing security. In terms of passing and movement, a box-to-box midfielder with high entries into final third and passing safety is what Adams is.
Defending – Intense presser, but not a ball-winner
Next, we dive into Adam's defensive actions map.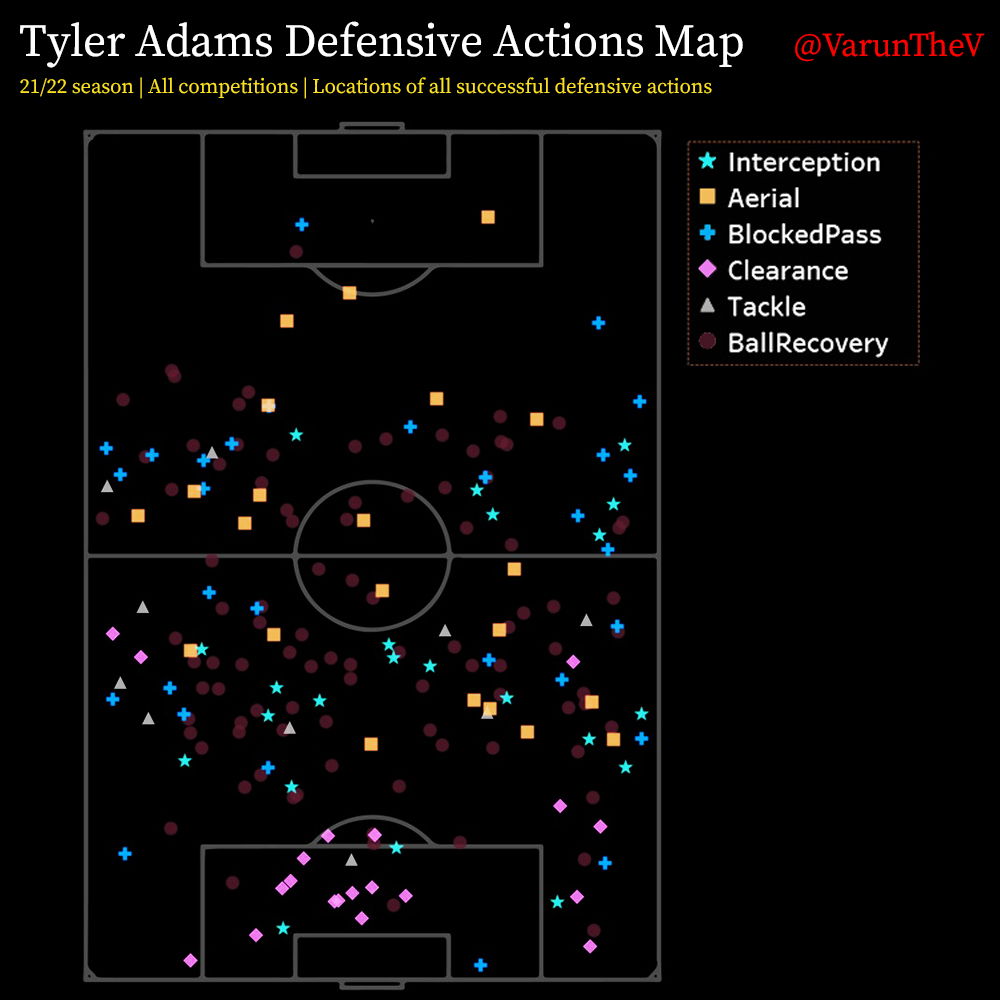 The first thing that one can notice is the huge spread of his defensive actions. This was alluded to in his heat map, but Adams really likes to travel to engage an opponent. There doesn't seem to be any left/right side bias, which could probably stem from the fact that he did more defending when he turned up on the right. Whether it's in his own box, in front of it, on the wings or in the opponent's half, Adams is there, trying to win the ball back.
Again using fbref percentiles, let's see what he's really good at.
Tackles – 21 percentile
Pressures – 77 percentile
Pressure success % – 43 percentile
Blocks – 83 percentile
Interceptions – 35 percentile
Aerials won – 59 percentile
Aerial win % – 95 percentile
Unlike what we might have imagined till now, Adams doesn't really tackle or intercept much. He does have good pressing, having been schooled in 2 Red Bull institutes, but his pressure success could be better. He seems to have the presence to execute blocks, which from his pass map, seems to be largely higher up the pitch on the flanks. He boasts a solid aerial success stat, which seems to be all over the pitch.
Not really a ball winner, is he? His intense approach to the game and media dubbing as a 'defensive midfielder' may trick fans into thinking Adams is a great ball winner, but this doesn't seem to be the case. His pressing seems to fit in with Marsch's tactics, and he might impress with the odd block or aerial duel win, but expectations as a ball-winner might need to be tempered.
Other attributes
One of Adams' strengths that hasn't been discussed so far is his carrying. Here are some of his carrying percentiles from 21/22 in the Bundesliga.
Dribbles attempted – 40 percentile
Carries – 90 percentile
Progressive carries – 85 percentile
Carries into final third – 63 percentile
Miscontrols – 82 percentile
Though not a great dribbler who beats his man, Adams has strong carrying. He is able to progress via carrying quite well. Given his progression from carrying but lesser carries into the final third, if we correlate this to his passing stats, it seems like Tyler's high % movement is carrying from deep into the middle third and then passing into the final third. And he does both with high safety given his pass % and miscontrols stats.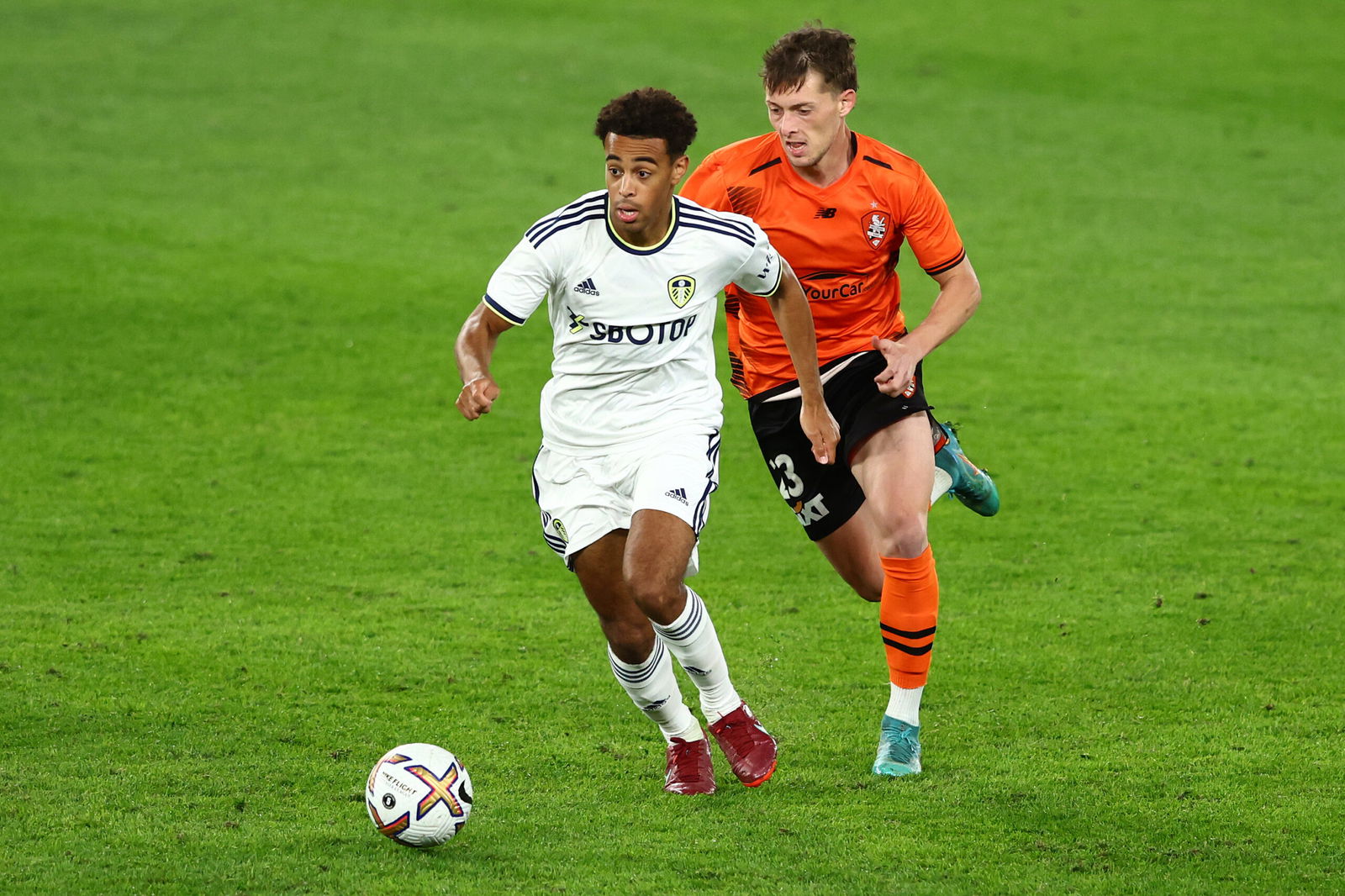 Finally, we wrap up his profile with a look at Adams' shooting. Tyer isn't a shooter. He took just 3 shots with 1 being on target in all of 21/22. He scored no goals, obviously. In fact, Adams has taken just 23 shots in 4 years at Leipzig with just 8 finding the target. Expecting any goal threat from him would be wrong. He's simply not a shot-taker.
Final thoughts
From all our analysis, it would be safe to say that Adams is a reliable box-to-box midfielder, adept at carrying from his half into the opponent's and playing passes into the final third. Defensively, he's not really a ball-winner, although his pressing ethos goes well with Leeds United's philosophy. He doesn't have any goal threat.
It remains to be seen how much of an impact Adams can have for Leeds. Given he's just 23, Adams could still improve on a few aspects. A midfield partnership with Roca, where the latter takes care of all the build up and playmaking from deep, while Adams acts as the intense box-to-box connector to the attackers, could be a working pivot that we might see in the coming season, that suits both new recruits' strengths and covers for their weaknesses. All said and done, it's another good addition to Marsch's army, which is really starting to look like it can out-perform last season's squad.