As has been on many occasions this season, Leeds left it late once again to rescue a point against Brentford. A Patrick Bamford header emphatically sealed a point for the Whites with just a minute remaining on the clock. Leeds started the game well and dominated the first-half, but they were unable to sustain their intensity and lost their way allowing Brentford to get back in the game. Brentford not only equalized but took the lead as well. The late equaliser from Leeds was probably deserved, considering their efforts throughout the game. This gives the Yorkshire side 5 points from their last 9 games, as they enter into their toughest period of the season. We take a look at the 3 things we learned from a tactical perspective from the 2-2 draw.
Leeds troubled Brentford
The attacking side of Leeds has always been something to take pride in for their fans. Last season, Bielsa's side were fun to watch largely thanks to their scintillating attack. While this season, they have been fun to watch for neutrals, fans have been going to games peeking through the gaps in their fingers. Leeds have been poor defensively while often being toothless in attack as well. The intense pressing style, combined with injuries to the squad has not enabled manager Bielsa to hone in on any sort of consistency in front of goal. Which is why the attacking display against Brentford is uplifting. This was only the third time that Leeds crossed 5 shots on target this season.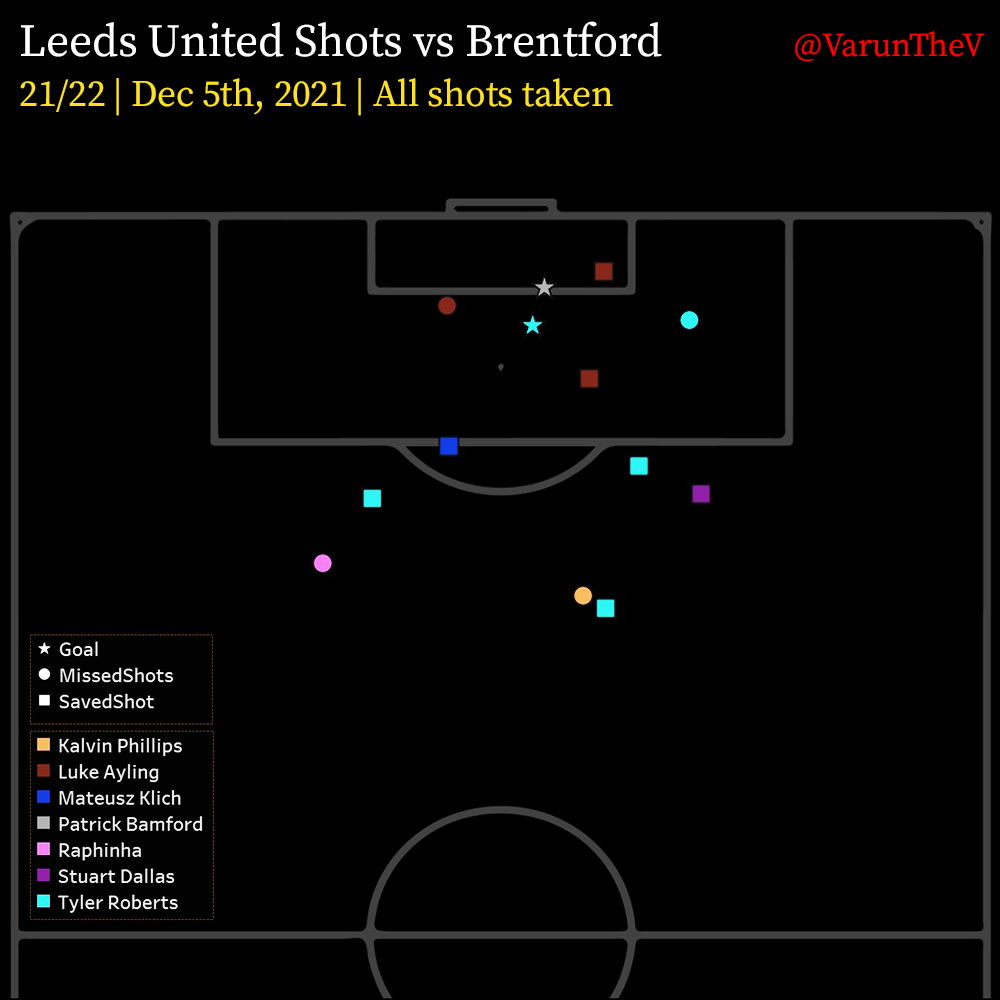 Brentford were overwhelmed by Leeds' pressing from thes start and 27 minutes in, gave the ball away cheaply. Tyler Roberts began the move in midfield, entering into the box while Raphinha's cross was blocked. Attempting again, the mazy Brazilian picked out Roberts sliding in the six yard to break the deadlock. A great save from Brentford's Fernandez prevented Leeds from doubling the lead on 50 minutes. He clawed Luke Ayling's header out from the top corner from a set piece. Just as the game threatened to escape from Leeds' grasp at the death, Patrick Bamford sent a dagger into the heart of Brentford via a last-gasp equaliser, shooting a 95th-minute corner in at the back post to cap off his first game since mid-September.
Overall, Tyler Roberts' early goal gave him extra confidence which led to him being wasteful, Ayling threatened from set pieces, Raphinha was creating more than shooting and Bamford's only shot on goal was an injury-time winner. Not a bad shooting display from the squad.
2. Leeds passed through Brentford easily
Another aspect of Leeds United's gameplay that has been targeted is their creativity. While the high pressing and direct play does create chances, the ability to progress and create against settled defences has always been questioned. Against Brentford the Leeds squad were out to prove how that was not the case. They were able to progress easily through Brentford, which has given many good teams problems this year. The right side bias was clearly visible once again as we plot the progressive passes of the top 7 progressors.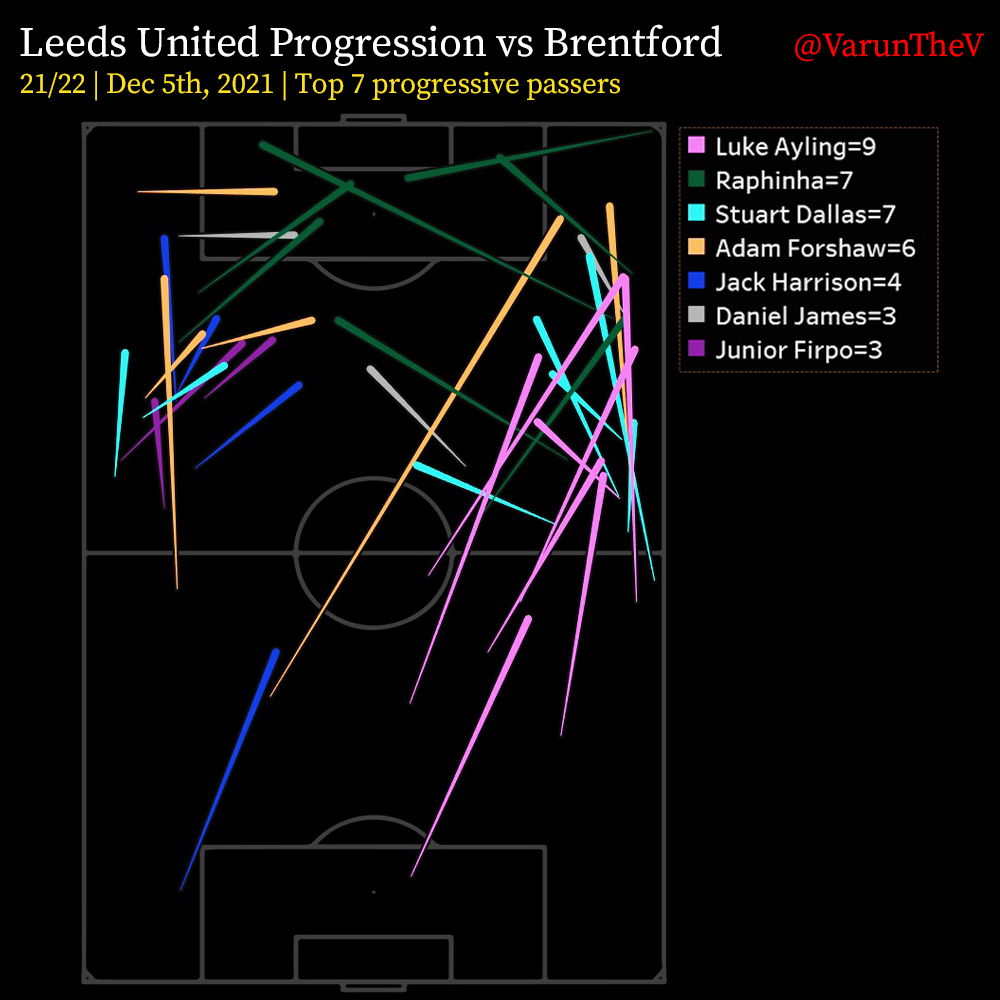 Ayling was the pick of the bunch, being able to progress not only from deep areas in Leeds' half to the flanks but also from advanced midfield positions to attacking areas on the right side. He was a constant menace for Brentford with his intensity and passing range. His partner-in-crime Raphinha was often the recipient of such passes and would do great to angle balls into the box from either side. He alone had 5 passes into the box in Leeds total of 7. Stuart Dallas was another one who helped the right side progression with this smart picks, while he also progressed from the left flank when he played there. Forshaw was also progressive especially when it came to supporting the often-ignored left side. He was ably supported on that wing by Jack Harrison and Junior Firpo who impressed without being spectacular. 
3. Leeds have enough to be positive about
A last-minute equalizer could mean many things. Was it a game that the equalizing side were lucky to get back into at the end? Was it a game they were dominated in and somehow equalized? Or was it a game they had deserved to be ahead in the first place and an equalizer was the least of what they deserved in the end?
Manager Marcelo Bielsa seemed to hint at the latter in his post-match comments.
"To have drawn the game the way we did, it changes the flavour of it. But if you look at the game in a general context, we should have won it. We conceded the first part of the game, but without receiving any goals. From the initial fifteen minutes onwards, we had a good half an hour. The second half we started well. We had incomings and outgoings of Ayling and Phillips, where we went a few moments without them. Then after Kalvin came back on and went back off, that made us lose organisation, but it shouldn't have been this way. In those fifteen minutes in the second half, we did receive the goals. But the final thirty minutes, with a lot more difficulties but a lot of perseverance to attack, I think we ended up again at a result that was fair on one side and insufficient if you look at the whole game."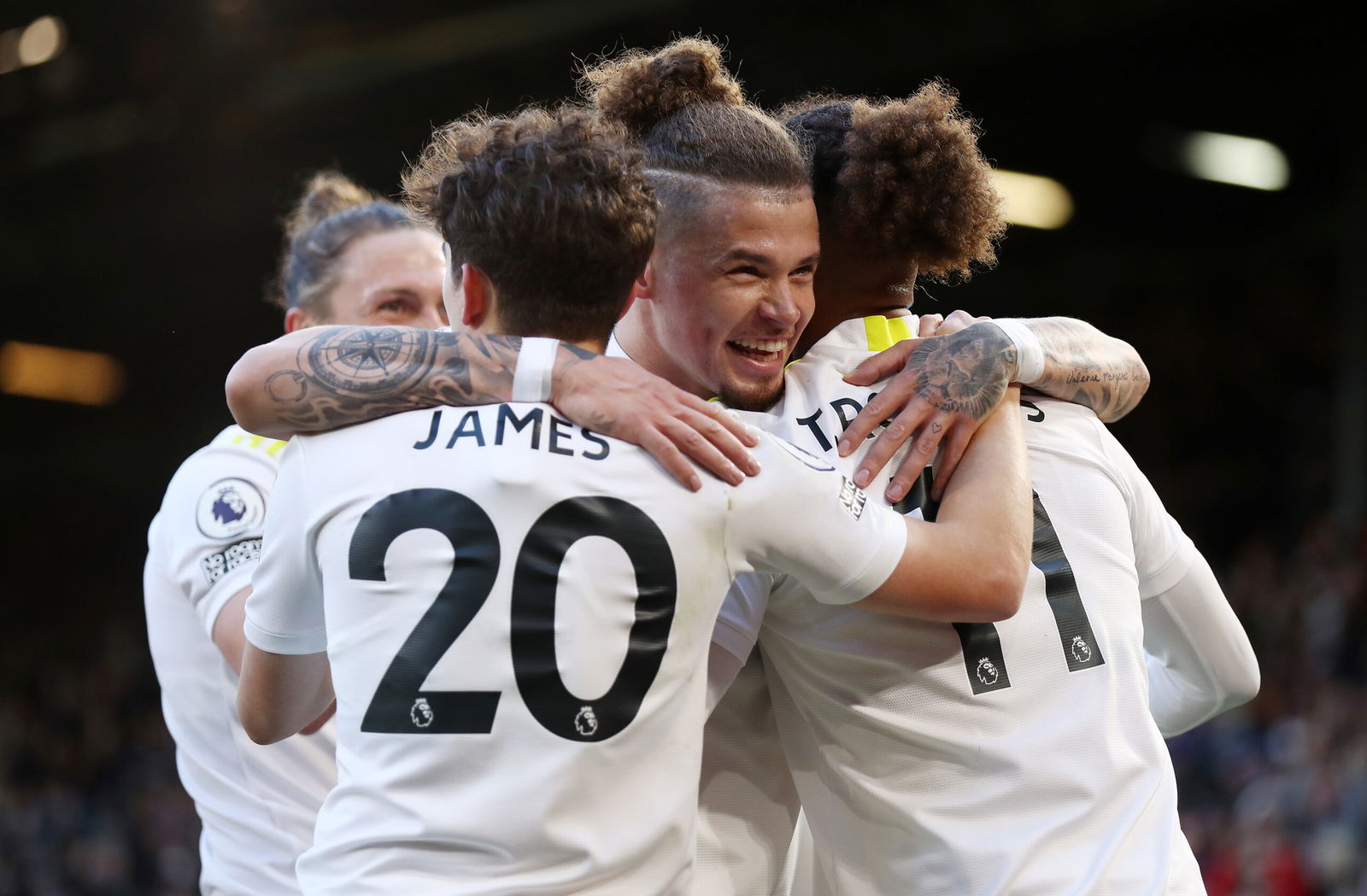 Bielsa has developed a knack of being overtly frank and objective in his post-match assessments so for him to be bullish about the fact that Leeds played better and deserved to win is something that should be taken as a positive. Indeed, given the hosts' first half dominance, it won't be wrong to suggest that they should have led by a larger margin in the first place. In that sense, in a season where wins and points have been hard to come by, Leeds fans should take solace in the fact that their side showed and performed well on the day. On another day, they could have gone home knowing they had three points in the bag.
Bielsa also had some words for Bamford's stunning late equalizer.
"The players that are used to scoring normally they're in the right place at the right moment. What you value about the score is the opportunism of it."