Leeds United have reportedly thrown their name into the hotly-contested hat for Derby County captain Tom Lawrence ahead of the 2022 summer window. According to TEAMtalk, the Whites have shown interest in securing his services. The 28-year-old Welsh international was one of the shining lights in what was an irritating season for the Rams. The Derby skipper is out of contract this summer and could be afforded an opportunity to move up a league. As things stand, the Rams are in no position to open contract talks with Lawrence given their current predicament. This could pave the way for Leeds United to swoop in and land their man. A move to Elland Road this year will allow the 28-year-old winger to test his talents in the Premier League instead of League One.
The fact that Leeds are targeting a winger makes sense given that Raphinha has been touted for a move away this summer, especially to big clubs like Barcelona. The Brazilian has been Leeds's standout player this season and replacing his goals, assists and outfield dynamism will be a tough task. Let's find out if Lawrence is up to the job.
In this scout report, I explain why Leeds are so keen on making Lawrence a part of their attack.
Lawrence's movement – A left-sided threat
There is a lot to uncover in terms of position and movement alone. In his whole career he has turned up most on the left wing (189 apps) followed by striker (92 apps) and right winger (20 apps) as per Transfermarkt.com. Even this season he has played 19 times on the left wing, 17 times at striker or second striker and 3 times as an attacking midfielder. This is a player who is very comfortable playing on the left side first and foremost and also enjoys playing as a striker or right behind the striker as well. In Derby's 4-2-3-1 this season, he lines up as the left winger most of the time, allowing Plange and Ravel Morrison to take up the striker and attacking midfielder slots. But on the occasions one of these players is dropped or Derby play a front 2, Lawrence turns up behind the striker in a central position. He rarely plays as the line leading centre-forward himself though, preferring to play off a proper box player instead.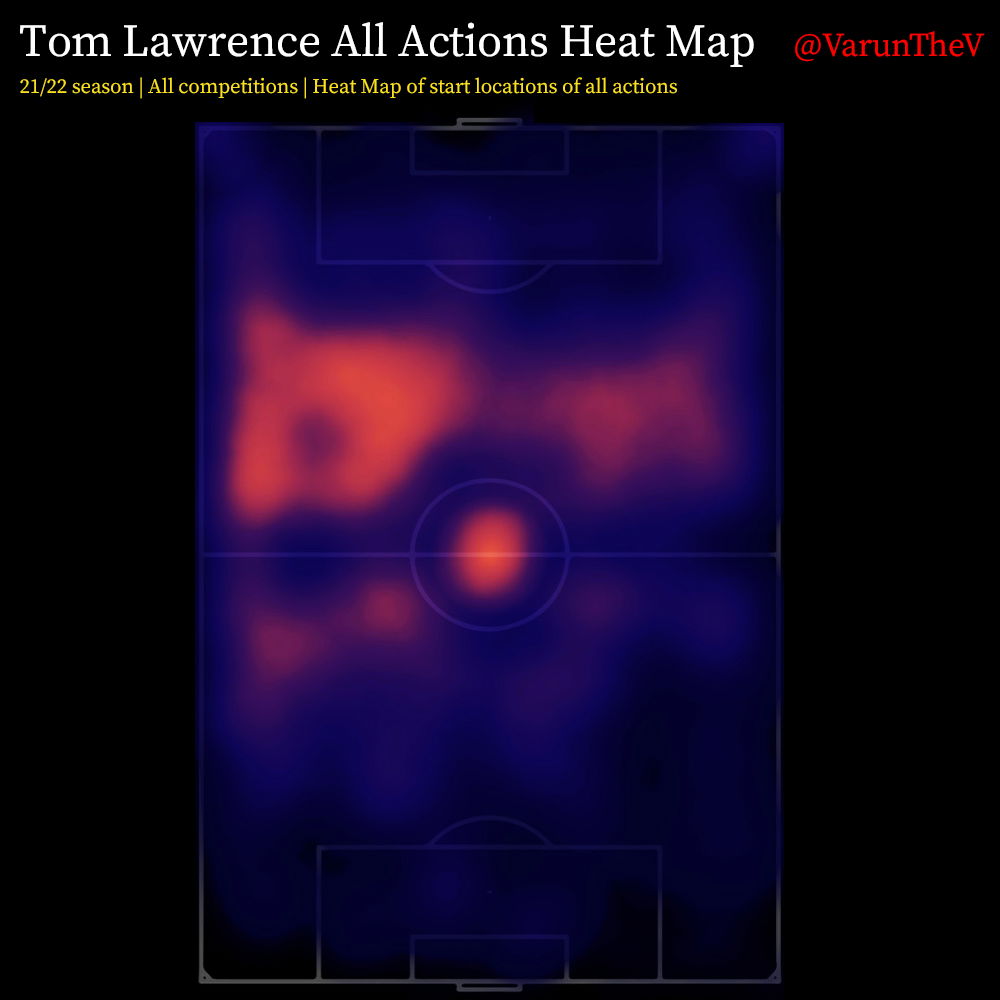 His season heat map of all actions confirms a lot of what we have been discussing. There's definitely a major left wing heat spot but it extends centrally too, showing his presence in those areas especially when he plays off a striker. He also has presence in the centre of the pitch and in some deeper areas on the left showcasing his efforts to track back and defend as well. Assuming Lawrence as a hard-working left winger or left-sided support striker based on his career and season positional data might be the ideal assessment here.
Lawrence's shooting – An immaculate striker-type shooter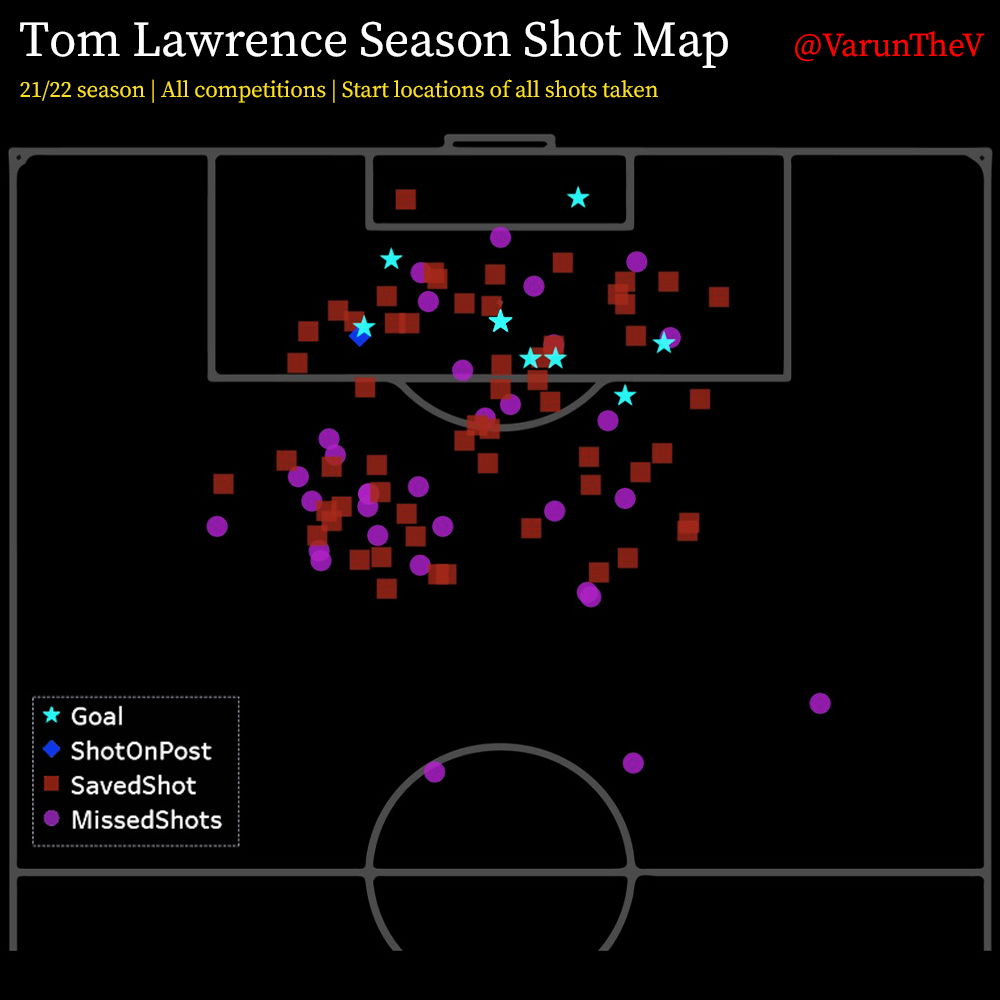 Tom's most noticeable trait is his shooting. He has scored 11 goals from 65 shots of which 38 were on target. This isn't a bad number when it comes to testing the keeper. He draws a lot of saves from any opposition keeper thanks to his accurate shooting. A conversion of 11 goals is also a good return for an attacker. For reference, only Raphinha matches the 11 goals and he needed 85 shots for it. While the league difference will be a big factor, we can safely say that Tom's shooting is one of his big weapons.
Continuing from his left-sided analysis we saw earlier, many of his shots are from the left half-space as well. That said, he was a nice collection of central shots too. His shot map almost feels like a slightly left-leaning striker (like a Cristiano Ronaldo or Darwin Nunez type) which shows the good positions he gets into even when he plays winger or off the striker. He does have some long-distance shots, but the great quality of them is that they trouble the keeper even from distance, showcasing his high quality of technique. There's a good chance with better support from midfield and defence, he could take shots closer to goal and score even more, given his technique. Manager Marsch will be hoping Leeds high press system will create turnovers closer to goal for someone like Lawrence to convert.
Lawrence's passing – A wide-range chance creator
Lawrence is known to be a good passer. He takes all of Derby's set pieces. His technical expertise extends to both his shooting and passing. He's basically a really good ball-striker and has a high threat from passing, which is enhanced when he takes up dangerous central positions.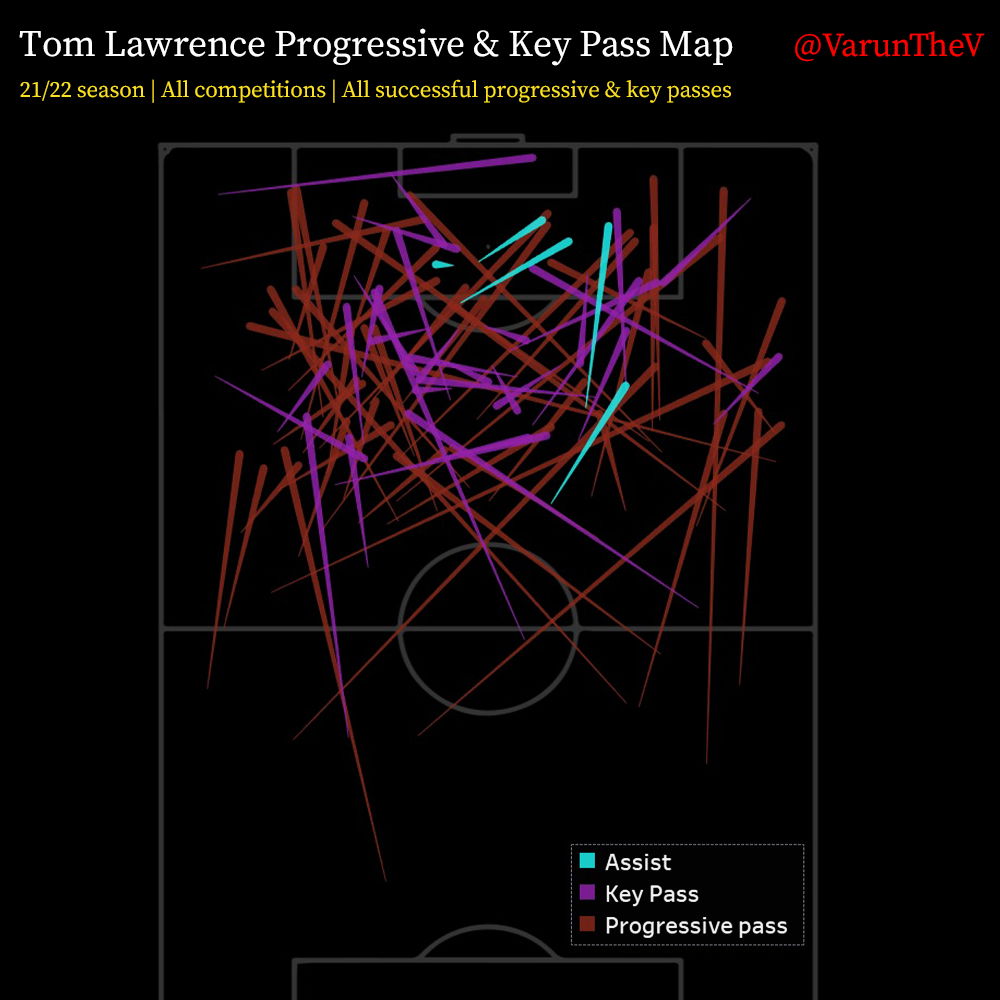 In this viz, I filter out his set piece passes and include only his progressive and key passes for the season. Even then, it's a nicely crowded viz, indicating just how integral he is to the team's progression and chance creation. His 5 assists are nice through balls or short passes from a central position, showcasing how he is a great final ball threat when he drifts into central areas or starts from there.
His wide array of key passes are really telling. For someone who has created 26 chances, he should have probably got more than 5 assists in the season. His key passes are very well spread out all over the pitch. He has a few long penetrative passes from his own half, some diagonals especially from the left side of the pitch, crosses from either half space into the box and cutbacks from wide areas into dangerous central areas. Tom's range of passing, especially assisting is worthy of praise. And this doesn't even count his chances created from set pieces, which is also a huge weapon. 
Other attributes
Talking of his other traits, let's start with carrying. Lawrence is an average carrier. He attempts lesser than average dribbles compared to other Championship attackers and doesn't boast of too many progressive carries as well. This is one of the reasons why he prefers to pass or shoot instead, and tries to occupy central areas when moving without the ball. He isn't a strong penetrator when dribbling with the ball.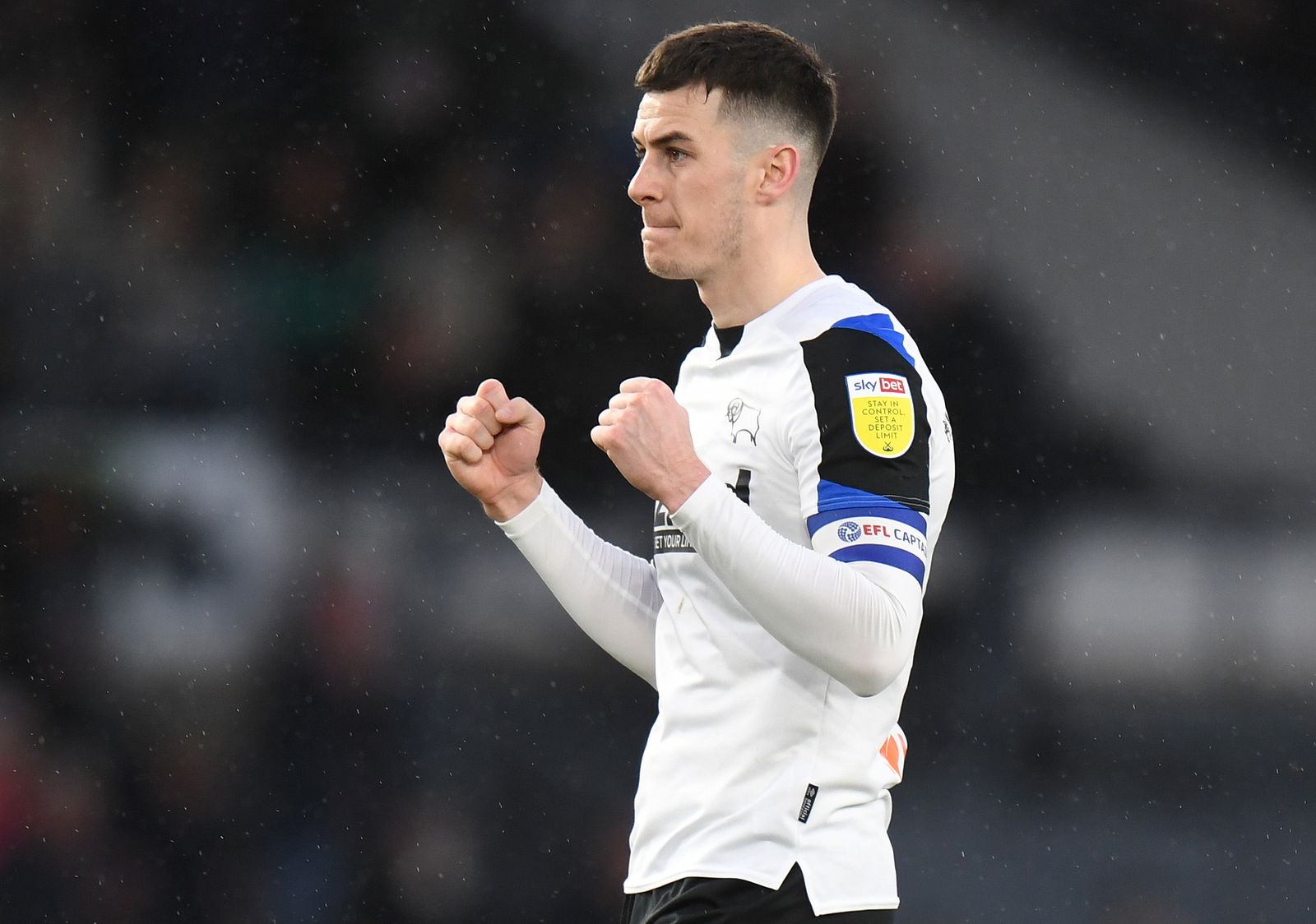 On his defending, Lawrence is again below average. He has among the lowest duels attempted (both offensive and defensive) in the league and his duel win % for both is also below average. He does boast of above average interceptions, largely thanks to his workrate and tracking back, but his ball-winning is weak at best. This might be an issue considering Jesse Marsch's defensive and pressing needs, but If Marsch wants that quality up ahead, especially if coming off the bench, then he might be able to forgo some defensive requirements for the chance of a goal or assist.
Final thoughts
In conclusion, Lawrence is a left-sided winger or support striker who excels in the ball-striking department which guarantees accurate shooting, threatening set pieces and dangerous final balls, but these come at the cost of average carrying ability and below average defensive traits.
Since he is a free agent at the end of the summer, Lawrence is being approached by many clubs, Southampton and Leeds seemingly being in the driving seat. How Lawrence is used is up to debate. He doesn't seem like a straight Raphinha replacement given some of his deficiencies and left-sided preference, but he does have goals and assists in him, which Leeds do need a lot. Leeds are also linked with Takumi Minamino while Brenden Aaronson has already signed for the club. 
The American does take care of chance creation and driving the game to a large extent. If the Japanese star also joins Leeds, that would make him an automatic starter who ticks all the boxes needed to be a top Premier League attacking winger as described here. In such a case, signing Lawrence might be overkill. Marsch might still want him as a plan B when a spark of inspiration is needed. Lawrence has value, especially in the attacking third, but calls of him being the Raphinha replacement are misplaced given his all-round quality.