Leeds came into this game needing some points and some motivation ahead of what seems to be a monumental task to stay in the Premier League. It took all of 4 minutes to crush that hope as an error from Meslier gifted Arsenal an early opener. Arsenal doubled their lead 6 minutes later and by the 22nd minute, Ayling got himself sent off thanks to a reckless challenge on Martinelli. It's almost as if the scriptwriter was someone who hated Leeds. Before the half an hour mark, it seemed like all hope was lost. Leeds did improve from there on, gaining some control over the game and scoring a goal themselves in the second half, but the 2-1 loss wasn't reflective of the one-sided nature of the game. The last month has seen the Whites slip from mid-table safety to the danger of relegation once again, and with 2 games left to go, the chances of the latter is starting to get all too real. We take a look at the 3 things we learned from a tactical perspective from the 2-1 loss.
1. Leeds struggled to stop Arsenal
Arsenal were constantly attacking Leeds throughout the game. Even after the 2 goals and the red card incident with Ayling, there were many other moves where the gunners either slipped through after a failed tackle from a Leeds player or drew a foul in a dangerous position in Leeds' half. Klich was booked for a cynical kick on Xhaka just minutes after Ayling's red card, before Martinelli drew a good save from Meslier after he was sent through by Xhaka. Arsenal could have doubled their lead before the hour mark when Martinelli broke through the Leeds defence after collecting a loose ball on the edge of the D, but he fluffed his lines with the shot. In the second half, Odegaard drifted into space ahead of the penalty area before pulling the trigger, but his effort went wide. There were many such moments where Arsenal got through thanks to poor defending from Leeds. Let's look athe major culprits and locations.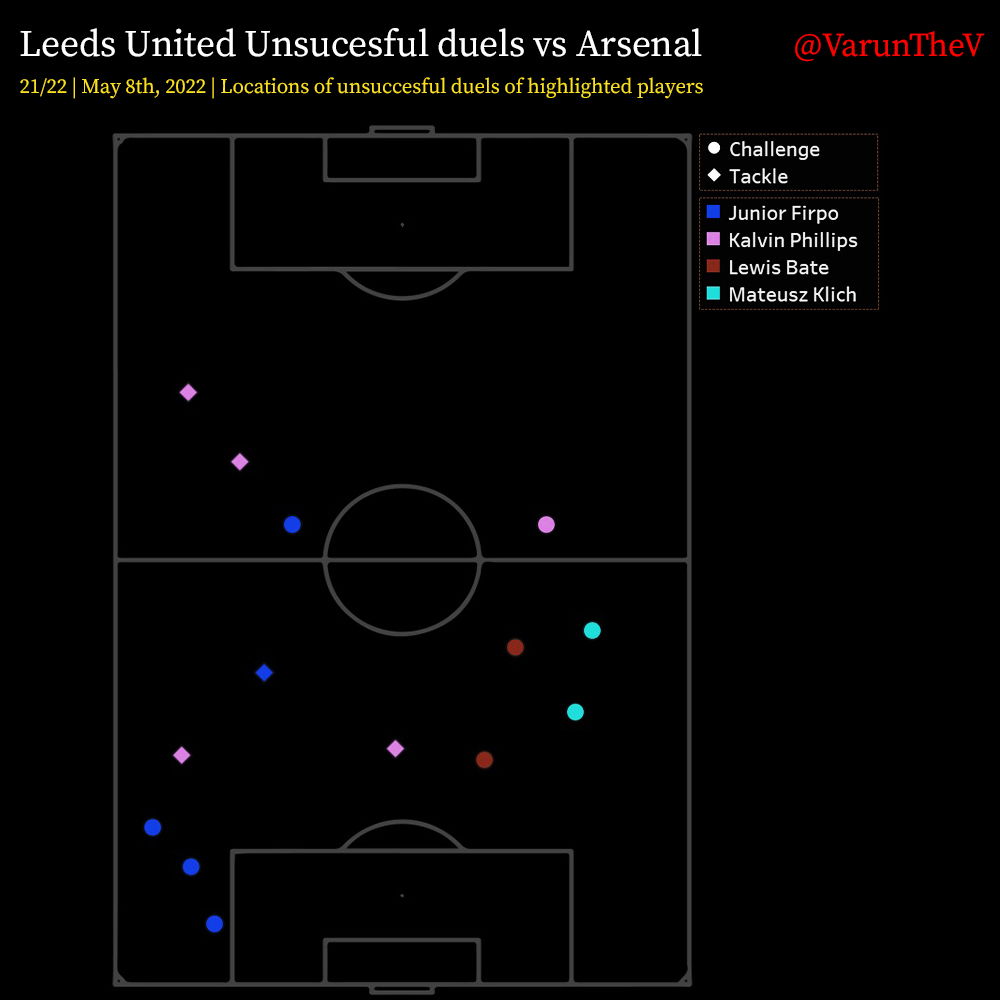 The map shows the unsuccessful challenges and tackles from Leeds players throughout the game. These were the locations where Leeds players committed and were unable to win the ball. The 4 players ahead of the centre-backs have been highlighted. We can clearly see that Leeds' left side was one major area of concern with Firpo being the main culprit. Among the 7 tackles he attempted, Firpo won only 2. On 5 times he lost his duel. 3 of these were direct dribbles at him on transition or counter moments, leading to him getting dribbled past 3 times.
Kalvin Phillips also had a rough time. He just won 1 of his tackles, losing 4 other ground duels. 2 of these were in transition leading to him getting dribbled past twice. Lewis Bate and Klich were also guilty, but to a lesser extent. Overall, it was a poor defending performance with most players guilty of lost duels, especially on the ground. Leeds' defensive resilience under Marsch has come undone in the past few weeks.
2. Progression was non-existent
It's hard to judge a team that went a man down so early, but this was probably Leeds' worst performance in terms of progression. Only 2 chances were created by the team and 2 shots on target taken. The team as a whole only had 9 passes that entered the final third on the day, which is a really low number over 90 minutes. Let's look at the progressive pass map.
Phillips was the most progressive player on the day, but even he managed just 4, with 2 being from set piece situations. Firpo managed 2 on the left wing and it was him who also had the 2 key passes i.e. chances created. For all his defensive woes, he did give a slight boost in terms of attack. Koch was the only other player to register more than 1 progressive pass.
Leeds really missed their usual progressors in Ayling and Dallas. The 2 have been racking up the most progressive passes from their fullback roles under Marsch over the past few months. After them, it's usually Raphinha who progresses the most for Leeds. But it looks like the Arsenal game wa a clear indicator that if Raphinha isn't supported or found enough, he too loses his value in possession. 
Ayling especially would be the biggest reason Raphinha was found on the right wing in good areas to then progress himself. None of the defenders could do that onc Ayling left the midfield. Again, all this analysis might be harsh in the face of playing with 10 men against a Champions League hopeful side like Arsenal, but Leeds have to pick up some learning from this loss if they want to retain any hope of staying up. 
3. The light at the end of the tunnel is fading
It's getting harder for Leeds fans to stay positive at this point. That's now 3 losses and a draw in the last 4 games for the Whites while contenders Everton and Burnley have both picked up 2 wins in the last 3 to put themselves in better positions in the table. Leeds' next opponents are Chelsea, Brighton and Brentford, none of which seem like an easy opportunity to pick up points. As per the fivethirtyeight soccer predictions model, Leeds now have a 65% chance of going down. It's all doom and gloom at the moment for the Whites and the season of mismanagement, transfer gaffes, injuries and other poor decisions is looking like it's going to cost the Yorkshire club in a perilous way.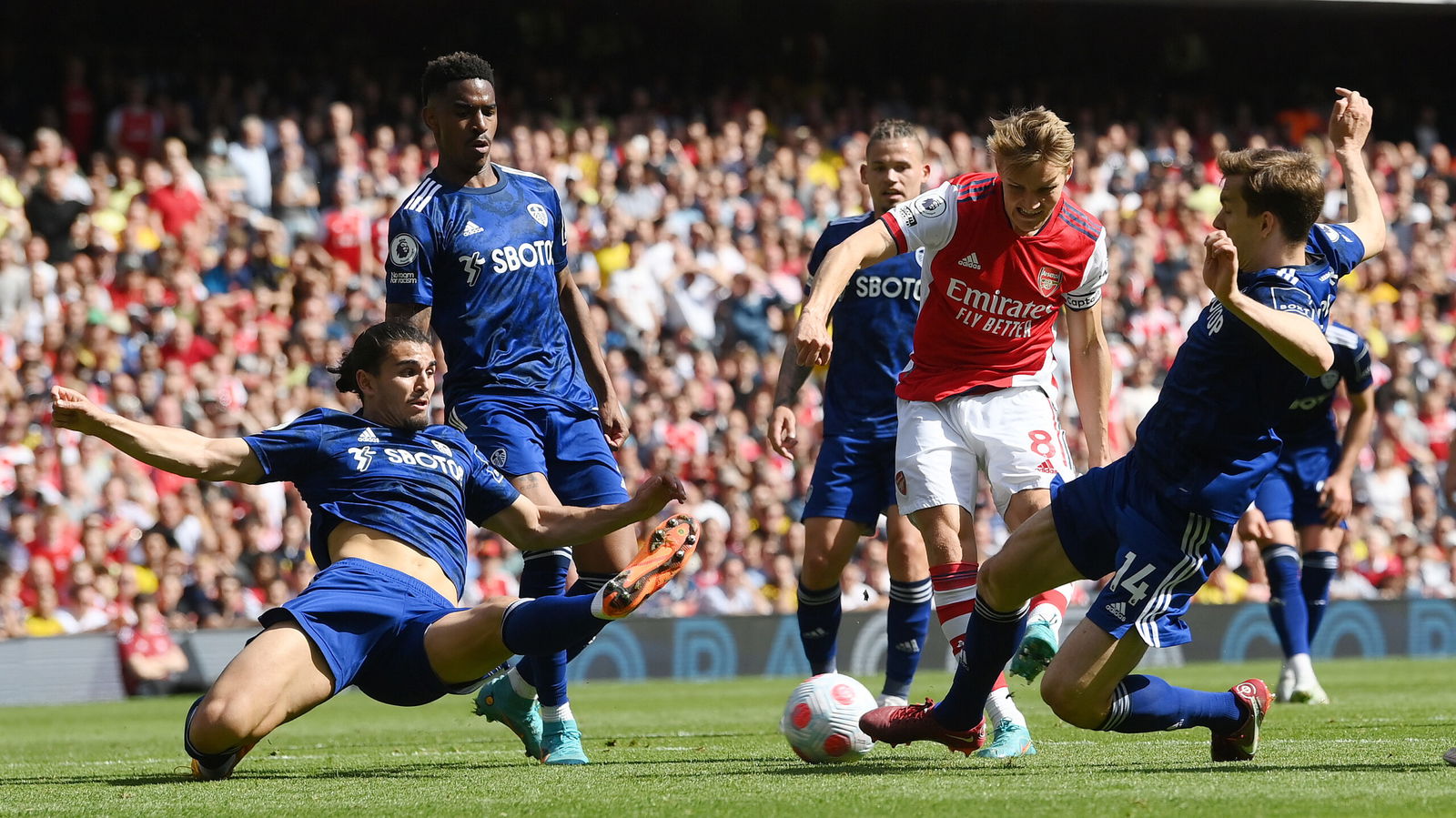 Marsch is trying hard to motivate the players in this really testing period of the season. Jack Harisson was asked about the leadership of Marsch post-match and he mentioned something that has made a few headlines since then.
Harrison: "He (Marsch) showed a quote from Gandhi before the game, about having belief, and that's the most important thing for us, is just having belief, and everything else comes after that, staying together and the tactics."
Marsch himself tried to look point at the slightly-improved second half versus Arsenal as inspiration to fight for points.
Marsch: "We've just got to turn around, find a way to stay strong, put a group on the pitch that's going to do whatever it takes, like they did in the second half, and find a way to get our points."
Leeds definitely need to find a way to stay strong and turn it around otherwise the follow up to an excellent return to the top flight where they came 9th in 20/21 could be a return to the Championship.