Going into the final day of the season, Leeds United had a 60% chance of getting relegated as per fivethirtyeight's predictions. The only scenario that would see Leeds survive in the Premier League was to better Burnley's result because even ending up on the same points would see the Whites go down due to inferior goal difference. But in the end, it was an emphatic 2-1 win over Brentford that ensured Leeds did the best of what they had. A Burnley win would have still condemned them to the nightmare of relegation but Newcastle ensured Burnley didn't walk away with a single point in their own 2-1 win against the now-relegated clarets. It was a day to savour for Jesse Marsch's men after enduring a season-long nightmare of could-haves and should-haves. Leeds have a lot to learn from this experience but for now it's party time to celebrate another season of Premier League football. We take a look at the 3 things we learned from a tactical perspective from the 1-2 win.
1. Leeds were in a mood to score
The must-win game automatically transferred to a must-score situation and Leeds were well aware of that. There was a clear desire to get into the box and take shots. "You don't score if you don't shoot", right? And shoot is what the Whites did. After a nervy opening 17 minutes, Greenwood carved out half a chance, but his strike sailed harmlessly over the top of Raya's goal. Joe Gelhardt put the ball in the net moments later to send the travelling fans, who had just learned that Burnley had conceded a penalty, into delirious applause. However, a VAR check ruled it off for offside. Leeds were getting close though.
After the break, Rodrigo spurned a great chance to notch Leeds ahead after he was picked out by Raphinha, but Raya was able to save the shot. But Raya went from hero to zero when he skewed a kick and brought down Raphinha, giving Leeds a penalty. Raphinha found the top corner nonchalantly. Like it has been in recent games, Leeds let Brentford get one back and were chasing the goal they desperately needed right till the end. The Whites found the very late winner they craved, when Harrison smashed in an effort after Brentford failed to deal with a corner, securing their Premier League status for next season with the final kick of this season.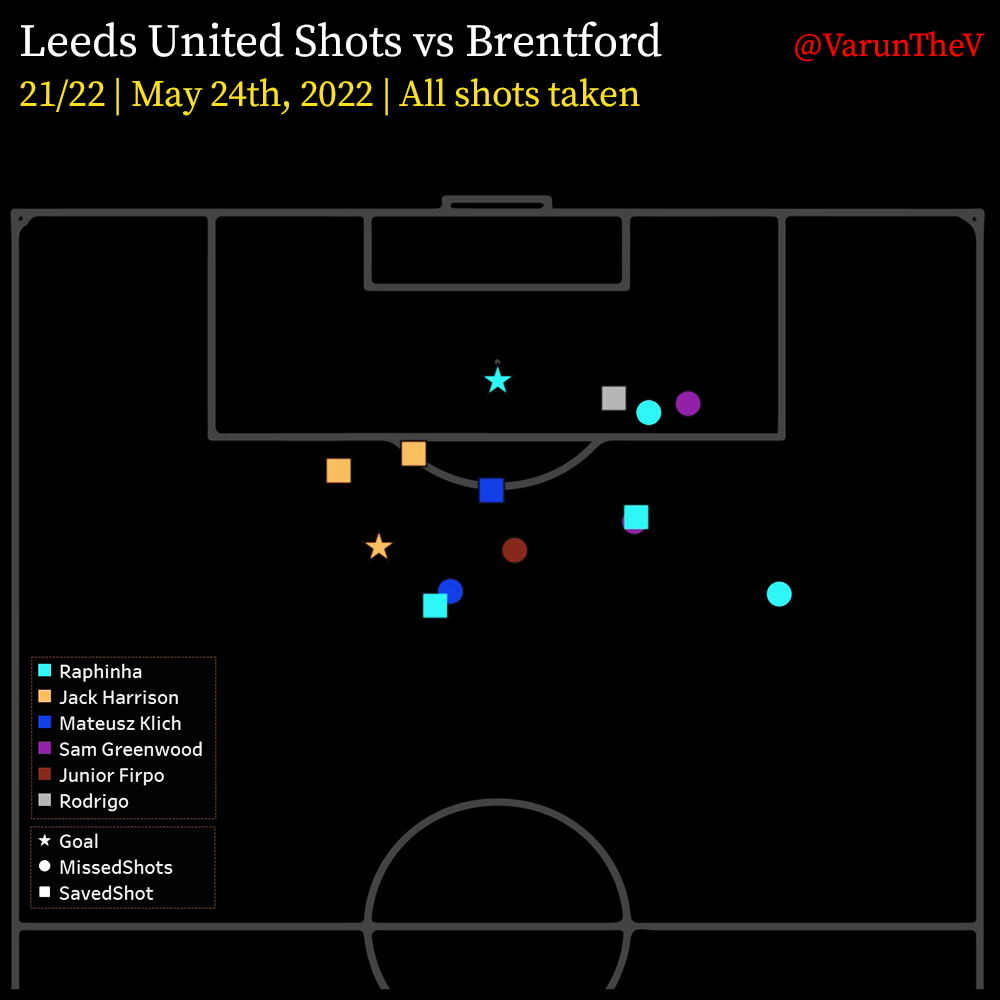 Leeds scored 2 from an xG (expected goals) of 1.4. Raphinha alone was responsible for 0.9 xG, with a majority coming from the penalty he scored and the rest from 4 more shots he took. Harrison was the second highest shot-taker, attempting all three from his favoured left half-space zone outside the box. The distance and angle meant that they were all low xG efforts but Leeds just needed one to go in, and one did go in. Klich was the only other player who took more than a single shot, attempting 2 from distance from a central area.
2. Leeds had excellent progression
While the number of shots weren't that many, Leeds' efforts to progress into the opponent's half was much clearer. They broke through the Brentford ranks on multiple occasions to reach dangerous areas. As it has been all season, there was a right-sided bias to be observed, but it was effective and did the job.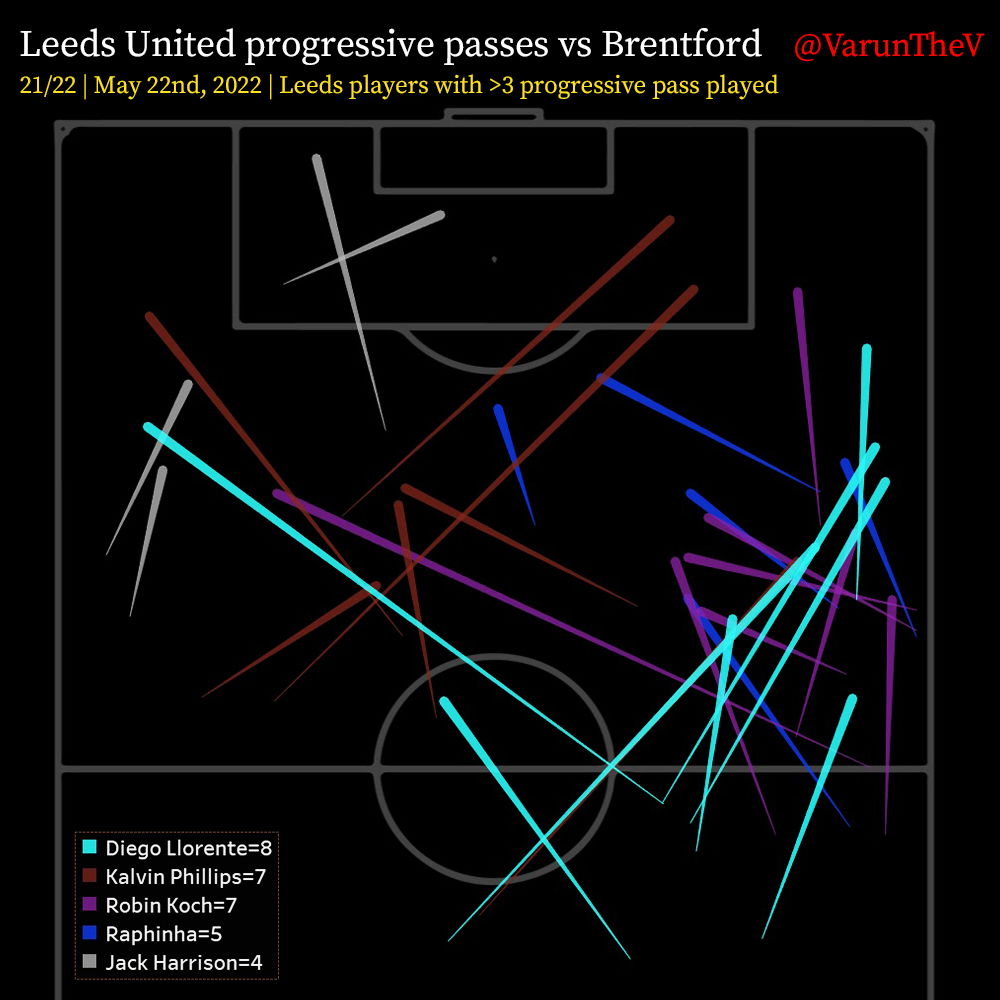 There were a mammoth 47 progressive passes played as a team, which is Leeds 5th-highest this season, showcasing how well they passed through Brentford with purpose and vision. Centre-back Llorente was the pick of the bunch boasting 8 progressive passes in the game, constantly carving through the left-side of Brentford with his aggressive passing. Phillips had another passing display to be proud off, as he spread the game from his central role, finding offensive players regularly on either side. Koch and Raphinha had another good outing on the right flank, both combining regularly to advance the game from the first phase to the second and second phase to third. Koch was especially impressive, bagging 7 progressive passes, many of which were cross-balls towards the centre of the pitch to find players other than Raphinha as well. Harrison rounded up the top progressors with some good advancement on the left flank to add to his well-taken goal. Overall, it was a penetrative passing performance that was much needed in a must-win game.
3. Time to celebrate….and reflect
The first instinct is to celebrate, and rightly so. Leeds came from the depths of hell, being at a 83% chance of relegation a few weeks ago, to attain their piece of heaven this weekend and deserve to enjoy it. Manager Jesse Marsch was all smiles and would like us to believe he didn't entertain the idea of going down at any point. 
Jesse Marsch: "I believed all the way that we were going to do this. I never talked about being in the Championship. This business is about belief and exuding it as a leader. I believed in the players and their resolve. It made us stronger, not weaker, earned us what we think we deserve."
It was a positive moment and the celebrations of the manager and team with the rapturous fans at the end were scenes well worth seeing for days. Leeds deserved their party.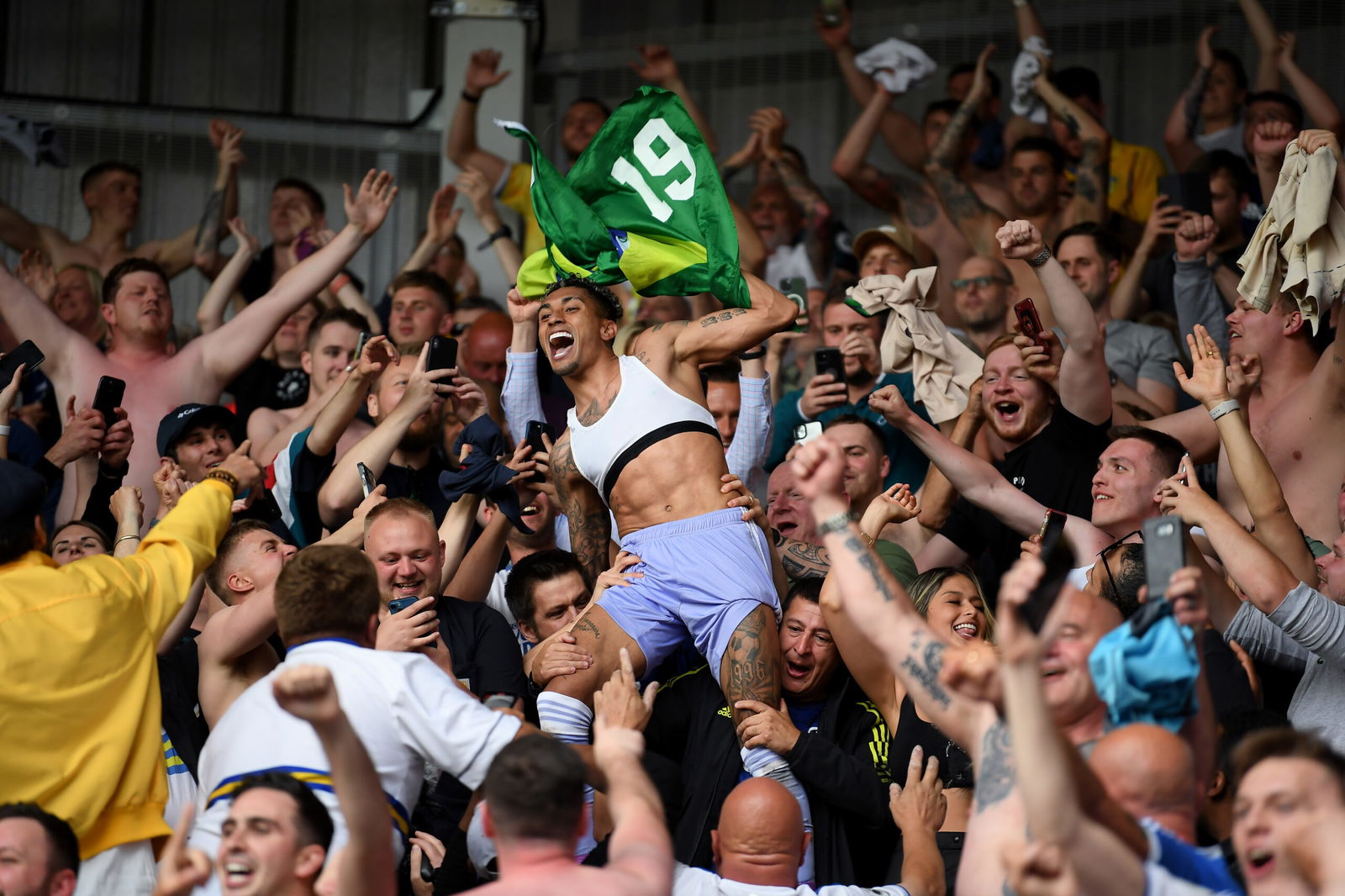 But after the joy, come the objective thoughts about the season. Leeds battled in a relegation war for most of the season and finished 17th by the smallest of margins on the final day. This was a team that came 9th last season with swashbuckling football and the promise of grabbing a Uefa Conference League spot when the season began, especially after apparently strengthening their team with big signings like Dan James and Junior Firpo. To struggle so much after such expectations hints at a whole lot of mismanagement. While Bielsa's transfer policy and physical demands are partly to blame, the management's moves in the market have also been questionable, especially in the winter window. Somewhere Orta and co have to take blame for the season.
Jesse Marsch was quick to admit that such a season could not be repeated and that there would be a ground-up reconstruction of the game plan.
Marsch: "It's been more of a band-aid project than a project about style and identity. So much to do. We started the process in a good way, what we had from a resources and people perspective. Just scratching the surface."
And that will be the hope of all Leeds fans going into 22/23 – a new project about style and identity. And Leeds excellent last-minute goals and resilience to stay in the league has shown that such a style is possible.