Well, one can't say it wasn't coming. After picking up 7 points in 3 games including an epic win against Chelsea, the loss against Brighton and draw against Everton did feel like a change in form for Leeds United. And the match against Brentford further reinforced the break in fortunes. It was the Ivan Toney show as the graceful striker scored 3 from a penalty, free kick and 30-yard chip to put down the Whites in a scintillating game of football. Leeds were competitive throughout the game, but conceding 5 goals in a Premier League is just a tad bit much.
Today we'll analyse the game using 3 major talking points.
1. Leeds were a shambles in defence
Leeds started in a very similar setup to their previous game. The 4-2-3-1 had a few changes to the XI, though. Joe Gelhardt started upfront, while a new-look right flank was deployed with Luis Sinsterra as right winger and Cody Drameh as right-back. Defensively, this was probably among Leeds' worst performances under Jesse Marsch. The signs of it were always there. Leeds' counter-pressing approach under Marsch has its caveats. If the team is unsuccessful in winning its intense duels in the middle of the pitch or loses the ball in bad areas closer to the goal while committing to the press, it results in conceding transitions very close to their own goal.
And that's exactly what happened: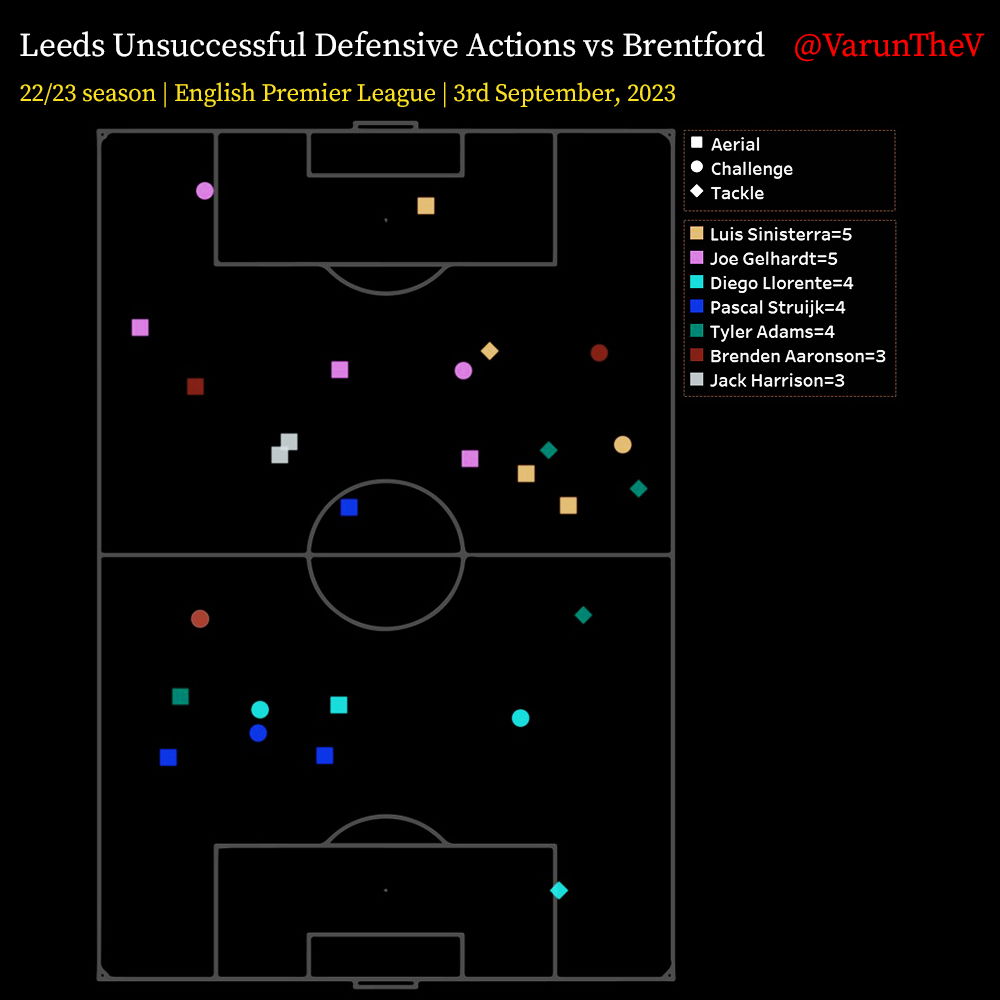 The above is a plot of all unsuccessful defensive actions from Leeds United players. Losing the ball further up the pitch is not a problem for Jesse Marsch. Attackers like Sinisterra and Gelhardt trying to win the ball and failing to do so is much of a lesser issue if they do it in the opponent's half and the team has time and space to get into position to block the transition conceded. The issue is when the same happens in one's own half. And a lot of that happened versus Brentford.
On 10 instances, Leeds registered a failed defensive action that gave away the ball in their own half. 4 of these belonged to Diego Llorente, who had a terrible day in general. Llorente's miscalculated tackle allowed Ivan Toney to chip the ball over Illan Meslier, while Llorente's dreadful header allowed Bryan Mbeumo to net the fourth goal. Yoane Wissa also caught Llorente off the ball for the fifth goal. It was a poor display from the center-back. Left-back Pascal Struijk also had a disturbing day with 3 defensive errors that gifted possession.  
2. Leeds still progressed well
While Jesse Marsch has big questions to answer from a defensive point of view, he can still be relieved about Leeds continuous strength in progression. The tactic does allow Leeds to play vertical and make inroads into enemy territory. The balance between such ambition and defensive security is what Marsch has to fix. But for the time being, he can't be blamed for being buoyed by some of the passing displays his players have been putting out for weeks. Brentford was no different.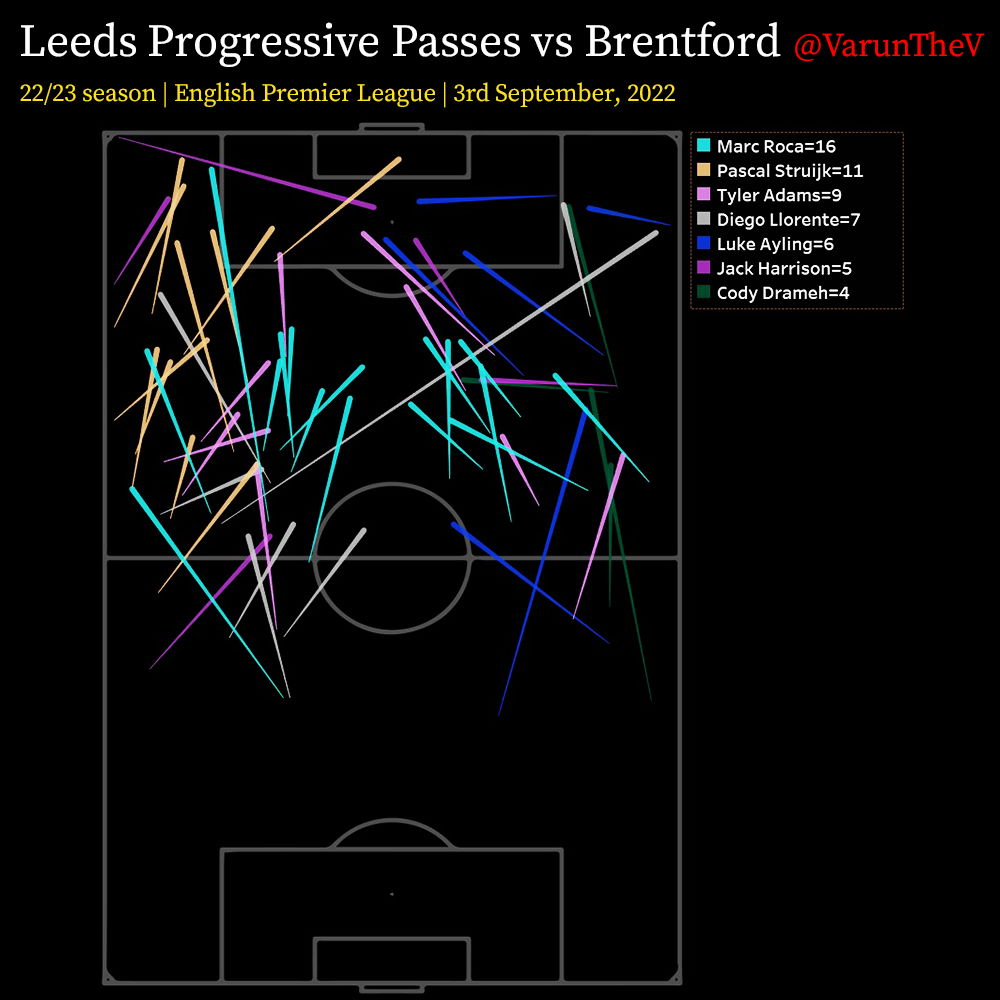 Marc Roca has been in sensational from since he arrived form Bayern Munich over the summer. But the display against Brentford was his best work yet. The 16 progressive passes from the Spanish playmaker are the highest a Premier League players has registered in a single game this season. It was a complete display, as Roca pulled the strings from midfield, found runners, played through balls and performed immaculate switches from one side to another, to ensure the Whites kept marching on. He was ably supported by 2 more players who have been ensuring high progression in recent games for Leeds United – Tyler Adams and Pascal Struijk. 
For the third time in his three starts, Sinisterra did something to change the run of the game on his team's behalf, and this was the best yet. From twenty yards out, Sinisterra dropped the ball with his thigh, then stroked it across David Raya into the bottom corner.
3. Marsch sees red, literally and figuratively
Jesse Marsch has been having his own arc versus referees in recent games and the Brentford match probably saw the pinnacle of that tussle. A furious Marsch was given his marching orders after Summerville's hopes of a penalty were turned down by a second VAR review against Hickey. The American explained his frustrations, while trying to keep the positives for the side in perspective.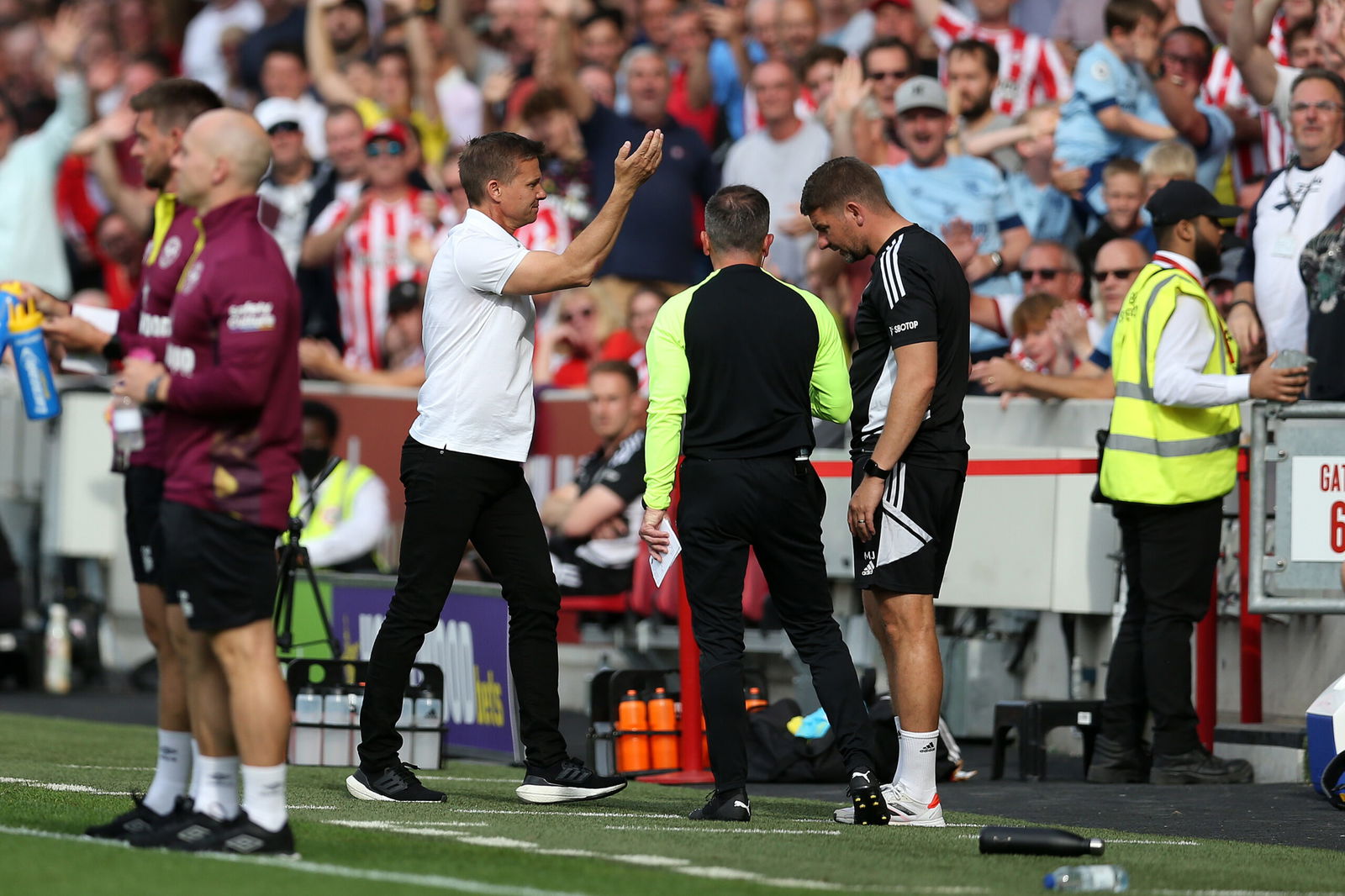 Jesse Marsch, speaking to Match of the Day said: "I said last week that I like our team and that doesn't change. We have an incredible mentality and it's now really about getting a little smarter and understanding how to limit what the opponent wants to accomplish on the day and make sure the game is tilted more in our direction. We have a good group – we know that. We have work to do and we're going to keep pushing forward."
Marsch on his sending off: "I was really calm when they gave a penalty for a play that I didn't think was a penalty. It's called 'clear and obvious' – and, for me, it wasn't clear and obvious. The ruling on the pitch was 'no penalty'. For our [penalty claim], it was clear and obvious. If you give one soft VAR penalty decision, it's just an easy thing to do to say it's fair and within the laws of the game to give another, when it's also a more clear penalty. But we didn't get that, and that's what the frustration is. When you don't get the behaviour that you think you should get, you have to decide what to do. I can have more discipline and our team can also have more discipline in these moments, but I also have to think about how to discuss these things. I don't know if it's with the league or other referees, because things I was told at manager meetings before the start of the season aren't happening. That's really the source of the frustration. I was calm all the time before there's an egregious act for me. I don't ever want to get tossed and I don't want to show disrespect to referees but, when I feel there's disrespect going in the other direction, I don't know what to do. I don't know what to do right now."
Calling the Brentford loss a defensive failure wouldn't be wrong. Leeds have now conceded 10 goals in 6 games. While half of them came in this fixture, there is a sense that a huge risk is associated with the current gameplan. As good as it is in making inroads into opposition territory, it always runs the risk of putting pressure on defenders if the ball isn't won in crucial areas. The balance is something Marsch will have to figure out if he wants to reap the results of the good team building over the summer. All isn't lost yet, but there are clear problems to solve for Leeds United.