Leeds were coming to the home of the Seagulls with some good form, having picked up 3 wins in their 4 games of the season, which included a historical 3-0 thumping of Chelsea. But if there was one team that was approaching the weekend with better from than the Whites, it was Brighton. The Seagulls were on a run of 8 consecutive top-fight matches without defeat and sitting comfortably in the Champions League spots early in the season. Graham Potter's tactics and man management have been the talk of the town for a while and he once again proved why he is being spoken so highly of as he masterminded a 1-0 win for the home team and condemned Leeds United to their first defeat of the season.
Today we'll analyse the game using 3 major talking points.
1. Progression from the back is a positive
Leeds started in a very similar setup to their previous game. The 4-2-3-1 with James on the right wing and Aaronson in the hole continued. Probably not Marsch's ideal set up in attack. With Sinisterra waiting on the bench, his involvement for James in Marsch's more favoured 4-2-2-2 might be the plan going forward. But the back 7 including the goalkeeper are set for now, and their strength showed once again. 
Here's the progressive pass map for all players who managed at least 6 progressive passes: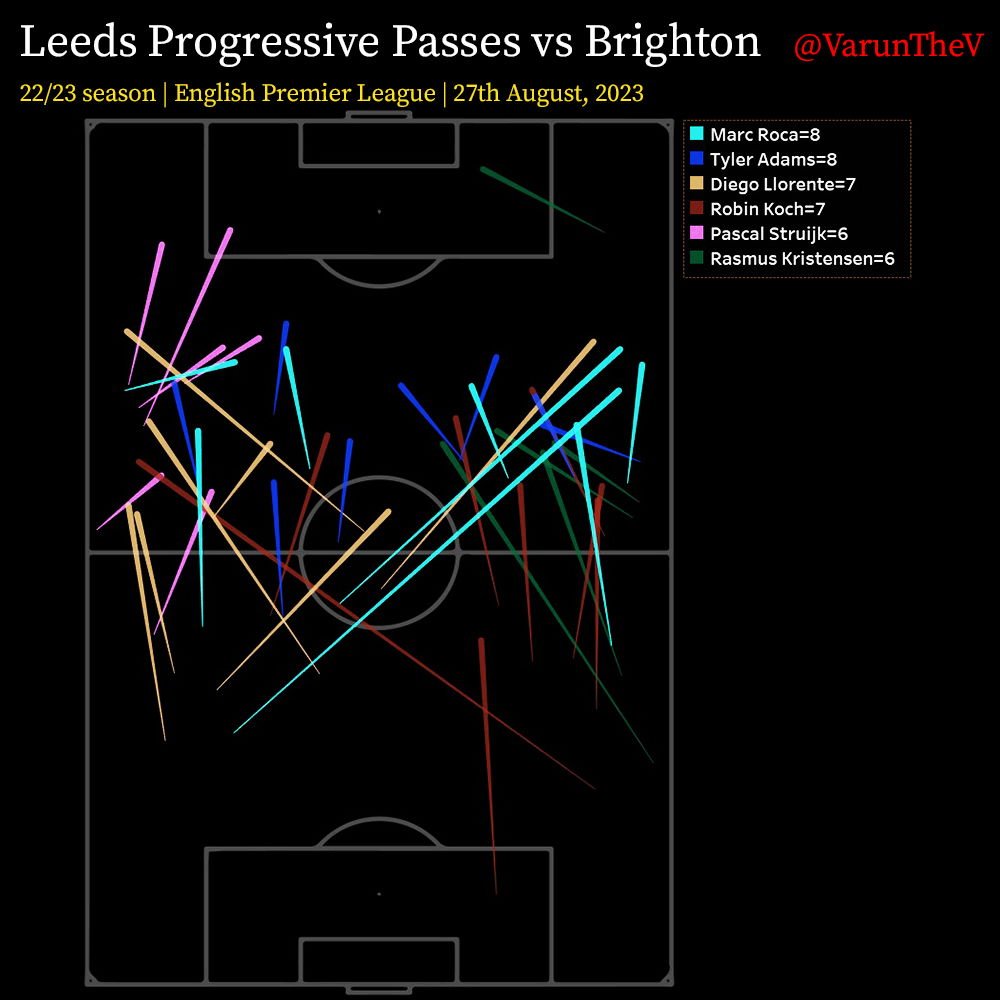 Marsch can probably not as for a better progression map from the 6 outfield players at the back. The midfielders, Marc Roca and Tyler Adams topped the charts with 8 passes each, followed by the 2 center-backs, Diego Llorente and Robin Koch with 7 each, who were followed by the 2 fullbacks Pascal Struijk and Rasmus Krsitensen with 6 each. It was textbook perfect. Progression from the defensive third to the middle third was brilliant and progression from the middle third to the attacking third was also decent. The defence and midfield did their job. The rest, however, was where the problem lay.
Leeds entered the penalty area only 5 times, 3 of which were set pieces and 2 were hopeful balls from Jack Harrison and Luis Sinisterra late on. Brighton's compact back 5 allowed progression in midfield, but were excellent in preventing entries into their area. Leeds' attackers were found lacking in creativity. This could be a general theme for the season, Jesse Marsch's counter-press philosophy is excellent when the opposition presses or plays a high line, which makes opponents like Chelsea susceptible to their tactic, but against a well-organized compact defence that doesn't commit too much and asks the Whites to be patient and creative, the chance creation issues become clear. Marsch's ideas of forcing transitions won't always work. He has to think of a plan B or C as well.
2. No clear cut chances
The troubles in entering the Brighton penalty area also showed in the shot map of the squad on the day.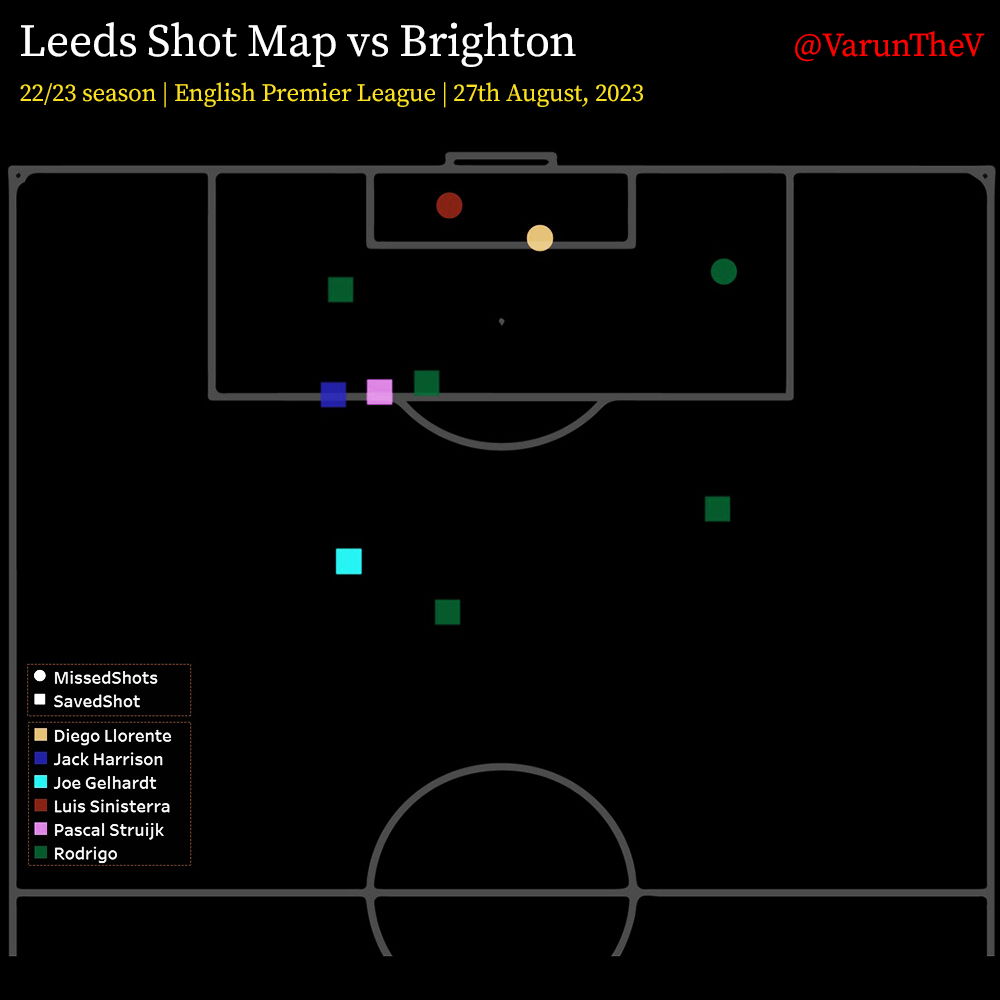 Diego Llorente also directed a header off target from close range as the visitors were unable to build on last weekend's magnificent victory at home to Chelsea. Leeds' best opportunity fell to second-half substitute Luis Sinisterra, who failed to hit the target from a few yards out, after Brighton's Pervis Estupinan inadvertently sent his clearance towards the far post while attempting to dispossess Brenden Aaronson.
There were a few more shots, especially from Rodrigo, whose confidence could be seen, as he attempted the most shots on the day and even got most of them on target. But they were either from far away or in awkward angles, resulting in easy saves for the opposition goalkeeper. It was a lot of huffing and puffin, but no clear chances were created against a stubborn Brighton defence. 
3. Marsch feels frustration but remains humble
Jesse Marsch was very frustrated that his team could not build on a landmark victory over Chelsea. For the first time this season, he also had major issues with the referee after some questionable decisions, and was booked as a result. In his post match comments, he accepted his booking and was gracious enough to commend Brighton's display.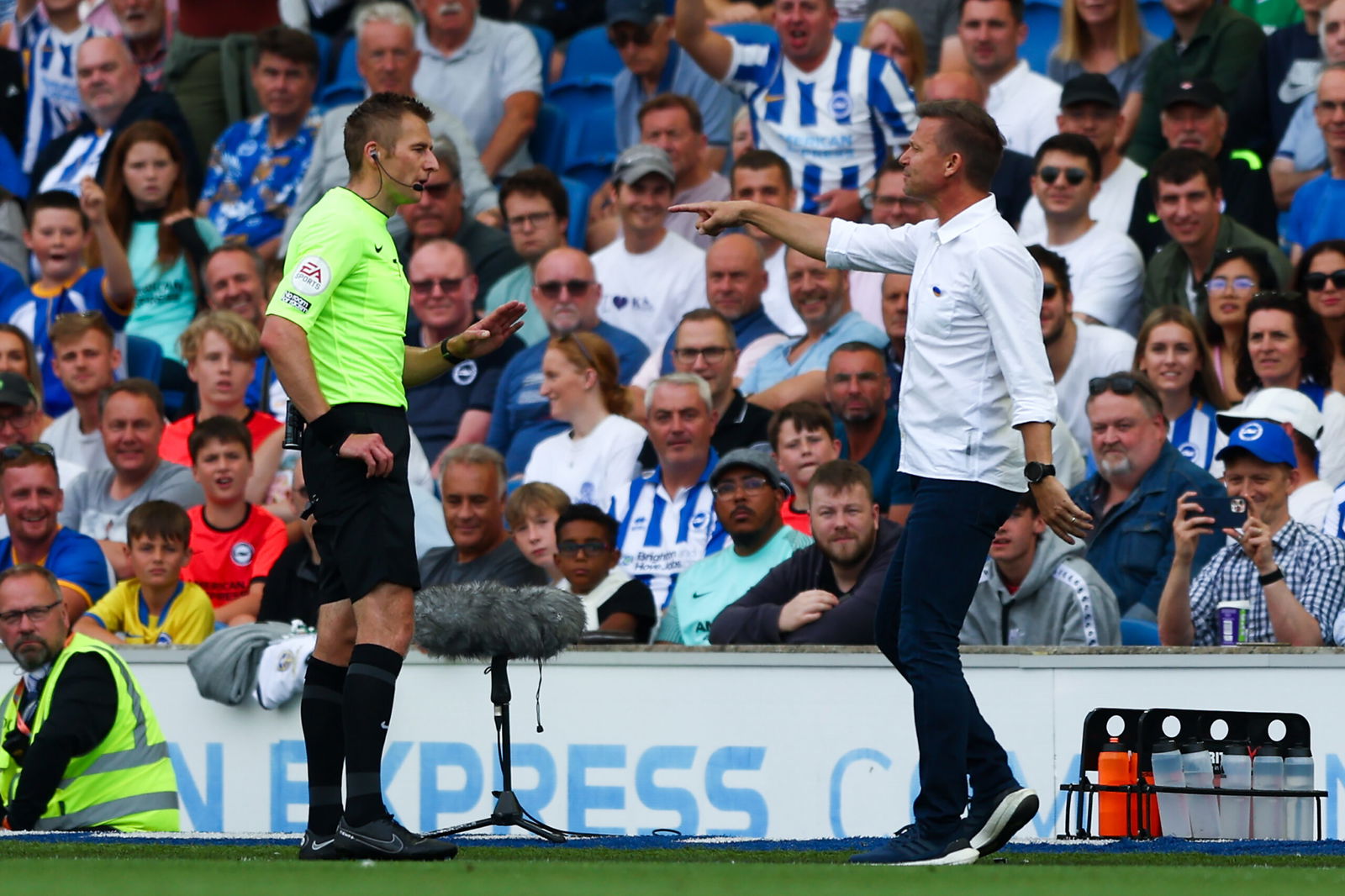 Leeds manager Jesse Marsch, speaking to BBC Match of the Day: "First half not good, second half much better and a little bit unlucky not to get the lead. Brighton's man-marking in the first half made things very difficult for us. I thought we pushed the game in the second half. I was much more pleased than the first and we have to learn from this and understand what these games are like. There was no part of me that just because we beat Chelsea we were the finished product or would win every game. We're going to have hiccups and Brighton are a good team – they make it difficult for their opponents. In the end, it wasn't enough from us and a good three points from Brighton."
Jesse Marsch on the referee's performance: "I was frustrated today with the referee. Against Chelsea and Barnsley I didn't say a word to the ref all game. If I see things from the referee that I don't think are fair, there won't be any other recourse from me than to display my feelings and tell the referee what I think. I did that today and got a yellow. We didn't have our best day, but I don't think the referee had his best day either."
The first loss of the season coming after 4 games against an opponent that are tough to beat at home for most of the league's participants, including the top 6, is probably not something to worry oneself sick about. Leeds should take the positives out of the game, in terms of their organisation, progression from the back and stability as a team. The issue largely remains around how creative Leeds can be especially when faced with teams that don't get baited into the counter-pressing nature of Leeds under Marsch. It's something the American has to think about and the solution could lie on the bench, especially given Sinisterra's strengths and Daniel James' struggles.