To say Leeds United were poor at Selhurst Park on Monday night would be an understatement. In what was the Whites most underwhelming performance under Jesse Marsch, the visitors managed just 2 shots on target and 0.4 xG (expected goals) in the whole game. On the other hand the hosts were dominant, creating chance after chance, only stopped by heroics from goalkeeper Illian Meslier and some last-ditch defending from the Leeds defenders.
Palace battered Leeds with 17 shots in total and accumulated an xG of 2.0. Leeds should consider themselves very lucky that the Eagles scored 2 less than they should have and allowed United to pick up another valuable point in the race for Premier League safety.
We take a look at the 3 things we learned from a tactical perspective from the 0-0 draw.
1. Relying heavily on the defence
The theme of the match was largely Leeds defending against a barrage of attacks from Palace. While Meslier put in an excellent performance with multiple saves, the centre-back duo of Diego Llorente and Liam Cooper also deserve credit for the clean sheet. There were lots of nervy moments with Mateta, Zaha and Gallagher coming close a few times, but whether it was a last-ditch block, intense tackle or simply making their presence felt to disrupt the attackers, Cooper and Llorente did well in the face of constant attacking pressure.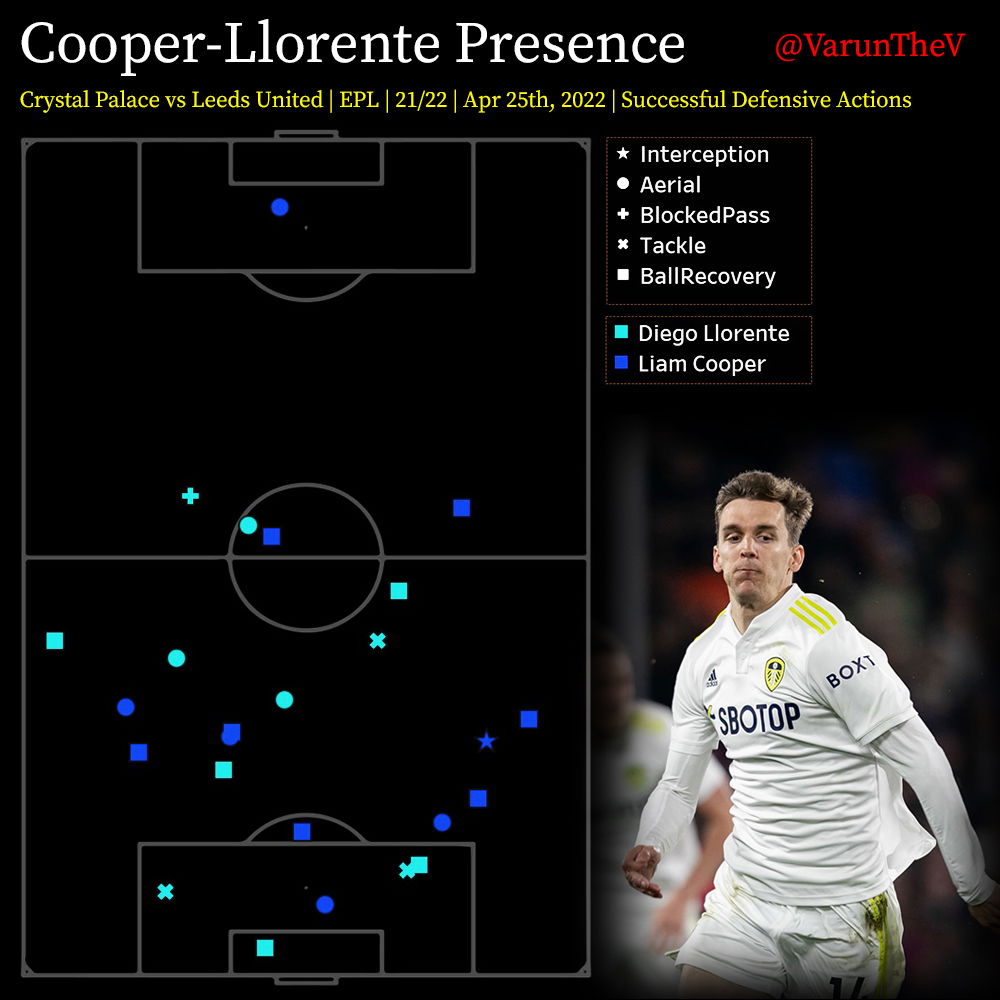 We take a look at a combined map of their successful defensive actions. Llorente got stuck in multiple times winning the most tackles and recoveries on the pitch, while captain Cooper was aerially strong and stepped out often to negate the danger early. Palace's dynamic attack stretched the duo making them go high and wide to win the ball back and block attacks. 
The left-right dynamic between the two centre-backs is almost unrecognisable from the map showcasing how stretched the duo were. Jesse Marsch will want to look at why Leeds were so terribly open in terms of allowing Palace to pile so much pressure on his defence. The pressing from the attackers and protection from the midfielders clearly let down his defenders on this occasion.
2. Predictable progression that led to nothing
Oddly enough, on a day where Leeds United struggled to create much, they did progress a bit through midfield. Palace often committing attackers meant that Leeds were able to move the ball at times. It just didn't lead to much in terms of chance creation. There were only 5 passes into the penalty area from the Whites and 3 of them were from dead ball situations.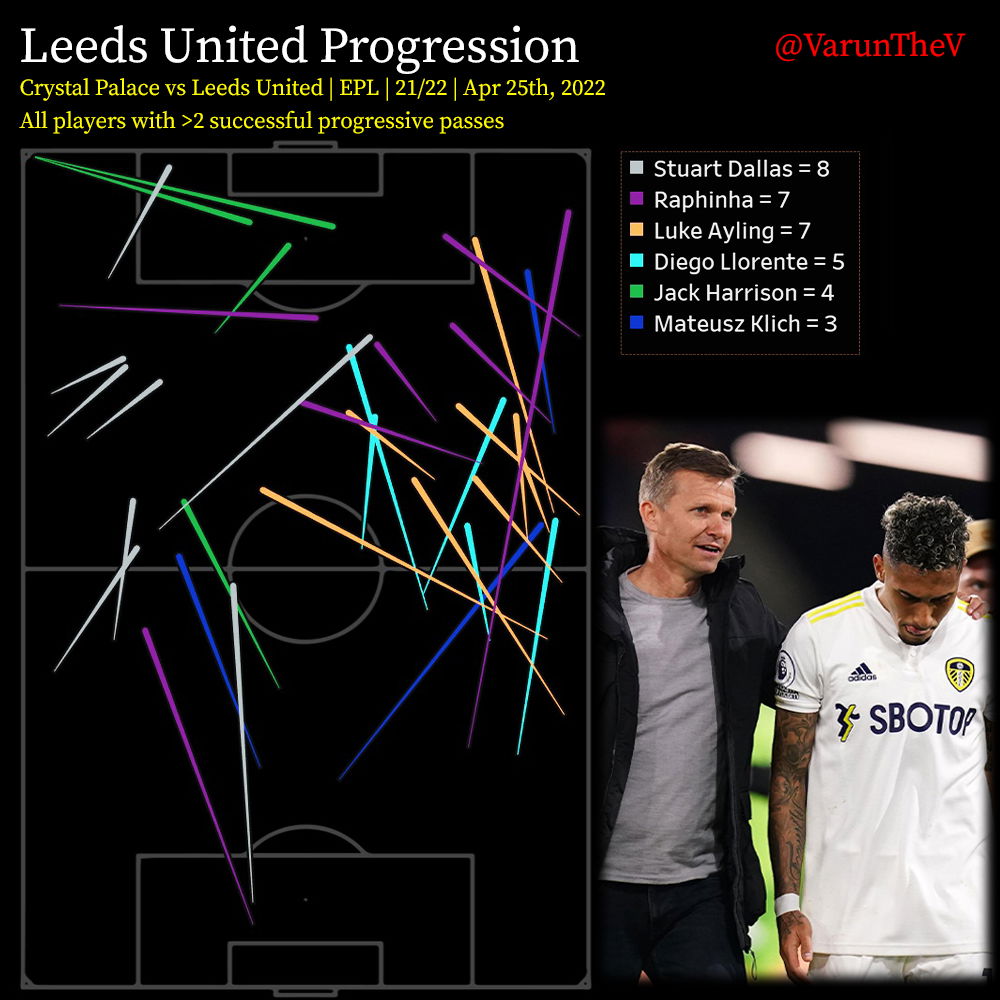 Looking at the progressive pass map for the team, one thing starts to become clear. One of the reasons Leeds progression and creation isn't delivering an end product is the predictability of it. Leeds are very right-side-biased. Raphinha often either being the receiver of the progressive passes or the one who plays them means that the attack becomes really predictable for a team like Palace. Marking Raphinha out of the game is half the job done.
Dallas and Ayling progress a lot from the deeper wide areas into midfield or down the wings and while Marsch's intention of progressing through the fullbacks has been visible in recent months, it also has to be noted that often opponents let Leeds' fullbacks progress on purpose, knowing the attack is going nowhere just from that. Opponents don't have to commit high and wide to stop the fullbacks and instead form a mid or deep block to stop the moves after that pass. Daniel James' poor central presence, Leeds' reliance on Raphiha, Rodrigo being easy to mark in the centre and Jack Harrison's limited wide approach make them easy to handle and prevent from going further. 
It wouldn't be ridiculous to say that at this point opponents are letting progression happen into areas of their choice to then suffocate the attack and counter in the spaces the 4 Leeds attackers and fullbacks leave behind. Palace had a go at the Leeds' pivot and centre backs many times last night due to this exact reason. Manager Jesse Marsch has to figure out a way to solve this issue which teams are starting to take note of.
3. In danger of being figured out
And that leads us to our final talking point. Within a mere 2 months, Jesse Marsch's tactics are starting to look ineffective. The signs were there in the tight draw with Southampton and even the 3-0 win over Watford. Eagle-eyed viewers had noticed the way the team was getting opened up while pressing, leading to transitions for the opponent while the over-reliance on the right wing for attack was also clear as day. The problems are catching up fast and starting to throw Premier League safety into doubt. Another nervy display will probably not be good for the morale of the team.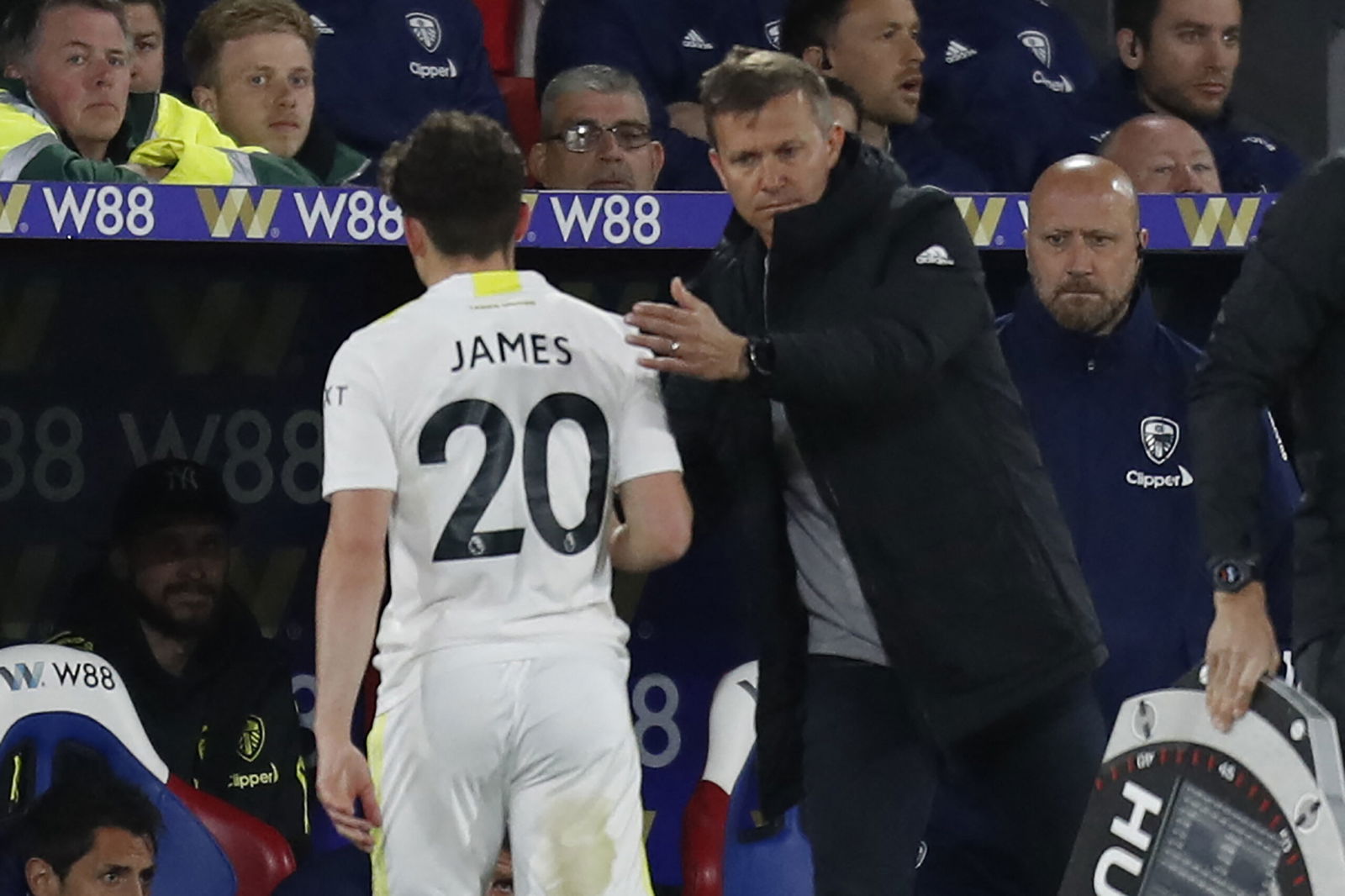 On the flipside, if your team came out from an onslaught with a valuable point, then some credit needs to go to the mentality and spirit of the players. What Leeds lacked in terms of execution and creativity, they showed in terms of grit and attitude. Marsch's post-match comments have been very fair and refreshingly honest since he took over in February and that theme continued after the draw against Palace. 
The American was quick to highlight the disappointing performance, but also eager to point out the morale boost from another clean sheet:
"We, as a group, were a little bit disappointed overall with the performance but we have to look at this as a positive. Two clean sheets in a row, it's a big point that gets us closer to the ultimate goal. It was a night where we bend but don't break. Some of the things in possession that we wanted to try to make little connections, we weren't able to establish enough to do that. But the mentality to fight for everything was there. There's still moments when they get caught in the man marking, or the other players feel like they have to cover behind them. Some of the positioning in the build-up phases in the last third, we need to be better in the connection and timings of plays. Containing to find ways with the ball to manipulate and unbalance opponents and move and connect in a way that can be a bit more dangerous. We'll keep working."
It was an eloquent summary of the night. Leeds will be disappointed, but shouldn't be disheartened. There's only everything to fight for.