"I am obsessive about attack. When I watch videos, it's for attacking, not for defending." – Marcelo Bielsa
"Every time our players step in to win the ball they immediately play it forwards. Pressing to see how quickly you can create chances, and score goals." – Jesse Marsch
Both of Leeds United's current and ex-manager seem to have very similar thoughts to attacking in football. Reduced to a very common man phrase, one could say "Attack is the best form of defence" is what they live by. This goes in line with the philosophy of Leeds United as an institution, which has been built upon the foundations of scintillating, entertaining and attacking football. Whether it's the strong shooting of Peter Lorimer in the 70s, the aerial domination of John Charles in the 50s, the pace of Harry Kewell in the 90s or the current vision of Raphinha from the right wing, Leeds has always aimed to be a flamboyant and attacking side.
Today we analyse how the current Leeds United squad is staying true to the club ethos by taking a deeper look at how they create shots.
Shot-creation in the Premier League
The stat we are expanding on is called Shot-creating action.
As per fbref.com, it is defined as "The two offensive actions directly leading to a shot, such as passes, dribbles and drawing fouls."
It's a really valuable stat to understand how a side creates, because it takes into account the last two offensive actions instead of the just the final one and also includes actions other than passes.
There are 6 sources of shot-creating actions: Live passes, dead ball situations, dribbles, shots, fouls drawn and defensive actions.
Let's take a look at Leeds United's split for these, compared to the rest of the league.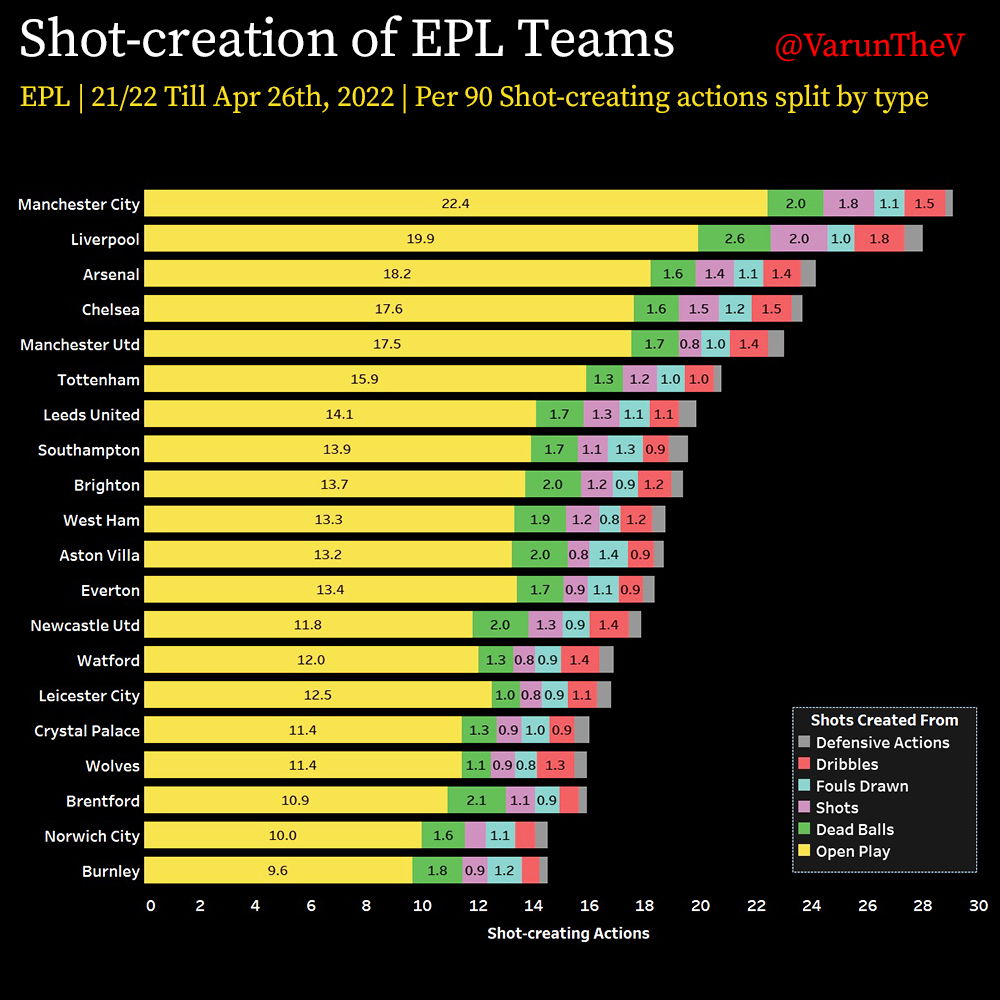 We split up shot-creating actions for each Premier League team on a per 90 basis. What is immediately noticeable is that Leeds United are 7th in the list. This is remarkably good for a side that is trying to escape relegation. While Leeds have encountered numerous issues at the back, regularly conceding goals until manager Jesse Marsch stepped in, they have been consistently inspiring in attack creating more shots than the likes of West Ham, Wolves, Newcastle and Leicester, who are in the top half of the table currently. This bodes really well for the future and Leeds fans can hope that if this attacking output is met with a defensive approach that can hold its own, then the team is capable of competing in the top half.
Next, let's analyse the split. Leeds remain 7th in the league from open-play shot-creation, which is again a positive sign, since this is usually the major source for creating shots. Leeds are creative and penetrative enough from their passes in general play. Leeds are 9th for dead ball creation with the likes of Burnley, Newcastle, Brighton and Villa creating more than them. This isn't a really big case of concern although Leeds can look to improve on this with better set-piece takers. Leeds rank 11th for shot-creating from dribbles, indicating a lack of penetrative dribblers in the side. This seems odd since the Whites do have some good dribblers in the squad, but aren't able to utilise that trait to create more.
Leeds are 5th in the league when it comes to shots that lead to another shot attempt. This is a really good indicator of two things – (A) Leeds are taking a lot of shots to trouble the opponent and give themselves an opportunity to get on the rebound, and (B) They are making the rebounds often, showcasing good attacking movement and awareness. 
Finally, Leeds are 3rd in the league when it comes to defensive actions leading to a shot. This is also a positive. This indicates how often a successful pressure or tackle leads to a shot. This bodes well with Leeds' ethos to press and counter high up the pitch, a philosophy strongly impressed upon by Bielsa, and one continued by Jesse Marsch. Southampton and Liverpool lead the table for this stat, which confirms the understanding of teams playing with a high-press tactic doing well for this stat.
Leeds' best shot creators
Next, let's use the same shot-creating action split visualisation to take a look at the Leeds players who are contributing from each source.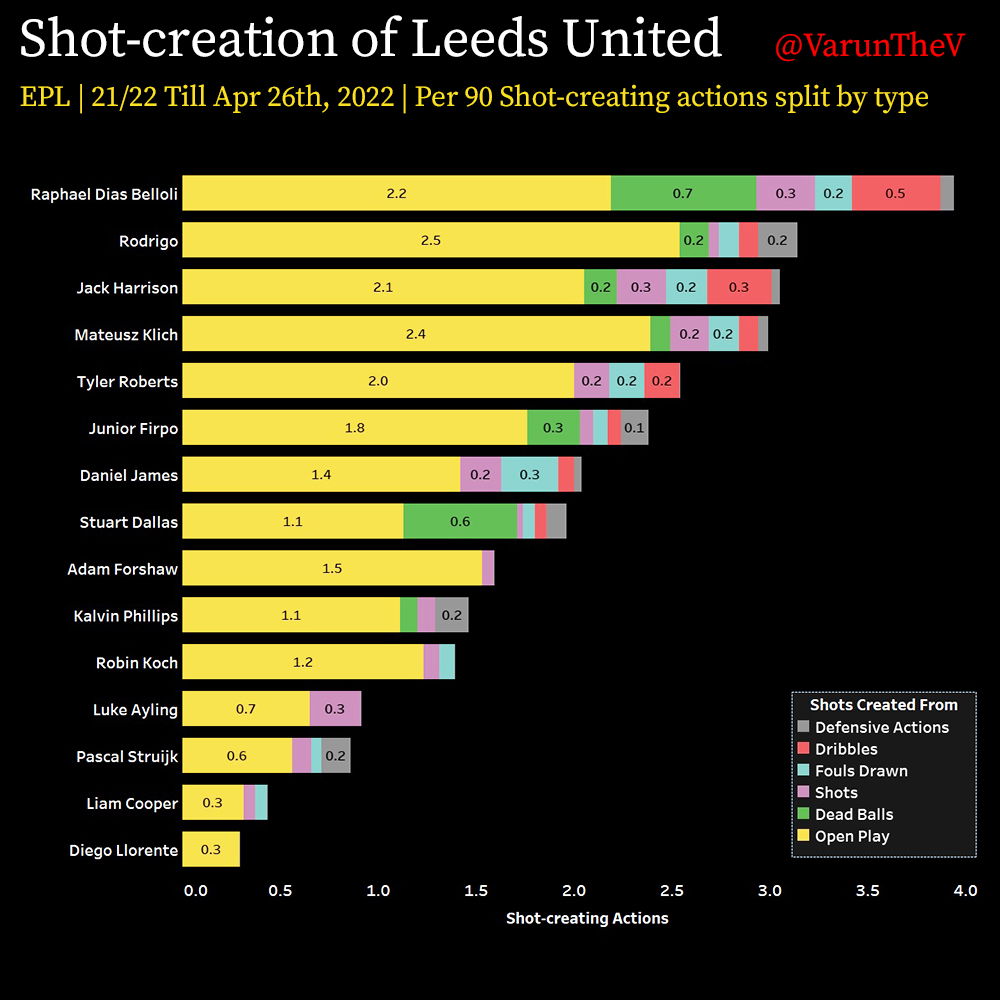 It's no surprise that Raphinha leads the charts. He has been Leeds' main man for creation this season and that is clearly reflected here. While he ranks 3rd in the squad for shots created from open play, he is 1st from dead balls, dribbles and shots, which showcase his set piece expertise, dribbling ability and great movement to get rebounds on shots. Rodrigo and Klich are the leaders when it comes to open play shot-creating actions. Rodrigo comes as no surprise given the creative 10 role he plays for the side, but it is interesting to see Klich this high and speaks of his contributions from open play when he lines up in the starting XI.
When it comes to fouls drawn, Daniel James leads the way followed by Jack Harrison. The two most pacey dribblers in the squad leading this stat comes as no surprise. It is probably indicative of how James is better used as a winger on transition with licence to run at defences from wider or deeper areas, instead of the current centre-forward role he is playing that often isolates him with his back to goal in a crowd of defenders. For shots created from defensive actions, Rodrigo tops the list followed by Kalvin Phillips. While Phillips comes as no surprise, given his great pressing intensity and ball-winning, Rodrigo is a pleasantly surprising one and shows how active he has been in the high press when it leads to creation.
The earlier issue we spoke about, in terms of Leeds having low shot-creation from dribbles, can be researched further here. Raphinha is the only one touching 0.5 SCA per 90. Only 6 other players have any numbers for this stat and they are all below 0.3. While the wingers looked good for shots created from fouls drawn, they are struggling to create shots from dribbles. Rarely does a successful dribble lead to a shot for Leeds United, and if it does, it's usually Raphinha. One reason for this could be James playing striker instead of winger. His position gets him some stats for fouls drawn on the transition, but doesn't allow him chances to get on the ball enough to beat his man from wide areas. Another reason could simply be a lack of quality in this department. Leeds' fullbacks aren't great dribblers. Neither are their central midfielders. Even Rodrigo isn't big on this. Leeds lack some flair in this area.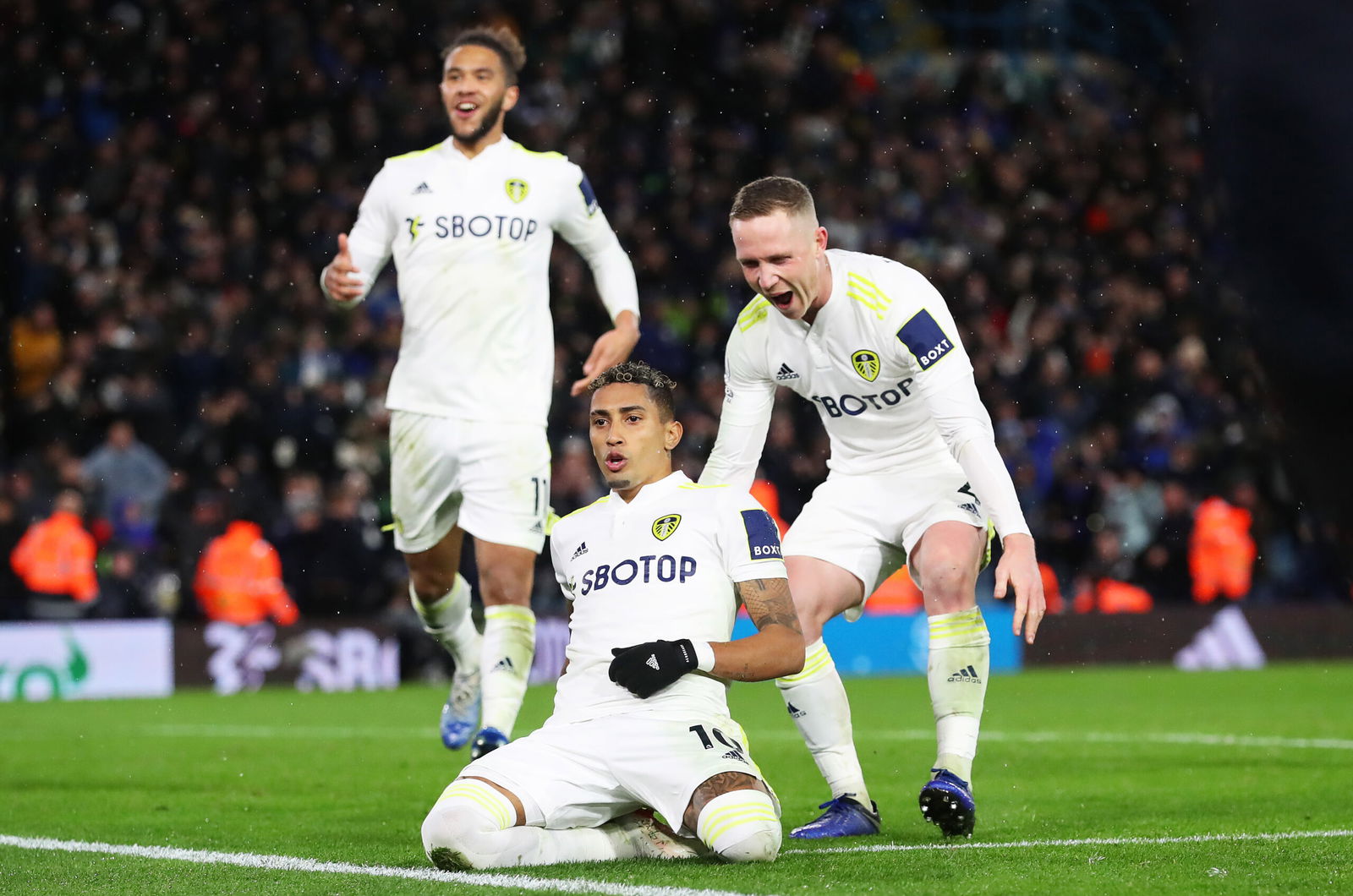 Coming back to the overall list of shot-creating actions, it's no surprise that the centre-backs are at the bottom. If there is some criticism that can be levied here, it would be demanding more from the fullbacks and central midfielders in terms of shot creation, especially Phillips and Ayling, who given their talents should be higher on the graph. 
Another issue that could completely ruin the positive aspects of Leeds being in the top 7 in the league for shot-creation is their reliance on Raphinha. Roughly, Raphinha accounts for 4 out of Leeds' 18 shot-creating actions per 90. That is more than 20%. This is among the heaviest % in the league with only two other players (Saint-Maximin for Newcastle and Bruno Fernandes for Manchester United) hogging as much or more shot-creation control in their teams. It's not a great situation to be in and a Raphinha sale could put Leeds into trouble. They need to distribute creation a bit more among the squad. Some good coaching of their young upcoming talents like Summerville, Gelhardt and Greenwood, and smart recruitment to suit Marsch's style of play might help in that regard.
Overall though, Leeds should be really proud of themselves from a shot-creation point of view. They rank 7th in a league where it isn't easy to be consistently creative. This Leeds squad is doing its best to honour the great attacking ethos the club has built its foundations on.