Leeds welcomed back Liam Cooper and Kalvin Phillips in their 1-1 draw at Eland Road with Southampton this weekend. Captain Cooper started against the Saints and was solid defensively as his side dominated most of the first half and took a deserved lead through Jack Harrison. But, Southampton worked their way back into the game in the latter stages of the first half, came out flying following the interval and levelled matters via a sublime James Ward-Prowse free-kick.
Towards the end, both sides had chances to win it, in a very end-to-end game where two teams good at pressing were giving it their all. Phillips came off the bench to calm the home side down to ensure Leeds ended the game well, but there was no late goal to be found and the spoils were shared. Leeds are now unbeaten in three and sit eight points clear of the drop zone thanks to Watford's 2-0 defeat by Liverpool earlier in the day.
We take a look at the 3 things we learned from a tactical perspective from the 1-1 draw with the Saints.
1. Luke Ayling is enjoying his football
There was a moment in the game where Ayling successfully defended the ball on the right wing and fell to the floor as a result. He acted out a dramatic collapse and immediately got up with a smile much to the crowd's delight. There were many such moments where the fullback looked like he was enjoying himself thoroughly. And it wasn't just the number of smiles either.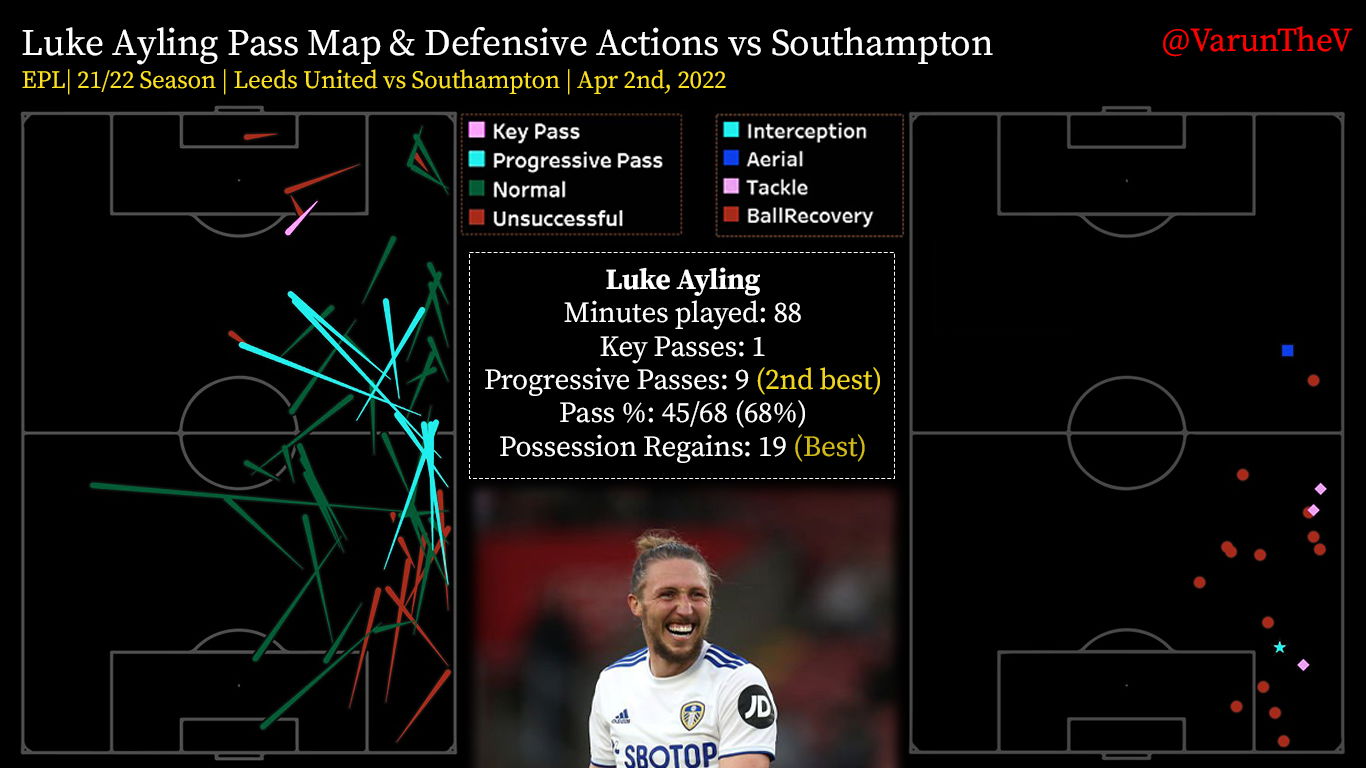 Ayling had the second most progressive passes in the game, taking up some really good positions on the right hand side and enabling the game to move towards the final third constantly. Whether it was down the wing to find runners like Raphinha or more inside to find Rodrigo in dangerous pockets, Ayling was constantly coming up with balls that were asking questions. It did result in a fairly low pass completion %, but manager Jesse Marsch won't mind that much given the progression Luke showed.
Defensively too, the fullback boasted the highest possession regains on the day and was busy on the right side of his own half when Saints had the ball. Many of these were smart recoveries of direct balls Southampton were attempting down his channel. Granted, his showing can't be called a defensively perfect performance given how many times Walker-Peters had a go at him and how the free kick from which Ward-Prowse scored was from a foul Ayling conceded, but Luke did a lot without much support from his attacking partner. Raphinha was often caught ahead and narrow, leaving the major defending on the wings to Ayling. Up against a really quick and in-form fullback in Walker-Peters, who has the speed and flair to go both ways thanks to his inverted role, Ayling did well. The positive spin on this is that thanks to Ayling's work, Raphinha could stay ahead and press higher, one such adventurous foray leading to Leeds' opening goal.
If Leeds are to survive the drop, Ayling's form and partnership with Raphinha will be key and so far, it looks like he's up to the task
1. Rodrigo and the fullbacks were key for progression
We touched upon it in the previous segment, but in Jesse Marsch's system a lot of the progression comes from the fullbacks. He likes the team to play a little more compact and direct, asking the fullbacks to take care of progression from wide, while aiming to utilise the wingers in more central areas. Raphinha and James were often drifting inwards to combine with the central players leaving Dallas and Ayling to progress from the wide areas.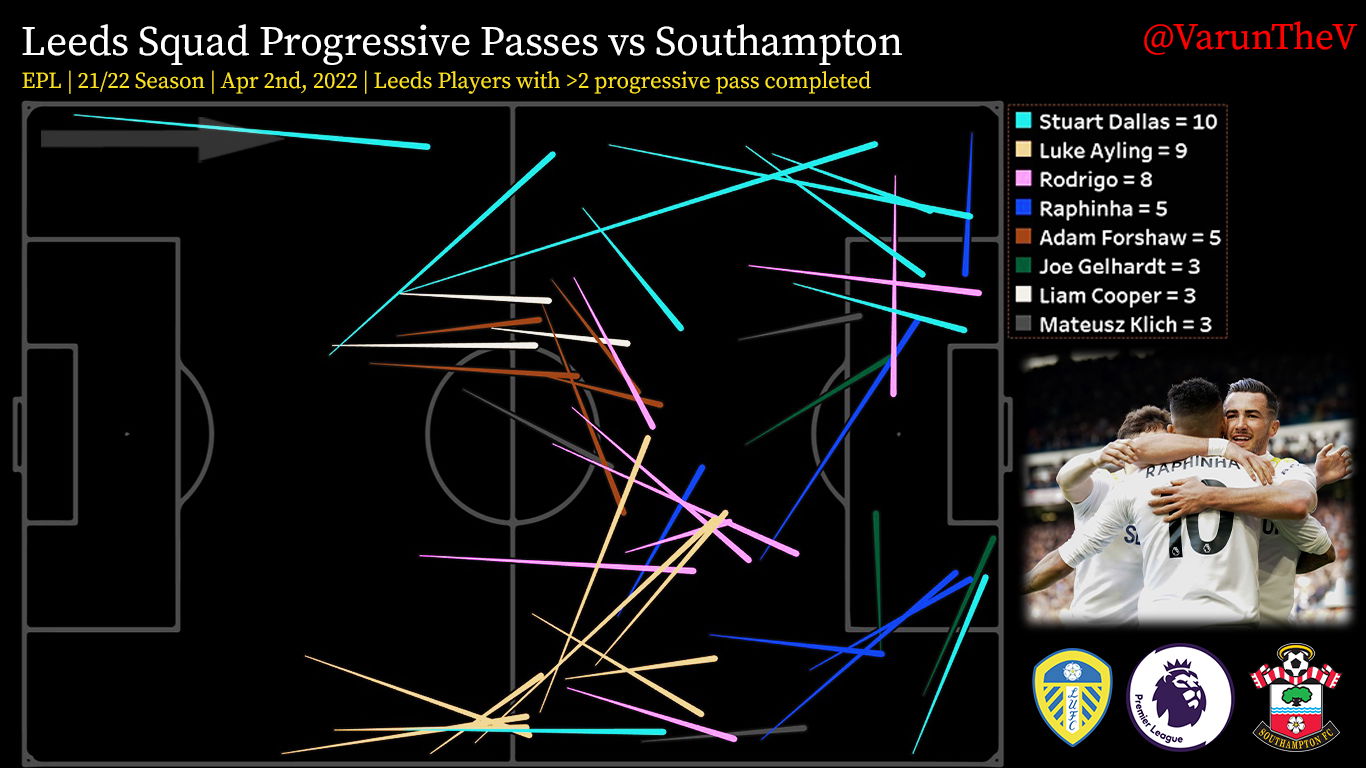 This resulted in both fullbacks topping the progressive passing charts on the day. This theme has been consistent under Marsch. Ayling's season average for progressive passes has been around 5 but his last 5 games have seen him cross 8 progressive passes 4 times. Similarly for Dallas, who has a season average of 4, but has ended up crossing the 6 progressive passes mark 4 times in his last 5 games. This theme is very similar to Ralf Rangnick's changes at Manchester United where the likes of Dalot, Telles and Shaw have taken up more progression duties from the fullback positions in a bid to make the game more compact and direct. Marsch comes from the same school of thought as Rangnick, both having worked together for the Red Bull Project. 
When the fullbacks take care of wide progression and the wingers aim to tuck in to act like support strikers, the major burden of central progression falls on one man – Rodrigo. He hasn't always received love from Leeds fans but his display at Southampton might start changing the trend slowly. He was excellent in spreading play and finding the front 3 repeatedly boasting 8 progressive passes and 3 key passes on the day. The free central role under Marsch seems to be suiting him well. There are still some things to iron out in the attack, especially the presence of a CF, but if Rodrigo can continue in this form, it can only mean more penetration and goals for Leeds.
Raphinha and the central midfielders were other notable progressors but one that caught the eye was Gelhardt. He had a really bright cameo and managed 3 progressive passes within half an hour itself. All 3 were really smart cutbacks or through balls into the penalty area that were begging for a proper striker. Gelhardt should be getting more gametime soon and there's the feeling that a good CF could benefit from his actions.
3. A point gained, not two dropped
There was a feeling of disappointment among fans that more could not come of a bright display in the end, but it's worth noting that Southampton aren't an easy team to beat. They match Leeds' philosophy of pressing and on the day attempted to go more direct to trouble the Whites in counter-press situations. They are terribly frustrating from set pieces and that man, Ward-Prowse, channelling his inner Beckham is not something Meslier or any keeper could do much about. This is a very frustrating team to beat as Spurs, West Ham and Manchester United have all learnt in recent times. The only reason they are even in the bottom half of the table is thanks to lots of injury issues mid-season, something Leeds can relate to again. In the end, the Whites gave themselves a really good chance against a tough opponent and could have won it in the end as well.
As Jesse Marcsh himself said after the match, "They decided their match plan was throw-ins, long balls, set pieces – it was an ugly match against difficult opponents."
The good news is that Leeds are making things happen. For a team that was shipping goals for fun and unable to create anything a while ago, the team was largely organised and able to reach the final third repeatedly against the Saints, save for a few understandable hiccups. Once again the manager summed it up well after the game.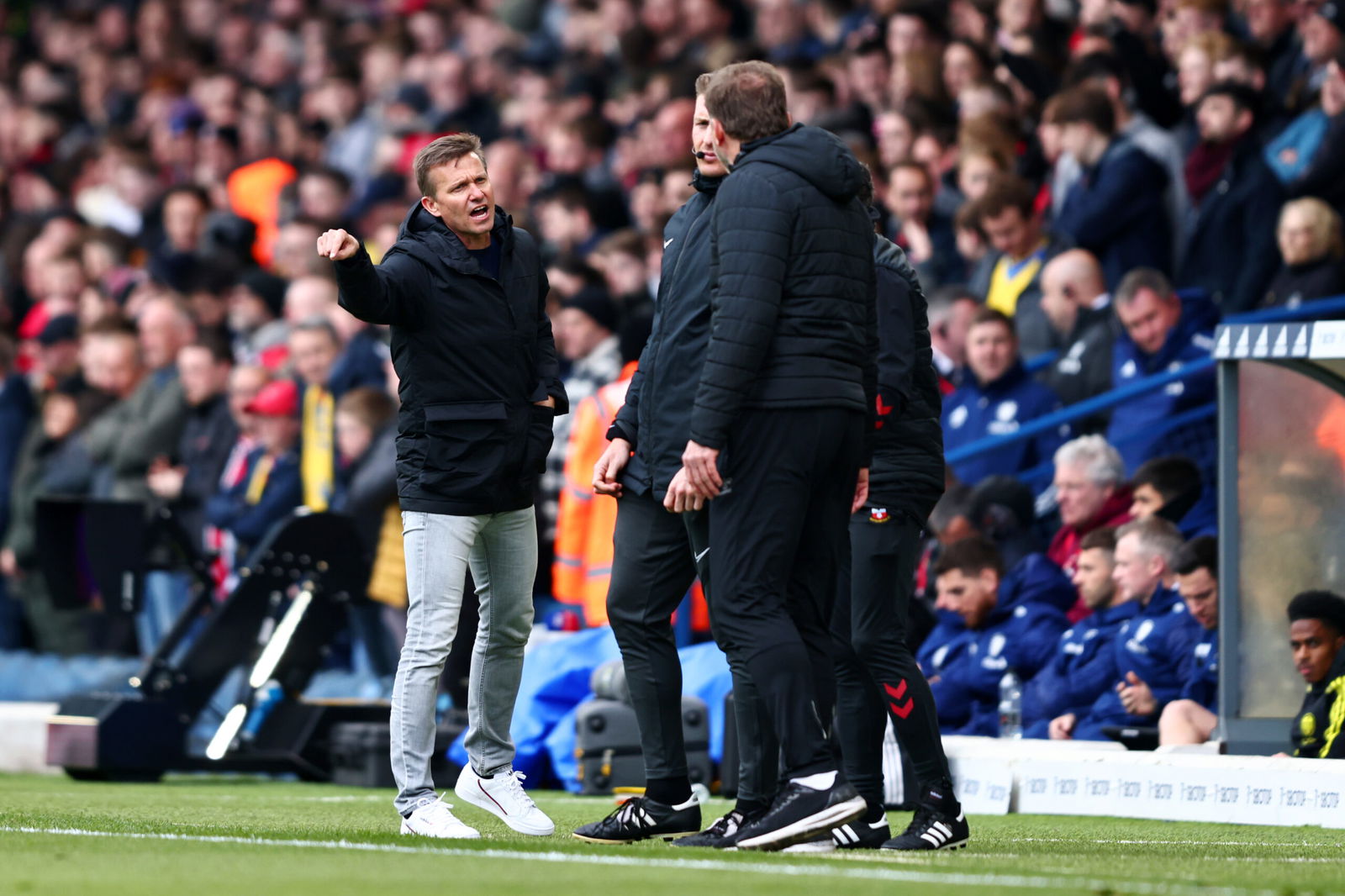 "The clarity of tactically what we want the game to look like, we were balanced, we didn't give much away. We are trying to turn advantages into real chances, real chances into goals. I'm not worried about that – we have quality, with this style we will always be able to create chances."
The lack of a strong central threat upfront was one reason why many of those chances didn't lead to much. Though Forshaw and Klich were doing well, Kalvin Phillips' cameo at the end proved that he brings a certain amount of composure, presence and tempo control that Leeds have badly lacked in recent games without him. His return will be a big boost to the team's hopes of staying up. The upcoming games against Chelsea and Arsenal might not be the easiest, but the games that follow them involve 4 teams that are also in the bottom half. If Leeds perform like they did at Saints, there's a good chance they can get enough points to beat the drop this season. From that angle, the draw at Saints should be taken as a point won and not two dropped.