A new season. A new reason to hope. An opportunity to forget that the 21/22 season saw the Leeds faithful lose a cherished manager and be involved in an ugly relegation dogfight that had everyone guessing till the last kick of the ball. There have been many reasons to be optimistic for the Whites since the end of last season. Manager Jesse Marsch's vision of how his team should be, has been supported strongly with 6 summer signings and the Whites had a good pre-season as well. So, it wasn't of any surprise that they came into the opener with spirit and confidence.
And, that showed. 4 of the new signings made league debuts for Leeds and the team put in a performance deserving of a win. It wasn't easy – the Premier League never is – as Wolves took the lead and asked a lot of Leeds to come back and win it, but the Whites were good value for 3 points in the end.
Today we'll analyse the game using 3 major talking points.
1. New guys give progression boost
In terms of the setup, Leeds lined up in Marsch's classic 4-2-2-2 which often looked like a 4-2-3-1 in phases. Roca and Adams were at the base of midfield. Bamford started upfront, partnered by Rodrigo and the duo were supported by Aaronson and Harrison. At the back, new boy Kristensen started at right-back, Koch and Llorente were at the centre, Struijk took the left-back slot and Meslier was in goal. Like the usual Marsch template, the fullbacks occupied the wide areas and were tasked with progression to the opponent half. In the pivot, it was Roca who took care of the playmaking and progression as Adams focused more on defensive duties.
Here's the progressive pass map for all players who managed at least 4 progressive passes: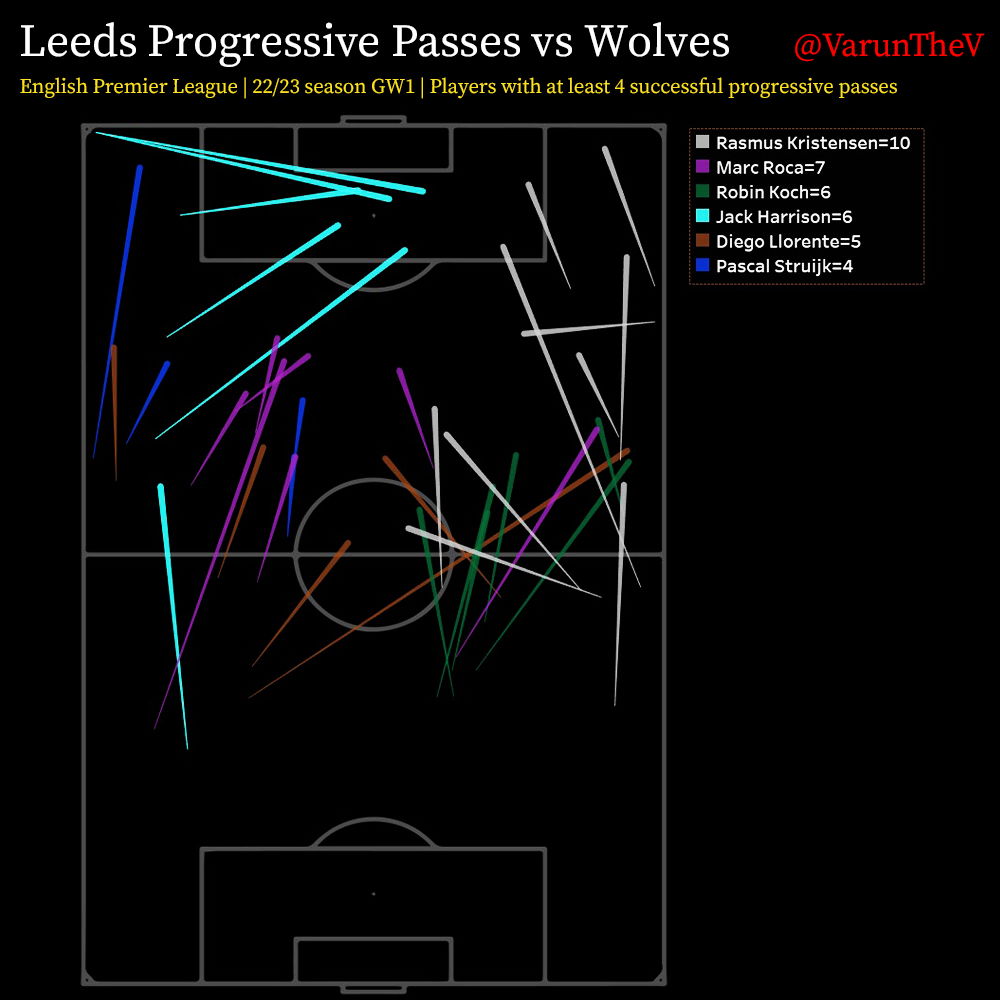 Kristensen racked up a game-high 10 progressive passes, continuing the Marsch fullback template of high forward-thinking passing from the wide areas. The early signs are good with this one. Roca was also superb, showing off his passing range and vision from the centre of the pitch, enabling Leeds to enter the Wolves' half multiple times. Koch was the other one who shone on the right side, often finding Kristensen in good areas on the wings. Harrison's passing was penetrative, 4 of his progressive passes also leading to chances created for the attackers. Left-back Struijk managed 4 progressive passes, but Marsch might probably be wanting more from his fullbacks. It is an odd fit. With Firpo injured and also being hot-and-cold last season, Leeds left-back chase makes sense. If they can close this problem area before the window ends, it could be a very capable XI that can out-perform 21/22's squad easily.
2. Leeds can attack without Raphinha
The big story of the summer was the loss of Raphinha, who dominated Leeds' charts for all relevant attacking metrics last year. Replacing him was next to impossible. But with shrewd additions like Aaronson and the return of Bamford, who was missed last season, Leeds are trying to go for a more even attacking approach that doesn't heavily rely on one player. And that showed against Wolves.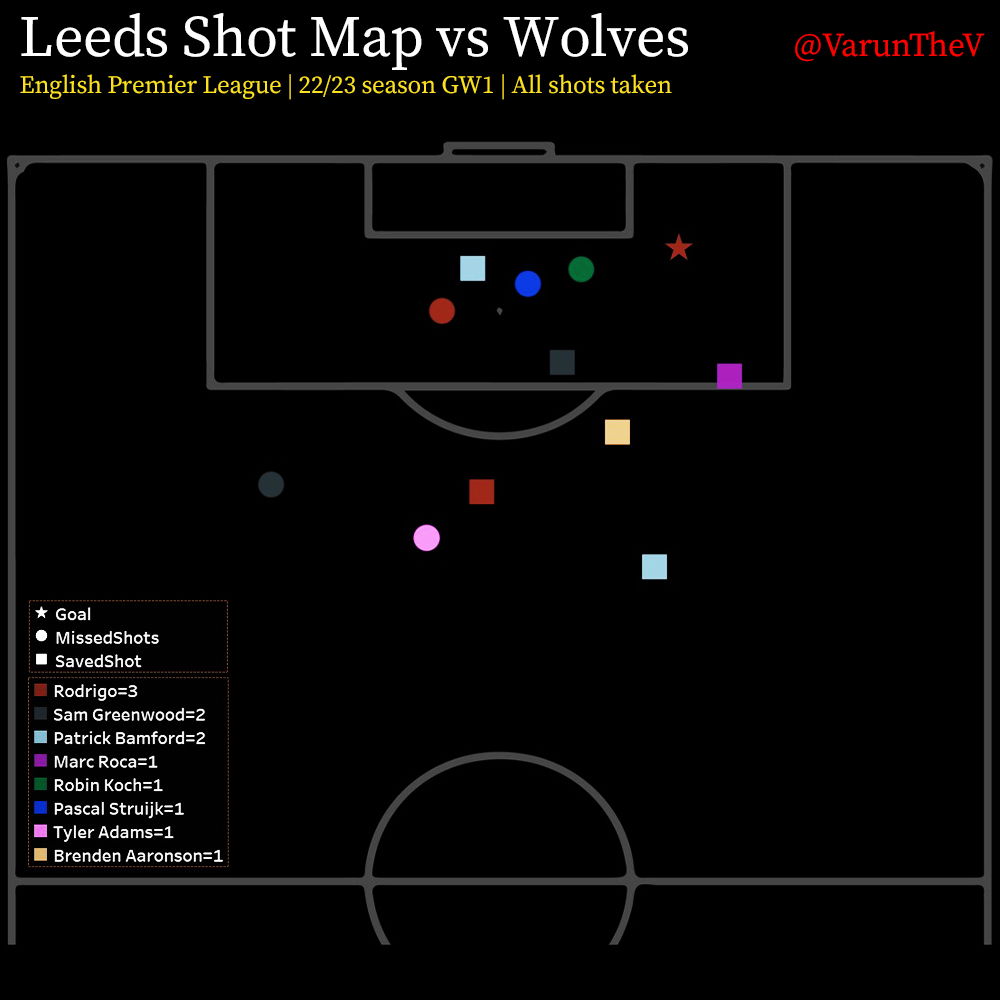 Leeds took 12 shots against Wolves, distributed between 8 players. The front 4 managed were responsible for 8 of these shots with Rodrigo and Bamford especially having high goal threat throughout, which is what you want to see from your designated strikers.
Wolves were the first to score, but the hosts equalised in the 24th minute after Rodrigo, who scored five goals in five pre-season friendlies, received the ball in the box after good work from Aaronson, and slotted it low inside the near post from a narrow angle. Leeds coud have scored more before halftime as well with Rodrigo and Bamford both a fraction of a second late to reach Harrison's super cross into the box. In the second half, a low cross by Bamford resulted in an Aaronson shot that eventually led to the goal. It was judged as an Ait-Nouri own goal in the end, but Leeds constant pressure paid off. It looks like the Whites are set for life after Raphinha and should be able to create and score in a more even and distributed way from here on. At least, that's what Marsch will be hoping for.
3. Jesse Marsch was fired up
To say that the opening game of a season is an emotional affair is no understatement. Marsch felt that emotion and more on the sidelines as his side started their season against Wolves. The American was active on the touchline, even pumping up the crowd towards the end of the game as Leeds were working hard to hold on to their win. But, the story of the day came after the full-time whistle, as Wolves' boss Bruno Lage and Jesse Marsch had an altercation before exiting the ground. This also seemed to be the second encounter that involved heated words with the first coming during the game.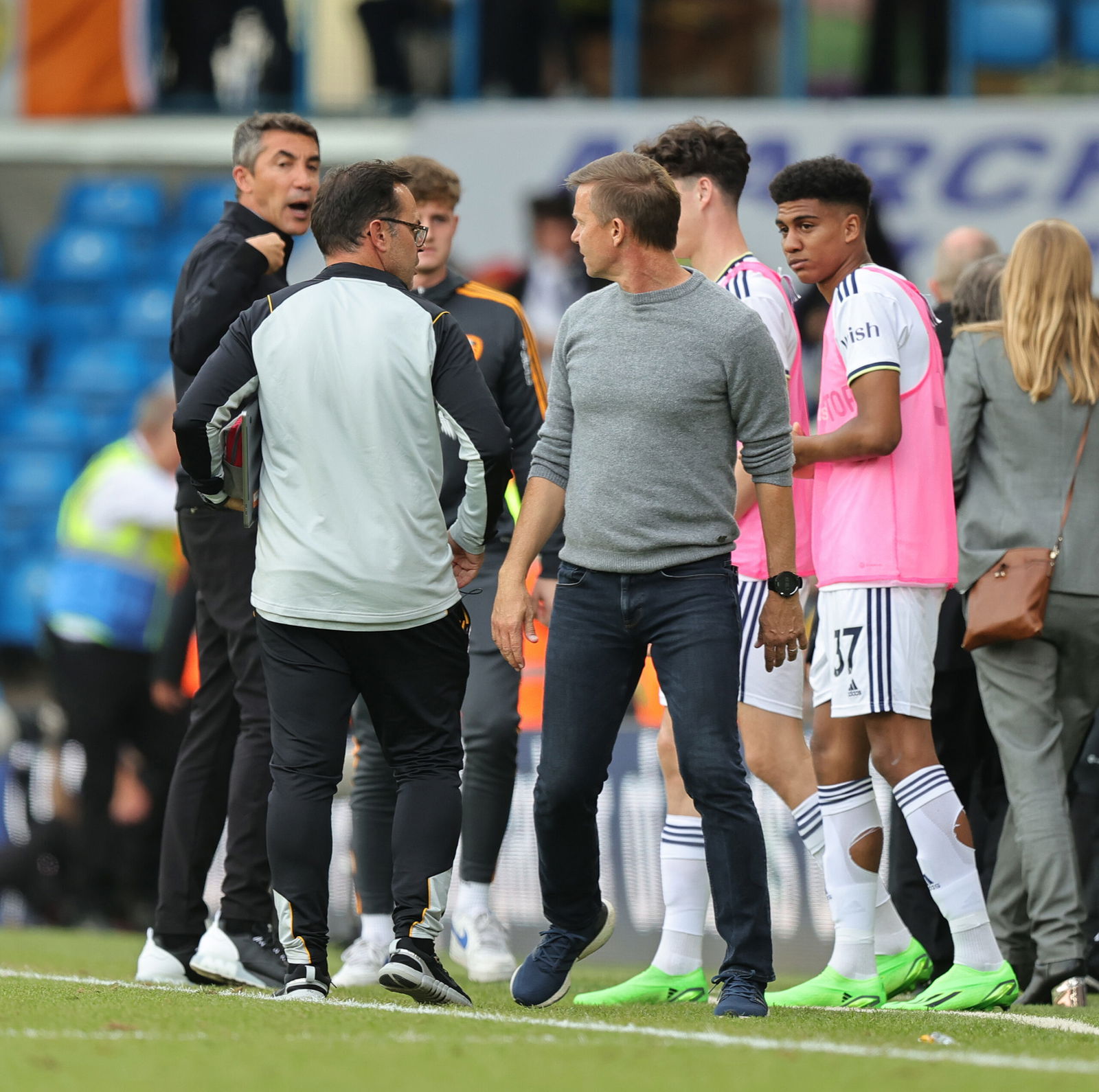 Jesse Marsch passed off the clash as 'normal'.
He said: "It's normal in some ways. I respect Bruno a lot. He does a great job with his team, so no problem."
When it was suggested that he and Lage had two confrontations in the game, Marsch said: "Well, you can go back to it at Wolves last year. There's emotion in these moments. I wanted to be respectful afterwards but it didn't quite go that way. I'm okay. I think he's okay too."
It's probably easier to be zen about things when you've just got a win and 3 points from your season opener. Leeds won only 4 times at home all of last season, something they'll be desperately looking to change after picking up their first win this year. Given how the new signings have settled in, the signs of progression and chance creation already visible, and Marsch's renewed fighting spirit to right the wrongs of last year, Leeds' fans can be hopeful this season. Leeds are off to a good start.