It's not like anyone expected Leeds to really take points off this generational Manchester City team. The larger problem is that Leeds have been gradually slipping under Jesse Marsch in recent games. The new manager bounce has clearly fizzled away and some genuinely concerning performances have led up to this 0-4 hiding against the table-toppers. What's a real matter of concern is that Everton seemed to have found a rich vein of form, their latest result being a game-changing 1-0 win against Chelsea. This has put Leeds in a huge spot of bother when it comes to the relegation race. Uninspiring performances just won't do anymore, and the loss against Manchester City was exactly that. We take a look at the 3 things we learned from a tactical perspective from the 0-4 loss.
1. Firpo and Ayling had a nightmare
Junior Firpo hasn't had the easiest spell since his transfer to Leeds United. His struggles have meant that the right-footed Stuart Dallas has started in Firpo's preferred left-back slot often this season. But against City, manager Jesse Marsch felt the need to shore up the defence with a back 5, giving Firpo a chance at wing-back, shifting Dallas to the right and asking Ayling to play on the right of the central 3. What seemed like a good idea on paper quickly resulted in a nightmare evening for the back 5. Without the security of captain-in-form Liam Cooper, defenders Koch, Ayling, Struijk, Firpo and Dallas found themselves either playing after a long break or playing in an unfamiliar position. It wasn't something any of them were used to and it showed, especially with Firpo and Ayling.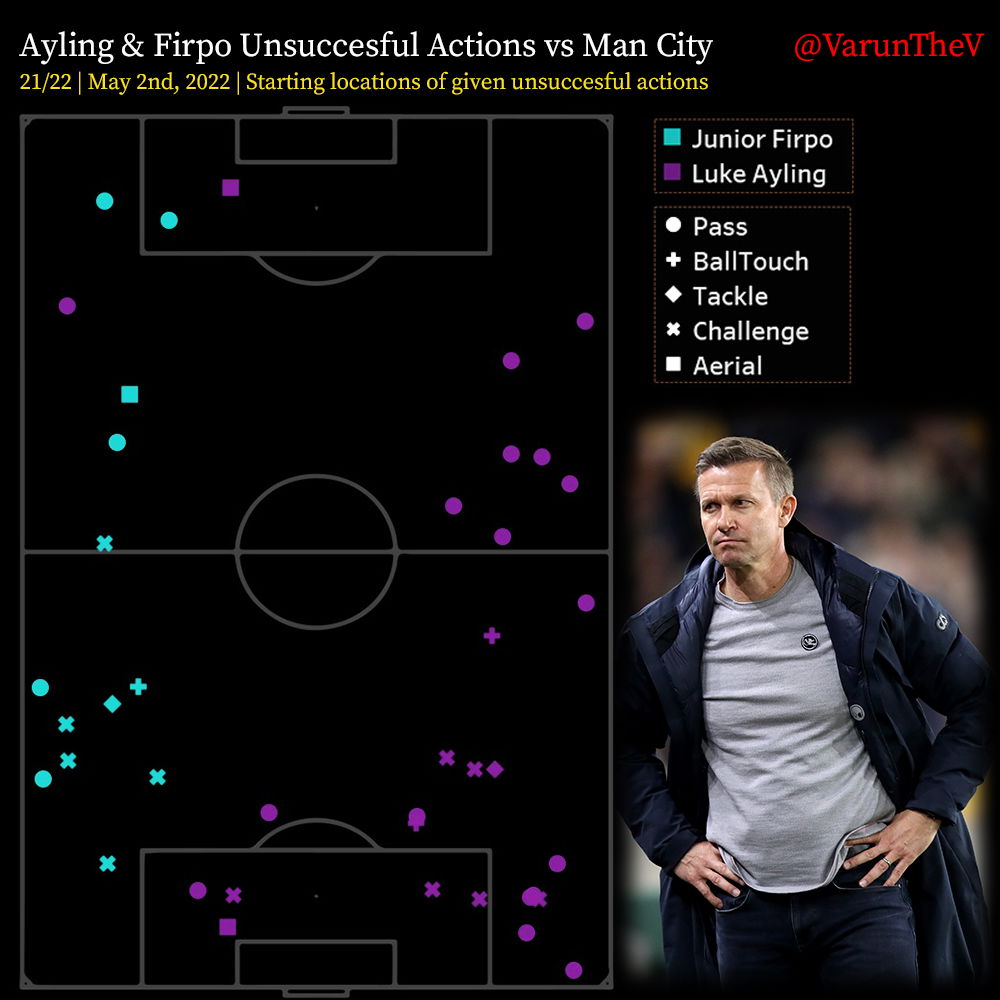 The duo were constantly troubled and struggled both on the ball and off the ball. The above map shows their unsuccessful actions that led to a ball loss to Manchester City. Ayling topped the most ball losses for the team, with many mispasses high up the pitch and in wide areas and numerous challenges lost near the edge of the box. Ayling had just a 67% pass completion rate, which is terrible. He also got dribbled past 6 times, the most by a Leeds player.
Firpo fared no better, having the second most ball losses for Leeds on the day, often getting his challenges or passes wrong. He got dribbled past 5 times as well. Firpo's pressing was also abysmal. He had the lowest pressure success of 12.5% (2/16) for anyone on the pitch. This leads to a much larger problem, on whether Firpo even fits the pressing ethos of the club, which is something manager Marsch wants to continue with (assuming he even stays beyond the season). Firpo's Leeds future is in real doubt, at this rate.
2. Progression was really tough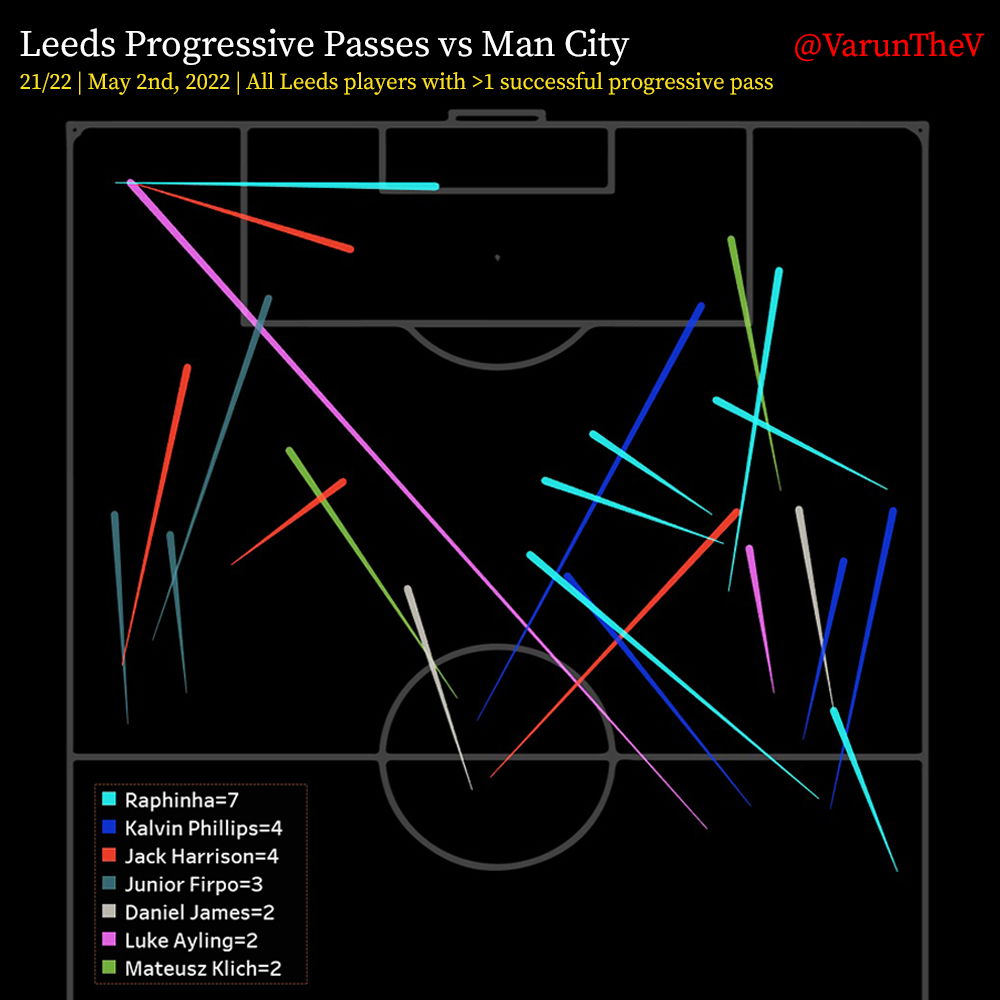 It's not easy to progress against this City side. Leeds had only about 40% possession. That coupled with their back 5 formation meant they were already limiting their chances to be positive on the ball. And that showed in the progression charts as only 4 players managed to cross 2 progressive passes. Only Raphinha was able to progress well with 7 progressive passes but that came at the cost of safety with this pass completion rate of 64% being the worst among Leeds starters on the day.
The right-sided bias was once again on display. Probably another issue with Firpo is that even after getting a left wing-back opportunity, he managed just 3 progressive passes all night and the left side was weak in that regard. He's neither helping in defence nor attack. Phillips and Harrison were the others who huffed and puffed, but it was all too little to make a difference. Leeds' right-side bias and Raphinha reliance has been visible for a few games now and even smart opponents like Crystal Palace were able to figure out how to stop the Whites, so it's no surprise that City were able to. Arsenal, Chelsea, Brighton and Brentford are equally smart teams who would have taken note of this. The Whites need solutions on the ball and fast.
3. Relegation danger looms again
What felt like a clean escape from the relegation mess a month ago, has now started to feel like a fight for survival again. A combination of performances dipping and relegation rivals finding form has put Leeds in a tough spot again, with a very tough run of games to come. As per FiveThirtyEight's end of season predictions, Leeds stand at a 45% chance of relegation which is the most after relegated Norwich and soon-to-be-relegated Watford. Everton at 34% and Burnley at 20% are starting to pull away from the grasp of the Whites. The tables have turned from a few weeks ago when Leeds seemed like the safest among the trio.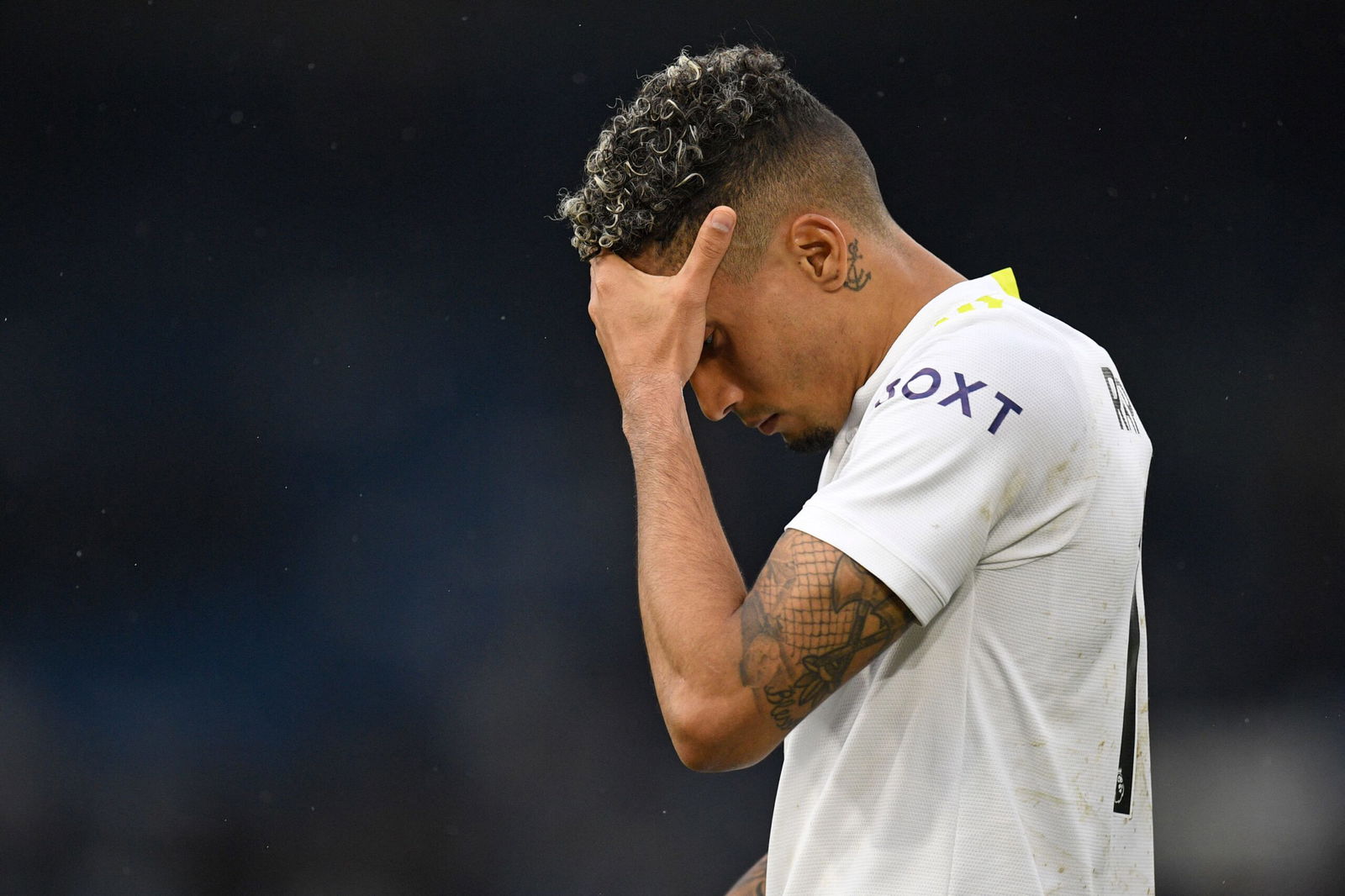 But manager Jesse Marsch preferred to firmly look at the positives, calling this game a 'write-off' in his attempts to mobilise the squad after a one-sided hammering.
"So much has changed (in the past few weeks). I'm only taking positives from this. It's almost a write off game. The performance mattered more. It's not a 4-0 match."
"We wanted to look each other in the eye at full time and know that that was our best. We did that. We are ready for the next four massive challenges. We think we can do that. I knew this would not be easy. I still believe it will go to the wire. It won't be easy, but we will keep pushing."
From the point of view of Leeds United fans, the pushing will have to be much harder in the remaining games.