With 3 losses on the trot and additional red card mayhem in 2 of those games, the confidence and positivity of Leeds' fans was rock bottom before facing a cool Brighton side that sat easy in the top half before the weekend clash. But Sunday was once again proof that writing scripts for the Premier League is impossible. Just moments after chants of "sack the board" reverberated through the angry home stand, Elland Road erupted in ecstatic fashion as Pascal Struijk struck a dramatic late equaliser in injury time. The 3 previous games coupled with Leeds trailing thanks to a wonderful Danny Welbeck goal had turned the crowd really ugly as angry chants echoed a general mood of frustration and angst, especially against the Leeds board. But Leeds came back from the dead right at the death, and that moment coupled with Burnley and Everton losing their respective games at the same time, has given the Whites that glimmer of hope to latch on to as they enter into the final gameweek. We take a look at the 3 things we learned from a tactical perspective from the 1-1 draw.
1. Leeds were actually creative
The narrative before the game was one of a top half team doing well in possession versus a struggling one that hadn't created enough all season. Graham Potter has been getting plaudits for Brighton's technical possession game rife with clear build up patterns and progression through the middle of the pitch, while Jesse Marsch's credentials have been under fire after failing to win in 4 games. True to their season form, Brighton did trouble Leeds. They created a few chances and the Welbeck goal was a thing of beauty. But what Leeds fans will take confidence in is that the Whites also created a number of chances and kept knocking on the door consistently.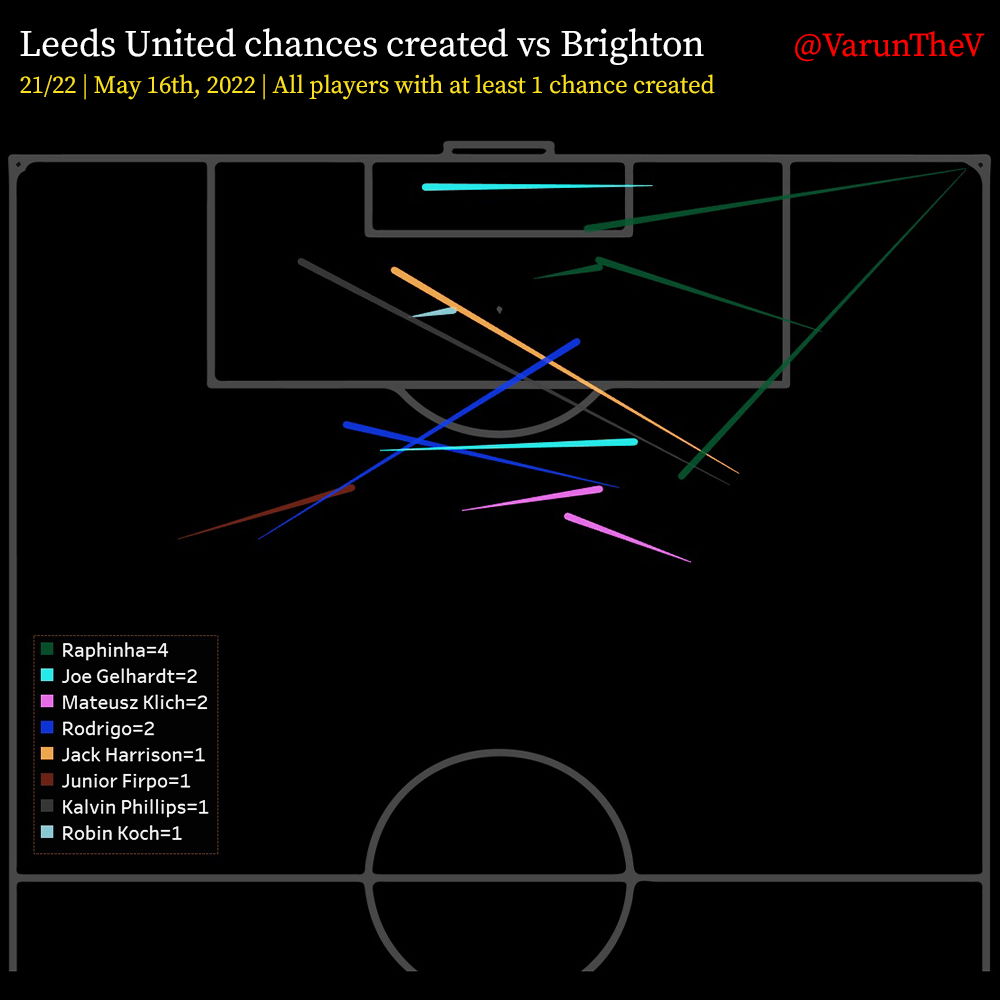 Leeds created 14 chances compared to Brighton's 13 while Leeds' xG (expected goals) of 2.0 was met with Brighton's xG of 2.2. It was really tight in terms of both quantity and quality of chances created on the day. As has been all season, Raphinha was the chief creator for Leeds, with 2 key passes coming from the right-side corner and 2 more with 2 smart passes into the box. After conceding a superb goal, Leeds almost equalised just before half-time approached, when Mateusz Klich fired towards goal from a corner routine, with Sanchez diving full length to turn his long range strike round the post. 
That brilliant save was followed by him diving to keep out Raphinha's free-kick. Moments later, Klich's close-range shot was parried aside by the outstanding Sanchez before Gelhardt fired just wide minutes later. Just as the home fans were starting to vent out their frustrations, Struijk nodded in at the far post amid dramatic scenes. The goal was created thanks to great play by Gelhardt on the byline, who then floated in a precise square ball, which was easy for Struijk to head home. After Raphinha, Gelardt, Klich and Rodrigo were the ones who created 2 chances each. It was a creative display to be proud of.
2. Leeds progressed well in the attacking phase
The great chance creation display was largely thanks to a great progressive display. Leeds have found it tough to progress in recent games and even when they have it has usually been with a heavy right-sided bias. But against Brighton, not only did the progressive passes flow with confidence and consistency, they were also very evenly spread.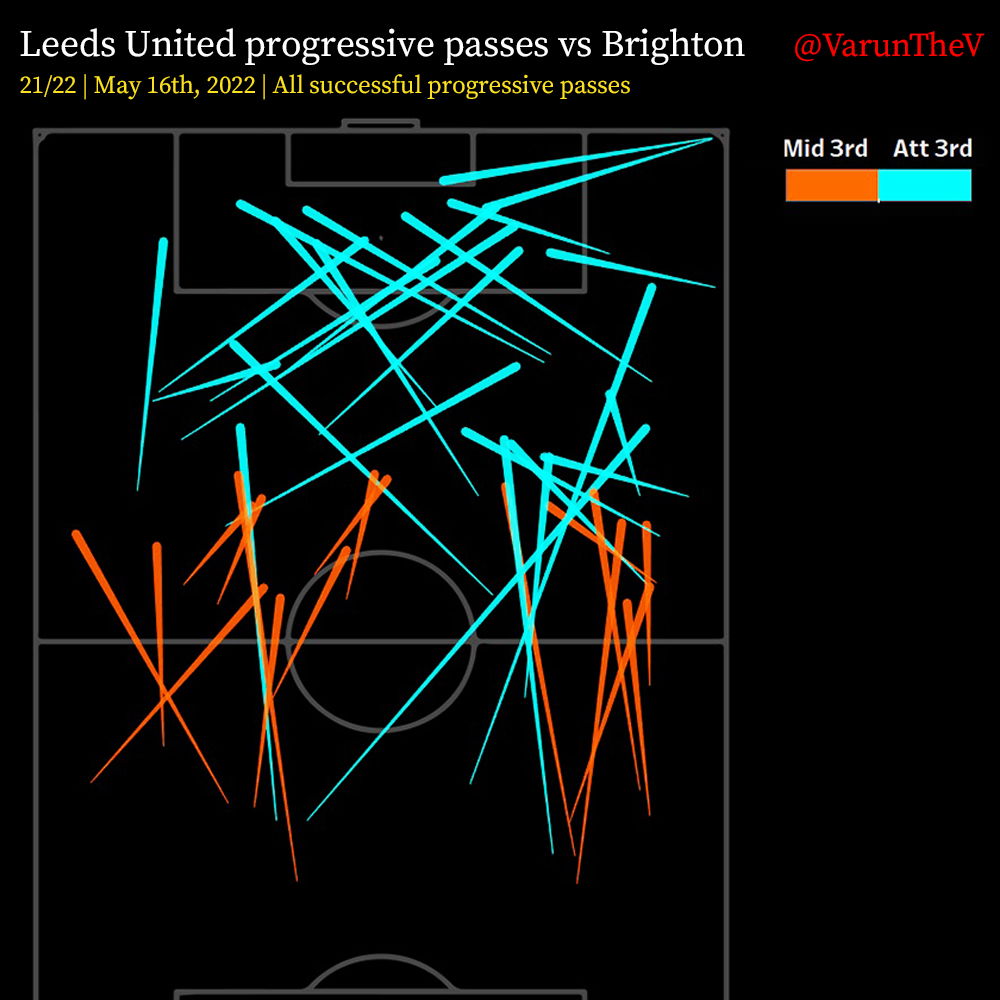 Splitting all the progressive passes into two versions – one that progressed into the middle third and ones that progressed into the final third – we see that Leeds had many of the latter. In a total of41 progressive passes, 24 were in the attacking third, showcasing Leeds strength in penetrating the final third. There was a very slight right-sided bias which is probably understandable given how reliant Leeds are on Raphinha. There was an attempt to find him often and get him into play and as we saw before, that did result in Raphinha creating the most chances in the game alone.
Among all the Leeds players, Kalvin Phillips had a good performance, after being poor in the last few games. He alone had 9 progressive passes. Jack Harisson was largely responsible for progression on the left wing, chalking up 6 progressive passes. Raphinha, Koch and Firpo were the next best progressors with 5 each. In the previous 4 games, Leeds had struggled to find more than 2 players who raked up more than 4 progressive passes. On this occasion they had 6 different players doing so, highlighting a big shift in performance from the poor run before this. This was a hopeful display in more ways than one.
3. Premier League safety is still possible
But is gaining 1 point in 4 games that big a deal? Does this put Leeds in any position to hope for a great escape? Funnily, it actually does. This was probably Leeds' most important point of the season. Combined with losses for Burnley and Everton, this draw takes Leeds out of the drop zone for now. Leeds lead Burnley by a point and trail Everton by the same number, but both relegation rivals have a game in hand compared to Leeds. It's still a tough task, but Leeds' probability of relegation has come down from 68% to 54% thanks to this round of results as per fivethirtyeight's model. This is largely due to Everton facing Crystal Palace and Arsenal in their remaining 2 games and Burnley squaring up against Newcastle and Aston Villa in their remaining fixtures. If Leeds pick up a point or 3 against Brentford, which is realistic, they could still stand a chance of staying up. Both in terms of statistics and general parlance of language, we can say "it's 50-50".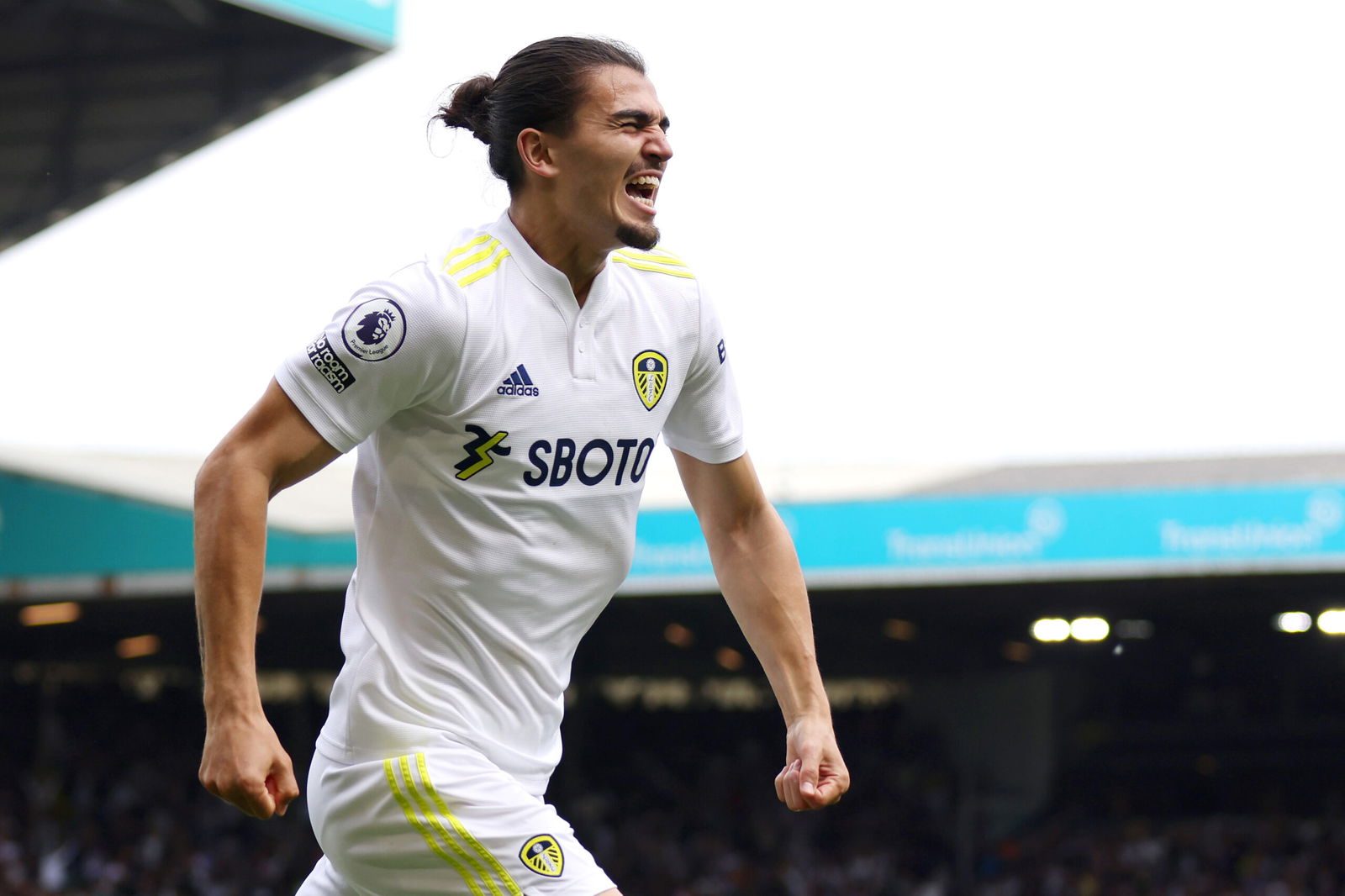 And manager Jesse Marsch knows the importance of pulling a mile from an inch as evidenced from his post-match comments. 
"We're alive right now regardless, going into the last day, and we just have to fight for every point," Marsch said. "We know Burnley have a match in hand and we need some help – and then we need to be ready next weekend to do whatever it takes at Brentford. We'll put together a match plan where we think we can go to Brentford and have success. We have to do everything we can in every way to make sure we're ready."
The final gameweek promises to be exciting. Sure, it's not the kind of excitement Leeds United fans signed up for at the start of the season and the management will need to take a hard look at themselves regardless of how the final game turns out, but for now, the Whites can look to the final match of the season with some optimism and hope. Isn't that what football is about?