In their first league game in front of fans between the two rivals at Elland Road since  2003, Leeds United and Manchester United produced a brilliant spectacle played out in a predictably thunderous atmosphere. It was a great game for the neutrals and both teams ensured it wasn't a dull affair, the match dominated by constant attacks, end-to-end transitions and a anybody-can-win vibe until late. Eventually, the Red Devils walked home with 3 valuable points, but Leeds fought well coming back from a 2-0 deficit to make the score even at 2-2. But they were powerless to stop 2 more goals before full time giving the Reds a big win against their rivals. We take a look at the 3 things we learned from a tactical perspective from the 4-2 loss.
1. Daniel James had a good game
Our first point of focus is on the player who has very recent history for both sides. After having almost joined Leeds United from Swansea more than 3 years ago, James went on to play another year for Swansea before being picked up by Manchester United. Leeds' chase came to fruition in summer 2021. SInce then James hasn't been great for the Whites, often underwhelming especially in an attacking sense. While his workrate and pressing have been appreciated by fans, his end product has been wanting. But against his former club Manchester United, James brought that end product along with his usual tenacity and defensive intensity to put up one of his best displays for Leeds United in his short career so far.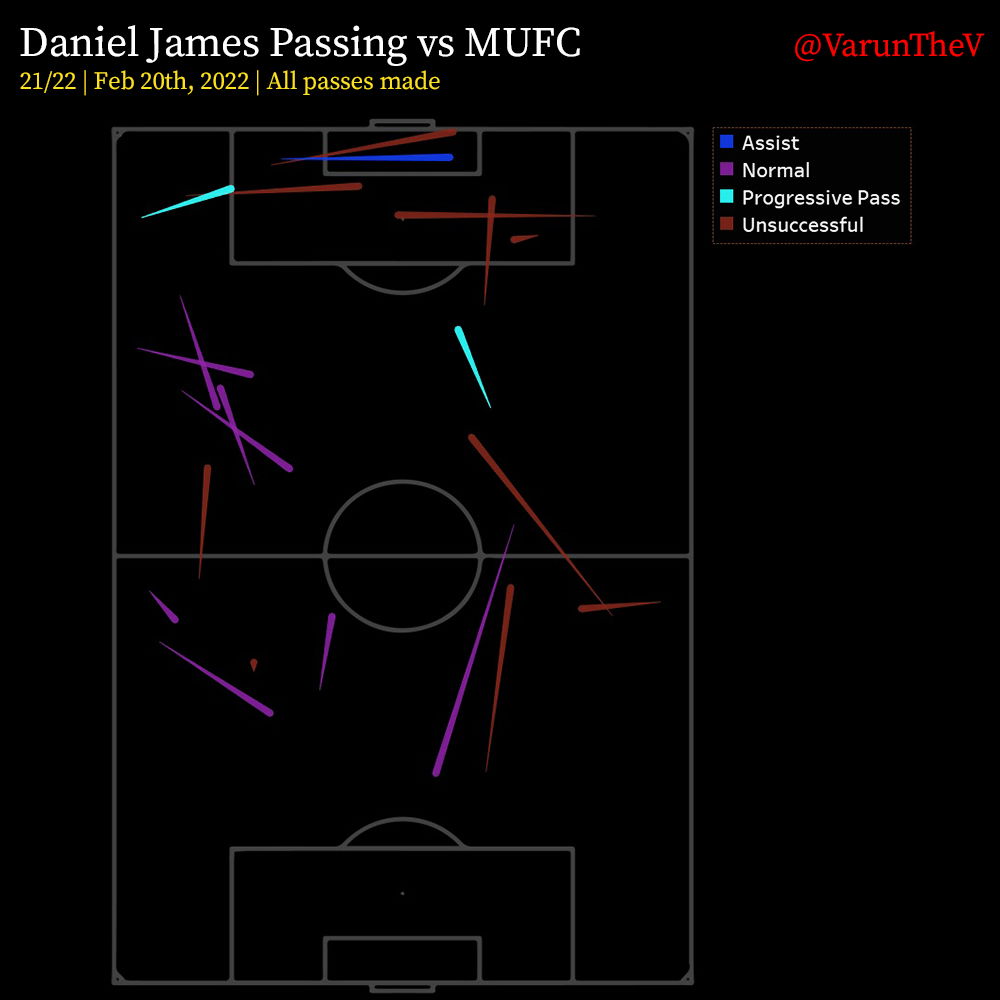 We look at his pass map. James wasn't very involved attempting the third least passes among Leeds starters in the game. This has been a common theme with him, often being found more active during defensive phases and only participating in attacks during transitions. His pass completion was also low, only clocking 50% (2nd lowest on the day). But he made the pass that mattered. His assist came thanks to a great low grounded ball that perfectly beat the keeper to find Raphinha at the back post. James topped the xA (Expected Assists) chart for the day with 0.6. Additionally, he also had 2 progressive passes, trying to advance the game when he could, which is also an improvement form his usual lack of progression and creativity for Leeds.
In defence, James was as good as ever, boasting the most middle 3rd pressures in the squad after the two central midfielders Forshaw and Klich. He also made the 4th most recoveries for Leeds. James attempted 4 dribbles, 3 of which were successful. Both stats were highest for Leeds as were his 2 carries into the penalty area. Overall, James contributed in multiple facets of play and capped off a good defending and carrying with an assist and some threatening passes. It wasn't a 10/10 display but it was an encouraging outing for someone who has struggled to settle into the squad in his first season here. Fans will be hoping this match gives him the confidence to go on and do even better. 
2. Defending was an issue…as always
Leeds' biggest issue under Marcelo Bielsa has been the defence this season. The team has shipped way too many goals and the pressing and man-marking style is starting to feel like a curse rather than boon at this point. The demanding pressing requirements, coupled with the small size squad and training intensity has led to many injuries this year. This has meant that key players like Phillips and Bamford have missed a lot of the season while other players have to play unnatural positions to make up for the injured players. The man marking system has also been figured out better by opponents in Leeds' second season in the Premier League. Being patient to wait for their chances and attacking the spaces that Leeds players leave behind when they press has been a staple tactic to get Bielsa's men consistently and that has resulted in Leeds facing among the most shots in the league and becoming a leaky defence. It was the same against Manchester United who are a team comfortable in picking spaces in transition. The recent games against the Reds have all seen a goal-fest for the visitors and this time wasn't any different.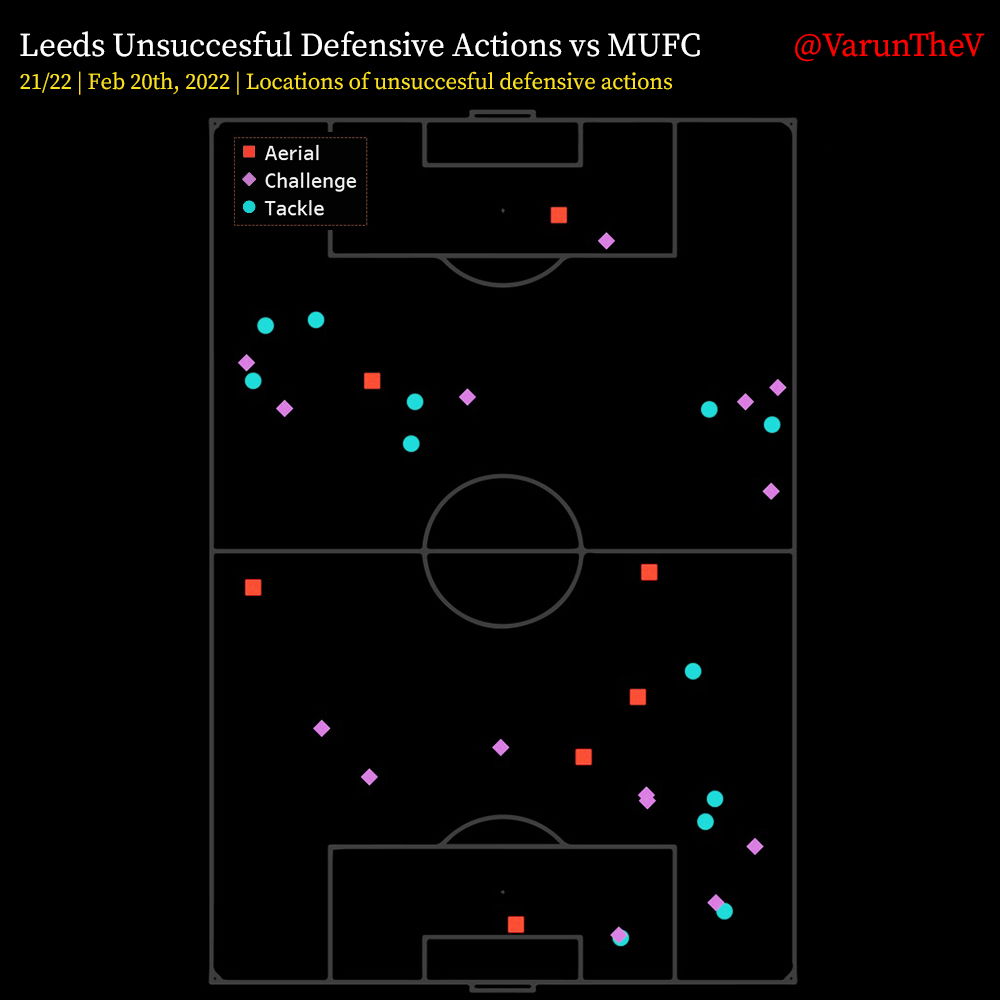 We look at where Leeds players lost their duels on the pitch. The right side was an area of issue largely due to the Reds being a left-leaning attack. There were multiple tackles lost on the right side of defence for Leeds showcasing transitions conceded in that area. Higher up the pitch it was Leeds' left side where possession was lost due to unsuccessful defensive actions. Some share of this goes to James who had just a 50% pass completion rate and was dispossessed 3 times. If Leeds are going to have any chance of improving and staying in the Premier League, they will need to work on their defence.
3. Pressure on Bielsa
Leeds look a long way from their previous season's comfortable top half form, struggling to get out of the bottom third this year. What is starting to look like a relegation battle has been met with pressure on manager Marceo Bielsa. The Argentinian is loved by Leeds fans alike, but if results continue to look as poor as they have been, probably even his position isn't untenable. The lack of January signings, injuries and difficulties in setting up a working tactic with the available players that can help Leeds stay tight at the back is starting to show and it was something Bielsa agreed with in his post-match comments.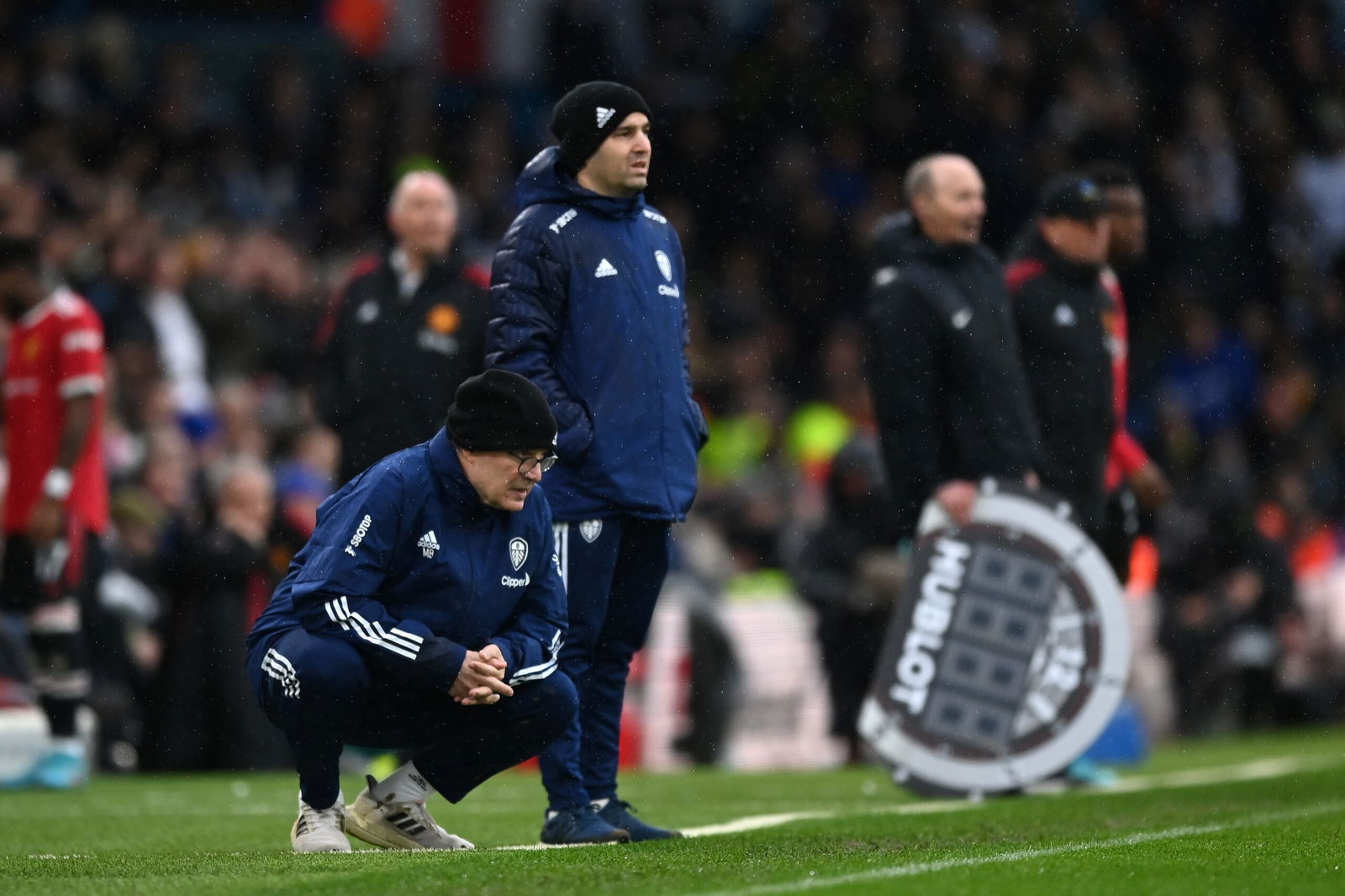 "Evidently, we have conceded a lot of goals. The amount of goals conceded is not linked to individualities defensively. It's difficult for us to prevent the opponent from creating danger. To form a more compact block is not simple. The fundamental problems are in the recovery of the ball in the middle of the pitch. We had to be without Phillips, who's a DM, after without Koch, another DM, and after without Pascal, another DM. In the second half we had to put Pascal back in the defensive line. Due to the absence of three players who can do that function, the composition of the midfield does not have a defensive proffer. That had an influence in the defensive behaviour of the team today. That also is not an explanation because we have conceded 50 goals in the league. I am just commenting on the game today."
The issue largely remains a case of "What now?" because options seem to be running out for Bielsa and the staff. They need to go again with the same limited set of players and hope something clicks this time. Given the tough run ahead and the position they find themselves in, it's going to be a really tough season for Leeds United.