Archie Gray was on the cusp of becoming the Premier League's youngest ever player last season when he was named on the bench during the December defeat against Arsenal at Elland Road. At the time, he was 15 and was the talk of the fanbase being the great-nephew of one of Leeds United's greatest ever players – Eddie Gray. He's become the talk of the pre-season campaign so far with his superb displays against Blackpool, Brisbane and Aston Villa – though the latter ended with him being carried off on a stretcher after a poor tackle by John McGinn. Thankfully Archie is okay though and Leeds fans can look forward to him getting first team minutes in the Premier League this season – something manager Jesse Marsch has already confirmed will happen.
Career history
Archie featured 14 times for the under 23 side in the Premier League 2 last season. He became the youngest goalscorer in that particular competition when he netted a 30-yard screamer at Elland Road against Manchester United, aged just 16 years and 3 days old. the goal came after coming on as a 60th minute substitute, with Gray showing composure way beyond his years to score from 35 yards following a mistake from the Manchester United goalkeeper. It topped off a fine performance for the under 23's, who won the game 3-0 in front of 8,000 fans, but also showed the talent that Archie, who was born in 2006, possesses in a side which theoretically he could still be playing in during the 2028/29 campaign.
Archie has been a real talent throughout the youth ranks at Leeds, having started at the very bottom of Leeds' academy, and was first called up to Leeds' under 23 side at the start of this season under Mark Jackson – who has since progressed into the first team following the appointment of Jesse Marsch. Understandably, because of his age, people within Leeds don't want to create too much hype around the next youngster to come off the Gray conveyor belt, however Director of Football Victor Orta has previously highlighted how much he rates the 16-year-old when speaking to Spanish media this year. In an interview with La Media Inglesa, Orta has compared Archie Gray to Sergio Agüero, and is extremely excited to see the youngster progress at the club.
Orta said: "I want to be the first person on La Media Inglesa to say in five years' time you'll be talking about this guy non-stop and I want to be the first because I already had the answer prepared yesterday, I want to say the name of Archie Gray, our youth team player. Hopefully nobody takes him away from us. Nobody is going to do that, he has (Leeds) in his blood. So that's why I want to say the name of Archie Gray on here because every time he takes a step forward you'll see him. He's one of those players you see every, I don't know. I remember Kun Agüero and saying "what is this?" It's something that happens once in a long time, so I wanted to mention Archie Gray."
As mentioned, although the name Archie Gray may be relatively new to most Leeds United supporters, his surname definitely is not; with Archie the fourth Gray to come through the ranks at Leeds. Archie's dad is former Leeds striker Andy Gray, who had two spells at Elland Road with the most recent coming in the 2012/13 season, as well as being the grandson of Frank Gray, and the great-nephew of Leeds legend Eddie Gray – all of whom also started their career at the club.
In total, the Gray's have made 947 appearances for Leeds United, and it wont be long until Archie adds to that tally. Despite not making his first team debut, Archie has already featured in Leeds' first team squad in the Premier League this season – the first coming at Elland Road against Arsenal in December, aged just 15 years and 282 days old. Although he didn't get the chance to appear off the bench in the 4-1 loss, if Archie had, he would have become the youngest player in Premier League history, as well as eclipsing Peter Lorimer's record of the youngest ever Leeds United player by a week – however it wasn't to be.
The future
Following the exit of Kalvin Phillips, Archie has taken on the role as the homegrown fan's favourite it seems after an incredible reception when he came on against Brisbane Roar in Australia. His name was also cheered more than any other when he was announced on the bench against Arsenal, and that love for him will hopefully give him confidence to thrive when he gets his chance. If pre-season is anything to go by so far it suggests that this kid doesn't feel pressure. Against Blackpool in particular he ran the show in midfield, showing strength beyond his years and a passing range akin to some of the most established Premier League playmakers in the business. They are Archie's main attributes – strength, which allows him to hold off opposing players and win the ball back; along with composure and calmness, a natural family asset that allows him to read the game and see things other players can't.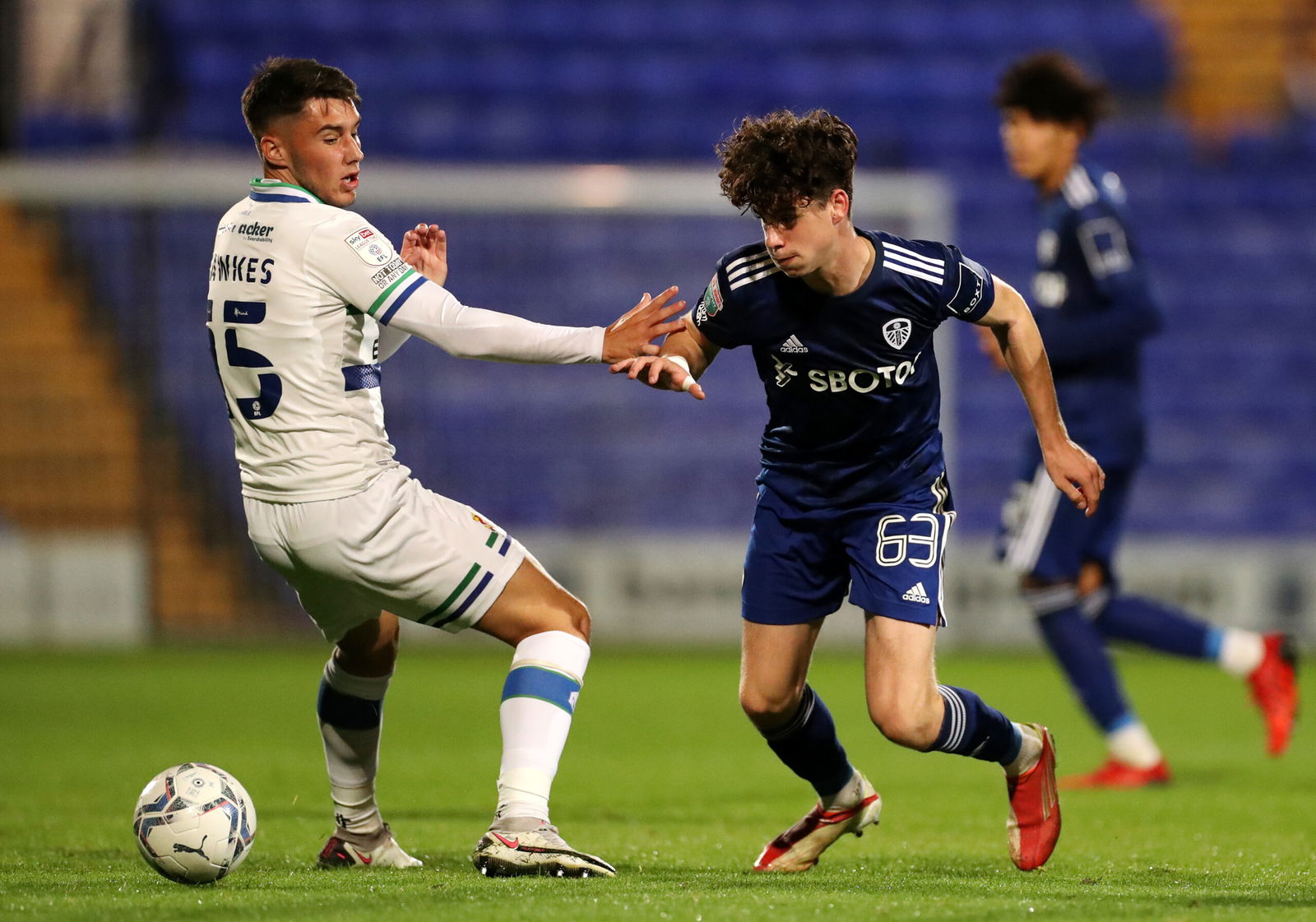 The 2022/23 season is an exciting one for Archie. It has the feeling of the 2002/03 season for James Milner who became the youngest Premier League goal-scorer at the time when he was thrown into the Leeds team at Sunderland. He went on to flourish in the first team and despite his tender years, quickly became a key player. That talent was obviously eventually fulfilled away from Elland Road after the club went into financial meltdown, but there is a real feeling that with Archie Gray we could see something similar to that of Milner with the majority of, if not all, his success coming in a white shirt in West Yorkshire. This season could be the start of something special.
If Gray does live up to the hype, an interesting side note lies ahead. Despite being born in Scotland, Archie has interestingly represented England at various youth levels, even captaining the under 16's in a major tournament. He qualifies for the Three Lions because of the birthplace of his father Andy, which was Harrogate, but it still isn't certain if Archie will continue to represent England or will follow in the footsteps of his great-uncle Eddie and grandad Frank and switch alliances to Scotland. What is certain about Archie Gray though is that he will have an extremely bright career as a professional footballer – and like Eddie, hopefully at Leeds United.