Leeds' Premier League dream is slowly turning into the stuff of nightmares. After having finished a positive 9th place last season, the club finds itself in a relegation battle this season. But what seemed like a battle they could win about 2 months ago, now looks destined to fail. Chelsea's one-sided win against the Whites makes it 3 losses in a row for the home team, at a point when relegation rivals Burnley and Everton are picking up points. The situation almost seems insurmountable at this point with 2 games to go, neither of which will be a cakewalk against Brighton and Brentford. In the last game, Leeds were a man down in the first half itself and the same trend continued against Chelsea. We take a look at the 3 things we learned from a tactical perspective from the 0-3 loss.
1. Leeds weren't able to shield their CBs
Chelsea had their foot on the pedal from start to end. It was expected that Leeds would have to defend for most of the 90 minutes, a task further complicated by the sending off of Daniel James after a reckless high boot challenge on Kovacic in the 24th minute itself. The red card incident was almost a replay of Ayling's red card against Arsenal in terms of the match momentum, that one coming at the 26th minute. In both cases, Leeds had to re-organize and their defending task became so much more complicated than it already was for a team trying to battle relegation threat.
It's not like it was going great before the red card. It took all of 4 minutes for Mason Mount to give Chelsea the lead as he side-footed a cutback from Reece James into the back of the net, silencing the home crowd early on. Mount skipped past Leeds a few minutes later and created for Lukaku, who missed his shot. Lukaku came close twice with a finish ruled out for offside and a header that narrowly missed the target. 10 minutes into the second half, Pulisic finished in the bottom-corner of the goal after a nice pass from Mount. Lukaku was almost in shooting-practice mode as he terrorized the defence all day. He finally got his just rewards at the end with a powerful finish. Throughout the game the player's who were tasked with protecting their centre-backs did a really poor job for Leeds, often putting their CBs and goalkeeper under pressure from Chelsea attackers. Let's look at the unsuccessful defensive actions from the 2 fullbacks and 2 midfielders tasked to protect the CBs.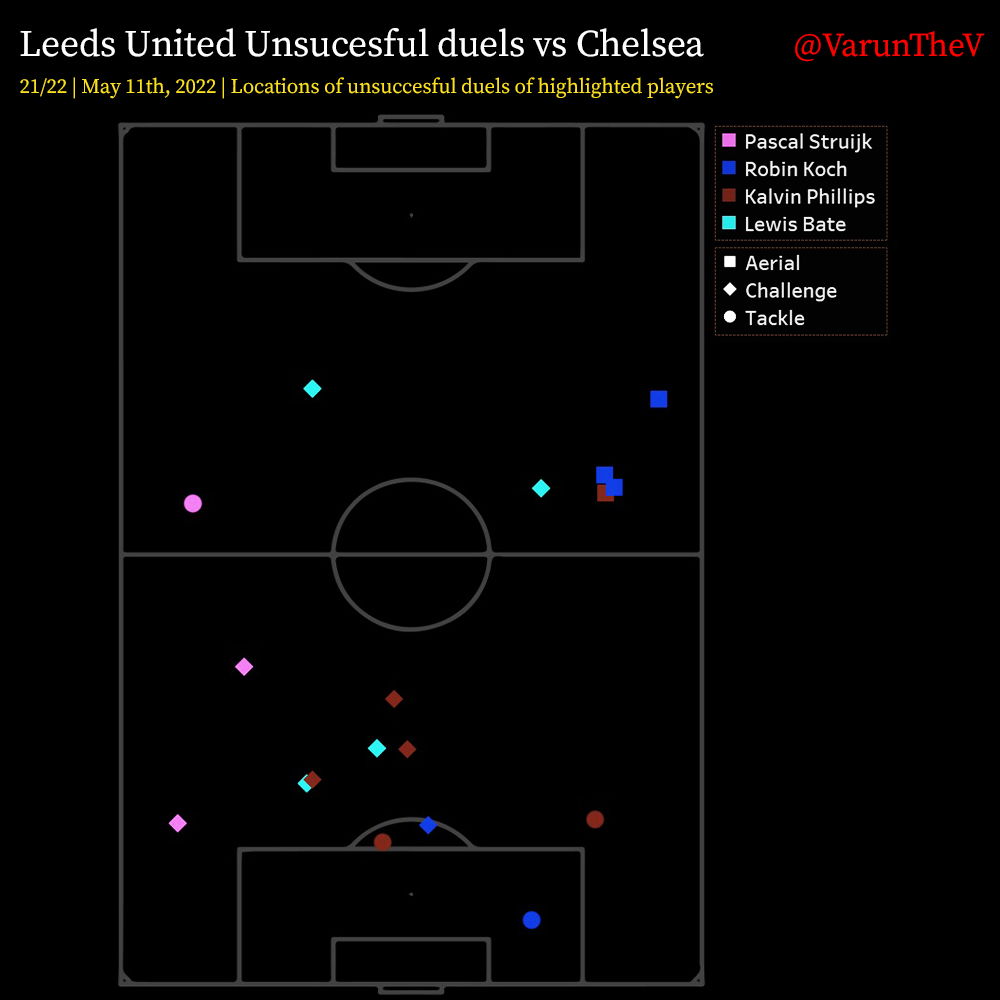 The map shows the unsuccessful challenges and tackles from the 4 Leeds players throughout the game. Kalvin Phillips had another rough day, after being the chief culprit against Arsenal. He was once again the player who failed his duels most on the day. Most of these giveaways were especially right at the edge of the Leeds box. He lost 5 ground challenges during the game, all in dangerous areas.
Struijk, who played in a slightly unfamiliar role at left-back, was also responsible for some failing to win his challenges on the left flank. Koch had 2 very threatening ground losses inside the box but his aerial losses came high up ahead on the right flank. Lewis bate was also mauled in midfield a few times like his partner but some of them were not in dangerous areas at least. Overall, it was a really poor performance from the midfield and fullbacks in terms of protecting their centre-backs and goalkeeper.
2. Progression was a big struggle
It's hard to judge a team that went a man down so early, but this was a poor Leeds performance in terms of progression. Leeds had 0 shots on target over 90 minutes highlighting their poor shooting. Only 2 chances were created and only 3 passes entered the penalty box throughout the game. It was really tough for Leeds to reach the penalty box and create. Let's look at the progressive pass map.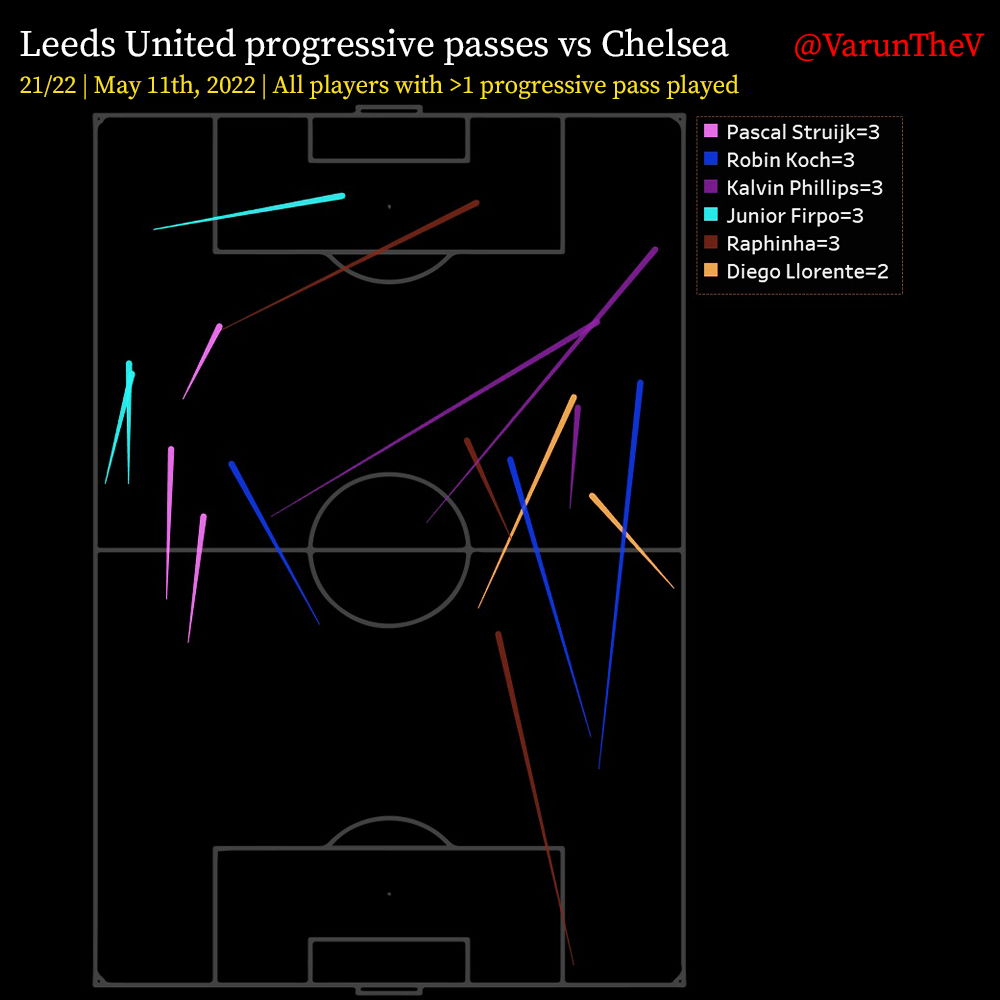 There were multiple players who clocked more than 2 progressive passes and to be fair to them, Leeds did have 13 passes into the final third as a team. Chelsea were not heavily constraining them in midfield thanks to the nature of the back 5. But they had solid control over passes that threatened to do more. Only 2 passes entered the penalty area. Chelsea's back 5 was excellent in keeping passes away from the box and the half-spaces which are integral for a team to create from. Marsch has spoken many times of the importance of being narrow and dominating those half-spaces during attack. And that is exactly what Chelsea prevented Leeds from doing. 
The fullbacks Struijk and Koch, along with Llorente, were able to progress on either side in terms of movement from their half to the opponent's half. Most of Phillips' progressive passes were away from the goal rather than towards it. Leeds' usual danger man, Raphinha, was limited to just one progressive pass that entered the penalty area. The rest were in his own half. Firpo was the only other player who had a pass inside the box.
Overall, it was a really big struggle for Leeds to progress. They are definitely missing the likes of Ayling and Dallas who's  wide progression gives players like Raphinha the opportunity to get into more threatening areas to create from. And of course, maybe if they don't go a man down within half an hour, they might have a better chance to progress with 1 11 men.
3. Is it time to accept the reality of relegation?
It's getting harder for Leeds fans to stay positive at this point. That's now 3 losses and a draw in the last 4 games for the Whites while contenders Everton and Burnley have both picked up 2 wins in the last 3 to put themselves in better positions in the table. Leeds' next opponents are Chelsea, Brighton and Brentford, none of which seem like an easy opportunity to pick up points. As per the fivethirtyeight soccer predictions model, Leeds now have a 65% chance of going down. It's all doom and gloom at the moment for the Whites and the season of mismanagement, transfer gaffes, injuries and other poor decisions is looking like it's going to cost the Yorkshire club in a perilous way.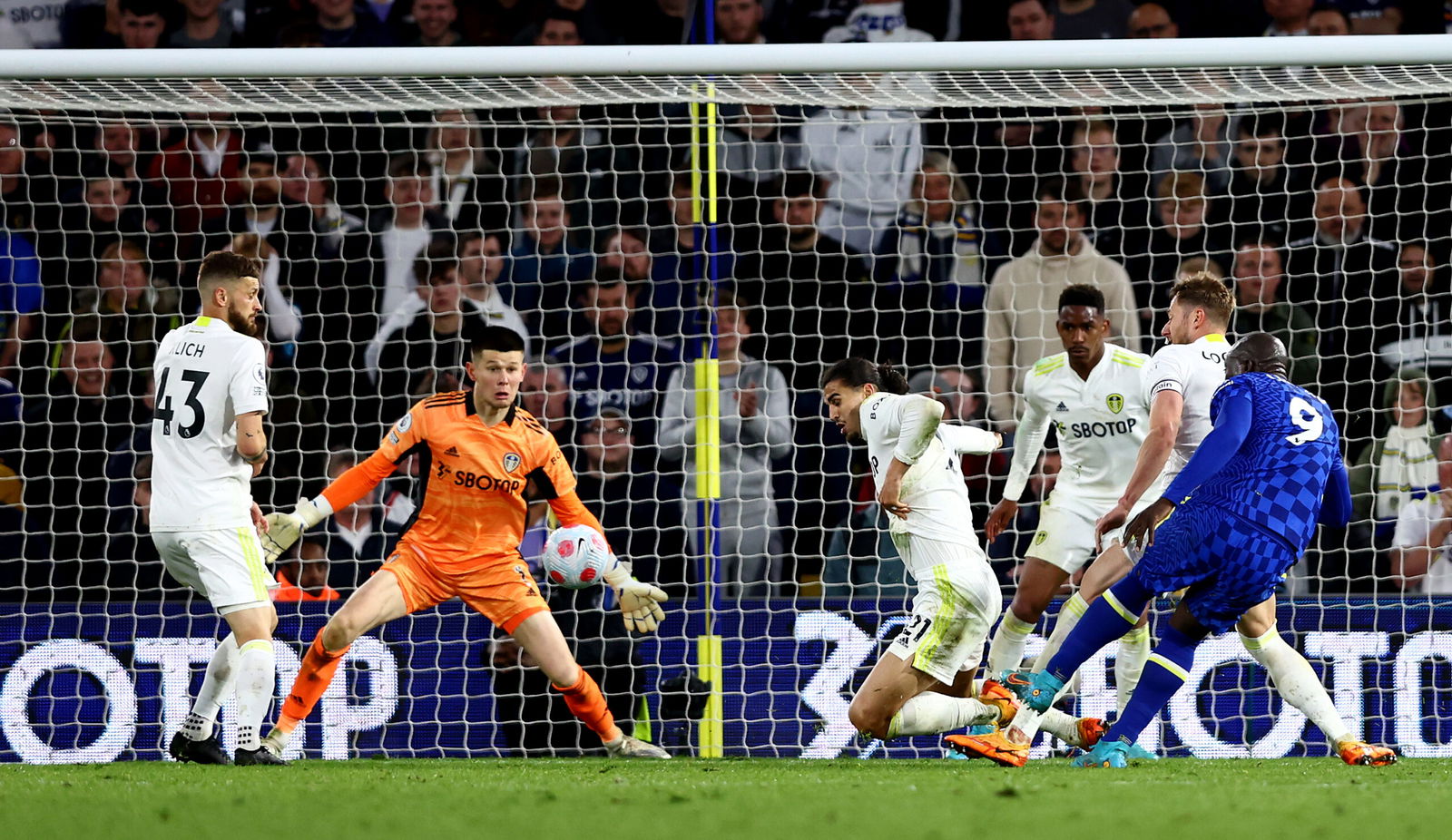 Jesse Marsch was quick to lament the lunacy of 2 early red cards for 2 games in a row in games Leeds desperately needed a point.
"Two tackles in the last two games that are a little bit crossing the line and hurting the team," Marsch said. "I'm not going to blame or finger-point any of our players, they've given everything they can, but we have to stay within boundaries in not jeopardising ourselves."
All the pressure is on the final 2 games of the season against tough opponents Brentford and Brighton. Marsch issued a rallying cry aimed at getting back focus for the remaining points at stake.
"I believe we can still fight for every point left," Marsch said. "Until the red card there were a lot of good things. But now, our focus is totally on recovering and preparing for Sunday. We have six points to play for and we have to do everything we can to get them."
With easier fixtures for their rivals and the worst form in the league, Leeds hopes of Premier League survival are looking bleak. Another loss would have demanding consequences for the club.