The pressure was high on Leeds to come up with the 3 points against fellow relegation contenders in Burnley. And they delivered handsomely! Bielsa's side moved 8 points clear of the zone on Sunday after a late rallying finish against the Clarets. Leeds' dominance throughout the game should have merited a bigger lead earlier on, but their wastefulness meant that the contest was tight until the last 15 minutes. But thankfully, 2 goals from the Whites sealed a deserved win in the end. We take a look at the 3 things we learned from a tactical perspective from the 3-1 win.
Leeds troubled Burnley's defence a lot
The attacking side of Leeds has always been something to take pride in for their fans. Last season, Bielsa's side were fun to watch largely thanks to their scintillating attack. While this season, they have been fun to watch for neutrals, fans have been going to games peeking through the gaps in their fingers. Leeds have been poor defensively while often being toothless in attack as well. The intense pressing style, combined with injuries to the squad has not enabled manager Bielsa to hone in on any sort of consistency in front of goal. Which is why the attacking display against Burnley is worthy of praise. Leeds were a constant menace and troubled the Burnley defence incessantly throughout the game.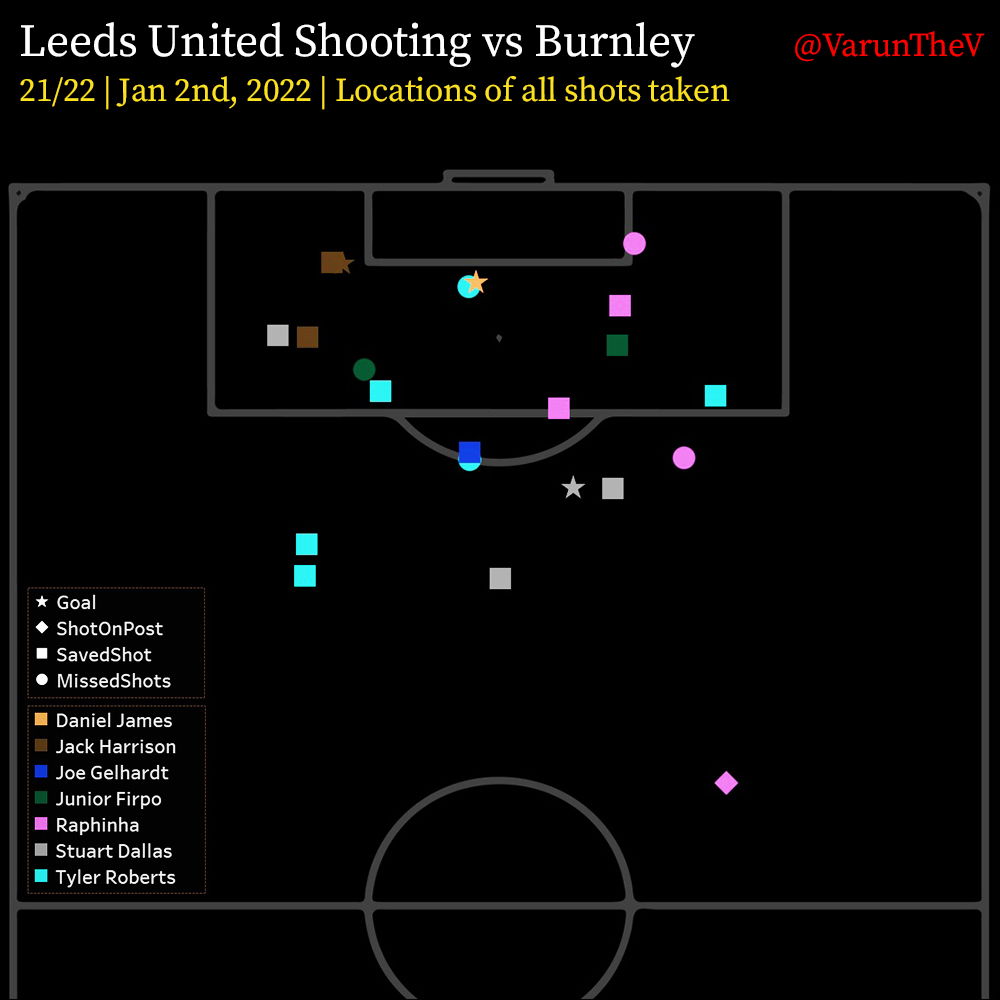 The above viz contains all of Leeds shots against Burnley segregated by shot result (shape) and shot taker (colour). 22 shots against a Premier League team speaks of a confident display. While only 7 were on target, it's still a good positive number overall. Stuart Dallas popped up in the Leeds' left-hand channel to force a save from Wayne Hennessey for the game's first meaningful chance. Moments later, Raphinha spotted the goalkeeper off his line and attempted to lob him from distance, but his audacious attempt was just off target. Junior Firpo's near-post flick from a Raphinha cross required a smart stop from Hennessey, before Tyler Roberts' header sailed harmlessly wide of Hennessey's goal.
Leeds went ahead just on the stroke of half time through Jack Harrison. The winger caught James Tarkowski sleeping in possession and weaved his way towards goal, beating Hennessey at the second attempt and putting the hosts in front from a tight left-eaning angle as shown. Firpo and Roberts had chances to stretch the lead before half time but their efforts were wayward.  After half time, Burnley were caught out by a quick Leeds counter and were very fortunate that Roberts' shooting boots were still missing. In general, Roberts had an ineffective day, attempting most shots but unable to score.
Leeds finally found a go-ahead goal in the final 15 minutes after a well-worked corner fell to Dallas, who struck beautifully from outside the box. With Burnley pushing on for an equaliser, the Whites wrapped up their win in stoppage time, with Gelhardt's cross met by the head of James and Hennessey unable to get a strong hand on it.
2. Burnley's defence was penetrated consistently
Another aspect of Leeds United's gameplay that has been targeted is their creativity. While the high pressing and direct play does create chances, the ability to progress and create against settled defences has always been questioned. Against Burnley, the Leeds squad were out to prove how that was not the case. They were able to progress through a compact and deep Burnley side and reach the final third often. The final probably was still not upto the mark and that is something a few changes in profile might fix, but for what it's worth the progression from deep was very good.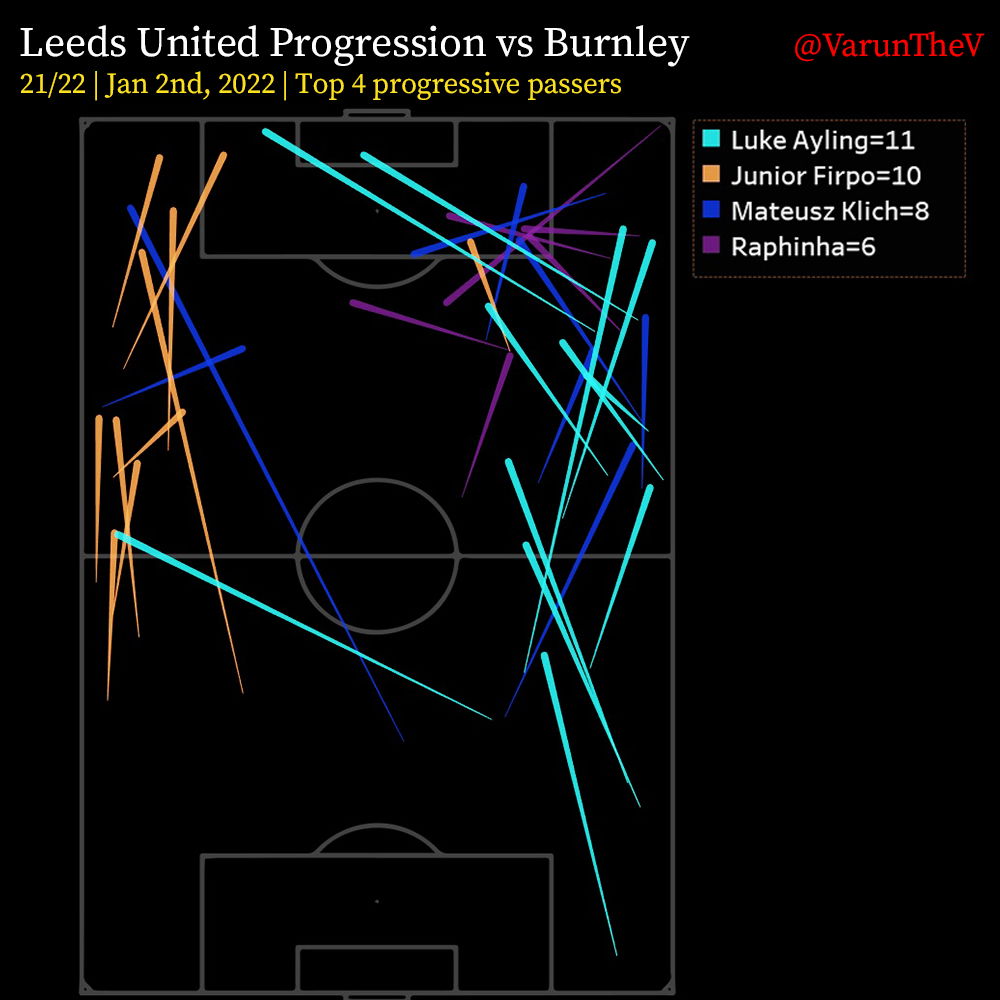 Leeds had so many progressors on the day that to get a clear idea, only the top 4 progressors have been highlighted here. These 4 alone entered the penalty area 7 times and the final third 30 times. These are very solid numbers and probably highlight the potential the team has in breaking down settled defences like Burney. If Leeds are going to escape a relegation scrap this year, this ability will come of use when battling bottom half teams from whom picking up points are more valuable for survival purposes.
Luke Ayling's passing in general is underrated. Against Burnley he had a whopping 11 progressive passes, constantly advancing play from the right hand side either though deep progression from his own third or vertical balls to the right wing for Raphinha or diagonal entries into the box when in good attacking areas. All three phases saw progressive involvement from Ayling showcasing how good an attacking fullback he can be on his day.
Raphinha was high and wide to receive such balls thanks to Ayling taking care of the majority flank progression. Most of Raphinha's progressive passes were smart cut backs from the right wing into the penalty box for the other attackers. Firpo also mirrored Ayling's contributions on the other wing, the difference being he was less involved in deeper areas and more inclined to progress vertically along the flank rather than put in threatening balls inside the box. That's something he might have to work on. Klich was the next best progressor spreading play nicely with a right-sided bias thanks to Ayling and Raphinha's successes in penetration on that side. 
3. A positive day all around
The day was a perfect response to the question on whether Leeds will survive in the Premier League this season. They showed character, attacking flair and defensive resilience in equal measure. New signings Firpo and James finally impressed, highlighting their return to form in a key period of the season. Established key starters like Ayling, Raphinha, Klich and Harisson showed why they can be counted on by the Leeds faithful. Llorente, Dallas and Forshaw were dogged and troubled Burnley in every aspect. Youngster Gelhardt impressed with another exciting cameo off the bench. Even with 7 senior players missing, Leeds looked like a capable outfit on the night. The return of some of those players isn't too far either. All in all, it was a great day for Leeds United.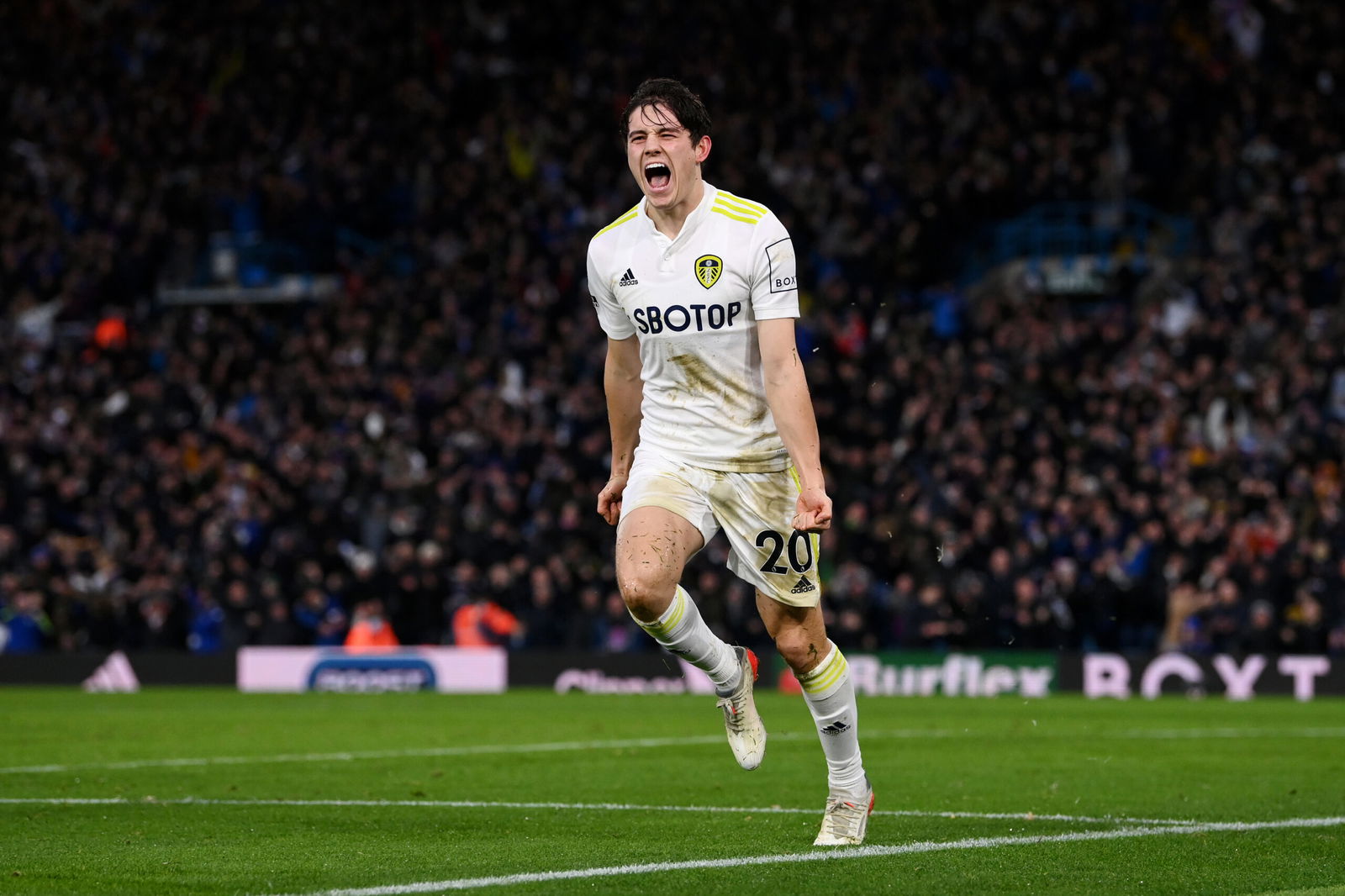 Manager Marcelo Bielsa spoke of his relief but was also quick to point out the need to do what Leeds did against Burnley more consistently.
"Of course, I don't ignore the situation we are in. I don't ignore what my responsibilities are. That can't not influence my state of mood. As you well know in football every week you have to prove yourself again. Even if the performance today was good we need to maintain that level against any opponent and in any pitch."
He also spoke about Leeds success in getting behind Burnley which we spoke about using the shot map and progressive pass map.
"In some way we managed to get in behind. There was a lot of combination play, there was a defensive security even if it wasn't absolute. We had the ball a lot of the time. We managed to finish our attacks in the opponents half."
His last choice words were reserved for some player performances especially in attack.
"What we were trying to do is recover the best way we can play. In some way we got it. Gelhardt coming on for Tyler (Roberts) maintained the game how we wanted it. Down the left James opened up paths and ended up scoring. Harrison needs to progressively get back to his best level. To score a goal is always an impulse to get to that objective. The game today was a game of a lot of commitment. To have scored a goal to allow us to establish differences, it was an important emotion. Evidently Dallas needed to express it."
It's safe to say that the manager was impressed with the attacking display and hopes the ones who turned up agains Burnley can consistently do so in the coming weeks. If they can, Leeds will ensure their Premier League safety for next season.