Matt Grimes is now considered one of the Championship's most consistent players. The Swansea captain recently made his 200th appearance for the club as manager Russell Martin tries to build a squad around his midfield linchpin. Grimes is now well and truly settled in South Wales and will be determined to help the Swans to the Premier League in the next few years after narrowly missing in last season's playoff final to Brentford. Though things are going to plan now for the 26-year-old, there was a time when it wasn't quite so stable and it involved a season at Leeds United.
After thriving as a teenager at hometown club Exeter, the Grecians accepted a club-record fee of £1.75 million for their star midfielder from then Premier League outfit Swansea in January 2015. Grimes made his top-flight debut a few months later but spent the majority of that season and the one after in the under-21's. That led to a brief loan spell at Blackburn before linking up with the man who signed him at Swansea, Garry Monk, who was now manager at Leeds. The Whites agreed a deal to sign Grimes on loan for the entirety of the 2016-17 season, with high hopes pinned on the 21-year-old to make a big impact at Elland road. Unfortunately though, things didn't quite go as planned with Grimes exclusively telling The Leeds Press that his loan stint in West Yorkshire was nothing short of a 'nightmare'.
"On face value everything looked great when we agreed the loan deal," said Grimes. "I was coming back to play under Garry Monk and he obviously had a lot of faith in me as a player having already signed me at Swansea. If I'm honest I was never too sure about it. I had a loan spell with Blackburn at the end of the previous season and that didn't go too well. I was up north again, away from all my friends and family, and I was still young. Back then I didn't feel young, I actually felt I was getting old too quickly and that I was going to miss my chance. If I'm honest I wasn't in a good head space to start with.
"I guess it's easy to say all this now. I remember my first game, we got beaten convincingly at QPR two or three nil and I didn't play well. We didn't win any of the next few games and then Liam Bridcutt signed. The writing was on the wall then really because he played exactly where I played and they paid a decent bit of money to get him. He went straight into the team and he was the captain by the end of that season. I played a handful of games and then I was just not really in contention to play. My last game, we got beat 1-0 in the FA Cup by Sutton, which says it all really. I spent the last few months of the season really doubting myself."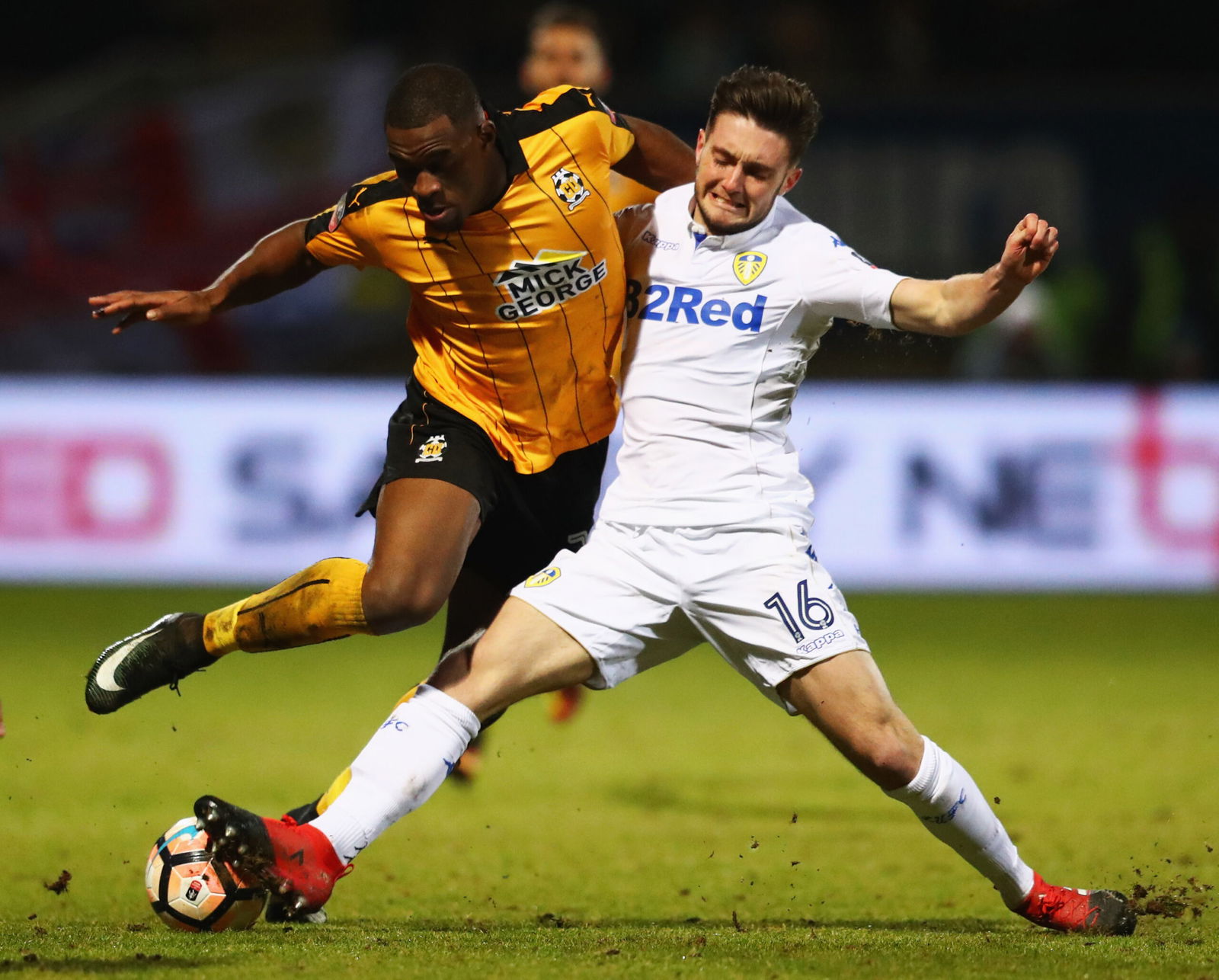 Grimes is not afraid to admit that his struggles on the pitch extended to struggles off it during his stint at Elland Road. The defensive-midfielder did not feature at all for the Whites in the last four months of the season, with the team fighting for a place in playoffs. Despite Grimes still having the best years of his career ahead of him, he says that the loneliness of living alone and not playing had overwhelmed him and he was afraid to speak up about his mental health problems.
"Garry was always open and honest with me as a manager and he told me how it was. As a player though you find that hard and you need to keep hearing it I think. He was distracted with other things because the team were going for promotion. I wasn't in the team and I definitely wasn't at the forefront of his mind. I was just there to make up the numbers at training really. I would train, go home, and I didn't have a partner at the time, so I was just sleeping and going on the occasional run. I was lost.
"I was lost in the sense of I didn't know if I was in the right place and I didn't know where I was going. I knew things weren't going well but in my head they were ten times worse. I became antisocial too. I wouldn't really go anywhere, speak to anyone and I spent too much time on my phone reading messages of people saying I wasn't good enough. After you read enough of them you start to believe it. I knew my ability, I knew I was just in poor form and I knew I had what it takes, but reading those messages on my own in a dark room, I believed every one of them and my mental health really deteriorated."
Grimes spent the following season on loan with Northampton in League One, before he returned to Swansea following their relegation from the Premier League. He became a regular at the Liberty Stadium under new boss Graham Potter, with his successor Steve Cooper making him captain ahead of the 2019-20 season. Grimes has kept the armband and remained an ever-present in the team since, helping the Welsh club achieve back-to-back top six finishes in the Championship. Now, as he approaches his 27th birthday, Grimes is able to reflect on his time at Leeds with a little more maturity, and he is hopeful he can face the Whites again in the Premier League one day.
"I'm a little older now and I realise that I was still very young when I was on loan at both Blackburn and Leeds," he said. "I guess that's why I was on loan. Because I was in the first team at Exeter so young, playing first-team football, I joined Swansea expecting to kick on straight away. Now I know that was a big step up, but at the time I felt I was losing my way playing in the under-21's every week. I made my Premier League debut at 19 in my first season at Swansea, I expected I wouldn't play much that season but the one after, when I turned 20, I thought I would be featuring a lot more. When that didn't happen I felt I wasn't doing enough.
"If I had my time again I would enjoy it more. Leeds had a very good team that season I was there. A lot of that squad are actually playing in the Premier League now so that gives me reassurance that even if I was on top form, I still might not have got in the team week in week out. I have no regrets though and I'm glad I went to Leeds because it was a major learning experience for me and it made me more determined. My time at Blackburn and Leeds allowed me to experience tough moments, which now allows me to have a better perspective and not take what I have for granted. I'm settled now in Swansea, I have a contract here until 2025 and I want to get to the Premier League in that time."