Last month, Phil Hay mentioned the possibility of Leeds signing Manchester United's James Garner, despite the rivalry between the clubs. "It'll be interesting to see who Leeds target. James Garner, the Manchester United midfielder who's on loan at Nottingham Forest in the Championship and having a very good year, is someone I've heard mentioned recently," Hay told The Athletic.
This is the latest rumour in a line of many over the past few months with outlets like Telegraph and DailyMail carrying stories of strong interest from Leeds United to bolster their midfield in the coming summer with the 21-year-old Jamer Garner. With Garner repeatedly going out on loan to clubs like Nottingham and Watford and largely impressing without getting a look-in at parent club Manchester United, there seems to be an interest from the English wonderkid's side to switch loyalties for consistent game-time as well.
Today, we take a deep dive at Garner's current season performance, playing style, role and stats to understand what he can bring to the club if Leeds United do move for him.
Garner's movement – An engine-like B2B
There has been some debate about Garner's best role in recent years. He played for a few years at the U23 level for Manchester United as the deepest player in midfield – a classic deep-lying playmaker who dictates the game and shields the defence, prompting many Manchester United fans to hail him as the second coming of Michael Carrick. 
While he was okay in that role for a while, it was the shift to a more aggressive box-to-box role in 2019 that really saw him come to life. He combined with Greenwood, Elanga and Shoretire to devastating effect for the U23s that season and proved that he had more to offer in an attacking midfield role.
Since then, on his loan spells at Watford and Nottingham Forest, he has retained a similar role often playing as a linker midfield player or a box-to-box locomotive with licence to run, roam, create and press, instead of playing a holding role in midfield. His 21/22 season with Forest has confirmed the same movement. Here's a viz of this season.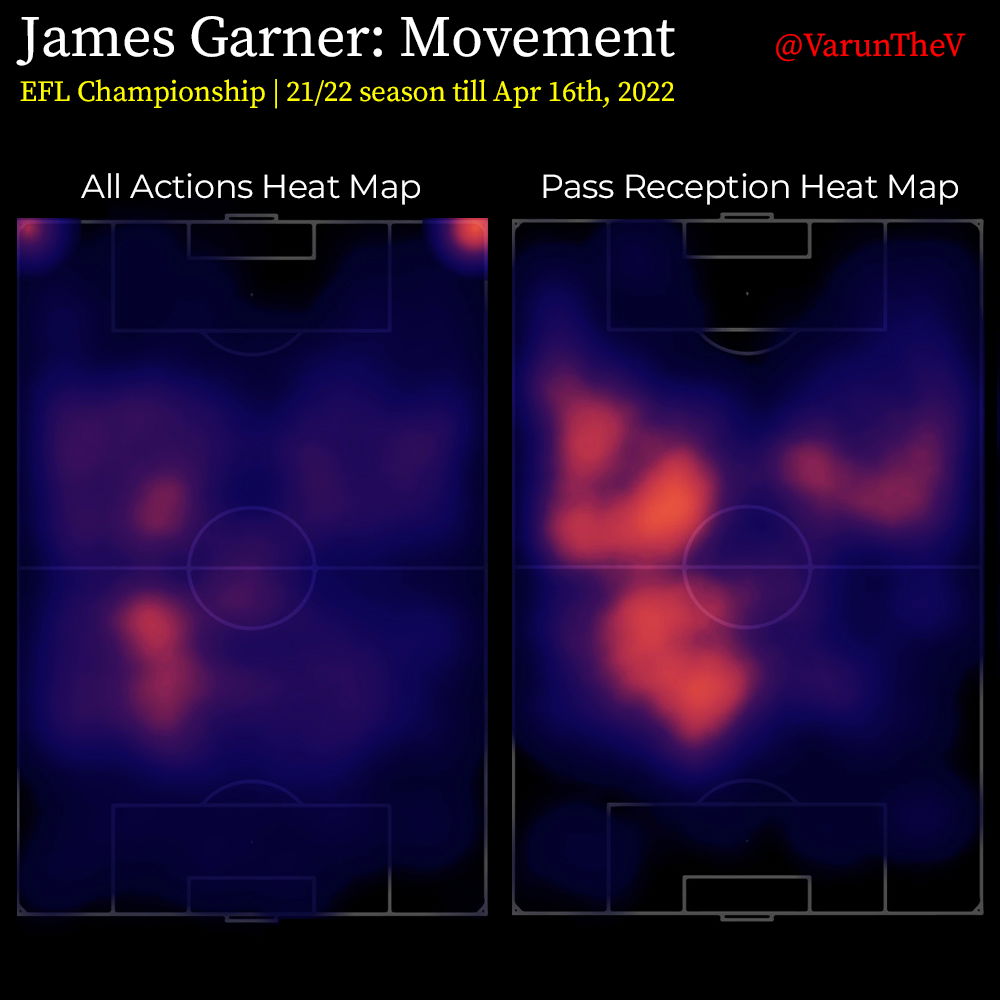 Forest have lined up in a 5-2-3 for most part this season with Garner and Yates forming the midfield pivot when fit. Garner usually takes the left-sided CM role with more licence to move up and connect with the front 3 while Yates takes up the more defensive RCM role often holding to provide cover when Garner and the wingbacks are caught up. Garner's all actions heat map confirms how active he is all over the pitch. He barely has a red hot zone on the pitch but a lot of blue all over it, showcasing the freedom he gets to roam around the pitch, whether it's to create in the final 3rd, put pressure in the middle 3rd or defend in his own 3rd. This is a midfielder who isn't bound to any zones on the pitch and loves to constantly run up and down and also go wide for support.
His pass reception map gives us a stronger clue to the areas he likes to get into when he has to receive the ball from his teammates. There is a clearer insight of his left-leaning role with almost an even split of the red hot zone between receptions in his half during the build up phase and receptions in the opponent half when the team is attacking. The latter zone especially being spread out and including wide areas on the left shows how ready Garner is to go to the wings to provide support during the attack. He loves taking up those positions and receiving from his wingback or winger to then turn his body towards goal and obtain the angle to pass or shoot almost like a creative AM player..
In summary, Garner's movement indicates how he doesn't sit or hold in midfield but loves to run all over the pitch. This includes build up receptions in his half and almost AM-style wide and high receptions during attack. If we had to assign a name to this role, it would be – Box-to-box midfielder.
Garner's passing – A set-piece demon
Even if his role did change, the fact that Garner is inherently creative hasn't. What has caught the eye of social media followers are Garner's videos of an assist or goal which often includes a set piece. It's unsurprising that both his assists and 3 of his goals this season have all come from set pieces. He is a real threat when it comes to dead-ball situations.
Let's take a look at his pass maps.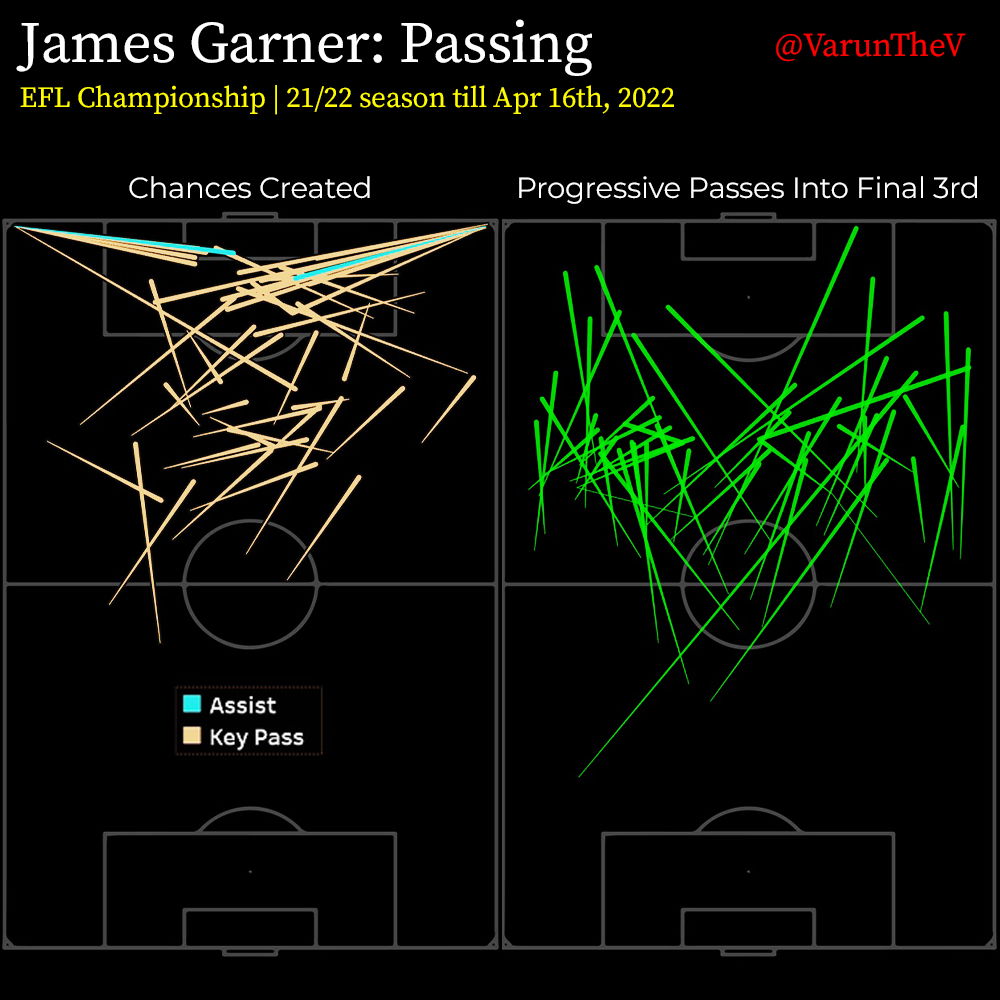 Other than the 2 assists, Garner has created many chances, most of them coming from set pieces. The dozen corners are visible in the viz while some of the balls into the box are also from free kicks.
Other than dead-ball situations, his chances created from open play often originate from the left side of the pitch where he angles in a diagonal ball into the box or towards the right wing, once again confirming his preference to create from the left or central zones like a left-leaning AM during attack.
Moving to the map of his progressive passes, it's clear to see the variation Garner has. His passing range is good. He is able to provide switches to the opposite wing, through balls to the wide players and long balls to the attackers when he has time and space. Garner's progression isn't the metronome deep-playmaking kind containing short passing and central penetration but is more like the spreading-the-play kind where a team moves forward or gets into empty spaces thanks to his game-progressing balls into good advanced areas.
This once again ties in well with our theme of Garner being a box-to-box midfielder who prefers to open up the game and help his team advance rather than progress from deep and help build up. His set piece threat and creativity in the final third from a left-leaning angle are his main chance creation weapons.
Garner's defending – Intense and willing participant
From his movement and passing if you expected Garner to be defensively shy, you couldn't have been more wrong.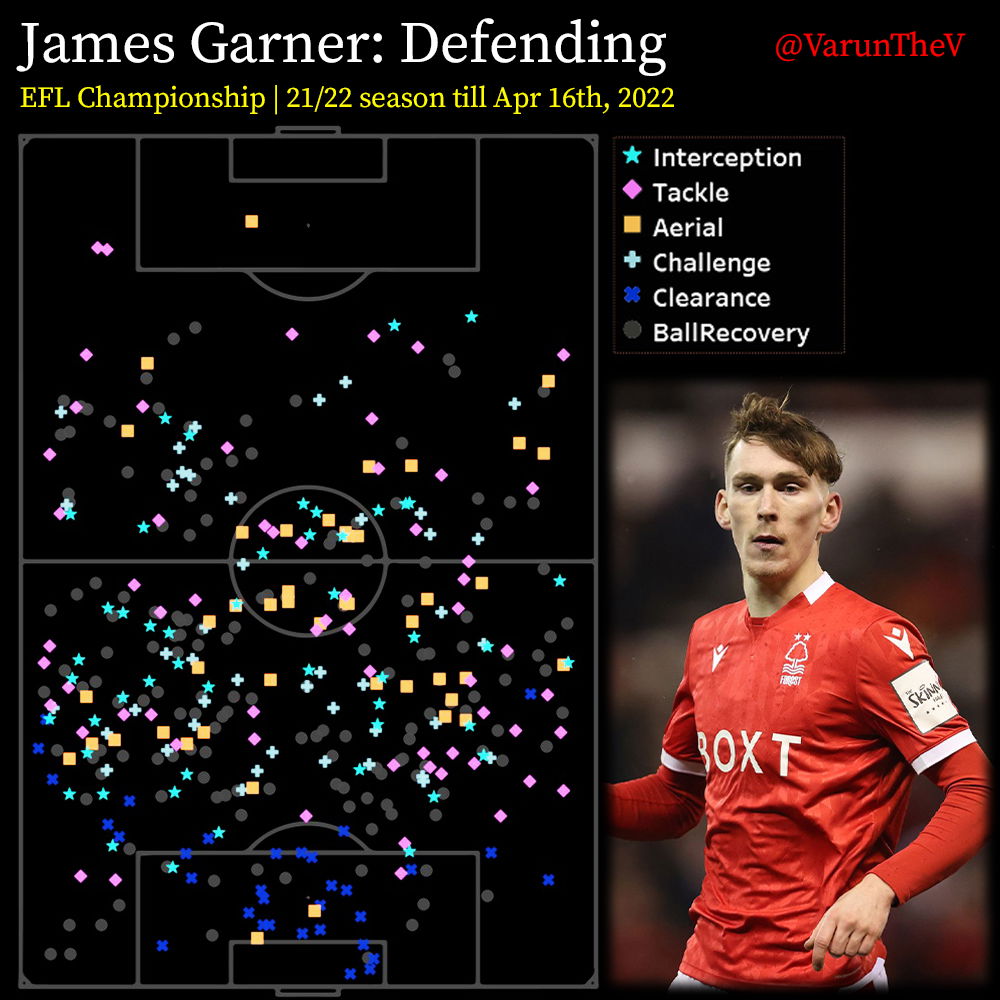 The best word to describe Garner's defending is intense. His constant running isn't limited to when his team has the ball. He puts in a hard shift when his team doesn't. What's particularly impressive is the number of recoveries and the spread of them. Garner is constantly picking up second balls across the pitch. He has a host of clearances in his box and many aerial wins outside the box as well showing one area of his game that has improved massively – his physicality. He's not shy to get into an aerial duel anymore. 
His tackles, interceptions and challenges especially in the middle third are also impressive once again showing how far he is willing to go to win the ball back. Garner is a constant presser and is prepared to hunt high and wide for the ball. He doesn't get in the box to win aerials since he is usually the one delivering set pieces into it.
If there was some doubt about which type of box-to-box player Garner was – the attacking kind like Pogba or Gundogan or the defensive kind like Fred or Kante – though Garner is capable of playing both roles well, it might be safer to assume given his intensity and ball-winning focus, that he's closer to the second kind. His days as a DM in the academy have given him a good sense of defensive awareness. While his positioning might not be enough for a holding role, it helps him note the flow of the attack, get stuck in and win the ball back for his team consistently. 
In summary of this section, Garner is a constant presser, runner, tackler and ball-winner in defence, boasting a wide area of operation and various means to win the ball back – something which would fit really well with Leeds United's ethos and midfield demands.
Final thoughts
One aspect that hasn't been covered so far is his goal-scoring. Most of Garner's goals are either long-range shots from a left-sided AM position or direct free kicks from distance. He has managed to score 8 goals for Nottingham over the past 1.5 years. 
Garner would be a good fit in the Leeds midfield, having the ability to match the intensity, ball-winning, pressing and workrate of the existing midfield while having the potential to add a dimension of attacking progression, set piece creation and long-distance goal threat as well.
A lot still depends on whether Manchester United include Garner in the squad next year, but with Bruno Fernandes and Fred blocking his preferred slots in midfield and the Red Devils needing a specialist holding midfielder to replace the outgoing Matic, Garner might once again not get a serious look in.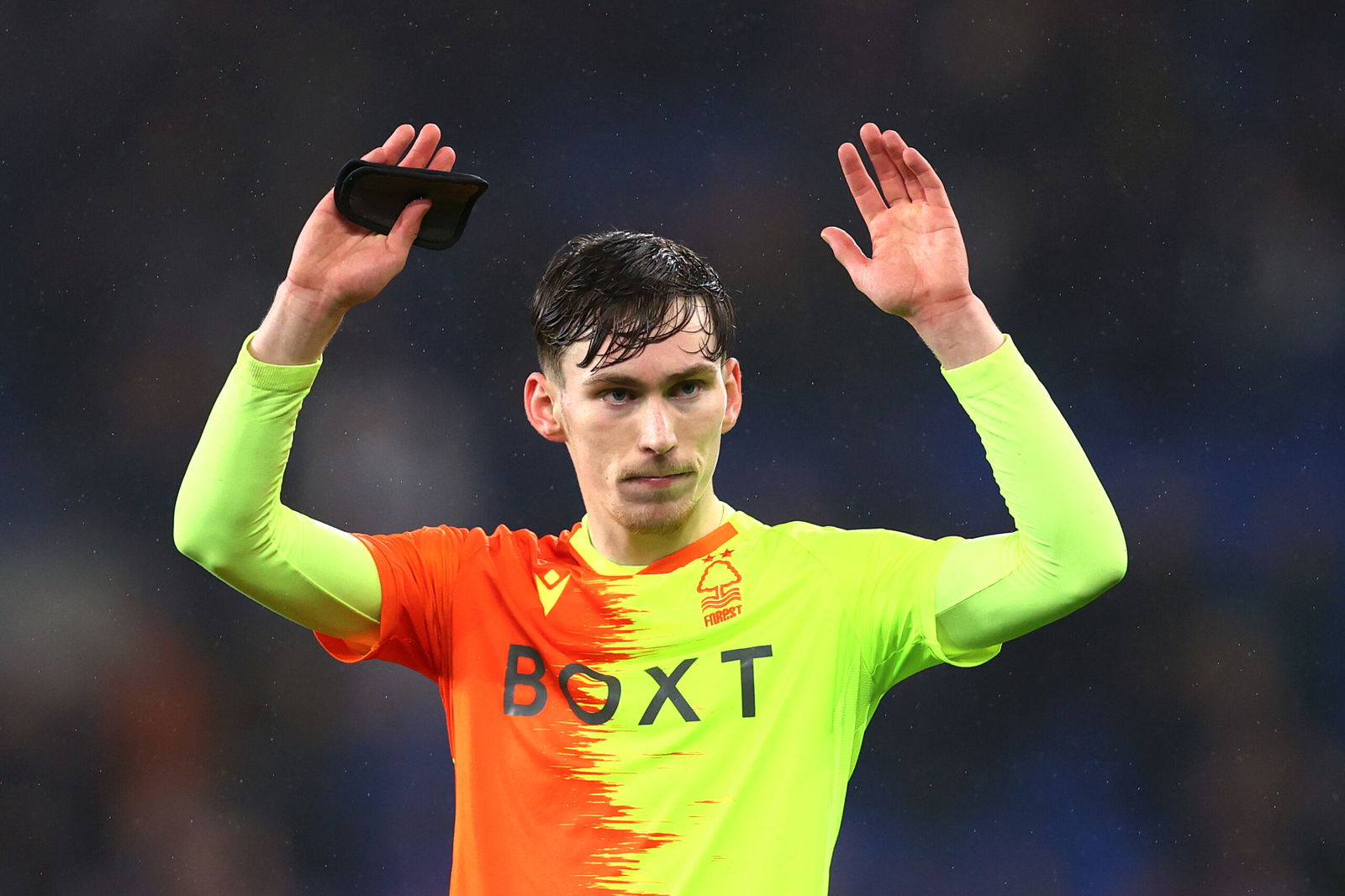 In an interview with Footballleagueworld, transfer guru Dean Jones reflected that the Englishman would intend to continue as starter wherever he goes next. "Garner's having a great time this season, and he doesn't want to be on the fringes anywhere else at the moment. He's shown his value, and he wants to kick on next season and be a big part of a team, wherever that is."
If Garner does decide to join Leeds United without care about their rivalry with the club he grew up at, it could be a great addition to the Whites midfield and one more thing to throw at their rival fan's faces when they meet them in the Premier League.