Leeds United have completed their third signing in the summer. The efforts to build a team in Jesse Marsch's image and avoid the debacle of last season are clear to be seen. They acquired Spanish midfielder Marc Roca from Bayern Munich on a four-year deal which is understood to be worth £10m. The 25-year-old follows the arrival of Red Bull Salzburg duo Brenden Aaronson and Rasmus Kristensen, whom Leeds completed early on in the window.
Speaking to BBC Radio Leeds, the defensive midfielder said: "I stayed at Bayern for two years and I want to play more games. It's a good opportunity for me to be here and I'm very happy. You always know about Leeds and their history. It's an incredible team and an incredible atmosphere at Elland Road. Everybody talks about it and I'm happy to be here."
It seems all smiles as the impression one gets is that both Leeds and Roca have got the move they wanted. But let's dive further into the player that is Roca to understand what he brings to the table and what are the caveats to look out for.
Overview – A high-potential star's path gone wrong
Before we get into the finer aspects of Roca's gameplay, it might be better to have an overview of his short career so far and why he finds himself at Leeds United at the peak age of 25.
Roca rose from the Espanyol youth ranks and quickly became a key part of their XI racking up 105 appearances in 4 years. The last 2 seasons at Espanyol had him play 40 and 45 games each at the age of 21 and 22. Things were going well for him and he was being bookmarked as the next great Spanish deep-lying playmaker with links to top clubs and Busquet replacement calls (both at Barcelona and Spain) doing the media rounds. In fact, Rodri was having a similar arc at Atletico Madrid. The same age as Roca, the then 22-year-olds were at the forefront of all top teams playing a possession game wanting a deep playmaker. Both players had similar strengths and weaknesses and it was assumed that a few years at a top team would make them reach their potential as Europe's best defensive midfielders.
Rodri moved to Manchester City a summer before Roca moved to Bayern Munich. The big moves came as expected. But the journey that followed couldn't have been more different. While Rodri developed his defensive side, phasing with the ageing Fernandinho, cemented his place as City's first choice deep midfielder and has had a wonderful 21/22 earning his applause as one of the best in Europe in his position, Roca has not been first-choice at Bayern, has seen his stocks fall and is now moving to Leeds United, who just escaped from a relegation scare last season. This isn't to look down upon the Leeds United project and its potential, but Roca was moving in different hype circles 2 years ago and it's just not worked out.
One of the main reasons is, as he mentioned in his interview, Roca's gametime. The Spaniard has played only 10 90s (5 each year) in his 2 seasons at Bayern. That's terribly low for a player at the age of 24 and 25. A large part of this is Roca's injury record. As per Transfermarkt, he has spent 70 days injured in his 2 seasons at Bayern. But that alone doesn't account for his large absence from the starting XI. Roca has also not been picked when fit. Kimmich and Goretzka are 2 top-class midfielders to leapfrog, but even on occasions when one of them has been injured, Nagelsmann has preferred playing a lone pivot or starting the likes of Musiala and Tolisso ahead of Roca. A combination of injuries, top starters blocking his way and tactical misfit has seen Roca sit on the bench more times than take the field in these 2 years.
Let's look at Roca's overall profile.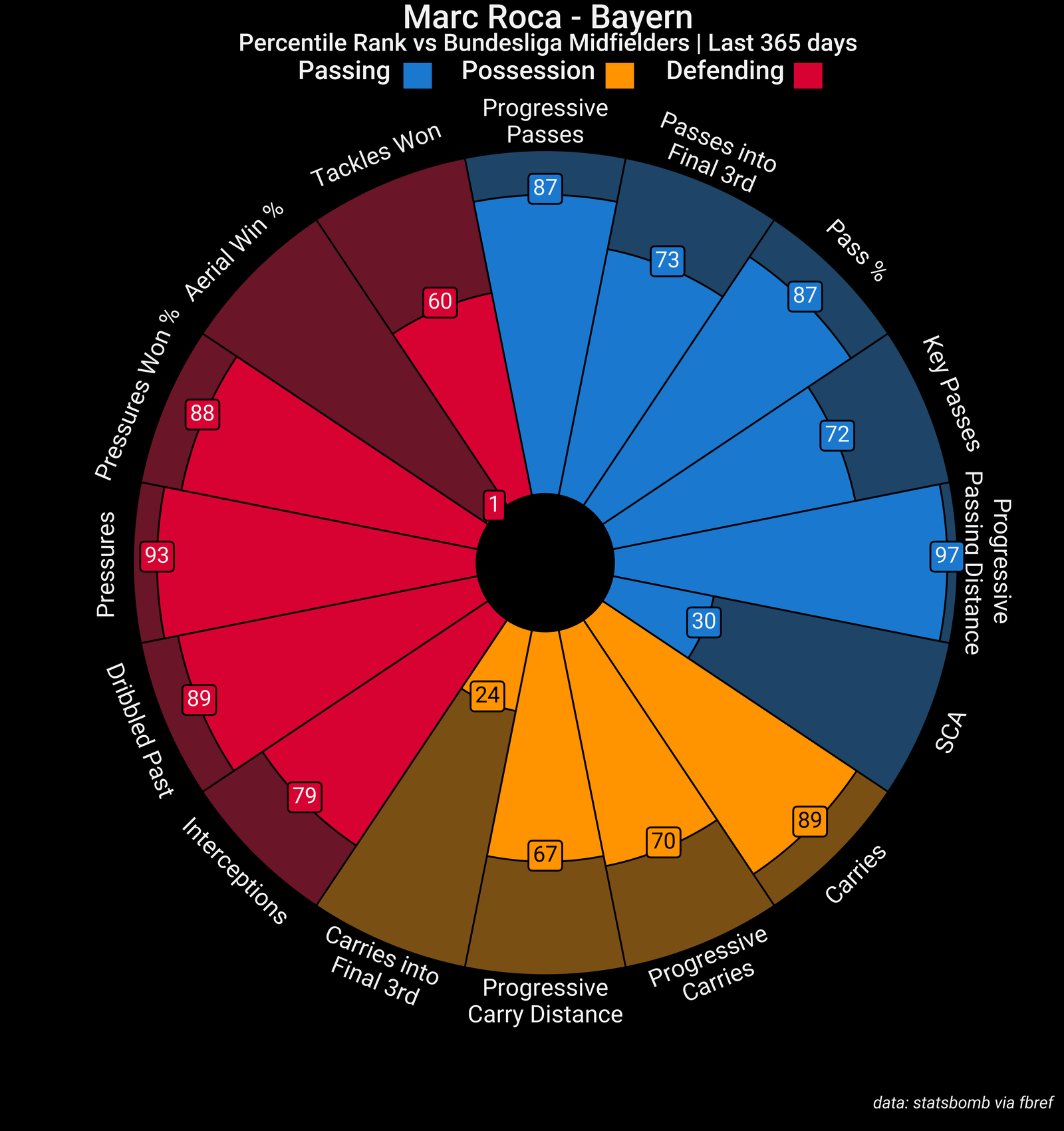 Again, it needs to be mentioned that this is a pizza chart based on just 460 mins played in the last 365 days. That's barely 5 games. A full season might probably skew these stats a bit, but for now, it gives us a generic idea on what Roca's all about.
Firstly, he is a good passer. This goes in line with his hype as a deep-lying playmaker. He is great at progression while being safe in terms of pass %. He lacks shot-creating actions, which probably hints at him not being a final third impact player.
In terms of carrying as well, he seems decently progressive, but again doesn't carry much into the final 3rd, indicating his preference to dictate from deeper areas. His defensive stats actually read well, boasting good stats for interceptions, pressures, pressure success and shielding (low dribbled past) which puts him as a great fit for a defensive midfielder who needs to engage but also be safe when doing so. He doesn't have too many tackles, which seems fair considering he's not a ball-winner who abandons his position. His weakest quality is probably aerial duels. Though he is 1.84m tall, Roca doesn't have the frame to win duels aerially.
Roca's movement – A CM movement from a DM
All the viz that follow are based on his 2 seasons at Bayern Munich i.e. the 10 games he played. First, his movement.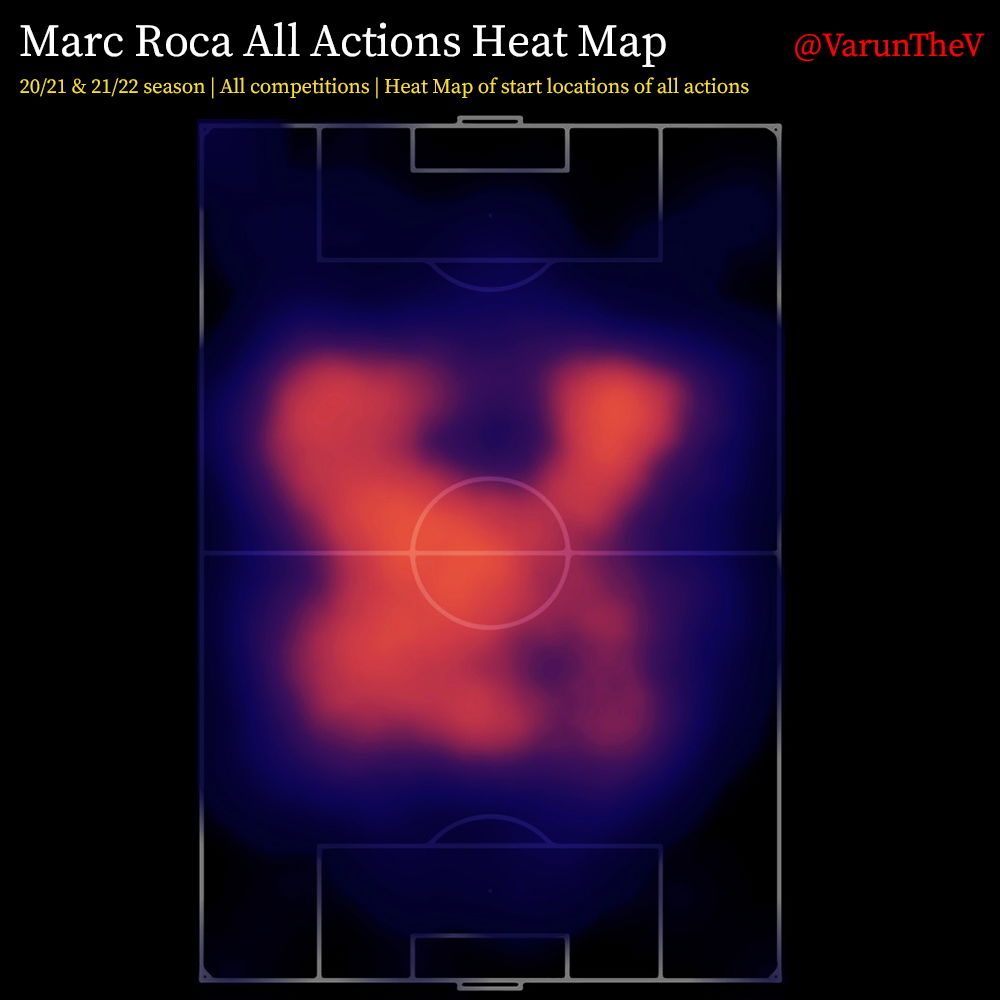 Nagelsmann has trialled a variety of formations this season. A 2-man pivot has been a constant theme whether it's in a 4-2-3-1 or 5-2-3 while on occasions a single man pivot of 4-1-4-1 has also been deployed. Roca's few appearances have all been on either side of a 2-man pivot. He has never been picked for the lone man role, Kimmich occupying that spot on the few occasions it has been played. Roca has played as a LCM beside Kimmich on many of his appearances while also turning up as a RCM beside Goretzka on a few others.
This is the reason why his heat map has 2 distinct heat zones on either side, with a slight tilt towards the left. His presence in his own half centrally points at how he loves to drop to help the build up or plug the gap ahead of the defence during transitions. Roca's ideal role is a DM in a mid 3. This is one big reason why he hasn't played enough. Bayern rarely deploy such a formation and even if they did, there is probably no one better than Joshua Kimmich in that role. Roca doesn't get his position or role at Bayern, often forced to attempt a more dynamic pivot midfield role or see Kimmich perform in a superior manner in the deep-lying role that Roca is meant for. At Espanyol, Roca was the first choice DM in a mid 3 which the play went through. He hasn't gotten that since.
Roca's progression – A true deep playmaker's
Let's look at what's probably Roca's biggest strength – passing progression. Roca is a dream progressor as we saw in his pizza chart. He can spread the play, pick out good central penetrative passes and has the press resistance to glide through opponents before doing so. He is the perfect deep-lying playmaker a game can run through.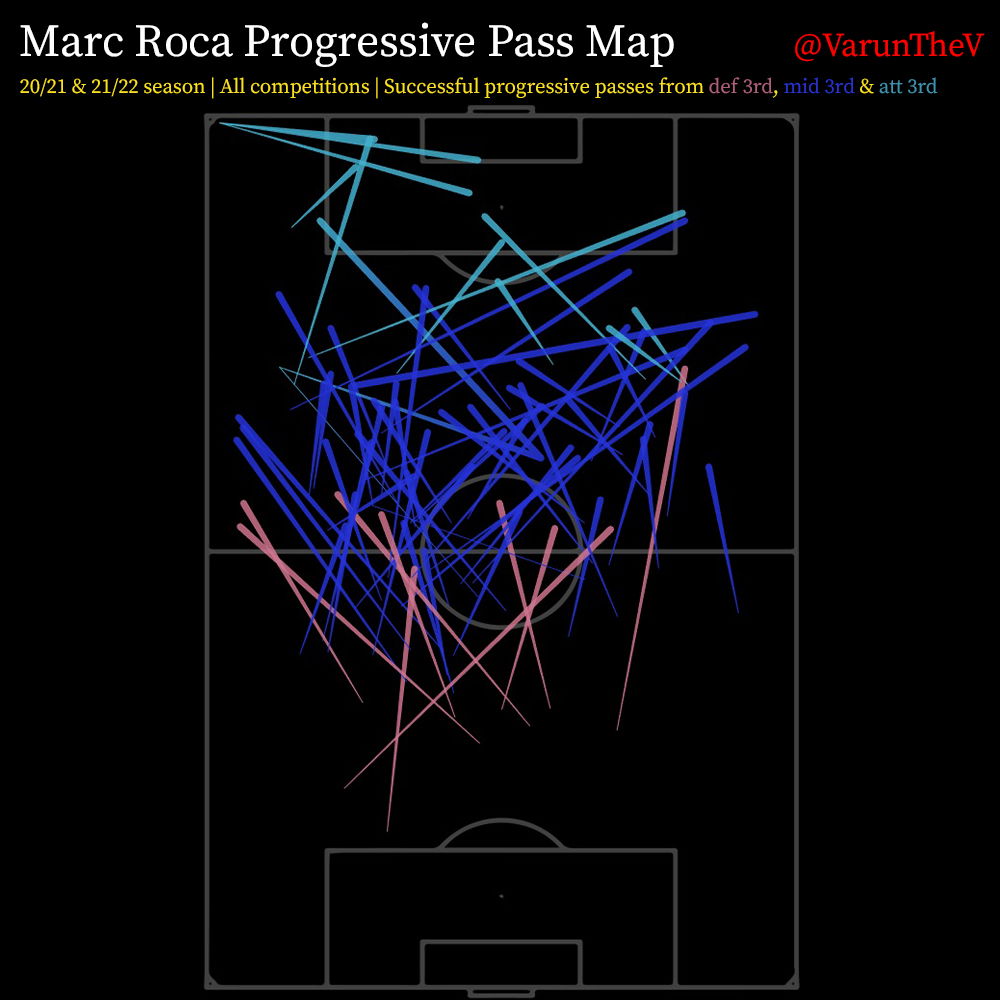 On a per 90 basis, Roca racks up 7 progressive passes per game, which is really good. Again, this is heightened by his low 90s (10 in the last 2 years). Kimmich boasting 9 progressive passes per game after playing ~35 90s per season is actually what a world-class DM is all about. But Roca doesn't seem too far behind. 
The viz displays his 70 progressive passes played in the last 2 years. The colour segregation is to show his progressive passes from the defensive third, middle third and final third. We can immediately notice the high amount of middle third progressive passes. If this was a player playing in the deepest role in a mid 3, we might have seen more passes from the defensive third, but Roca's LCM pivot role is clear to see as he attempts to progress from the left side of central midfield instead of the defensive third. One can argue that given his preferred central deepest role, he might be able to progress even better. Roca's potential as a progressor from deep can reach higher than displayed so far.
Roca's defending – Intense and secure 
Roca has gotten the impression of someone lacking physicality. A large part of this is due to his injury-prone nature. And while his aerial prowess is abysmal and he does look like he could be bullied in midfield at times, his overall defensive activity being poor, is probably a biassed myth.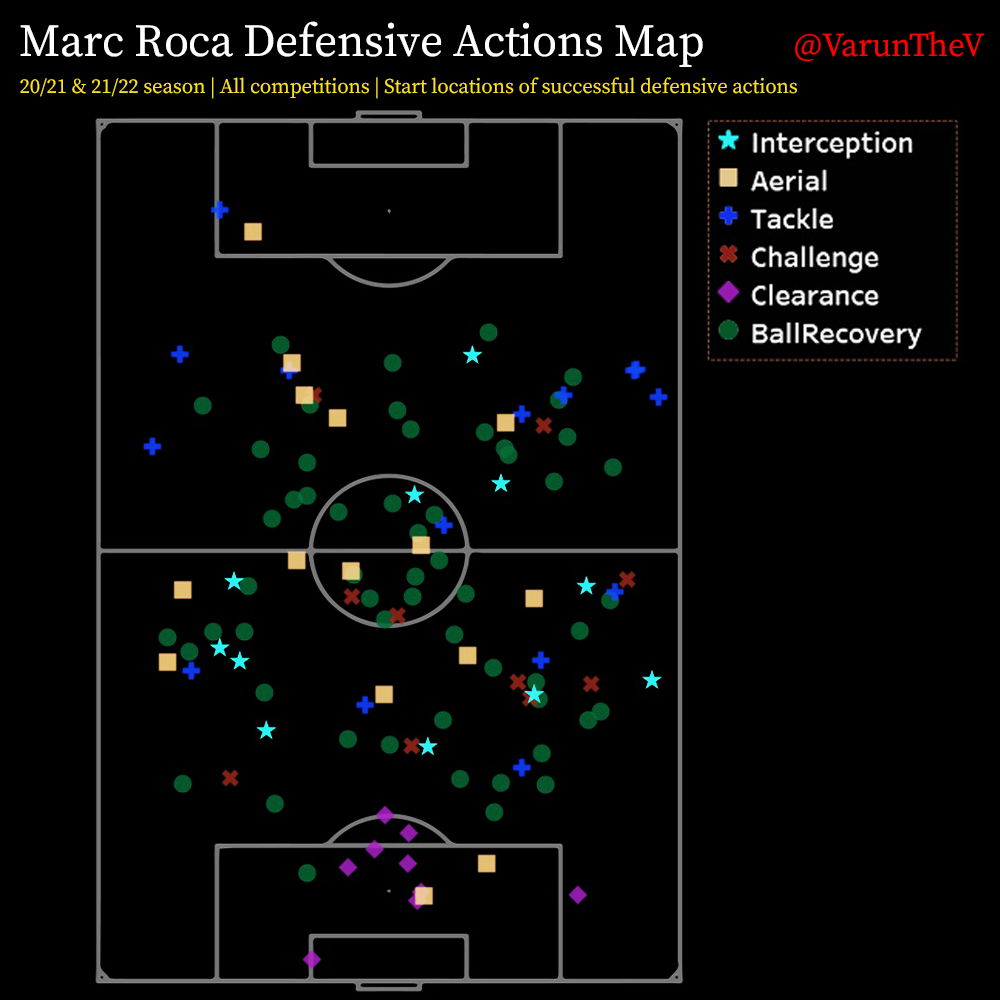 Roca attempts more tackles per 90 than the likes of Musiala, Goretzka, Tolisso and Kimmich, who have all started before him in midfield. Again, this might be heightened thanks to low gametime, but it is clear that he isn't someone who's tackle-shy as the perception might suggest. He's been dribbled past only 4 times this year while his pressures per 90 of 25 are more than any Bayern player who has played 5 games this season.Only Kimmich and Upamecano beat him on interceptions per 90 this year while only Upamecano beats him on recoveries per 90. His poor aerial % is something I highlighted before and that's one reason why Bayern keep him away from the box for set pieces as visible in the map.
Overall, if given a deeper role, Roca's defending can translate to a solid shielder who is rarely dribbled past, presses and tackles well and with success when needed to and will be reliable in defence as long as he isn't asked to win aerial duels.
Final Thoughts
Roca is a strong defensive midfielder with strong progression, good carrying, intense and secure defending and ability to dictate play from the base of midfield. Jesse Marsch has employed a 4-2-2-2 so far in his stint at Leeds and also in his career. It's a classic narrow formation that relies heavily on counter-pressing and vertical play. Both these aspects suit Roca well. Roca is a good presser to be able to win the ball securely and his best strength is the progressive vertical pass that opens up wide areas or finds attackers in good central areas. In addition, he can be the more defensive of the pivot midfielders and help in shielding the back 4 which has been an issue for Leeds all off last season, when they are hit by transitions because they leave spaces in a bid to press high. Roca could help plug that weakness while contributing to the press and vertical play.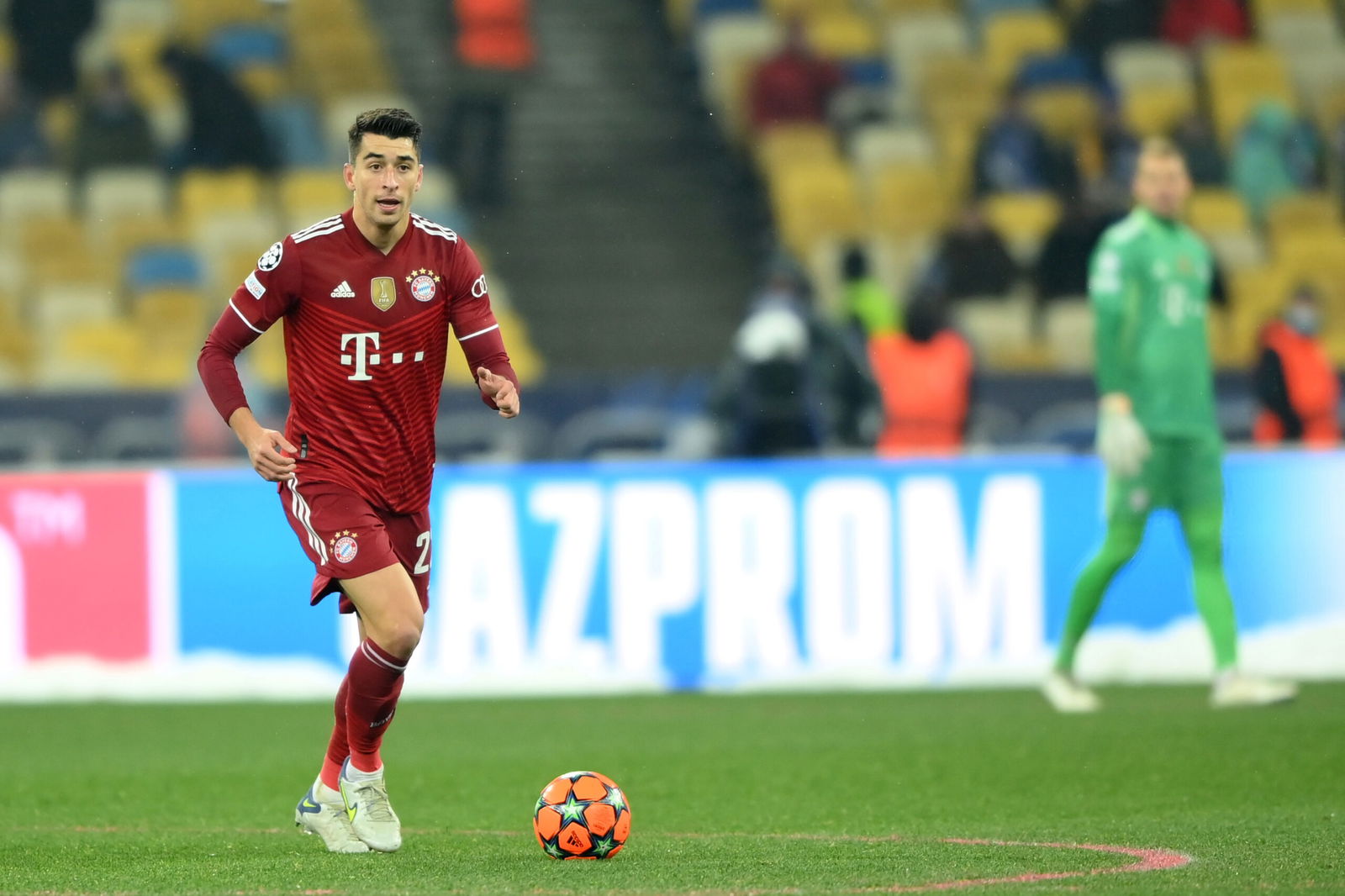 If Kalvin Phillips departs, Roca probably can take up his role in midfield as the key starting deeper pivot player. Even in the scenario Kalvin stays, Roca can form a good midfield partnership with him, where the former is more ball-winning focused and Roca is more shielding and progression focused. Jesse Marsch is finally getting the parts of his ideal Leeds system. If Roca can remain fit and get the consistent run he deserves, he has all the traits to quickly rise up to the heights that were once expected of him.