Buoyed with decent form and sitting in the top half of the table, Leeds would have been expected to outplay Everton. And that's exactly what they did. With 68% possession and 14 shots taken, the Whites were dominating Everton for most part of the match. But, as we have come to know, often in the Premier League, that's not enough for 3 points. The Blues held on somehow and managed a goal of their own to see the game through at 1-1 and earn a dogged point from the fixture. Leeds will see this as a case of '2 points dropped' given their form and ambition this season.
Today we'll analyse the game using 3 major talking points.
1. Progression structure is becoming reliable
Leeds started in a very similar setup to their previous game. The 4-2-3-1 had one major change though, which was predictable for anyone following Leeds this season. Luis Sinisterra finally got his first league start, at the cost of the outgoing Daniel James, who is linked to a move away to Swansea. The rest of the team was the same as before.
Here's the progressive pass map for all players who managed at least 5 progressive passes: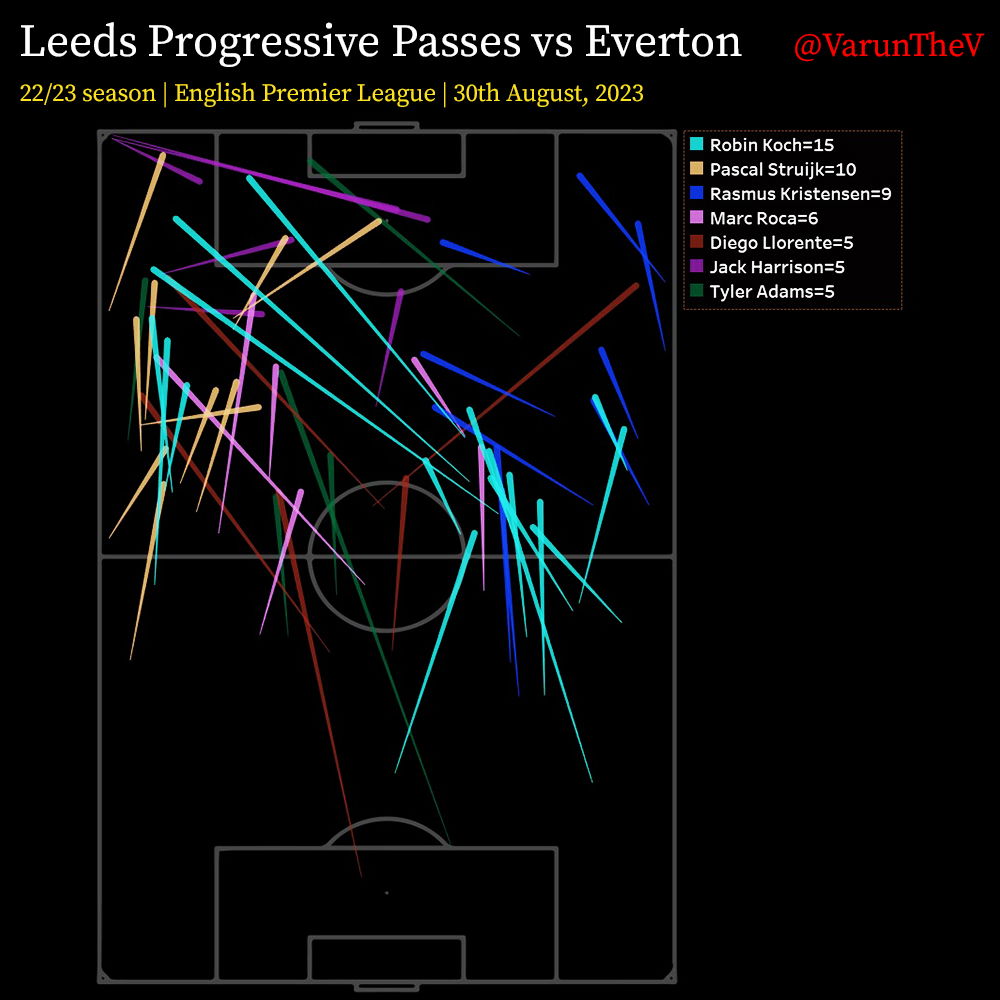 Everton's deep 4-5-1 block meant that Leeds had a lot of time and space to progress. The defenders especially, were able to play higher up the pitch and seek more ambitious inroads than a usual Premier League game. As a result, we saw Robin Koch get a game-high 15 progressive passes, which also happens to be this season's highest in a game for a Leeds player. The right-sided defender had a great game spreading play across the pitch and pushing his team forward from the back.
Pascal Struijk, Rashmus Kristensem and Diego Llorente also had a good display in terms of progression, while the midfield duo of Marc Roca and Tyler Adams also kept on ticking in their usual reliable modes. The back 6 has now become a stable unit that is capable of defending and progressing well. This would ideally be Jesse Marsch's biggest win of the summer and a reason for Leeds' improvement this season.
2. Leeds tried scoring from everywhere
Leeds' dominance on the game gave rise to another interesting feat – 10 outfield players registered a shot on goal throughout the game. A surprising stat, Leeds 14 shots were divided among 10 players.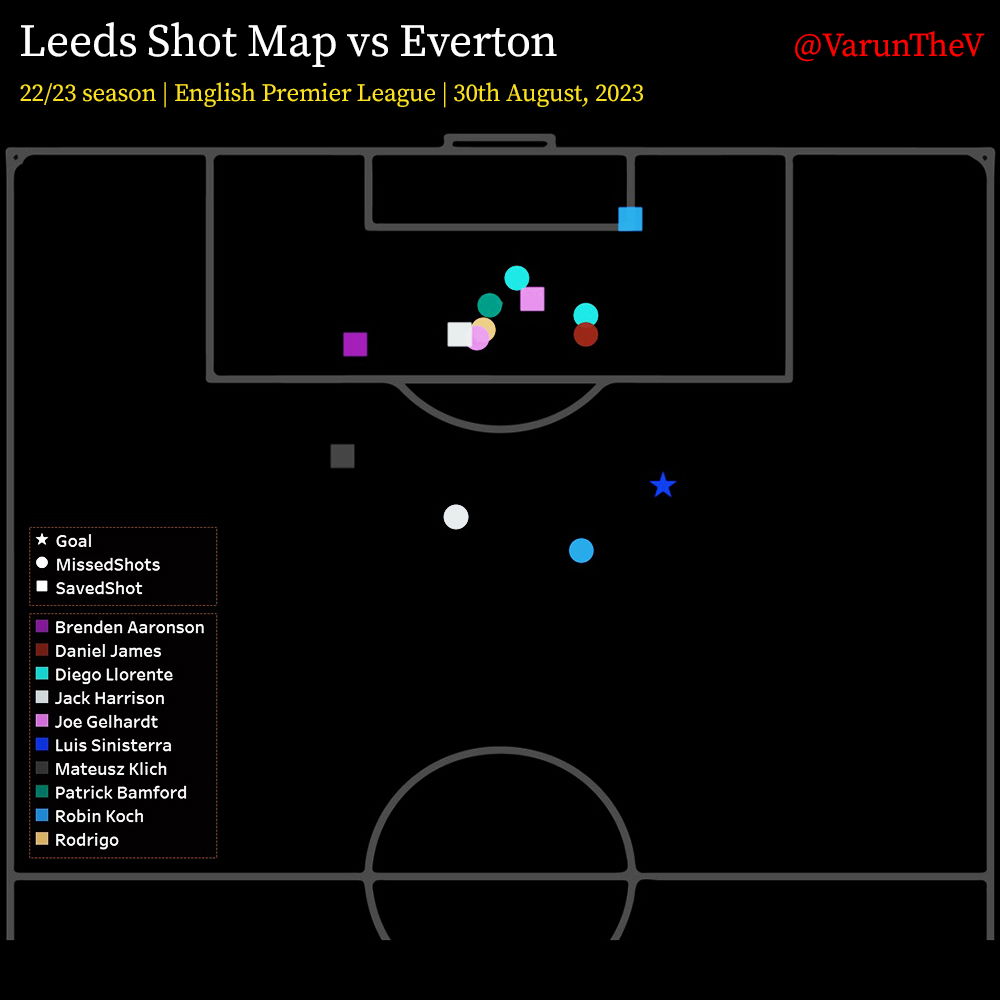 The 10 corners Leeds took meant that both of Leeds' center-backs featured on the shot map. Substitutes Patric Bamford, Daniel James and Joe Gelhardt also had their chances on goal after coming on.
Inspired by the impressive Jack Harrison and substitute Joe Gelhardt, Leeds tore into their opponents only to find Pickford in top form, denying both players and Brenden Aaronson.
Rodrigo had the best chance of the first half when he was inches away from connecting with a Harrison cross early on, but it was only after the break that the hosts began to test Pickford. Aaronson drew a fine stop from the Everton goalkeeper before Harrison had another effort saved. But the England number one could do little about Sinisterra's effort from the edge of the box.
Overall, it was a good attacking display, and on another day if Pickford wasn't in good form or one of the better attempts had sneaked in, this would have been a straightforward win for the Whites.
3. Marsch again blames the referee
For the second game Jesse Marsch was frustrated that his team could not build on their good form. A lot of his frustrations were also directed at the referee and the opposition manager as he complained of 'time-wasting' among other things. Marsch was also quick to agree that Leeds were fortunate to have not conceded a goal late on, from a situation that later turned out to be offside.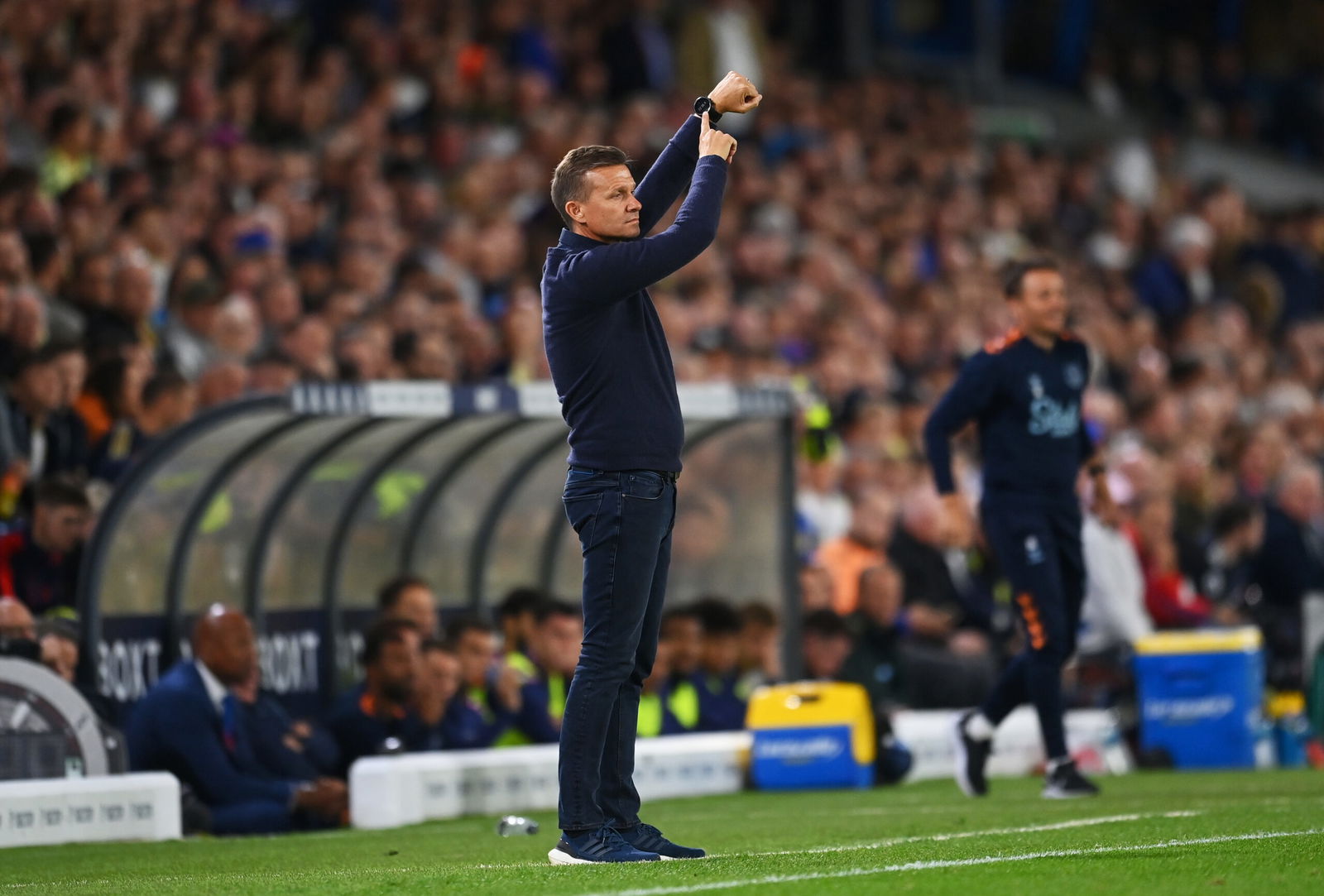 Jesse Marsch on Everton: "We knew how dangerous they are on the counter. We did a good job at managing it in many moments but it only takes one the other way to make the game a little bit more difficult and put it in the balance. I just saw the offside goal, it was so close and really lucky that it didn't count. What I see with our team is a team that is really growing and getting better. Now we can be good with the ball, against the ball, in transition and now we need more goals. I'm really pleased in the direction we're going, the players we have and the look of our team right now."
He added: "It (The time-wasting) was terrible. This is classic. For me, you could see when the Everton players are kicking the ball away in the first minute, they want to take the energy out of Elland Road. This is still an entertainment business and I wish the referee would have handled it a little better and created more urgency. After it was 1-1, it became an entertaining match but it was too late."
In the end, there were moments where it felt like Everton could walk away with all the 3 points. But Leeds fans need to remain objective and look at the overall picture – they dominated a team that had to resort to defending deep, countering and time-wasting. It's still a clear picture of where Leeds are as a football club this season. Marsch might lament the 2 points dropped, but that's only because Leeds are now operating at a high level where 3 points against Everton are expected before the ball is kicked. At least, that's what Leeds fans should be thinking.