Leeds finally broke 6 continuous goal-less hours in the Premier League with 2 goals against Norwich over the weekend. Granted, it was against a relegation contender who look sure of going down themselves, but new manager Jesse Marsch will take his first win with confidence. A 94th minute winner against any team is a moment to cherish and Leeds fans won't be wrong in hoping that such a morale-raising goal could be the catalyst for the dramatic change in fortunes that everyone expects after Jesse Marsch's appointment. We take a look at the 3 things we learned from a tactical perspective from the 2-1 win.
1. The attack was on song
One of Leeds' biggest issues has been the goalless streak over the past few games. Leeds were unable to score against Villa, Leicester, Tottenham and Liverpool in their last 4 games. The 2 goals scored against Manchester United in the 4-2 loss on February 20th was the last time the Whites troubled the scoring charts. Sunday's game against Norwich changed all that. Leeds were good in attack, regularly troubling the Norwich defence. It can be argued that Leeds probably deserved to be ahead well before the requirement of an injury time winner.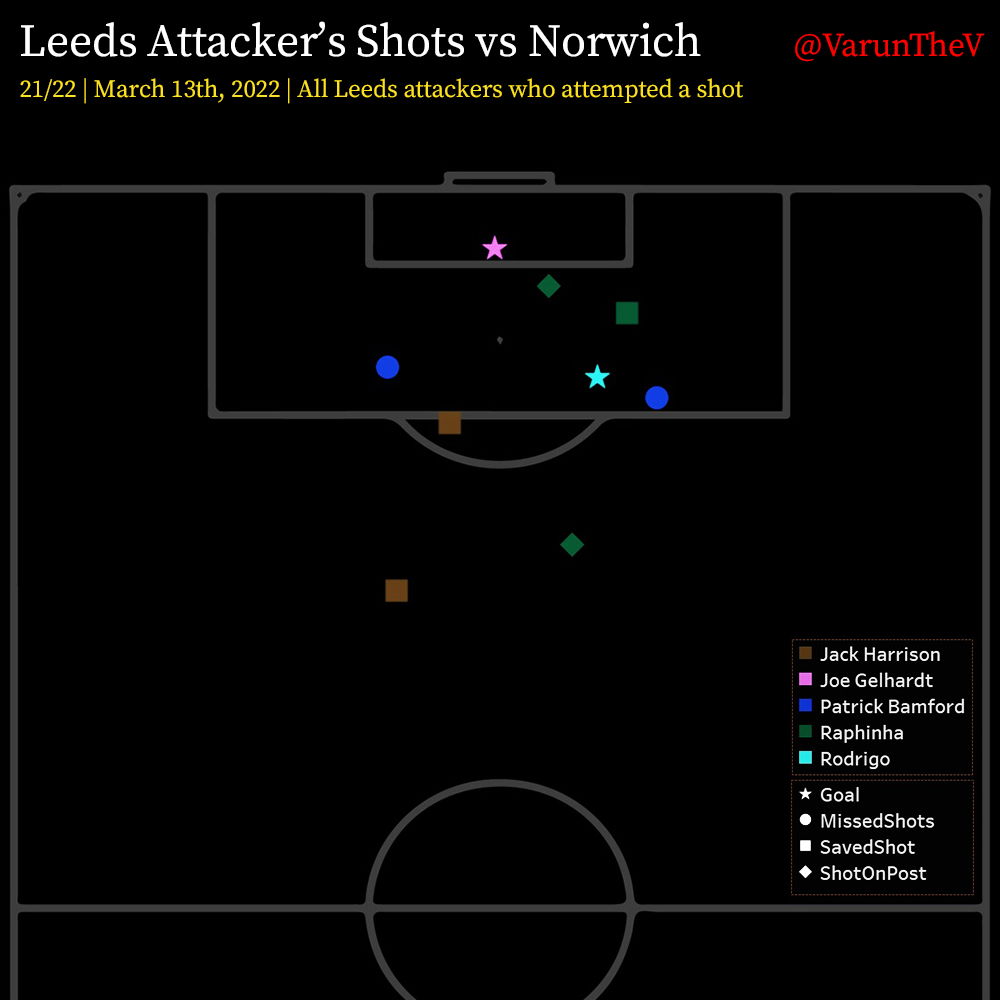 Above is a shot map of Leeds attackers versus Norwich. Jesse Marsch's side had ample opportunity to fairly extend their advantage in the first half. Pressing with a concentrated intensity, Leeds repeatedly robbed their visitors before finding unique ways to miss the net. Raphinha crashed the ball off the crossbar but the returning striker Patrick Bamford was the chief culprit of the callous finishing, lackadaisically shooting a side-foot wide with the goal gaping in the closing stages of the first half. There were a few more near misses other than these big moments.
The goal came as a result of Rodrigo piercing through a scrappy first 15 minutes to lash in an opening goal that deflected viciously off Ben Gibson's leg. As the game ticked into the final seconds of its six added minutes, Raphinha dribbled his way into the Norwich box before having the composure to cut back for substitute Joe Gelhardt who rattled in a last-gasp winner. In the end, the Whites were a constant menace and deserved their goals. They had 13 shots with 7 on target and accrued an xG (expected goals) of 2.5, thoroughly deserving the 2 they got on the day.
2. Progression was taken care by the fullbacks
Jesse Marsch fielded a 4-2-3-1 system. Tactically the aim seemed to be to narrow the attacking trio and attacking midfielder behind them so that they could offer more central penetration and find each other via shorter passes on the transition after winning the ball high. This worked a treat with the 4 attackers often pressing well in unison and looking for each other on the counter to create chances. What this meant was that none of the 4 were responsible for progression from wide areas. That duty largely fell to the fullbacks.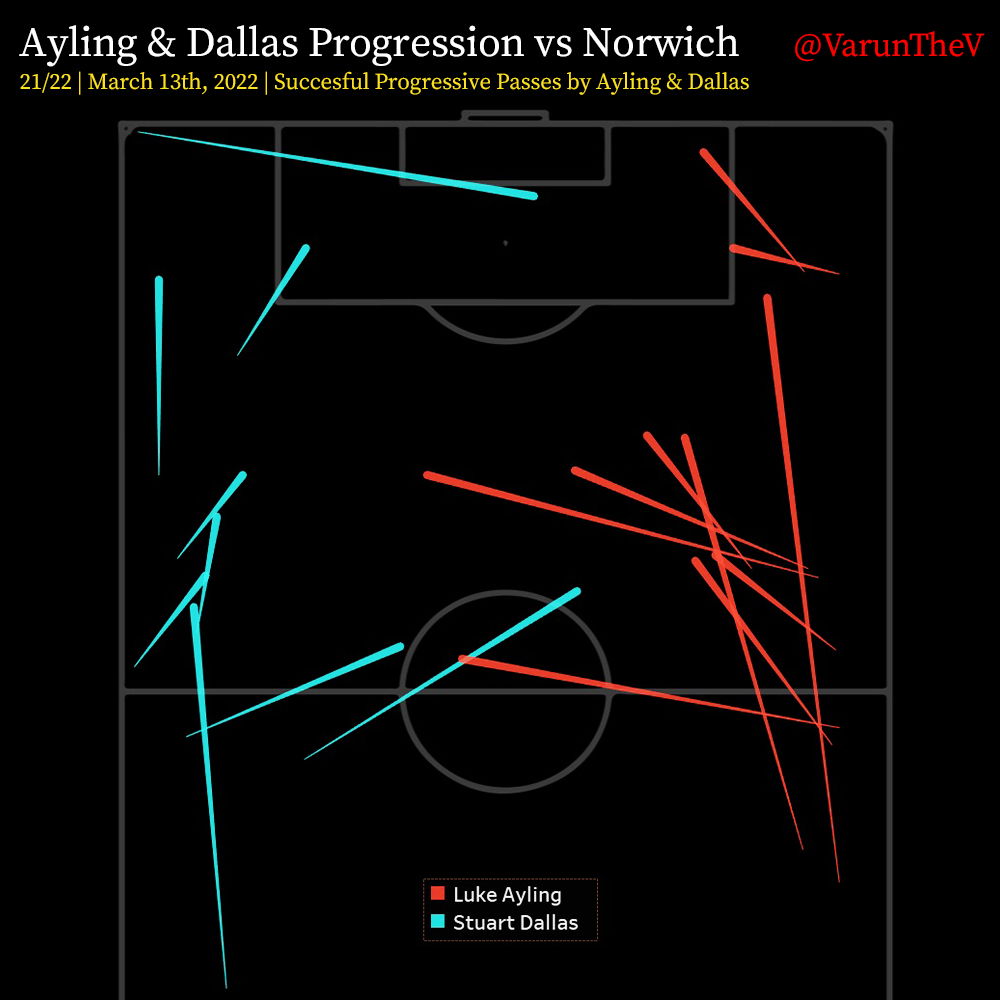 Ayling and Dallas were at their progressive best both clocking game-high 10 and 9 progressive passes respectively on the day. This is a major increase from their season averages of 4 and 4.5 (roughly) indicating a big chance from their previous role under Marceo Bielsa. Marsch wants the fullbacks to express themselves and look for direct vertical passes to the attackers. Both wide defenders would either find their flank's winger using a long vertical pass or an attacker in a dangerous central area through a smart diagonal inside the pitch. It really helped the wingers remain narrow and focus on central penetration and creation and helped the team reduce width to press as a pack in the crowded central zones and instigate counters. This will be a key tactical component of Jesse Marsch's game plan going forward.
3. A new era begins
It hasn't been an easy start for new manager Jesse Marsch. After getting beaten by Leicester and Aston Villa, a winnable game against bottom-table Norwich was really important for him to convince the Leeds faithful that he is the right man for the job. And that's exactly what he did on Sunday. While the scoreline and last-gasp nature might make it feel like it was a near-escape situation, the performance promised a lot more. Marsch's tactical ideas were finally starting to become visible and Leeds' efficiency and intensity in the press helped them dominate. Marsch's own pressing ethos were on display as the team pegged back Norwich in their half and won many balls through intense pressing. The vertical nature of attack, progression from fullbacks and crisp quick counters were also taking form whenever Leeds had the ball. We are finally witnessing Marsch ball.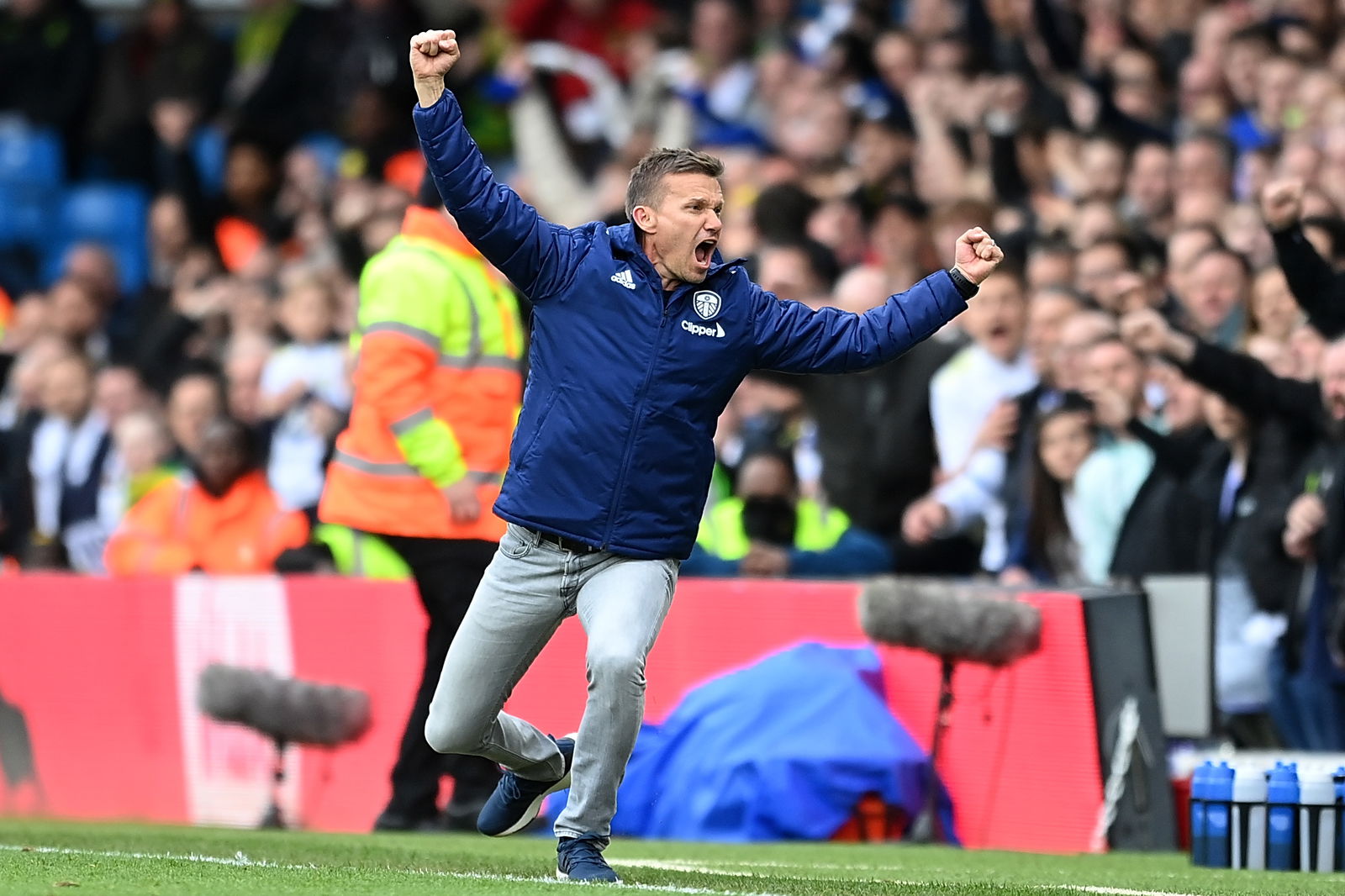 Manager Marsch was quick to highlight the home crows which deserved their praise after being electric in support.
"I've heard a lot about the magic of Elland Road and I think we felt that today. The crowd was fantastic, I think the performance brought the crowd into the game. The three points are incredibly massive for us, but we played well and we deserved this today. We had big chances. If we were a little bit cleaner in the last third, with some of our chances in the first half, I think we could have finished off the game earlier. But right now the way it is for us in our situation, we have to fight for everything and that's OK because it can make us stronger. We will keep pushing."
The first glimpses of Marsch ball, a morale-boosting injury-time winner and a win against fellow relegation contenders – Sunday was a good day for Leeds United and fans will be hoping for many more of such days under Jesse Marsch.