A win against Wolves and a dominant display against Southampton, which sadly ended in a draw, aren't bad ways to start a season for a team that barely survived relegation. The mood in the camp looked good, but that doesn't guarantee much when you face a juggernaut like Chelsea. Or does it?
In probably what will go down as one of the best days in modern Leeds United history, the Whites completely shocked the Blues in an ectatic 3-0 win where Leeds deserved all 3 points. The home side thrived from the chaos they created, as Chelsea manager Tuchel's need for control over the game wasn't respected by the Whites. It was a frenetic game that ended in a deserving one-sided win.
Today we'll analyse the game using 3 major talking points.
1. Leeds dominated the wide areas
Leeds started in a very similar setup to their first 2 games. Only 1 change was made from the lineup against Southampton – Daniel James for the injured Bamford. Rodrigo took up the striker role ahead of James, Aaronson and Harrison while the effective picot of Roca and Adams continued in the middle. Marsch's leeds never really cared about possession that much, and that was visible once again as they let Chelsea bag 61% possession on the day. Not that it mattered much, since when Leeds got the ball, they always knew exactly what to do.
Here's the progressive pass map for all players who managed at least 4 progressive passes: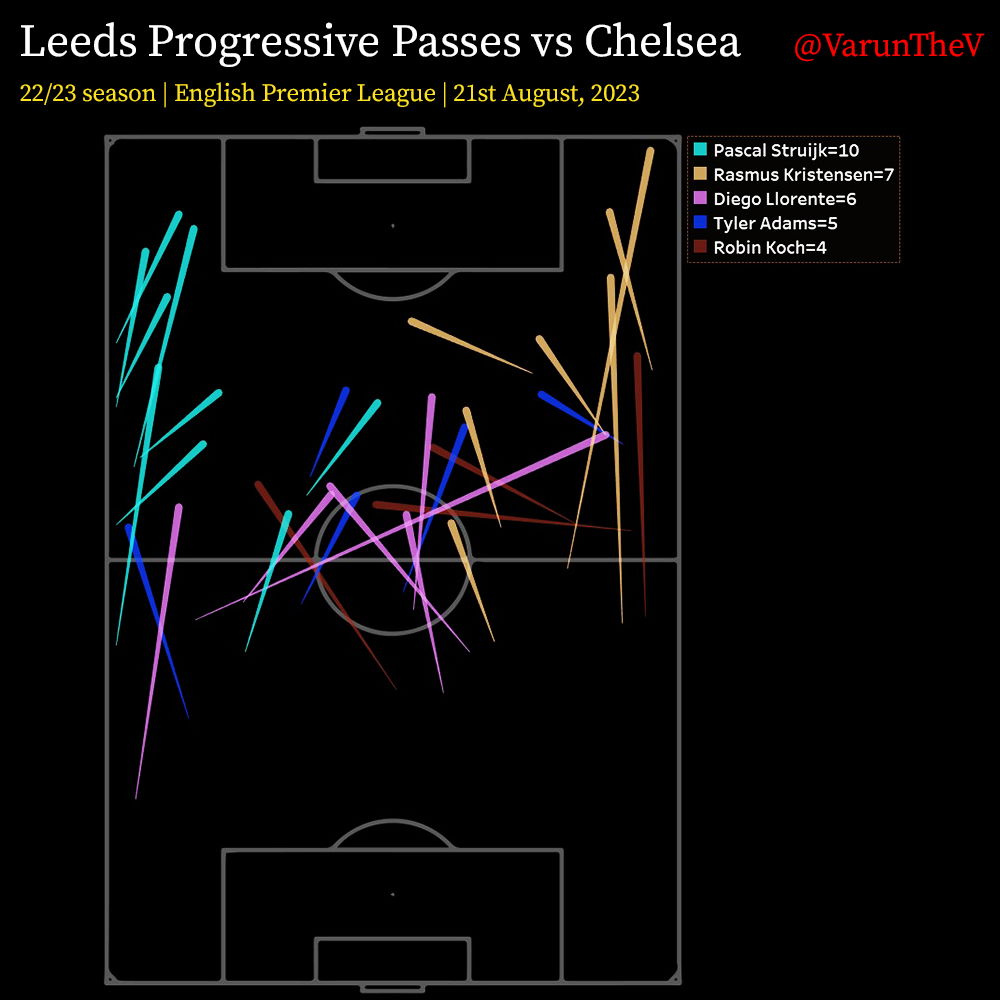 Chelsea's back 5 hasn't always been easy to get past in recent years under Thomas Tuchel, but Jesse Marsch had a good plan on how to penetrate. Leeds attacked the wide areas, constantly progressing on the wing to stretch the Chelsea defence and creating gaps that their central players could take advantage of. Key to this were fullbacks Struijk and Kristensen, both of whom topped the progressive passes chart. While they did have a few passes to central areas, the focus was largely to play vertical on the wings.
The 2 centre-backs and Tyler Adams enjoyed the next most progressive passes, highlighting how Chelsea weren't as high pressing as one would think. Where Chelsea did stop any kind of penetration was deeper in their half in the central zones. They didn't allow any pass into the penalty area, while progressive passes into the final third from the center of the pitch were minimal. The compact and deeper defence was probably adopted to restrict Marsch's narrow counter-pressing approach, and while it seemed like a decent idea, it didn't work as Leeds found space on the flanks and managed to pull Chelsea defenders out that way.
2. High volume of shots created
Rodrigo's scintillating form in front of goal continued, but as a team Leeds created 12 shots against a top 4 hopeful, which should give the team and its fans a lot of confidence. 3 of these were goals while only 3 shots were off target. An accumulated expected goals (xG) of 2.0 reads well against a tough opponent.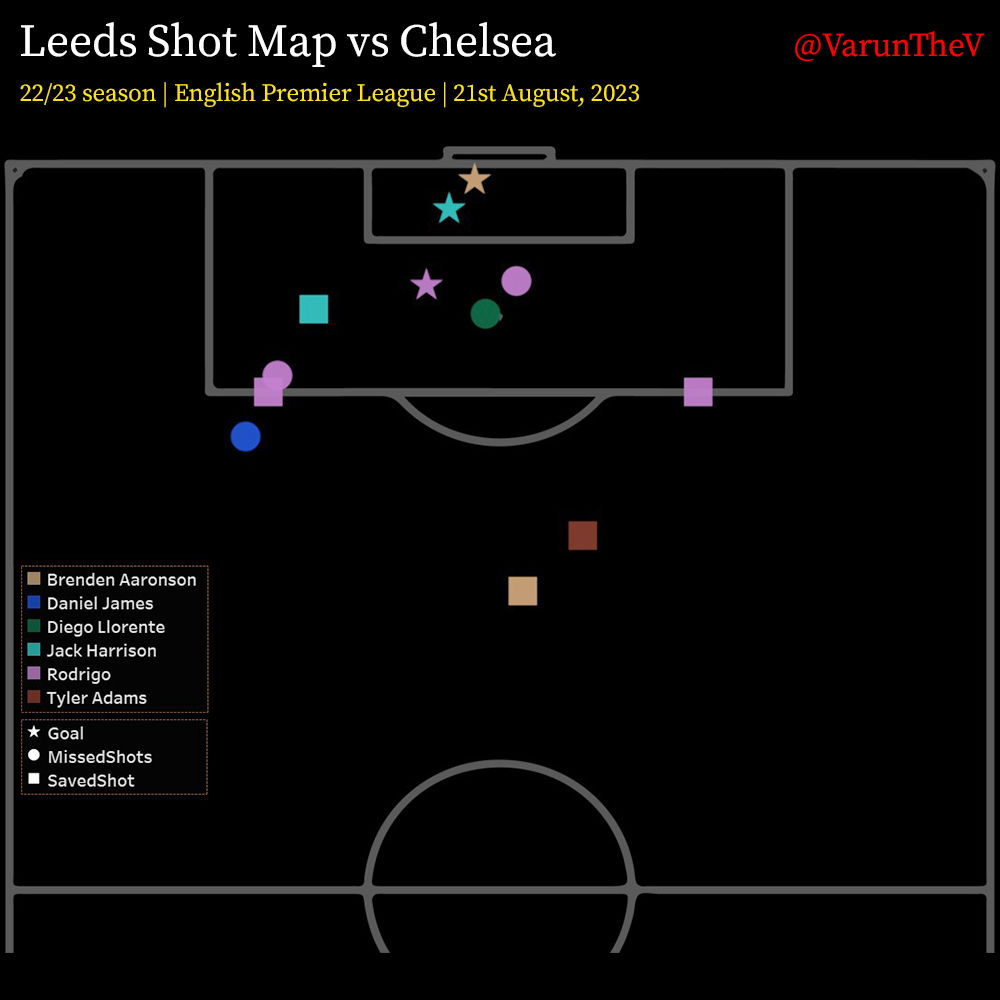 It helps when the opposition goalkeeper gifts you the opening goal. A situation created by wonderfully intense pressing from Aaronson, the pressure forced a miscontrol from Eduoard Mendy and gave the American the easiest tap-in he might score for Leeds United (listed as an xG of 1.0). 
When Raheem Sterling fouled Marc Roca, Harrison whipped in a free kick and Rodrigo rose highest to glance in a header. Reinvented as a goalscorer by Marsch and given the captain's armband, he had twice come close earlier. If Patrick Bamford's absences cost Leeds last season, they did not now. 
Scorer and supplier swapped roles for the third goal. Harrison had just become just the third Englishman to assist in each of the first three Premier League games of a season. Rodrigo stabbed the ball into his path and the winger applied the finishing touch. Rodrigo could have made it four as Leeds were increasingly rampant.
3. Jesse Marsch is feeling the love
7 points from 3 games against Wolves, Southampton and Chelsea is a great way to start a season. FiveThirtyEight's predictive model already puts Leeds at 12th place, such has been the start to the season. While it's still early days, and all that could change very quickly with a few bad games, the positive signs are clear. Marsch's tactics are booking much sharper, his new signings have all started on a high, many of the existing players seem reborn again, and the buzz around Elland Road for an improved season is loud and clear.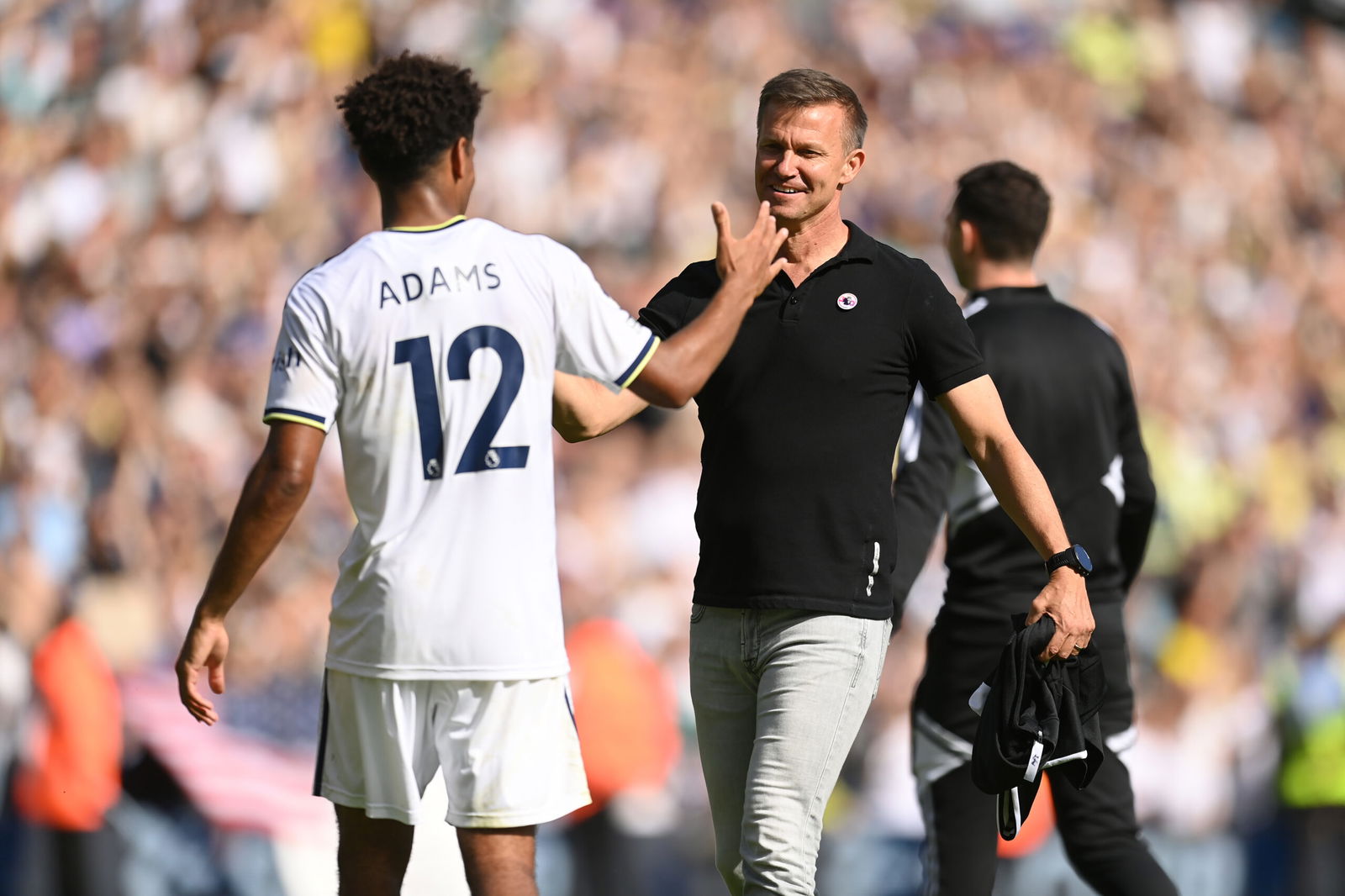 An emphatic and deserved 3-0 win against one of the best teams in the league probably merits a post-match presser filled with romance and passion. Jesse Marsch did not disappoint.
"I love it here, I love our fans, our club. You have to enjoy it, this business is not easy," the manager said."I felt like I belonged from day one. The team has to represent the identity of the club and the fan base. They are never out worked and never out run. The more we can build on performances, we can really build something. I wish everyone could see how hard these guys work every day. We have felt it in the inside for months now."
Regarding the performance, he added, "It was a complete performance. We had a few different plans on what they [Chelsea] would look like and the guys did a good job of adjusting. We wanted to play with aggression but controlled and we accomplished our goals."
Jesse Marsch has every right to claim he knew he belonged from day one. It's hard for anyone associated with the Whites to argue otherwise. After saving the club from relegation following a terrible season in 21/22, the American has built a team in his image, shown what it means to play peak Marsch ball and delivered results beyond expectation in the first 3 games of 22/23. The win against Chelsea will probably go down as one of the best days in modern Leeds United history. It doesn't get much better than this.