Leeds took another giant step towards safety with a well deserved victory against Watford at Vicarage road, putting a huge dent in any hopes Watford had for safety in the process. A well-taken near-post rifled finish from Raphinha, an opportunistic pounce from Rodrigo after a defensive mix-up and a cleanly-struck bullet from Harrison were enough to give Leeds what turned out to be a comfortable win in the end.
After defeats in his first two games in charge, Jesse Marsch has guided Leeds to three victories in a four-game unbeaten run which has lifted the Yorkshire club nine points clear of the relegation zone and with another season of top-flight football within reach.
We take a look at the three things we learned from a tactical perspective from the 3-0 win.
1. The right side is the right side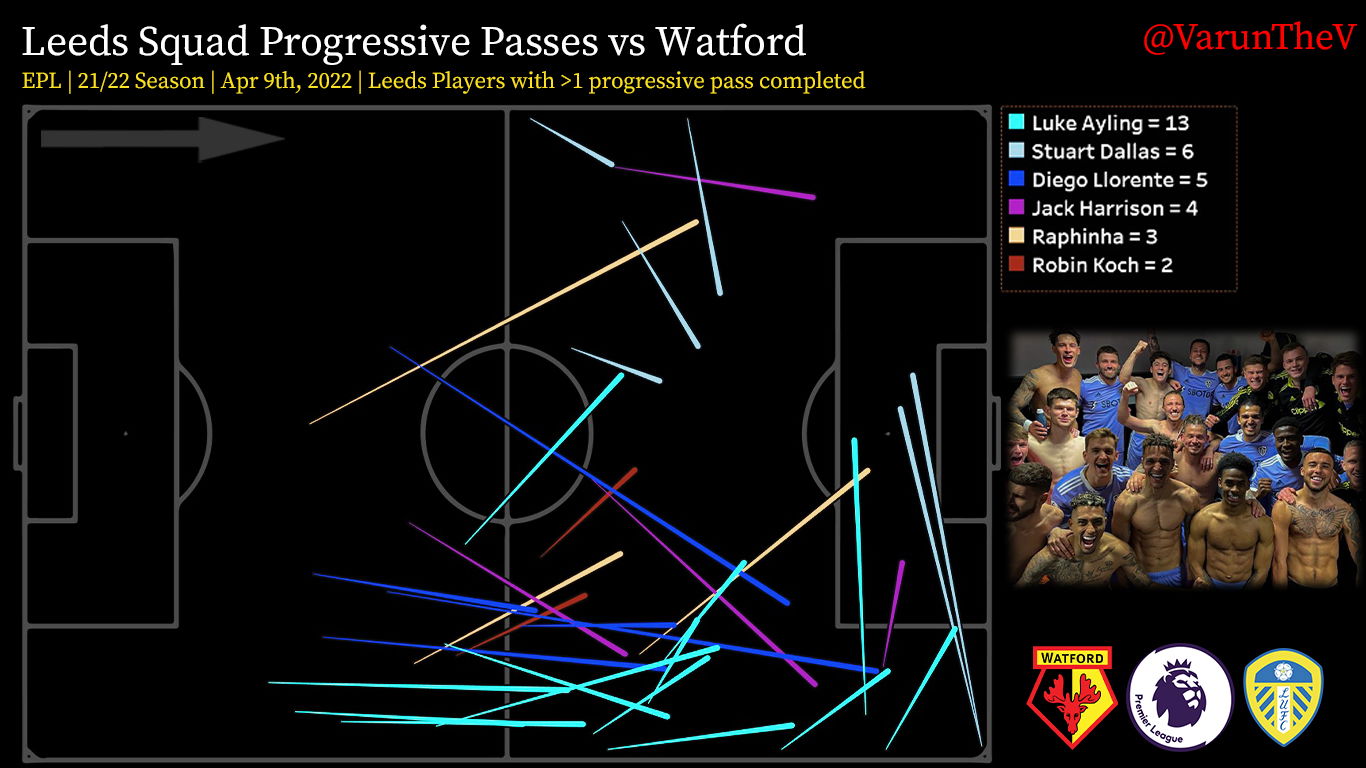 Whether it's because of the plethora of left-footed attackers who prefer the right side like Harrison, Raphinha and Rodrigo or the presence of good progressors on the right side like Ayling, Llorente and Dallas, whatever the reason be, Leeds are very right-bent when it comes to their progression and gameplay. This is a funny reversal from most top teams who are heavily left-biased in world football thanks to strong right-footed attackers.
Ayling was once again top of the progressive passing charts with 13. Jesse Marsch's tactics require high progression from the fullbacks with the attackers tucking in narrowly and if there is one person who has taken well to this, it's Ayling. He's been constantly belting more than 8 progressive passes per game since Marsch's takeover when his season average is below 6. Llorente and Dallas also had good progression indicating how much Watford were sitting back, allowing Leeds defenders to be adventurous on the ball. The attackers couldn't progress as much due to being involved in really tight areas in the Watford low block.
2. A captain's performance by Cooper
Leeds' official twitter handle ran a poll asking for the man of the match and captain Liam Cooper won it by a good margin. It's hard to argue against the fans. Cooper was fantastic at the back. He came back from injury for the previous game against the Saints and looked good if not great, but against Watford he didn't look rusty at all.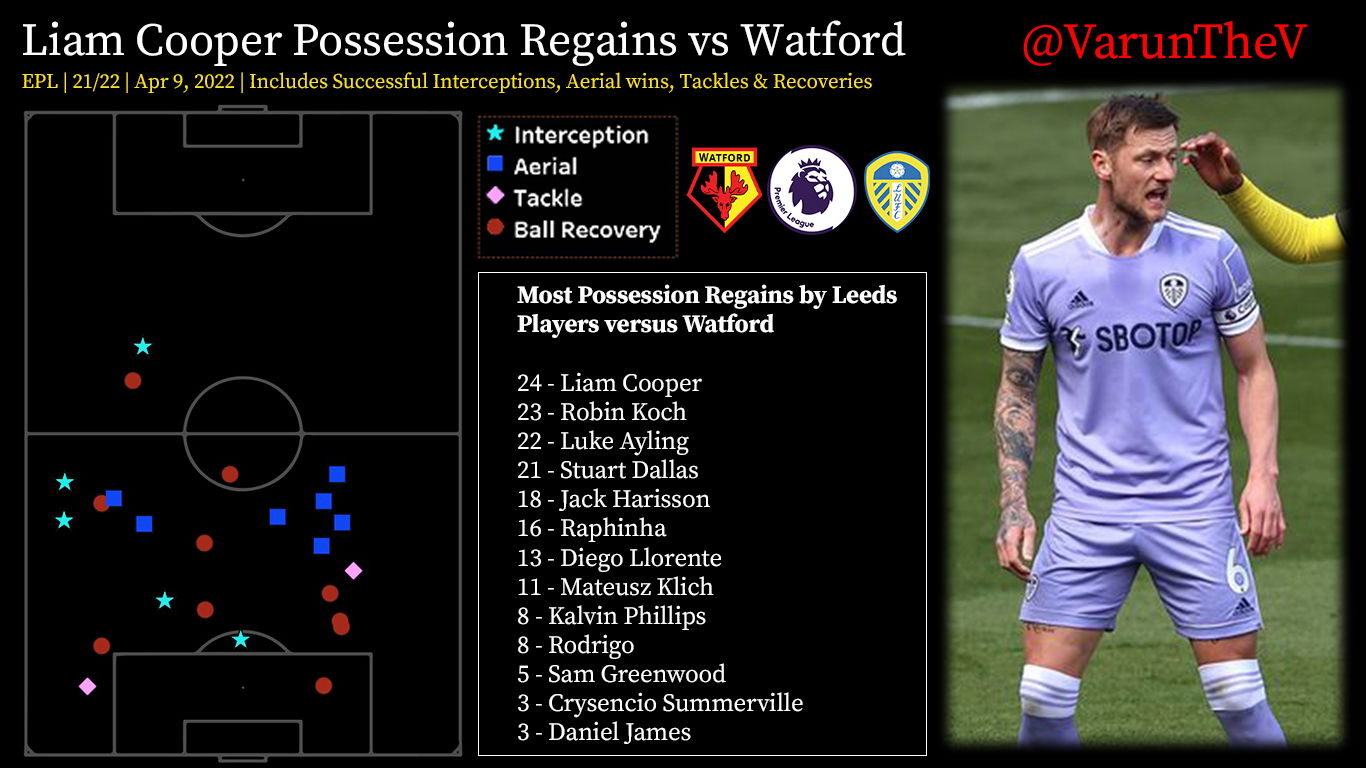 Cooper was high on the pitch as Leeds tried to press the Watford team back, which resulted in him often winning the ball high up the pitch or showcasing his impressive positioning and energy to track and regain possession in deeper areas. He boasted 5 interceptions on the day and all his 7 aerial wins were outside the box indicating how high he was duelling on the day. His 24 possession regains were the most by any player from Leeds United. He was ably supported in defensive duties by Robin Koch, Ayling and Dallas who also capped 20+ possession regains on the day. With Cooper back in fitness and form, the defensive security that Leeds will be counting on to get them to safety just seems a lot more assured now.
3. Leeds are doing enough….for now
It wasn't a vintage display by any means. Many fans and analysts have called out the lack of control Leeds had over the game, often going for directness and energy over safety and composure and creating an end-to-end nature to the game that probably wasn't always required. The vertical and open nature of the game meant that Watford did get behind a few times with one notable chance falling to Ismaila Sarr who shot high and wide. A goal in that situation could have taken the match in a very different direction. 
The obvious complaint is that a better team than Watford has the ability to punish Leeds if they play so open and direct. From that angle it wasn't the most convincing display and it would probably take a lot more coaching time and a few ins and outs for Leeds to start playing proper Marsch ball. But the bottom line here is that, if the short-term goal for the club is to escape relegation, then a 3-0 win against anyone in the league, a day after relegation rivals Everton picked up a huge 3 points against struggling Manchester United, is a godsend.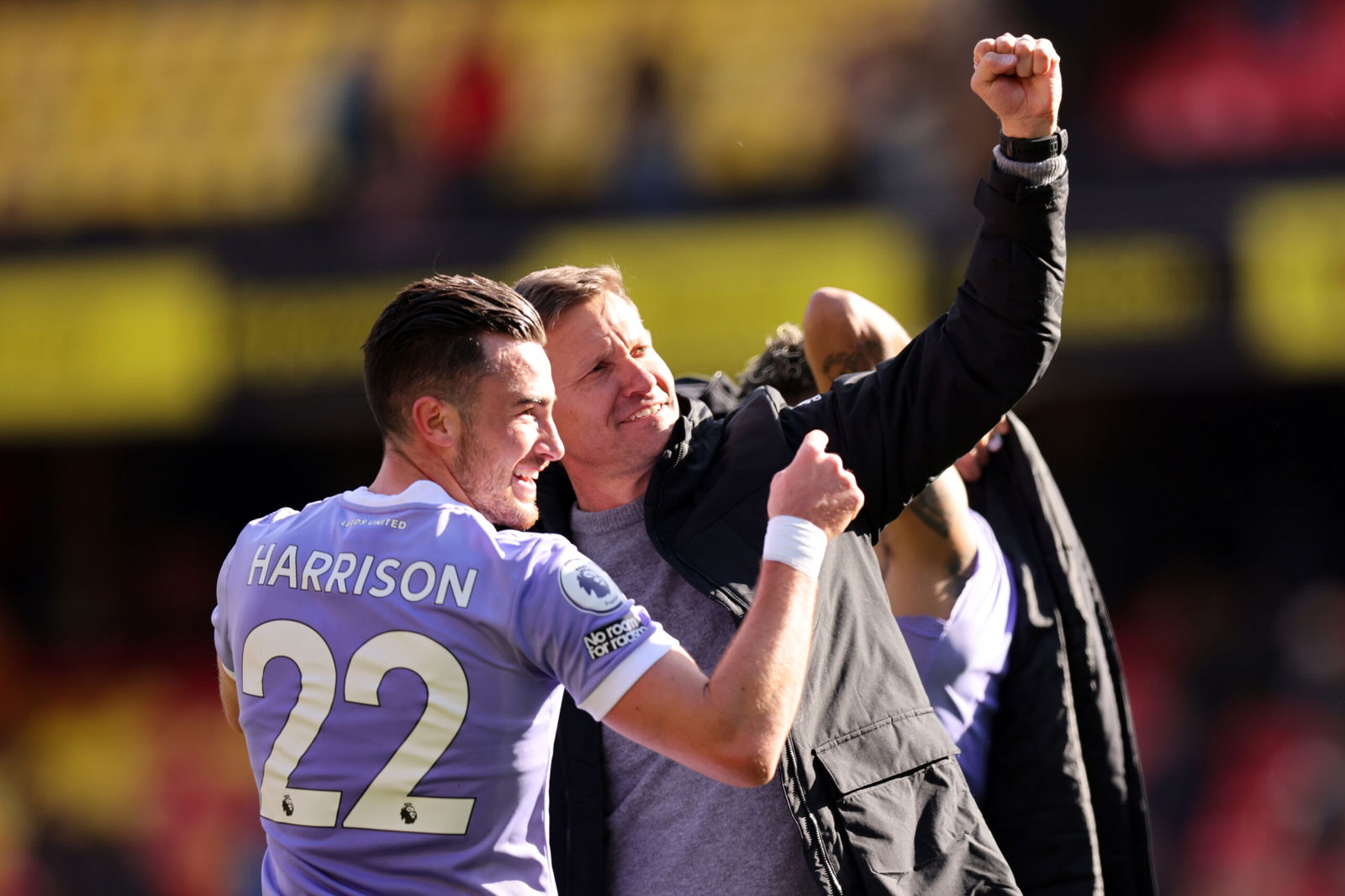 Manager Jesse Marsch was candid enough to accept the problem and point out the positives to take in the short term.
He said after the game: "I tried to, at half-time, be a little bit clear that we can calm down a little bit and play with a little bit more confidence in some spaces and find some more advantages. But the game was such that they were going to isolate a lot of their wingers in one-v-one situations, that they were going to capitalise on second balls and look to see if they could get out on the counter. For the most part, I felt like we contained that pretty well so the defensive performance I think was quite good. The Jack Harrison goal, we'd like to see more moments where we can win balls, where we can cleanly and calmly play forward, and where we can create advantages and then finish them off a little bit cleaner. So, we're not quite there yet but still, to get a clean sheet, to score three goals on the day and to get a massive result here, I think is really important for us."
Leeds do have a long way to go to perfect their game and have lots to think about for the summer window, but at the moment, staying in the Premier League probably trumps discourse over tactical mastery. FiveThirtyEight's SPI rankings that predicts where teams could finish using complex data, gives Leeds only a 10% chance of going down after the latest round of results. It projects the Whites to end up with 38 points ahead of Everton (36) and Burnley (33) confirming the general norm that 35 points is enough to beat the drop. For all practical purposes, the win against Watford was a case of "job done".