Joe Gelhardt is the next big thing at Leeds United. Despite being 19, he already has a decent amount of first-team football behind him having played in the Championship for Wigan Athletic. After the Latics relegation, the Whites picked up the Liverpool-born striker for just £1 million he's shone so far at Elland Road – whether that's in the under-23s or in his brief first-team showings. He came off the bench for Bielsa's side to earn a penalty and a vital point in the recent 1-1 draw against Wolves, and there is no question the Elland Road faithful are keen to see more of this wonderkid who has all the attributes to make it at the top level.
Career Record
Gelhardt debuted for Wigan's first team back in August 2018 at the age of just 16. Athletic were sorry to see the starlet leave after he'd already impressed in 18 appearances for the club. He's also enjoyed success at international level for the England teams from Under 16s all the way up to the Under 19s, with a recent call-up to the Under 20s seeing him continue his development as he scored twice on his debut. On the international stage, he averages 1.8 shots per game and boasts an intriguing pass success rate. He completes just under 70% of his passes in an England shirt which may seem poor on paper, but it suggests that the youngster is looking to create attacking opportunities for others which is a key part of being a modern striker. Overall he has phenomenal record at youth level for his country, scoring 21 goals in 28 matches which allows the stats to back up the noise that is being made about Gelhardt.
Wayne Rooney comparisons
Gelhardt is often likened to a young Wayne Rooney, which is some comparison to have. Rooney is still regarded as the greatest youngster to have ever played in the Premier League, and Gelhardt's likeness to the England great goes beyond the fact they were both born in Liverpool. The link to Rooney is down to Gelhardt's tenacity, physicality and willingness to put himself about in the box and score goals on the back of it. Thus, it's interesting to note that he's already beginning to evolve the passing side of his game which became a fixture of Rooney's style later in his career. That said, it still needs some work if he wants to use that element of his game at a senior level because at the moment it leaves a lot to be desired in terms of completion rate. His long shots – another attribute we used to see in Rooney's game – is something to behold. A skill we see less and less of in the top flight, perhaps he could see it become a prominent fixture of Leeds' attack in the years to come. He's also deadly in the box. Even at 16, he had a wide build making him intimidating and difficult to stop. However, his strength is complimented by a sharpness and speed of thought which often culminates in quick turns catching defenders cold.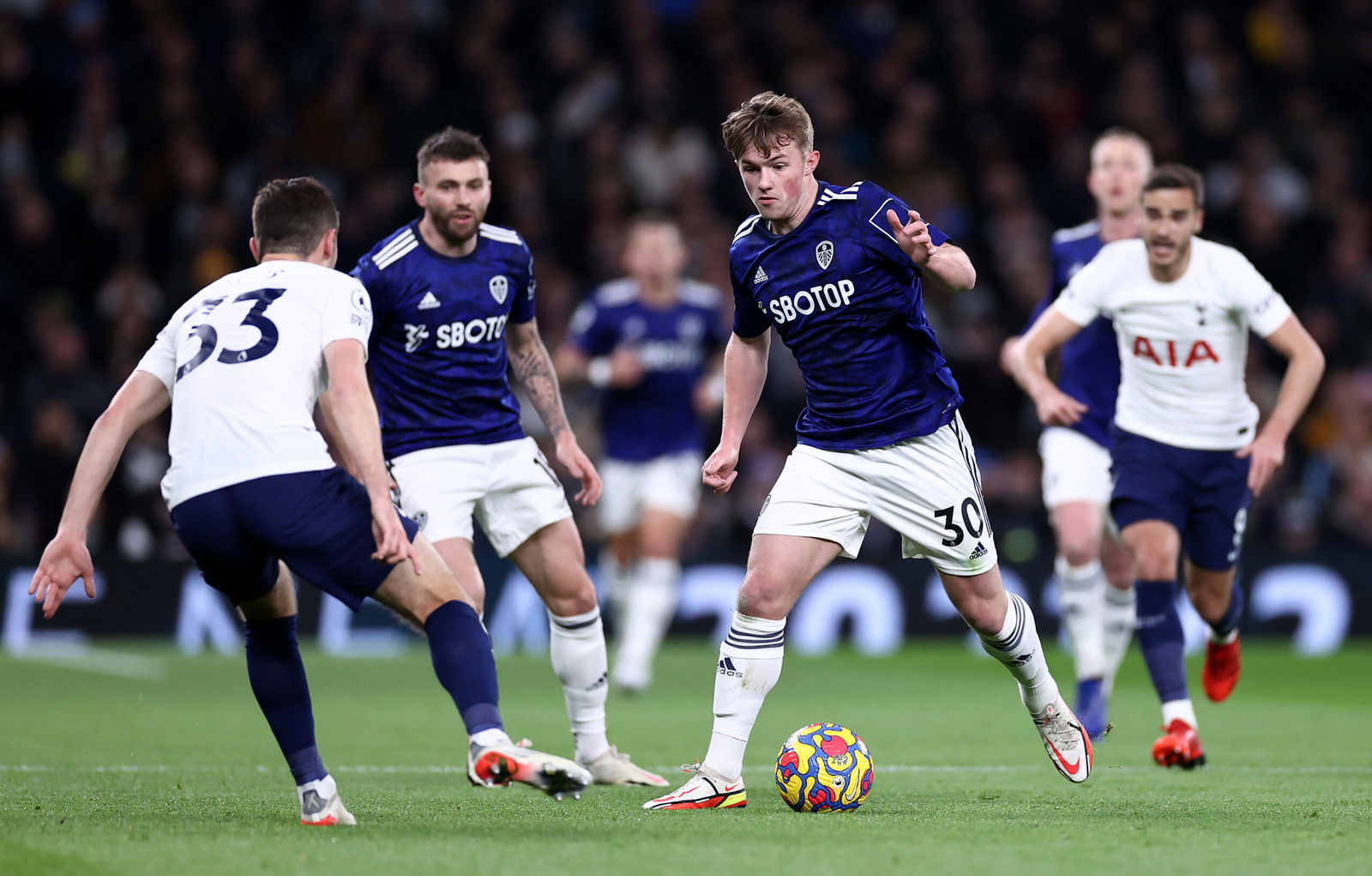 With a killer left foot, Gelhardt is a nightmare for defences when he cuts in from the right, meaning we could see him develop into a winger akin to Mo Salah or Leeds' own Raphinha over the next few years. He certainly has the tenacity for it, often showing great strength to push beyond defenders to come inside and shoot whilst we can also see his power in broken play when the ball is kicked up field and he wrestles it away from defences. This attribute could be moulded into a key facet of Leeds' signature high press.
Future
There are pros and cons for Gelhardt at Leeds. The pros are that he is playing for Marcelo Bielsa, one of the greatest coaches in the world of football, which should see his game develop to new levels over the coming months and seasons. The Argentine will instill a work-ethic into the striker which few other managers can, and he won't allow Gelhardt to become complacent, a charachter-trait which can often attach itself to young players when they start earning good money at the top level of the game. Another pro is that Leeds don't have many strikers. In fact, Patrick Bamford is the only out-and-out first-team striker at the club, and as he continues to struggle with injuries, this should provides Gelhardt with his chance. The key world in that last sentence though is 'should', and that brings us onto the cons. Bielsa is known for playing players out of position. Dan James has played the last few matches up front over Gelhardt, something which has frustrated many fans at Elland Road. Not only this, but the maverick boss likes to build a strong youth setup and doesn't rush young players into the team. Though this could be seen as a positive for Gelhardt as he won't be thrown it at the deep end, if he is as good as we think and has the attributes of Wayne Rooney, a lack of game-time could really restrict his development and force him to look for a loan move.
Loan or keep?
Given the injury crisis at Leeds, it's unlikely the club will look to loan out Gelhardt, but if he is not playing, then what's the point? If Patrick Bamford is fit, he plays. That leaves Gelhardt with another two places along the forward line out wide. He won't play over Raphinha and Jack Harrison and Daniel James are likely to contend for the other spot on the left, and even if they are injured or out of form, natural winger and other youth starlet Crysencio Summerville is likely to be preferred. Rodrigo and Mateusz Klich will contest no.10 role, leaving Gelhardt, for now, very much on the edges. For a young, ambitious and talented player, who will believe he can cut it at this level, is that really enough? Gelhardt wants to be playing up front, he looks on the face of it to be the club's second-choice striker, so if the first-choice striker is out injured and he is still not playing, he may look for a loan move. That's not to say Leeds should loan him out, because they probably shouldn't, but for a player who turns 20 in May and has heaps of potential, it maybe best for him to playing every week in the Championship otherwise his career may become stale, despite his tender years. In terms of Gelhardt's long-term future, there is no question it is huge, Leeds just have to make sure they play this right and it lies at Elland Road and not somewhere else.