Leeds United's headline-grabbing last-minute survival has given relief, joy and hope for the future to all Leeds fans around the globe. What seemed like a doomed relegation battle ended with the excitement of Premier League safety and a promise to fix past mistakes and build for the future. Especially with manager Jesse Marsch's first summer window approaching, the onus to get him the players he wants to perfect Marsch-ball, will be high. So far, the window has gotten off to a solid start with teenager Brenden Aaronson, who was linked strongly since the January window itself. The American attacking midfielder has confirmed joining the Whites on a 5-year contract. I wrote about him previously in detail here.
This is probably just the start of a lot of business to be done this summer. Another attacker, who was also strongly linked in January, has come back to the fray, when it comes to transfer rumours around Leeds United. Takumi Minamino apparently rejected a move to join Leeds in January and decided to stay to help Liverpool's quadruple-chasing campaign. He is apparently open to a move now. With 5 Liverpool attackers ahead of him in the pecking order, and just one Premier League start since January, it is clear that the Japanese international wants to move for regular playing time. The question is – will Leeds get their man this time?
In this scout report, I explain why Leeds are so keen on making Minamino a part of their attack.
Minamino's movement – A positionally-fluid attacking threat
Takumi's position and movement alone is worthy of some analysis. In his whole career he has turned up most on the left wing (101 apps) followed by right wing (62 apps), striker (61 apps) and attacking midfielder (41 apps) as per Transfermarkt.com. Even this season he has played 6 times on the right wing, 5 each at striker and left wing and 4 times as an attacking midfielder. This is a player who is very comfortable playing in any of the front 4 positions and often does so as well. Being a right-footed player, he obviously enjoys a slight left-leaning angle, but he's more than capable of turning up anywhere in the attacking phase and being a threat. The best part is that he has 4, 4 and 2 goals each from left wing, right wing and striker showing his consistency in output across positions as well. He has played very less this season and a lot of today's analysis will be around those few games he has played, to highlight his talents even after limited gametime and predict what he is capable of as a Leeds United starter over a full Premier League season.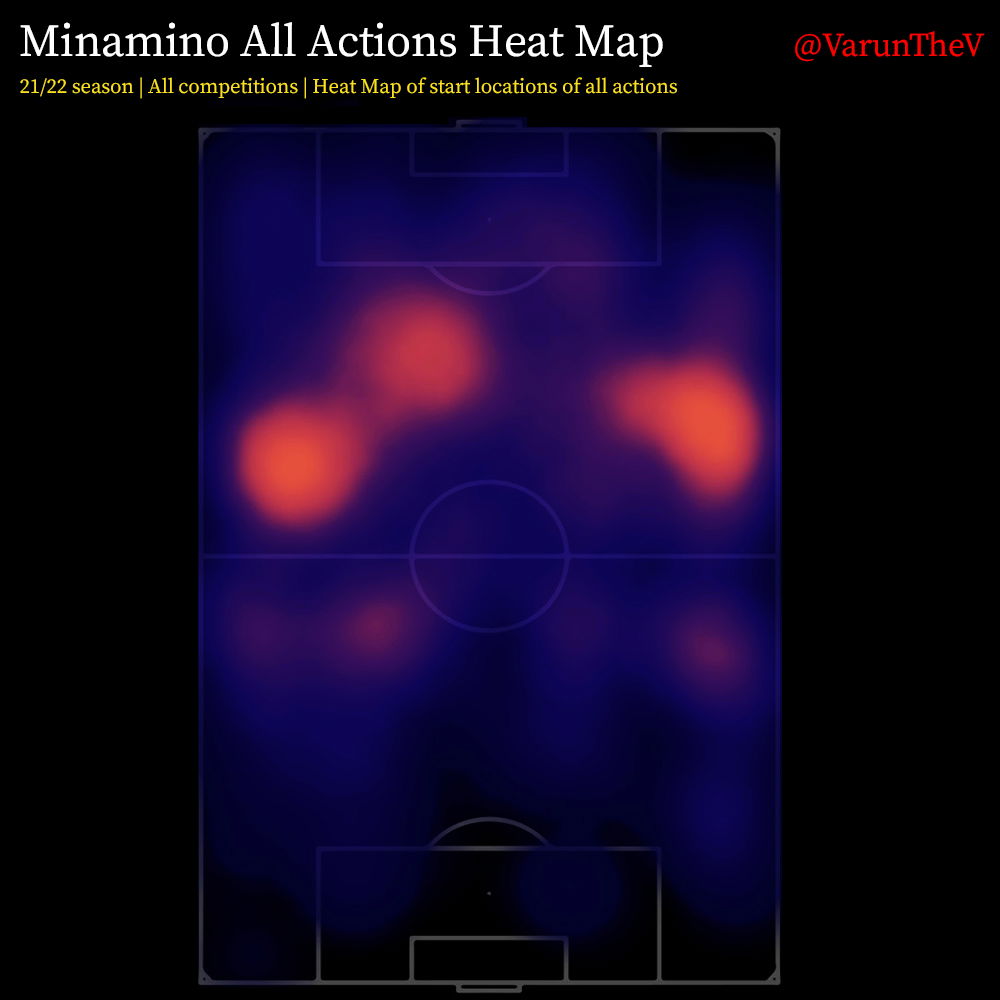 First, we take a look at Minamino's heat map. Liverpool have lined up in their famed 4-3-3 for most of the season barring a few 4-2-3-1 deployments. Minamino as mentioned has turned up often in the front 3 and in the hole as well. His heat map of all actions on the pitch gives us 3 distinct red zones. Two are on either wing, clearly showcasing his time when he starts as a winger. The third is a zone slightly left of centre, which is a combination of his time spent at striker and attacking midfielder. He's not really a box poacher when he plays up front, often preferring to drop to the left half-space when receiving, like a narrow winger or support striker. In that sense, we can probably relate his movement to someone like Kylian Mbappe, who also prefers to drop deep or drift to the wings when he plays striker. These kinds of players don't stand centrally in the box and engage in physical and back-to-goal actions, instead preferring to attack the space out wide and use their pace, dribbling and flair to create and score.
From this, we can say that Minamino is probably best as a winger in a front 3 or support striker in a front 2 and not as good as the central target man in a front 3. This might fit well for Leeds, who are apparently braced to lose Raphinha, given the high interest from powerhouses like Barcelona. This would make a slot on the wings free. With competition in the form of the consistent Jack Harisson, the struggling Daniel James and wonderkid Summerville, 27-year-old Minamino could easily slot in as a regular on either wing and provide some much-lacking goal threat. On some occasions he could even play in a front 2 beside a proper striker like Bamford. Takumi can add that extra flair and goal-focus to the attack that's missing both badly.
Minamino's shooting – A conversion monster
Minamino's standout trait is his ability to impact proceedings almost at will. For someone who has had just 9 starts this season (2 in the league), all of which were wildly interspersed across 10 months, it would be really easy to argue for the inability to generate any sort of form or impact without consistent gametime. But such things don't apply to Minamino. He has 10 goals and 1 assist from these 9 starts. He almost seems to make an impact whenever he comes on the pitch. He has scored in 8 of these matches as well, indicating that it wasn't just accumulation of stats in 1 or 2 games. It's a regular occurrence. Let's take a look at this shot map for this season.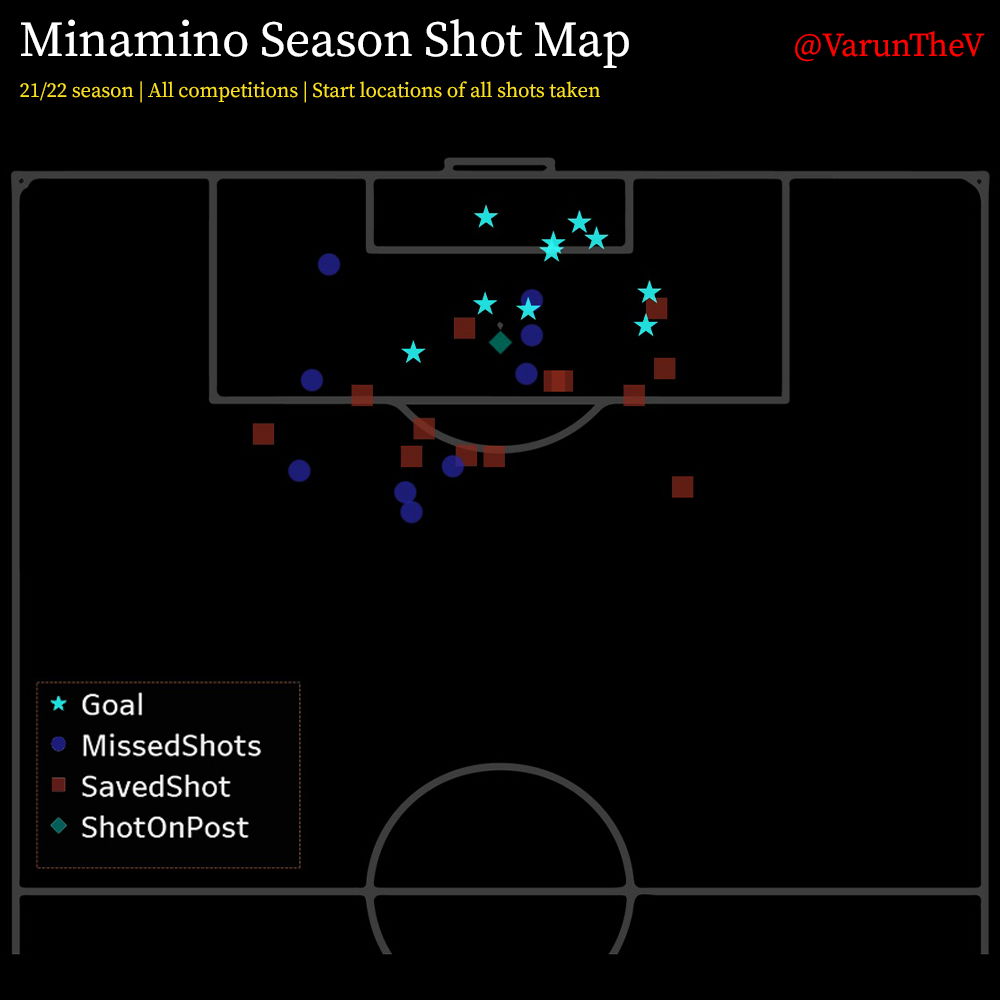 What's ridiculous is that Minamino has taken 30 shots this season of which 11 have been on target and 10 have been goals. This is an unreal example of conversion. His shot quality at 0.19 NPxG/Shot (Non-penalty expected goals per shot) is quite high, indicating that he gets into really good positions before shooting and doesn't pull the trigger unless he has a good chance of scoring. His G-xG (Goals minus expected goals) is +1.1 indicating he has scored 1 goal more than expected, which is also a good thing in the sense that we know this isn't just a case of crazy over-performance, like a flurry of long-range shots going in. These are proper goals that can be replicated over a longer period.
This kind of conversion across a season would get one thinking if he could keep up with the greats of the game, but a few caveats need to be mentioned before we fantasise about greatness. 9 of these starts were in cup games. He's scored against Norwich twice and Preston, Cardiff, Southamton and Brentford once each in this run. While goals against Arsenal and Leicester City still cover Premier League top half level opposition, largely speaking, playing weaker teams is one of the reasons his stats look unreal. It would be unwise to simply multiply his current goal conversion for a full season and expect 30+ goals.
That being said, this is a player who has a really good eye for goal, is a natural finisher and has great movement and poaching traits, to be able to add many goals for a team as a starter, if trusted consistently. If Leeds want a regular goal threat, Minamino is their man.
Minamino's passing – A progressive chance creator
So far, we have Minamino down as a positionally-fluid attacker who prefers the half-spaces and has sublime shooting conversion and quality. To complete the assessment of his attacking traits, let's look at his passing next.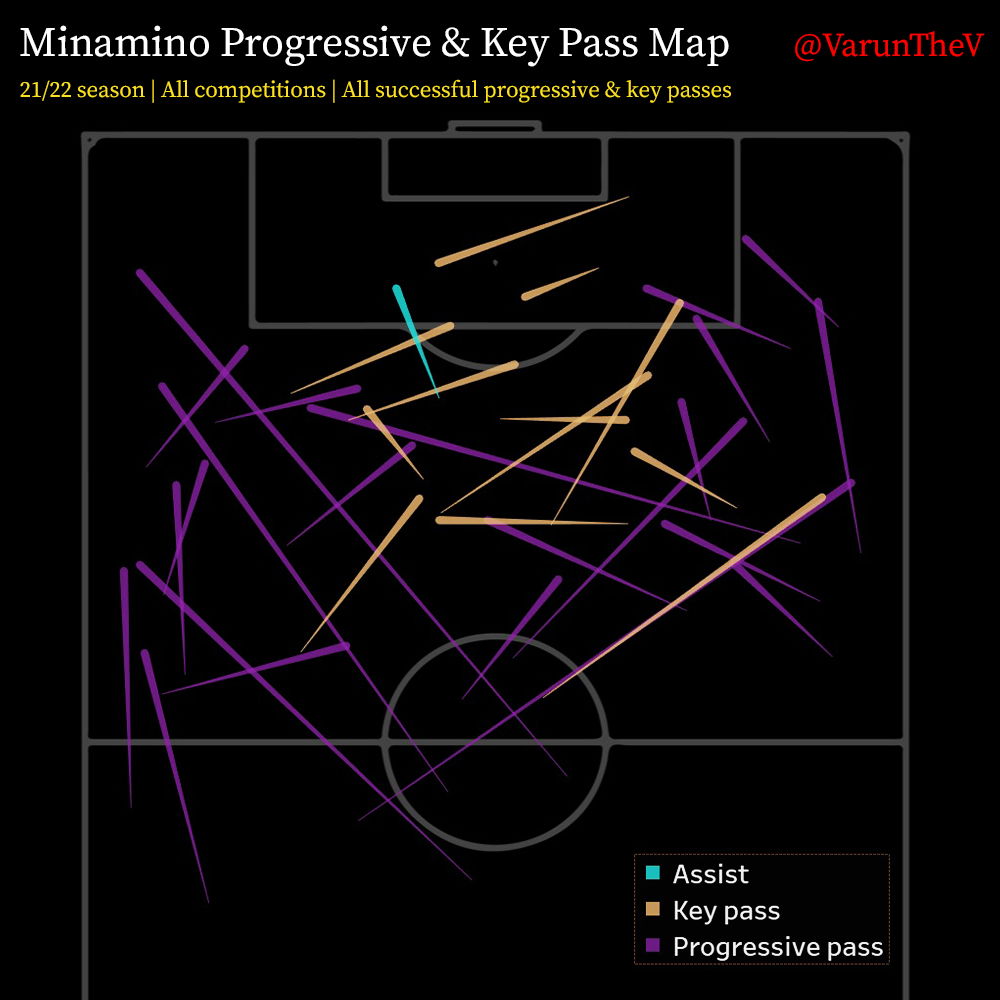 With the intention of clarity, I have picked out only Takumi's successful progressive and key passes. Once again, Minamino comes across well here. He roughly boasts 4 progressive passes per game and 1 chance created per game as well, which is really good for a player who isn't known as a playmaker as such. His progressive passes have a slight left-leaning quality to them, proving how he likes to use the right-foot angle to find players up ahead when he drops deep or wide. His key passes are a lot more evenly spread, showing how when it comes to playing the final ball he is adept at picking out players from anywhere in the final third. Only of his key passes was converted to an assist.
In summary, while being an adept goal-scorer, Minamino is also capable of progression and chance creation. It might be his second best trait. As they say on football twitter, this lad can be a "G+A merchant" in the right system.
Final thoughts
One aspect that hasn't been covered so far is Minamino's defending. Takumi's pressures per 90 this season is around 25. This is an extremely good number. For reference, the Premier league topper for this stat is Weghorst who is at 27. Once again, facing better teams across a season may reduce that number a little, but there is no doubt that Minamino is potentially one of the best pressing attackers in the league. This ties in really well with Leeds United's pressing ethos and manager Marsch's expectations of his attackers' defending qualities.
So, to summarise, if Leeds need a peak forward strong at scoring, capable of creating, equally good from either wing or playing off the striker and having the pressing intensity to compliment and elevate Leeds' high press, they probably can't get a better player than Takumi Minamino.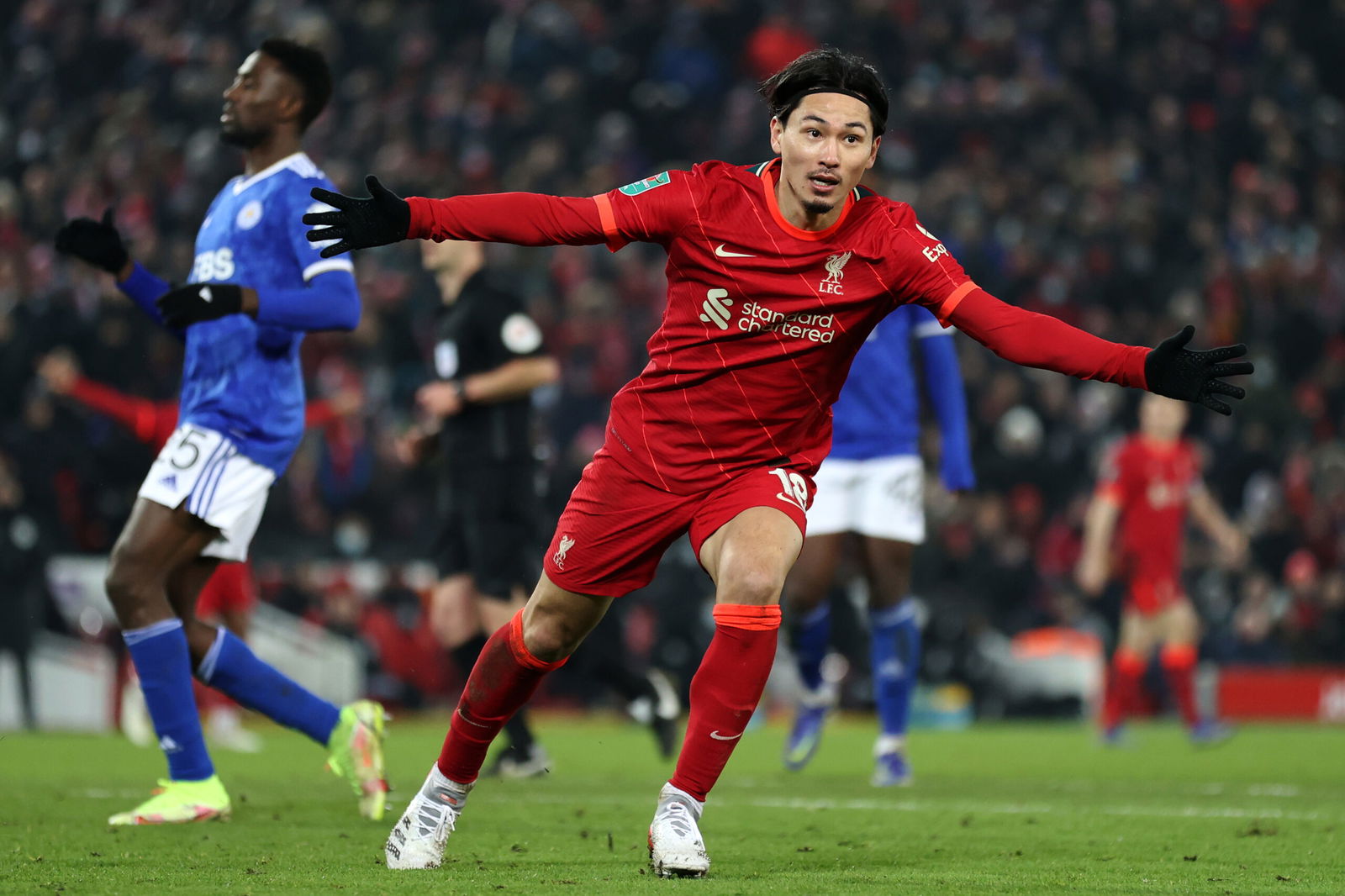 Talking about transfer chances, Leeds' interest is very clear. The Whites apparently had agreed terms in January itself, only for the forward to later announce his intention to stay for 5 more months. Now that these 5 months are over and Takumi's standing at Liverpool has only gotten worse with the explosive arrival of Luis Diaz, it would be an obvious assumption that Leeds United are in pole position to sign Minamino in the coming summer window. 
Head coach Jesse Marsch was at RB Leipzig before his move to Elland Road and will have an eye on players who have come from the Red Bull stable. Minamino signed for Liverpool from RB Salzburg and went on loan to Southampton last season under Ralph Hasenhuttl, who used to manage Leipzig too. The connections with these 2 managers are clear and it seems like these 2 clubs are in the race to convince the Japanese star. 
As for the fee, reports claim that Liverpool want £17million for the fringe forward who has two years left on his contract. This should present no barrier for Leeds United who want to strengthen to improve on their league position this year. Neither should the wages, having previously agreed terms in January.
Transfer guru Dean Jones gave a positive verdict for the move as well.
"I think he's a really nice fit, actually. Minamino is not a bad player at all, he's just been a victim of Liverpool's success in a way. He just hasn't been as good as Jota and Diaz when they've come in. I think that Jesse Marsch has a philosophy that Minamino fits in well with. He works hard, he follows orders. It could be a really intriguing one."
Well, the statistics agree with Dean Jones' sentiments. Minamino has the potential to fill the impending Raphinha-sized gap in the Leeds squad and even on the off chance that Leeds somehow keep the Brazilian at Elland road, they could easily fit Takumi with Raphinha in the starting XI, given the positional fluidity of the 27-year-old Japanese attacker. The Liverpool forward ticks all the boxes, is at his peak and would be a strong addition and statement of intent to fix the mistakes of last season from Leeds United's point of view.