Jesse Marsch in March: "The whole talk with Brenden Aaronson, this happened before I came. I know Brenden, he's an American, I've coached him; he's a great player. But even when he came to Salzburg, Salzburg knew about him before I joined."
The name Brenden Aaronson is nothing new for Leeds fans having been strongly linked multiple times. Even Bielsa and Orta, being against signings in January due to the low value deals and struggle to make someone fit into the Bielsa philosophy mid-season, made multiple attempts to sign Aaronson in January 2021. The Athletic reported in the January window that Leeds made two offers to sign the RedBull Salzburg man – the second totalling £20million.
New manager Jesse Marsch himself has a strong link with the American wonderkid having seen him up close in the MLS and later having brought him to Salzburg and managed him for a while. All signs point to a summer signing. Today we will be discussing Aaronson's traits, strengths, weaknesses and role if he were to join Leeds.
Brenden Aaronson: Movement
Firstly, let's figure out where he plays. Aaronson is essentially an attacking midfielder. He has played as a central AM for RB Salzburg in their diamond formation this season. He has shown the ability to play on the wings and as an attacking box-to-box midfielder during his time in the MLS as well. But for all practical purposes, think of him as a pure attacking midfielder who loves to create, score, dribble and press high. This season Salzburg played some really good teams in the Champions League squaring against the likes of Lille, Sevilla, Wolfsburg before getting eliminated in the knockouts by Bayern. I looked at the Brenden's performance in these games specifically to understand how he would fit in the Premier League. The UCL games might give us a better indicator of Brenden's fitment, than Salzburg's league games which they regularly dominate.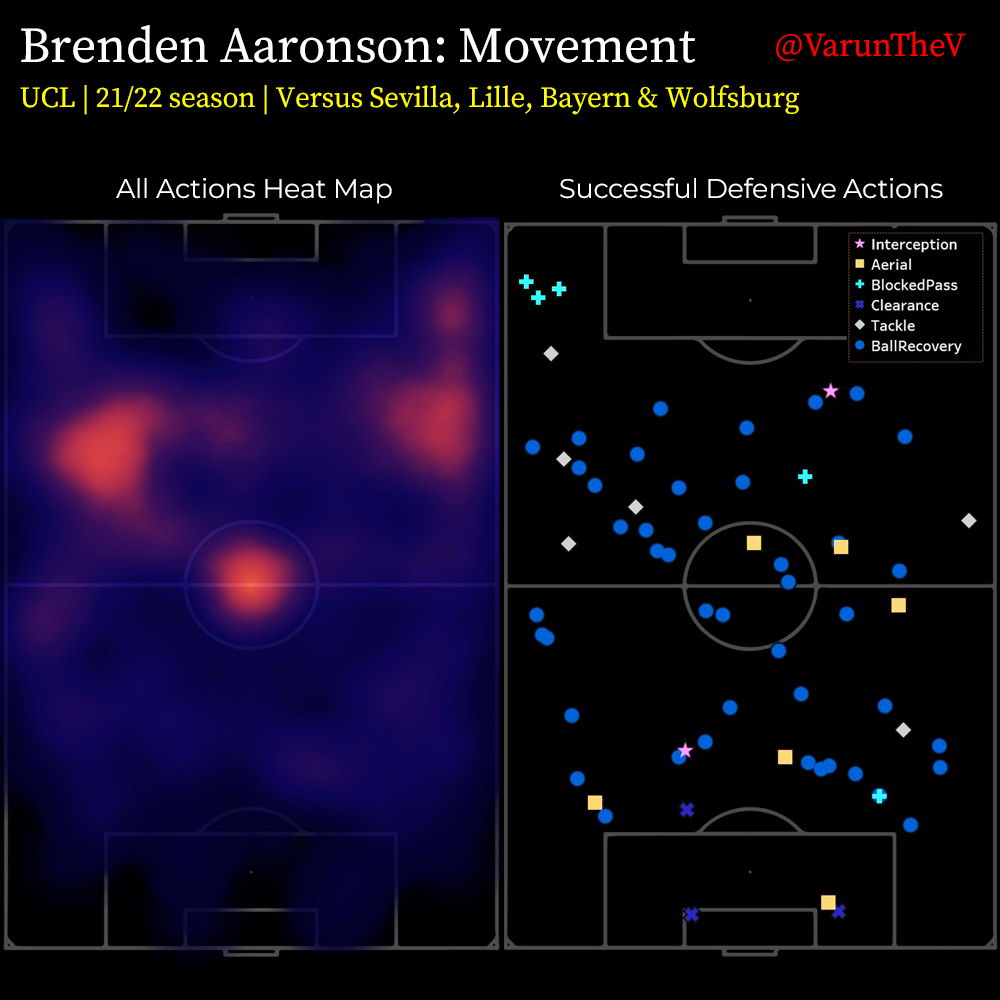 Let's focus on his all action heat map first. The 3 hot spots seem to be a zone right at the centre of the pitch and 2 on either side advanced on the flanks. You would expect an AM to have a hot spot centrally between the penalty box and the halfway line. This is probably a reflection of the difficulty of opponents Salzburg faced, which pinned back their AM in Brenden to the centre line, but it also shows how they attacked and where Brenden contributed.
Often when Salzburg would move up the pitch, thanks to the shape of the diamond and central dominance, it became important for someone to go wide and provide options to the fullback or striker when they stretched play. Aaronson was key to this, often drifting into those half spaces to receive from the wide player and then connect centrally. In general this is something Brendan does a lot and is a reason why he has played winger before as well. He has a very good off-the-ball movement to pop up in dangerous areas and the ball control to dribble out of tight spaces and find players. 
Brenden's greatest strength is his off-the-ball movement. His runs are also the reason he gets into good goal-scoring positions. Most of his goals are the type where he slips between the centre-back and fullback or between the 2 centre-backs with a short smart run when his teammates have the ball in wide areas, so that he can tap it in. 
Now let's look at his defensive actions map. Brenden is a very willing presser. He runs all over the pitch as the blue part of his heap map shows and has a high number of ball recoveries as the defensive map shows. He keeps picking up second balls or loose balls and makes himself a menace to opponents by constant and quick pressing. He's really quick off the ground making him very hard to anticipate at times. The downside is that he isn't really strong or tall (1.78 metres tall) which doesn't make him a great ball-winner. He doesn't have too many tackles or aerials won, to boast of and isn't the guy you would like defending transitions or tackling dribblers in deeper areas. He's better suited to intense high pressing in the opponent's half.
A summary of his movement would be – an attacking midfielder who is a very willing and intense runner off the ball, a high presser better used in the opponent's half and someone with great awareness to get into dangerous positions to support his teammates and provide a passing option.
Brenden Aaronson: Passing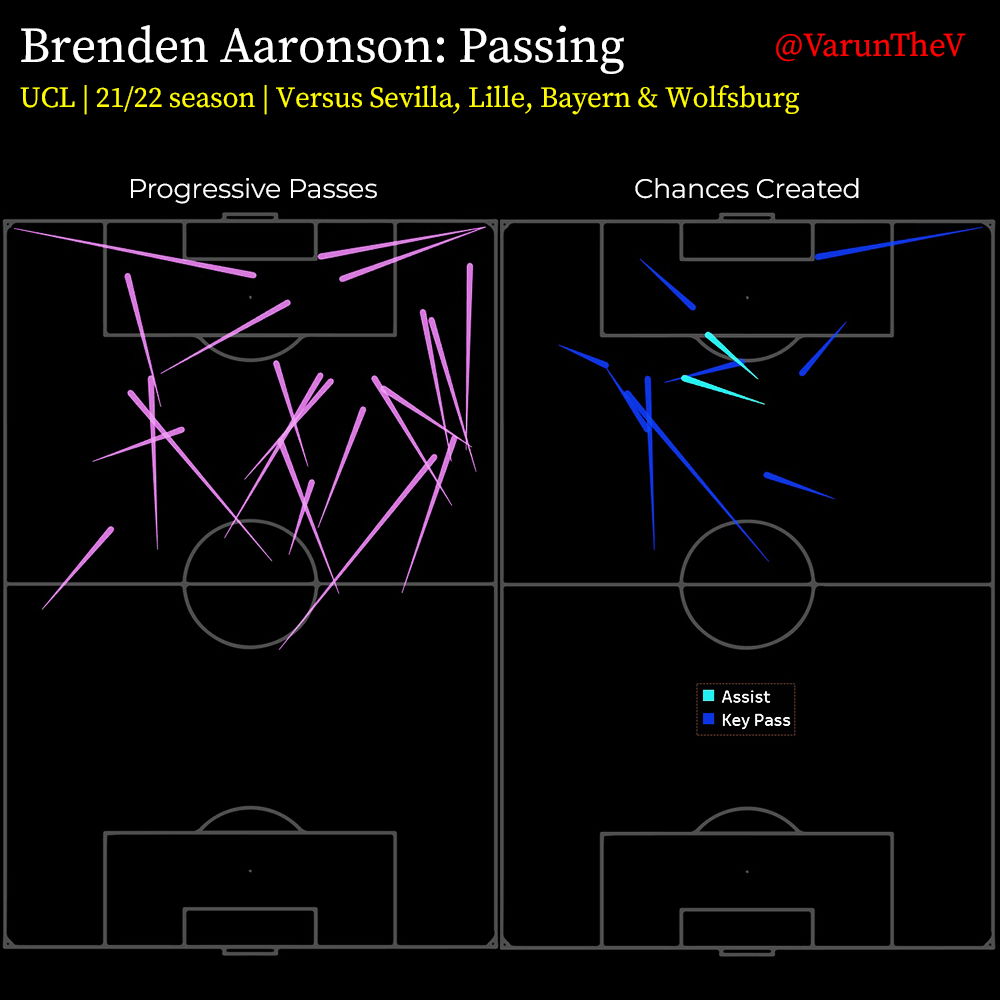 Let's look at his passing next. Looking at both his maps, one gets the idea that he isn't a great long passer but more adept at short quick passes. This ties in well with footage of Brenden. He is creative in working out angles for through balls and cutbacks. When he's in central areas he looks for smart vertical through balls to find his attackers. When he's in wider areas as we discussed before, he cuts it back into the box or on the edge of it to give someone a shooting chance.
His progressive pass map has a lot of the former, where he picks up the ball in deeper centra areas, has the ability to dribble or beat a man as he looks for a pass and then slide it on the ground to one of the attackers or a bombing fullback on the wing. Brenden is not really into Hollywood balls or switches from deeper areas. He is excellent at close control and smart grounded passes in advanced areas of the pitch where the opponent defence is tightest.
His chances created have more of the latter cutbacks we spoke about. Couple the half-space movement with this and you often find Brenden drifting between the lines to receive a through ball from his fullback or central midfielder into those wide areas between an opponent fullback and centre back. From these positions Brenden looks for a short cutback to an oncoming teammate. We also see a few instances of the former pass – both his assists were smart through balls between a small gap to beat the defence line.
In summary of his passing, Brenden excels at two types of passes – pinpoint grounded progressive passes or line-breaking through balls from central areas and smart shot-setting cutbacks from wide half-space areas.
Progression from deep, switches and width-creating passes are not what he's interested in.
Other Strengths and Weaknesses
Let's cover a few more aspects of his game that have gotten missed out.
1. Dribbling – Brenden is very good at carrying the ball. He's best at speed dribbling on transitions but also adept at close control and turning with the ball in tighter areas. His Medford Messi nickname arises from combining his place of birth and his ability to keep the ball stuck to his feet when he drifts around the pitch. Aaronson is very capable of roaming with the ball until he finds the right pass and that's what he often does. You will find him regularly picking the ball from the centre of the pitch and driving to the edge of the opponent D before he picks out one of the aforementioned passes.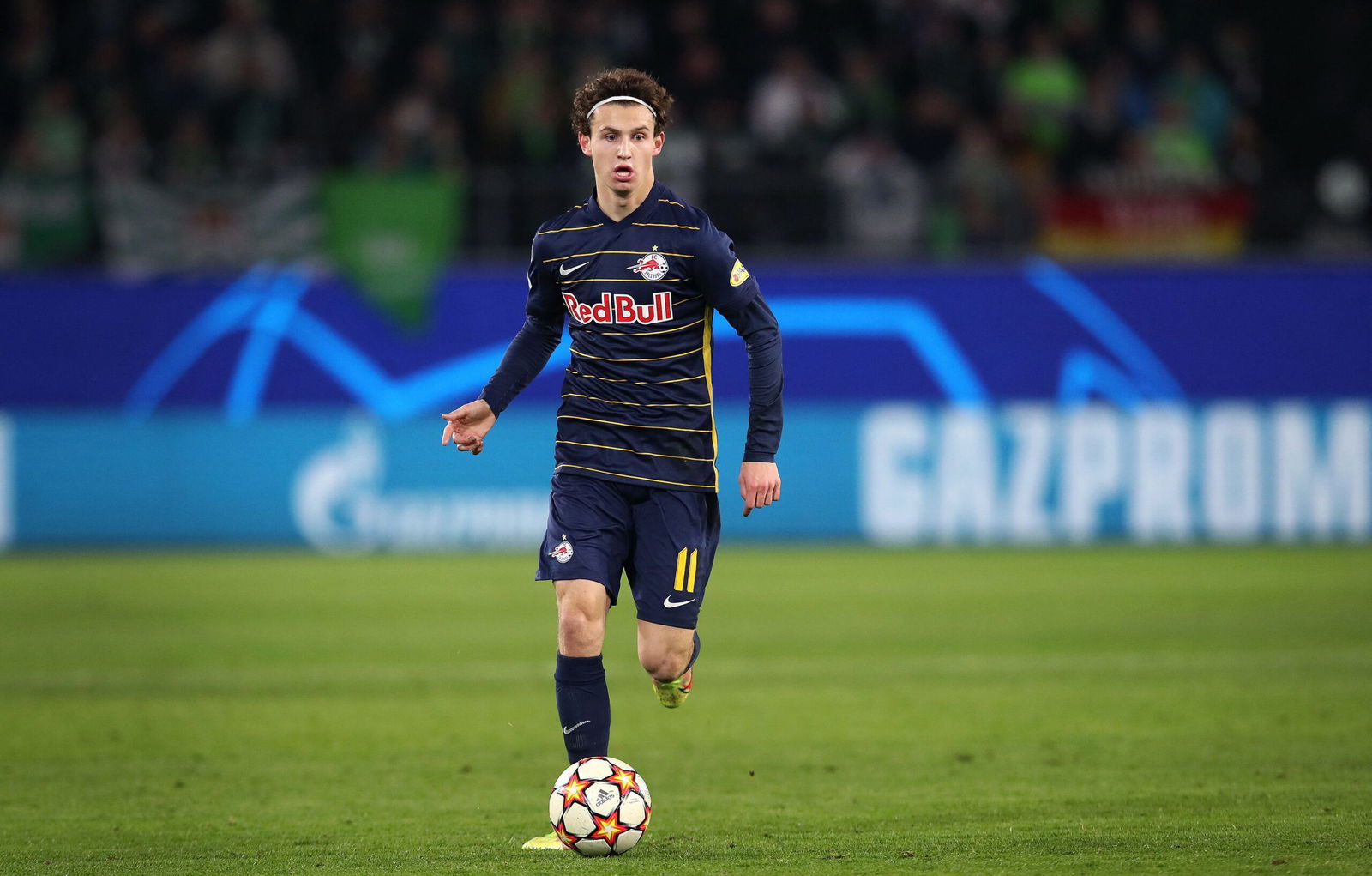 2. Shooting – Brenden is a very willing shooter. He attempts more than 2 shots per 90. While he does have a very accurate crisp shot on him and has a few goals to his name, he probably is a little wasteful as well. Many of his shots are taken from distance outside the box when he gets excited, a lot of them get blocked showcasing some bad-decision making to shoot in a crowd of defenders and on some occasions his bad decision-making in shooting also makes him miss a good pass opportunity. He is still a good shooter and if his decision-making is worked on, he can be a very capable outlet to trouble the goalkeeper with his really good shot technique.
3. Defending – As mentioned before, Brenden is an excellent presser, making himself a nuisance for the opposition with his energy and speed. He is a weak ball-winner unable to win many duels and easily brushed past again when taking up deeper positions to defend. The latter might be a concern in the Premier League. Man-marking might be very tough for the American, while exposing him to transitions might be dangerous. This might limit the positions he plays to advanced areas where his ball-winning is mitigated and his pressing strength is utilised better.
Final thoughts
If he did come, how would he fit into the side? This is a tough one to answer because on first thoughts he would seem like a rotation player for the AM role (currently occupied by Rodrigo) in Jesse Marsch's 4-2-3-1 and that is certainly a good option. But in case Leeds sell Raphinha or have any other changes in attack, Brenden could also be utilised on the wings considering how manager Marsch likes his wingers to play narrow. Brenden can pull off an AM-style narrow winger where his half-space runs, cutbacks, through balls and high pressing are used well. 
A third option could also be as a false nine striker. While this is the least likely choice, it wouldn't be a bad idea given Brenden's off-the-ball movement and shooting prowess. He could lead the line with his runs and drift into wide areas to let one of the other 3 attackers switch with him and enter the box for him to pick out. The only issue would be his lack of strength and inability to be an aerial outlet. Personally, I would rate a false nine role as a better option than a deep central midfield one. Especially in Marsch's tactics the pivot players need to be strong ball-winners who boast good positioning and protection of the back four while being able to progress from deep. Aaronson lacks all these attributes.
Finally, the big question – will he actually move this summer? While all the signs point to this being a nailed-on transfer given Leeds' chase for a year and the Marsch connection, it might not be as set in stone as it seems. For one, Leeds first have to secure Premier League safety. One of the reasons Aarsonson was reluctant to move in the winter window was him wanting to play Champions League knockout games. From winning the league with Salzburg and playing against Bayern in a UCL KO to playing in the Championship would be undesirable for Brenden. Even in the event Leeds stays up, if another relegation fight is on the cards for 22/23, Brenden might rethink his position. He probably could get offers from mid-table teams looking to get into European competition. Leeds will have some convincing to do.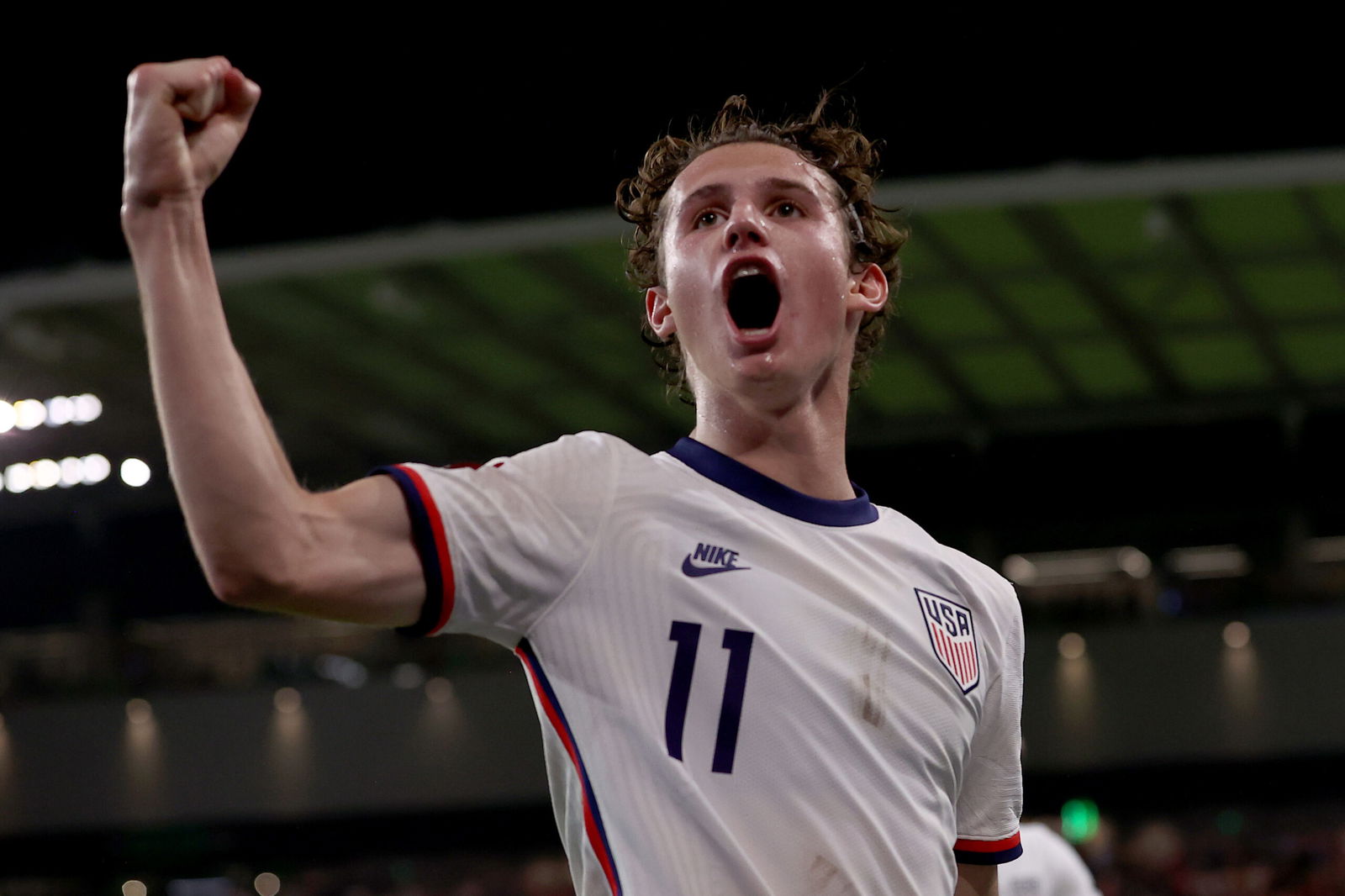 The second issue is the price. In the winter window an initial bid of £15m was rejected and by the end even £20m was shrugged off by Salzburg. Latest reports state that the fee this summer could be in the £21m – £25m range. With a contract till 2025 and eyeballs from across Europe thanks to his performances for the national team and in the Champions League, Salzburg can play hard-ball on this transfer. Leeds might probably have to think twice about a high transfer fee after having spent a record transfer fee on Daniel James last summer and seen him struggle this season. A Raphinha sale might fund a Brenden buy in the end, but it wouldn't be wrong for Leeds to think about more cost-effective options if Salzburg continue their current stance.
All in all, if Leeds do get Brenden Aaronson, they are getting a willing mover and presser, adept at playing final balls and progressive grounded balls, either from central AM areas or half-space areas. He would inject a good amount of creativity, forward drive and energy that Leeds have found lacking in the final third, while fitting in with the pressing ethos Leeds United have.