Stuart Dallas played the most minutes for Leeds United among all outfield players in 21/22. He's also the 2nd oldest player after Klich in the current Leeds squad and is among the current longest-serving players having joined the club 7 years ago in 2015. These lines probably start to explain what Dallas is all about – experienced, versatile, important and ever-present. In what has been a tough season with many injuries, Dallas has been available constantly, boasting 36 starts in a possible 42 in all competitions. His fitness and positional versatility have ensured wherever Leeds had a gap, he comfortably filled in there and gave a good account of himself. But those weren't his only positives. In this article we'll analyse the 21/22 season of Stuart Dallas.
Movement – A flexible fullback
It's very hard to analyse Dallas' movements due to his positional versatility. This season he's played 16 times at left back, 13 times at right back and 7 times in central midfield. Such players are very rare to find. What's even more rare is him dropping consistent performances from each position, never giving the feeling that he was playing in a makeshift or unsuitable role.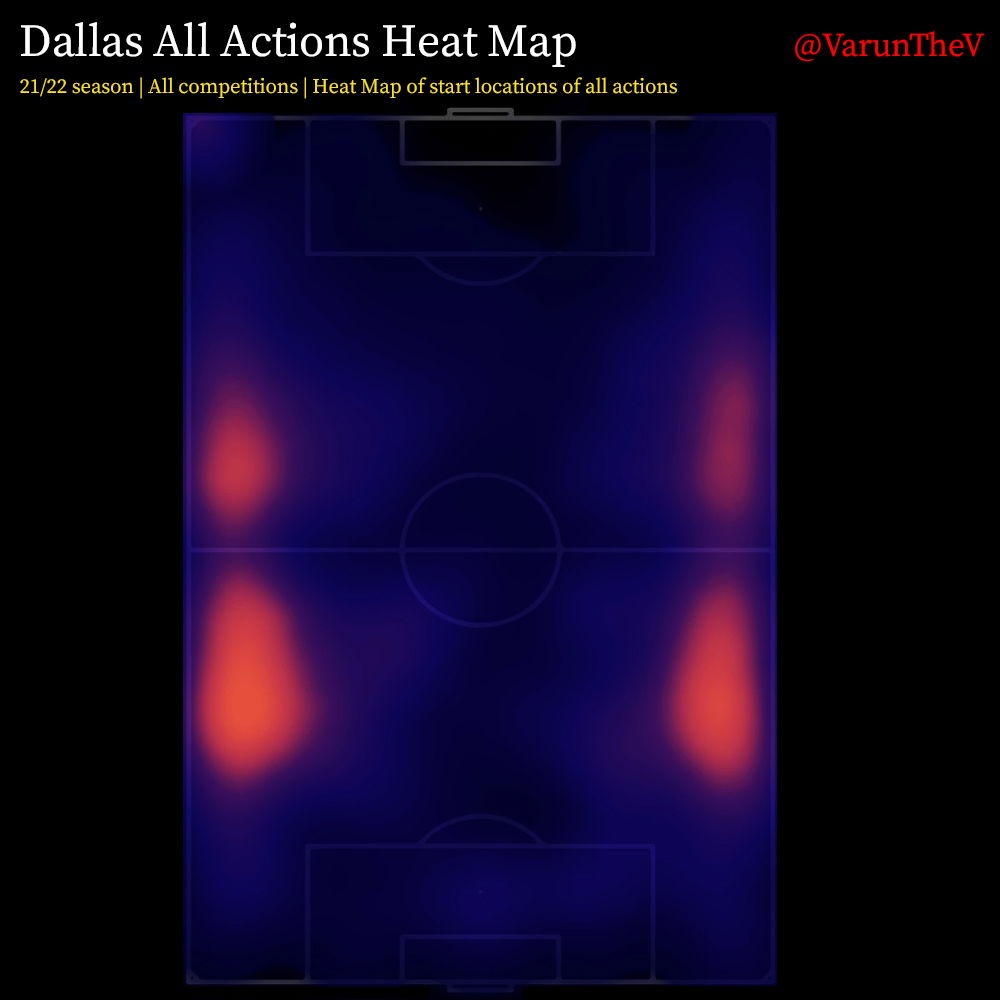 Dallas' heat map looks like that of a fullback on either side. It's a classic back 4 fullback heat map on either side, with a major heat area in one's own half and a minor one in the opponent half. There is a slight extra intensity and coverage to the left sided area, which is just a result of him having played more left-back than right-back.
Dallas has the 5th most touches for Leeds United this season among all outfielders on a per 90 basis. The ones who have more than him play central roles. This shows his importance in build up. He drops deep down the line and is always available for a pass and then joins the second phase by moving up the wing to also be an option for a pass during advancement into the opponent half. Whether on the left or right, Dallas is heavily involved.
The middle 3rd is where he gets involved the most, often leaving the defensive 3rd build up to the centre-backs and defensive midfielders. Dallas is heavily involved in the middle 3rd but his involvement again starts to wane in the offensive third since there are at least 4 attackers Leeds commit to attack. In a nutshell, in terms of movement, neither is Dallas like an attacking fullback of a top team (like Alexander-Arnold) but neither is he a defensive fullback of a lower half team (like Kiko Femenia).
Progression – Highly progressive fullback
One of Dallas' key strengths is his progression. While his progression numbers did increase a lot after the manager changed to Jesse Marsch, even under Bielsa, Dallas was among the progressive players in the squad. Dallas ended the season as the 5th most progressive passer and 4th most progressive carrier in the squad on a per 90 basis. In the league, he ranks 75 percentile for progressive passes among fullbacks which is impressive given how the season went for Leeds.
His progressive pass map displays some good variety of passes. While the pass down the line to the winger is always on, the diagonal to switch play and cross into the box are also two types of passes Dallas regularly attempts. Dallas has a good variety in terms of his pass variety and this is definitely one of his big strengths.
What is also noticeable is that he has more progressive passes on the right than left. Based on what we know about his positional data and heat map, he should have more presence on the left, but the pass map showing more progression from the right, probably hints at the ease with which he can progress from his stronger right foot when playing on the right side. This probably hints at him being better as a right-back than left-back. Ayling's good form at right-back and left-back Firpo's shaky start to his Leeds career has meant Dallas has been required to fill in on the left more than right. While versatility is his key strength, manager Jesse Marsch might want to strengthen at left-back to give Dallas more chances to flourish in a position he might be better suited to.
Chance creation – Wide creator
Continuing on with his positive passing traits, we look at Dallas' chance creation next. Dallas has created the 4th most chances after Raphinha, Harrison and Rodrigo this season. He ranks at a 70 percentile for key passes in the league for 21/22. This is a good number considering the team he plays for and his role in it.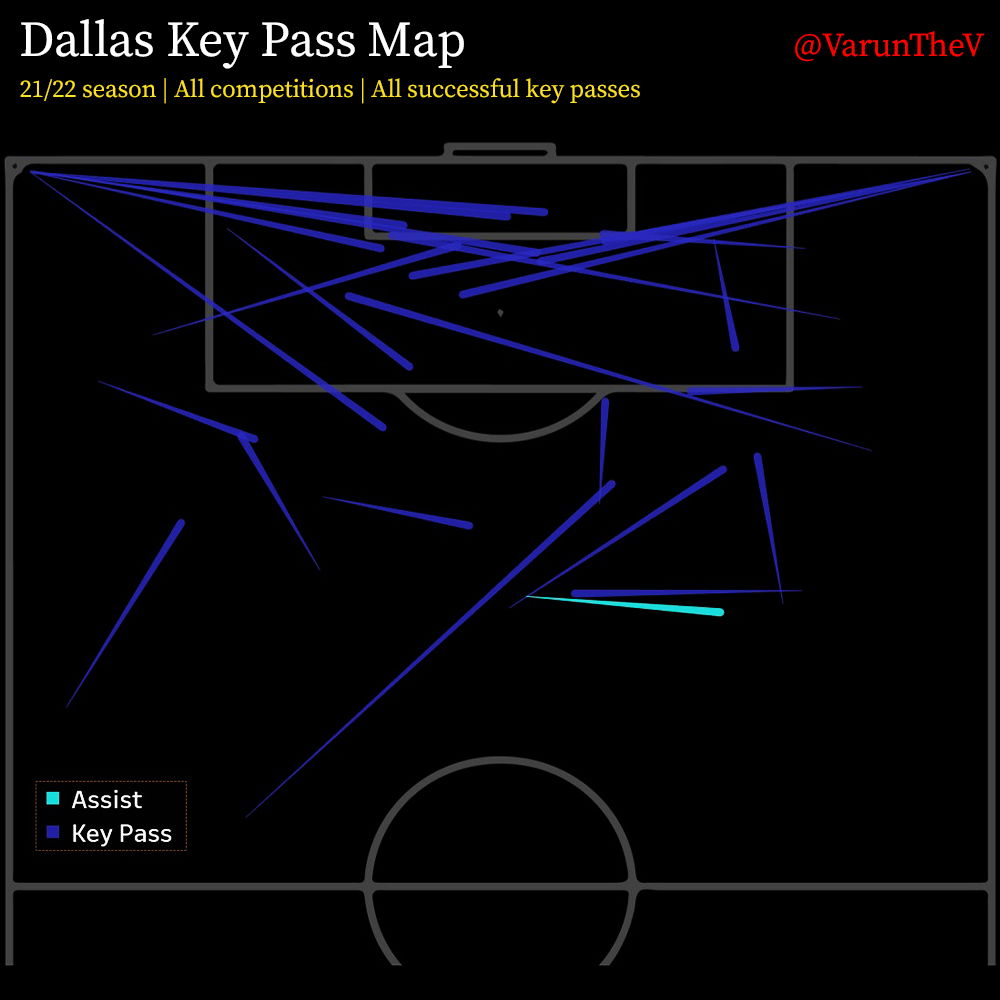 One of the main avenues of creation for him are corners. Dallas is one of Leeds major corner takers. After Raphinha's 65 corners, Dallas' 48 are the next highest this season. When it comes to shot-creating actions from dead ball situations, once again Dallas' 0.58 per 90 only trails behind Raphinha's 0.65. He has managed 3 goal-creating actions from dead ball situations in the season. This hints at another of Dallas' strengths – his set-piece ability.
Other than dead balls, Dallas also has many key passes from open play. Here we notice that a majority of them are from the left wing. He likes playing the cross ball or cutback into central areas from the left. When he reaches these advanced areas, he almost acts like an inverted winger from the left, using his right-foot angle to play balls into the box. This gives a different dimension to where Dallas is good at. While he's more progressive from deeper areas on the right, he is more creative from advanced areas on the left. A right-back role or a left-winger role could suit Dallas. The left-back probably takes away some progression from deeper areas and doesn't allow him as much freedom to create like a left-winger. It's a nice problem to have since Dallas can play all the roles equally well, but again, buying a left-back to utilise him as right-back or as a left-winger should probably be the ideal way forward. 
Final thoughts
While Dallas has played in the fullback positions this year, looking at his career data, we see that he has lined up most as a left winger or left wingback, which goes in line with what we have seen of him being a good creator in advanced areas on the left. A player we can make a reference to is Leonardo Spinazzola of Italy and Roma. The wing-back plays on the left despite being a right-footed player and doubles as a defensive fullback who doesnt let opposition left-wingers cut in on his strong foot and a left-winger who can dribble, cut in and create from the left half-space. There are examples close to home with Cancelo and Brandon Williams as well. Inverted fullbacks who are good creators in the final third and good progressors from the defensive third are being sought out more in the game today than before. Dallas could be one of those players. Alternatively, he could move to right-back as a traditional fullback or left wing as a chance-creating attacker too.
Whatever plans Marsch and Leeds have for him going forward and whether he remains a starter or becomes a rotation player, one thing's for certain, Dallas will give his best and ensure a high level of performance no matter where he plays. That's what Leeds fans have come to expect in his 7 good years at the club so far.