After finishing third in the 1999/2000 Premiership season, David O'Leary's young Leeds United side qualified for the UEFA Champions League. They arrived in Europe's elite competition the following season as unknown quantities with English hopes pinned mainly on Manchester United and Arsenal.
The Whites had an exciting group of players that included hometown hero Alan Smith, tireless midfielder Lee Bowyer and tricky winger Harry Kewell. Captain Lucas Radebe led from the back alongside Jonathan Woodgate, full-backs Danny Mills and Ian Harte were relentless out wide and Nigel Martyn was as reliable as they come in goal. Leeds had spent money in the transfer market, becoming one of the league's biggest-spending clubs at the turn of the century.
Not content with their impressive squad though, Leeds-born chairman Peter Ridsdale was determined his hometown club would make a real fist of it in their debut Champions League season as he looked to challenge arch-rivals Manchester United on the domestic front. He splashed the cash to bring in Dominic Matteo, Oliver Dacourt, Robbie Keane, Mark Viduka and most notably Rio Ferdinand, with the latter becoming British football's most expensive player and world football's most expensive defender at £18 million.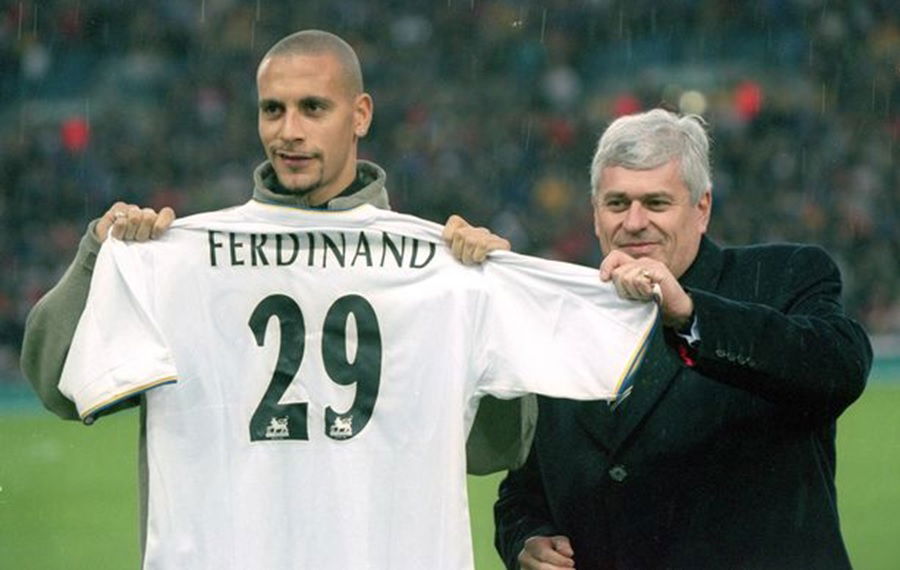 Leeds live the European dream
Their European quest started in early August with a tricky draw against 1860 Munich in the third qualifying round, and after struggling to a 2-1 first leg win at Elland Road, Alan Smith's late strike in Germany saw Leeds prevail 3-1 on aggregate. That marked the start of an incredible journey for the Yorkshire club who were placed in a group with AC Milan, Barcelona and Besiktas in the first official stage of the competition.
Things started with a tough trip to the Nou Camp and O'Leary's injury-ravaged team were taught a footballing lesson by the likes of Patrick Kluivert and Rivaldo in a crushing 4-0 defeat. At this point few would have predicted the Whites to get out of the group, however things changed on a memorable night at Elland Road six days later. A tense affair against AC Milan was decided by a last-gasp Lee Bowyer goal as the England midfielder's long-range strike was spilled into the net by Brazilian goalkeeper Dida.
📅 | #OnThisNight in 2000, #LUFC defeated @acmilan 1-0 in the Champions League. 35,000 watched Lee Bowyer score the decisive goal at Elland Road pic.twitter.com/0rKZy8PqS4

— Leeds United (@LUFC) September 19, 2019
This gave United momentum and they thumped Besiktas 6-0 at Elland Road a week later to put themselves in the driving seat for qualification. A three-week break upset the Whites rhythm somewhat as they were held to a 0-0 draw in Turkey, before Rivaldo's 93rd minute strike rescued a 1-1 draw for Barcelona at Elland Road after Lee Bowyer's free-kick had put the Whites on course for another famous victory.
It all meant Leeds went into their final first round group stage clash away to AC Milan needing a point to qualify and Dom Matteo's header on the stroke of half-time ensured they got just that. Serginho's second-half strike made sure Milan got the point they needed to win the group, but the 1-1 draw in the San Siro saw O'Leary's 'babies' incredibly pip Barcelona to second place and progress to the second round group stage, much to the jubilation of the club's huge travelling support.
🔥 "A prestige goal in a prestige match" #OnThisDay in 2000, Dominic Matteo scored THAT goal at the San Siro against @acmilan pic.twitter.com/9Mx87V8UYg

— Leeds United (@LUFC) November 8, 2019
Back in the early days the Champions League consisted of two group stages prior to the quarter-finals and in the last 16 Leeds took on Anderlecht, Lazio and Europe's most successful club Real Madrid. Chairman Ridsdale famously said the club were "living the dream" and when they lined up against holders Madrid at Elland Road, few could argue with him. Just like in the last stage, United were taught a lesson by their Spanish opponents in the opening match, losing 2-0 at Elland Road, but again it didn't deter this persistent young team.
Rome was the venue for another famous night on this incredible journey as Alan Smith's goal 10 minutes from time saw Leeds deservedly claim a 1-0 win over Sven-Göran Eriksson's Lazio. Back-to-back games against Anderlecht followed and a gutsy 2-1 win at Elland Road, with Lee Bowyer again scoring in the dying moments, meant a win in Belgium would see the resurgent Yorkshire side into Europe's last eight. Having not lost on home soil in 21 games, Anderlecht were favourites to overturn the result from eight days previous but Leeds again raised their game on the European stage when it mattered most. It was arguably their greatest night and performance of their Champions League run as goals from Viduka, Harte and a double from Smith saw the Whites progress to the last eight with two games to spare.
Those final two games certainly won't be forgotten though, a memorable night in the Santiago Bernabéu saw another heroic effort from O'Leary's side fall just short this time. Smith and Viduka had Leeds in the game and on top against Real for large periods, but Raul's header saw Madrid prevail 3-2, albeit controversially after the striker had clearly handled for his first goal of the night, but the result saw the Spanish side secure top spot in the group. An entertaining 3-3 draw at home to Lazio rounded off the second group stage as United finished comfortably in second and set up a quarter-final tie against Deportivo de La Coruña.
The match against Deportivo had an usual build-up, with several players from the reigning Spanish champions insisting they had got the easiest draw of the last eight and would find it 'easy' against their English opponents. They were given a shock at Elland Road as Leeds produced another stunning performance, cruising to a 3-0 victory thanks to goals from Harte, Smith and Ferdinand. "Three-nil to the weakest link" was heard from the stands at full-time, but there was still 90 minutes between Leeds and the semi-finals. Deportivo's players still insisted they had the edge despite the first leg reverse and it was a nail-biting finish at the Estadio Riazor for O'Leary and his players who survived an onslaught from the Spanish side, falling to a 2-0 defeat but progressing 3-2 on aggregate to become the only English side through to the last four.
A magical night at Elland Road 💫

🗓️ #OTD in 2001, Leeds beat Deportivo 3-0 with goals from Ian Harte, Alan Smith & @rioferdy5 👏#UCL | #ThrowbackThursday | @LUFC pic.twitter.com/0bAeoZ1hwE

— UEFA Champions League (@ChampionsLeague) April 4, 2019
By this point the Whites had much of Europe's media focused on them as they faced another Spanish side in the semi-finals. Valencia had a star-studded team, they had just beaten Arsenal on away goals and were looking to go one step further than the previous season when they were beaten in the final. Again, Leeds were huge underdogs but at Elland Road, under the lights and in front of a raucous crowd, they fancied their chances. It turned out to be a game of missed opportunities for O'Leary's side as their non-stop pressing and quick tempo tested Valencia to the limit, but it ended goalless. The second leg started much in the same fashion, both sides looked capable and the first blow would be crucial. It wasn't just crucial, it was controversial, with the ball clearly put into the net by the hand of Valencia striker Juan Sanchez. It was very similar to the 'Hand of God' goal scored by Raul against Leeds just a few weeks earlier but unlike that goal, this one was decisive to United's European dreams. Incensed by the referee's incompetence, the Whites never recovered from that unfortunate early setback and eventually fell to a 3-0 defeat. Their luck was out on a rough night at the Mestalla, and much like the final of 1975, Leeds European dream was ended in controversy.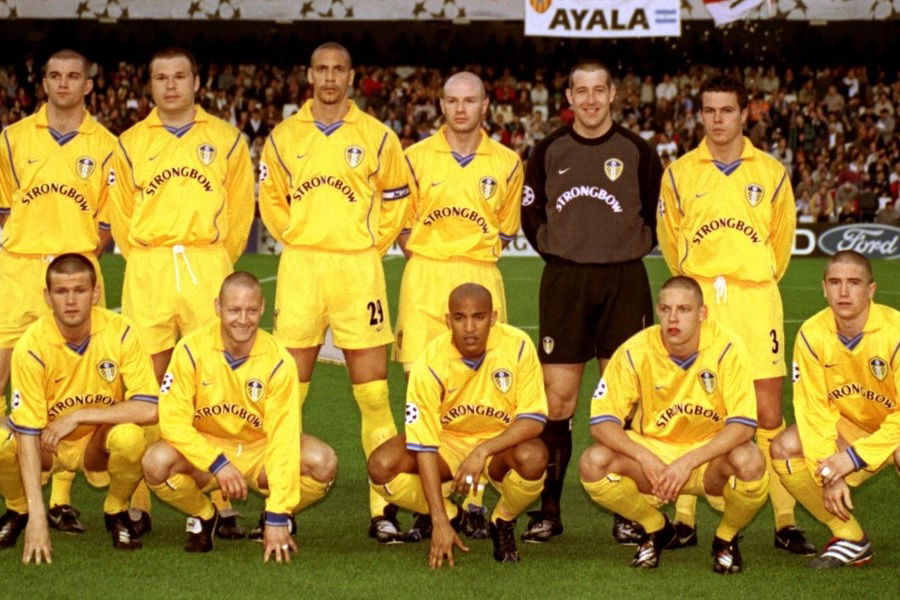 Valencia would go on to lose the final on penalties to Bayern Munich at the San Siro, a result that would have likely put a wry smile on the face of some Leeds fans, but the Yorkshire side had already made their mark on the competition despite missing out on the showpiece event. O'Leary's young team were the big story of the 2000/2001 Champions League campaign, defying the odds time and time again on some incredible nights across Europe. There is no denying Leeds 'lived the dream' and gave us memories we will never forget.
Where it all went wrong
Now for the sad part, where the impact of Leeds' Champions League run that season would have a devastating impact on the club going forward for over a decade. The Whites run in Europe was undoubtedly going to put 'strain' on their squad and this was something chairman Ridsdale and manager O'Leary recognised. With this in mind Leeds continued to spend, and spend big, as they attempted to build a big squad and become a consistent force at the top of the Premier League and in Europe.
In the 2000/01 season, it was the top three that qualified for Champions League football for the following season and given Leeds financial outlay – this was something they should have prioritised. As O'Leary famously said, 'I work for a PLC company and they expect results'. But it was a vicious circle for the Whites board and management who were caught between European glory that season, ensuring they were in the Champions League the following season and building a big enough squad so they could do both. Despite a good end to the league season Leeds finished fourth, with a poor run around the time of their European heroics proving costly as Liverpool pipped them to the third and final Champions League spot.
Emotion and business are sometimes a dangerous mix and there is no question Ridsdale fell into the trap. Leeds were unlucky to miss out on the Champions League that season, but what their chairman did thereafter was unforgivable. The emotional investment in that Champions League run had him wanting more and as all logic went out of the window, he gambled the future of the club in pursuit of Europe's top competition.
In truth it didn't take a businessman to workout Leeds needed to slow down their spending and reduce their ever-growing wage bill. Despite the club's recent upturn, they had started to build up debt having lent and spent £50m on players prior to and throughout the 2000/01 season. They were playing catchup and with a decent squad already assembled, now was the time to play safe. But Ridsdale was down a rabbit hole and had started chasing his losses.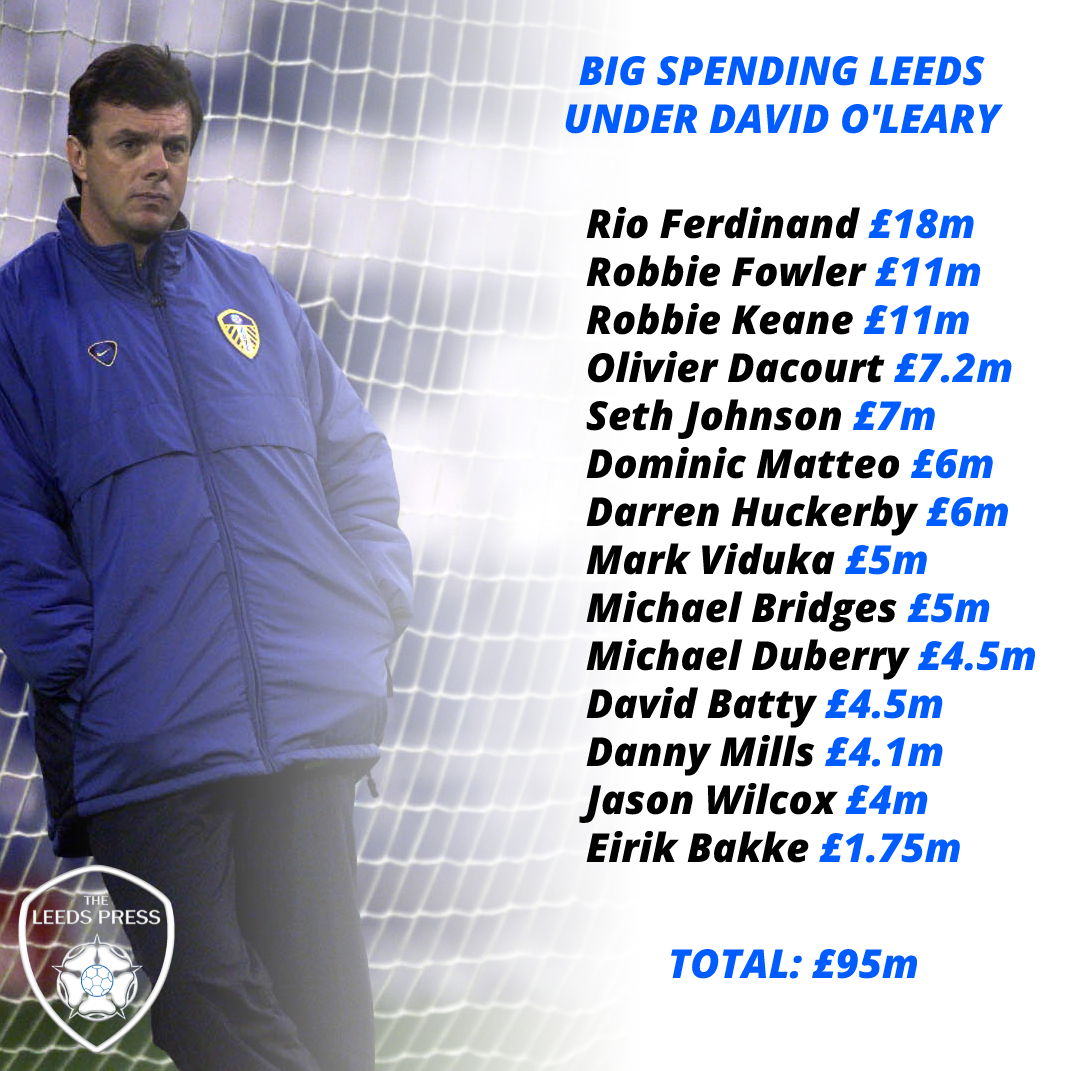 He and the club were 'living the dream' and nobody wanted this journey to end. Much like a gambling addict, Ridsdale was addicted to the game, the chase and was prepared to do anything to get the club to the top. Robbie Keane, Robbie Fowler and Seth Johnson were added for a combined £30m prior to the 2001/02 season. It was money Leeds didn't have and at a time when the market was on a major downturn. It was the wrong thing at the wrong time and it was only heading in one direction.
Though the numbers off the pitch were getting out of control as more people were drafted in to refinance the club's growing debts, on the pitch O'Leary's men were doing the business in the first half of the season. They were top of the Premiership table at Christmas and had safely progressed through to the fourth round of the UEFA Cup. Then, the wheels fell off. Seven games without a win at the turn of the year saw the Whites not only lose top spot, but they fell out of the top four and again missed out on a lucrative spot in the UEFA Champions League. They also suffered a shock defeat in the FA Cup 3rd Round at Cardiff and were dumped out of UEFA Cup at the fourth round stage by PSV Eindhoven. If the previous season's shortcomings had been damaging, this season's were deadly.
O'Leary's sacking at the end of the campaign was a tell-tale sign that Ridsdale was in trouble and he was keen to pass the book. In truth, all this did was add to the £100m+ Leeds United owed to creditors and the club had reached its limits. They were ordered to pay back £50m within months to keep trading. That left them to sell their only valuable assets – the players. The Elland Road exodus began as club's pounced like vultures on Leeds vulnerability, often paying half the valuation of a player because they knew 'Leeds needed the money'.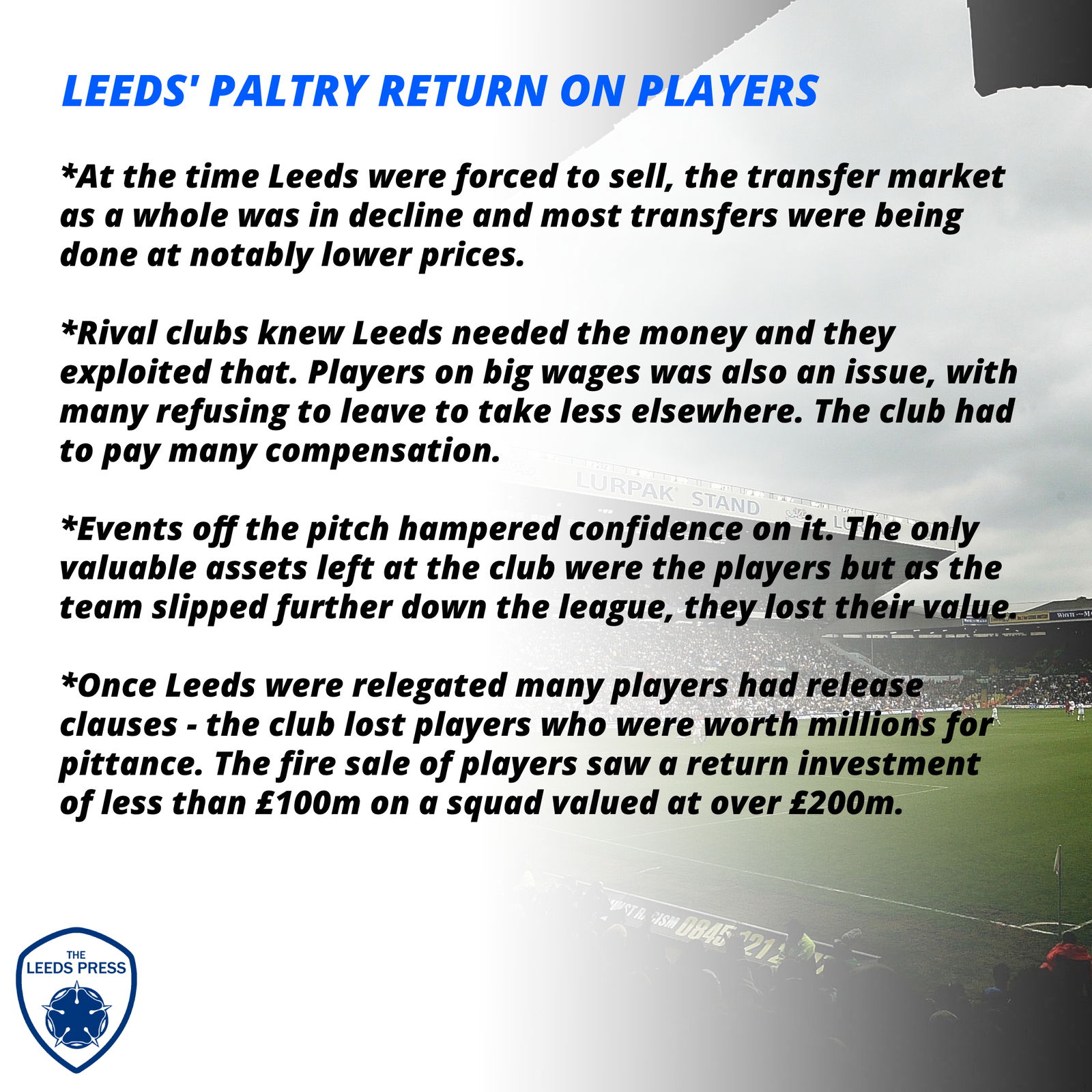 The club proceeded to slide down the league table, managers came in via a revolving door and it all led to Ridsdale stepping down in March 2003 after pressure from the fans. Leeds dropped 10 places down the league table to 15th before more player exits led to their relegation the following season. It left the club in a deep financial hole, millions in debt, all while they continued to pay the wages of their former players and managers for years to come due to the quick-fix deals the club carried out to secure their short-term future. As we sit here now and reflect on everything that happened, we shouldn't be surprised it took the club 16 years to recover, because in truth they really shouldn't have survived at all. Ridsdale implemented many different methods and strategies behind the scenes in the chase for glory, but he ultimately left out the most important part – logic.
Logic often goes out of the window in our emotionally-driven sport, but Leeds fans have had to learn to be patient. Few could have predicted the 9th place finish of last season, which brought back many great memories of O'Leary's boys battling it out in the top half of the Premier League table. But despite current chairman Andrea Radrizzani's talk of Europe, now is a time for Leeds to live within their means. Sure the club must keep progressing, but caution must also be applied to ensure this great football club doesn't fall back into the abyss.