The Whites came into this game looking for 2 wins in 2. A match-up with Southampton, who in some ways are Leeds' counterparts in terms of having a press-heavy philosophy with a strong Red Bull connection, always promised an exciting encounter of end-to-end football. And that's exactly what we got. A pulsating encounter with exciting moments, tactical switches that changed the course of the game and nervy finish, was the result of a thrilling 2-2 draw.
Today we'll analyse the game using 3 major talking points.
1. Roca ran the show
In a setup very similar to the first game, a pivot of Marc Roca and Tyler Adams was trusted behind Rodrigo, Aaronson, Harrison and Bamford. The backline, from left to right, consisted of Struijk, Llorente, Koch and Kristensen. The Whites had 58% possession and dominated proceedings for most part, passing the Saints off the park. Key to all that was Marc Roca.

Here's the progressive pass map for all players who managed at least 4 progressive passes: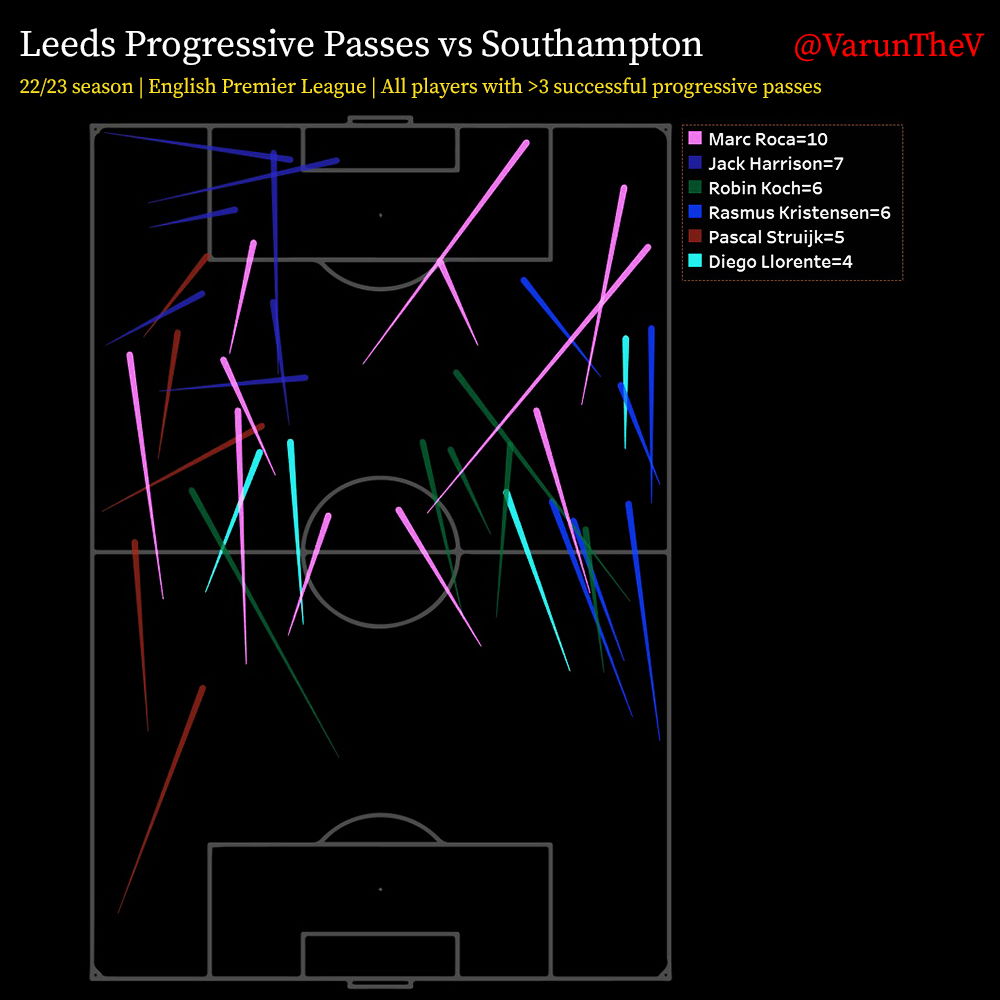 Roca hit double digit numbers when it came to successful progressive passes. He also had the second most passes (60) after Koch (64) on the pitch, highlighting how a majority of the game went through him. The Spaniard was imperious, spreading play evenly on either side and passing into the final third 9 times, which was also the highest by any player on the day.
Harrison's vertical balls down the line and cutback from the left wing also helped Leeds enter the penalty area many times. Koch was another one who had a positive impact on the build up, helping Leeds enter the opposition half 6 times. Kristensen, Struijk and Llorente were the other standout progressors, which goes to show how much time and space the backline enjoyed versus the Saints. It wasn't as high as a press from Southampton, as some might have expected.
2. Rodrigo is on a mission
Last season was a hit-and-miss one for Rodrigo. While he had some sparkling moments, it was never consistent enough. But this season, Rodrigo looks reborn. If his first-game, where he scored 1 goal from 3 shots, was a confidence booster, this one was on another level.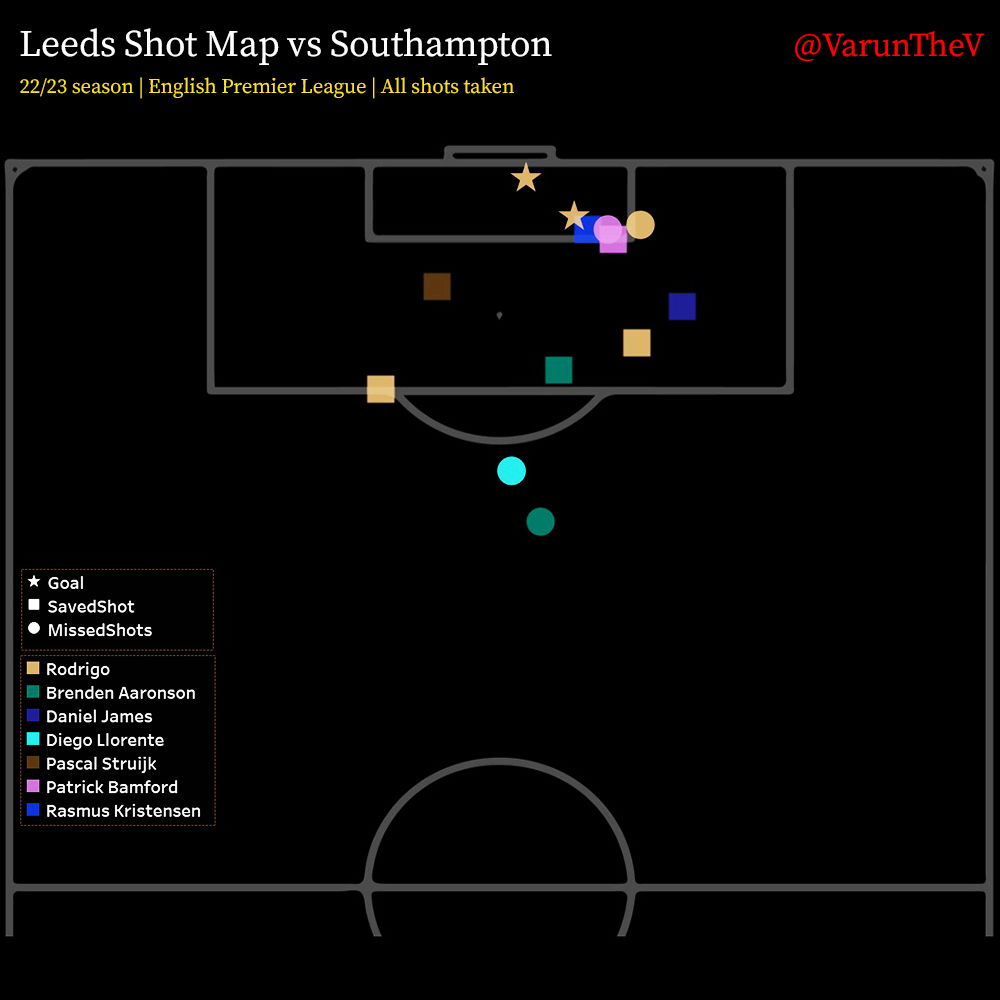 Rodrigo dominated Leeds' shot map, taking 5 attempts on goal, getting 4 on target and scoring twice from them. He had racked up both goals by the hour-mark at which it looked like Leeds were cruising. His first goal came within 45 seconds of the halftime restart as he latched on to a Jack Harrison cutback from the left wing, while his second came off a Struijk flick-on. Other than Rodrigo, the ones who troubled the Saints goalkeeper were Daniel James, Kristensen, Struijk, Aaronson and Bamford. Leeds' 13 shots accrued a total non-penalty expected goals (NPxG) of 2.1, a fair reflection on the 2 goals they scored. The 12 shots against Wolves in the previous game only reflected a NPxG of 0.6, indicating the difference in terms of quality chances between both games. Leeds were better against the Saints.
3. Jesse Marsch is a glass-half-full guy
With a good amount of domination, a 2-goal lead and every reason to believe that the Whites could make it 2 wins in 2, finishing the game in a draw, after the Saints fought back well, would have been disappointing for anyone associated with Leeds United. A tactical switch from Southampton gave the impetus to push on, and by the time Leeds reacted with their own tactical switch to a back 5, the damage had been done. If anything, the Saints actually ended the game strongly and could have walked away with all 3 points.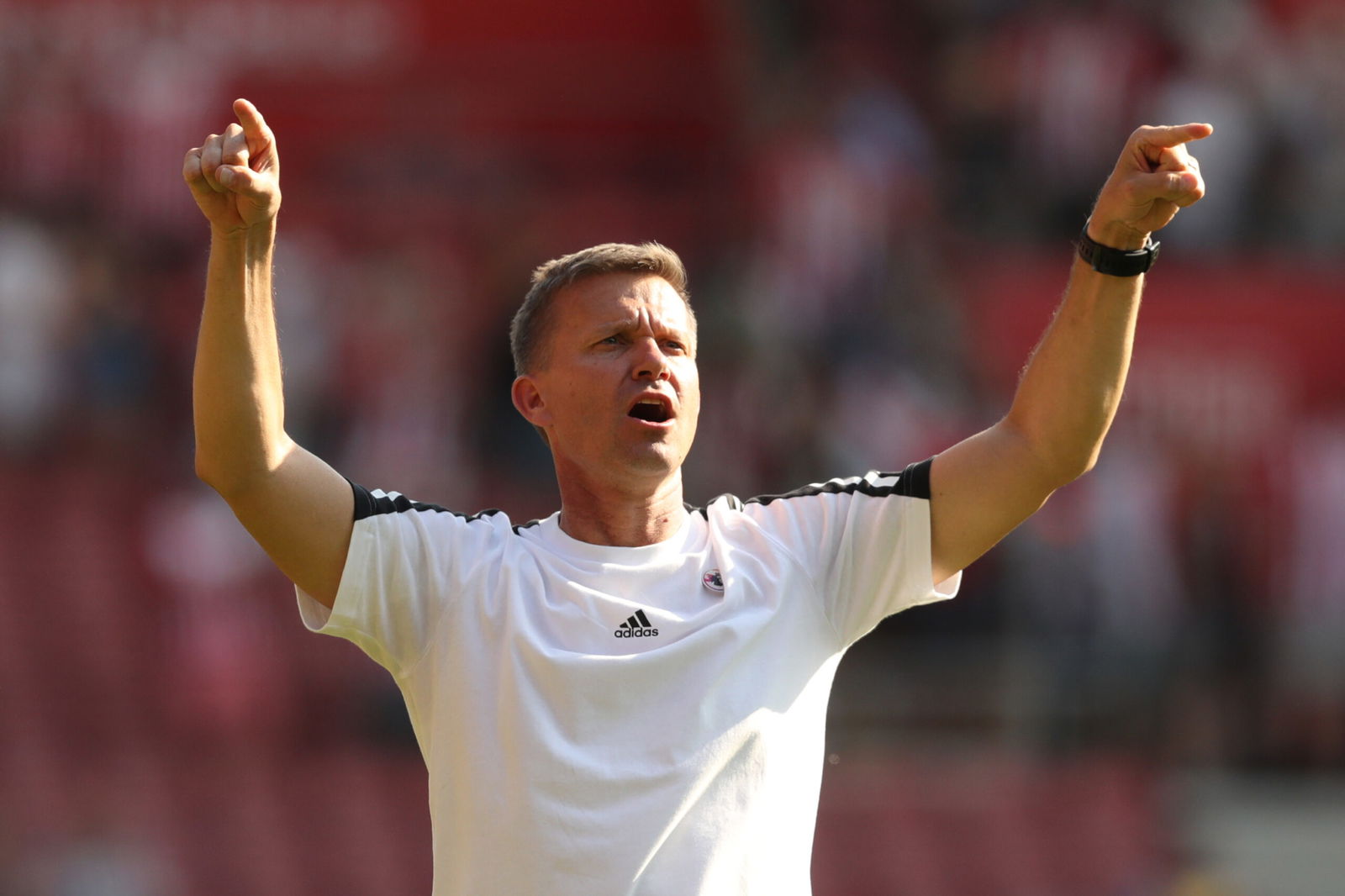 But Jesse Marsch has a way with words. He was able to express the frustration of dropping 2 points and yet communicate the positives for his side, in his post-match statements.
The American quipped, "We're disappointed with a point. We have to see through the trees a bit and see that the performance was quite good. On set-pieces, we were stable and finding ways to be dangerous. The glass is half full. The group is making progress and individuals are on a high level. At 2-1 we switched to five at the back. It's a little frustrating. Tactically making that shift, to still get beat again it's painful. However, there's a bit of maturity at play. We're still a young team. Of course, there are a couple of changes and looking back on it, can we manipulate the game a little earlier? Maybe."
That the Whites have come to a point where they view a game against fellow mid-table rivals Southampton, as one they should have won, actually speaks well of the project being built around Marsch. The pieces are falling into place, the new signings are working well and the blueprint of the Marsch system is clear for all to see. They couldn't manage a win, but Leeds were the better team, and if they play that way throughout the season, they are going to do much better than last season's laboured 17th placed finish. At least, that's what the Leeds faithful will be hoping for.